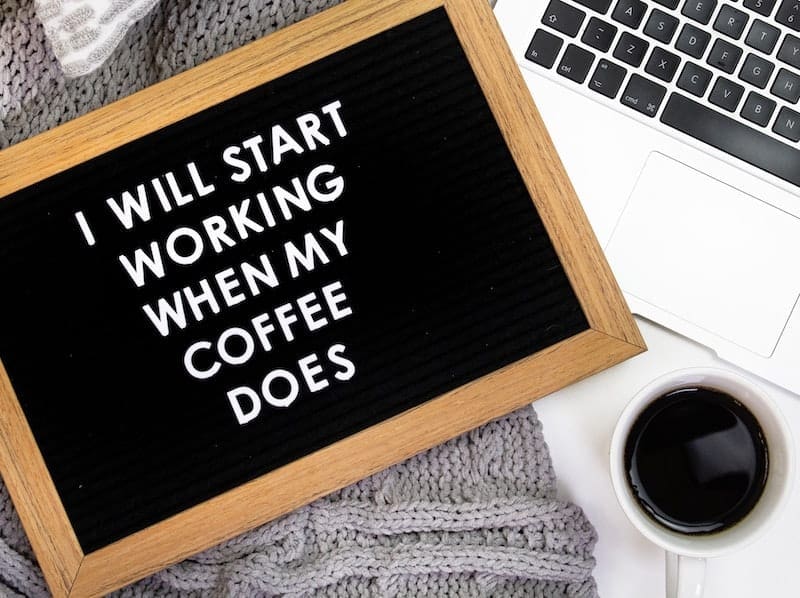 Some of us pop out of bed on Monday mornings, bright-eyed and ready to conquer the world. Others drag ourselves to the kitchen to prop our eyes open with caffeine. Either way, how better to start your week than a list of ridiculously funny Monday coffee memes?
We've scoured the internet for this year's funniest Monday memes, perfect for coffee lovers of all stripes. Scroll down to read them and start enjoying your week!

The 30 Best Monday Coffee Memes:
1. A Cup of Hope
2. Grab It
A little inspiration for your Monday!
3. Monday Plan
It's important to start the week with a plan — even if it doesn't quite work out.
4. But First
Maybe we'd better start with coffee. It is Monday, after all…
5. First Cup
6. Coffee Has My Back
Need a little support on this glorious Monday? Don't worry, your favorite brand of coffee has your back.
7. Keep Pouring
Most of us can relate to Lucy on this one. What goes best with Mondays? Lots and lots of hot coffee.
8. Batman and Robin
Batman and Robin agree: the only way to start a Monday is with a tasty homemade latte.
9. A Day May Come
…but we're pretty sure it's not going to be a Monday.
10. Must. Drink.
When you need coffee, you need coffee.
11. Every Day
…but especially Monday.
12. To-Do List
Yes, everything you should do on a Monday involves coffee. Deal with it.
13. Days Ending With Y
Last we checked, that includes Monday.
14. Dear Monday
Many of us need to thank coffee for existing, and that includes you, Monday.
15. First Cup
16. Definitely
That's one way to be sure what day of the week it is!
17. Coffee IV
Need a steady drip of caffeine to get through the day? Then you can probably relate to this coffee addict meme:
18. Checklist
It feels good to check things off, doesn't it?
19. Hello Monday
We keep meeting!
20. Size
Small, medium, large? Please. We need a Monday-size cup of joe.
21. Have a Great Week
Speaking of Monday-sized coffee cups, how about this one?
22. Super Coffee
Some Mondays require superhuman energy!
23. Again?
Somehow, Mondays just keep coming back. Week after week…
24. Need I Say More?
Use our caffeine calculator to figure out how to jumpstart your Monday… or buy one of the most caffeinated coffees in the world!
25. Just a Human
Wouldn't it be better if Mondays were Fridays… or better yet, National Coffee Days?
26. To Go
27. Coffee vs Monday
Which will win? Our money's on coffee.
28. Drink Your Coffee
There's no time like the present — to try making nitro coffee at home!
29. Truth Time
Sure, you have to accept the bitter truth. But you don't have to drink bitter coffee.
30. Too Much Monday
Not enough coffee? We can fix that! Choose from our favorite coffee brands and get brewing.

Conclusion
That's it: the 30 best Monday coffee memes of this year. We hope they help you cure those Monday blues with a good laugh! And don't forget to come back at the end of the week for our roundup of the best Friday coffee memes.
Looking for more?