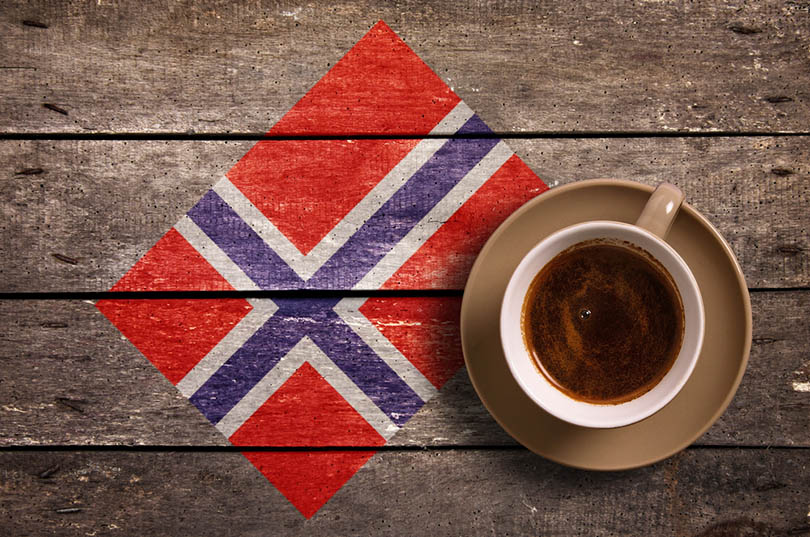 Do you like coffee? Okay, yes, that's a given. But you probably like a drink from time to time as well. Maybe you like one a bit more than time to time or you've romanticized the idea of becoming like your uncle who always smelled of booze. If you fall into the latter category, you might be able to handle this drink a little better than occasional drinkers. Jokes aside, this drink has a lot of liquor, so watch yourself.

What Is Karsk?
So what is karsk, anyway? This beverage originates in the Trøndelag region of Norway. It's been around since at least the 1800s. Essentially this coffee cocktail is equal parts hot brewed coffee and moonshine. Well, equal parts in theory. "Moonshine, you say?" Yes. Though it is illegal to produce moonshine in Norway, it is still done in secret. These days the most common moonshine alternatives in the Scandinavian countries are grain alcohols like Everclear, and of course, vodka.
Making Karsk the Traditional Way
The traditional recipe for making Karsk is less recipe and more tradition. Think of it as a self-deceiving way of accidentally getting hammered. Most Scandinavians probably have a pot of coffee on at any given time (Finland consumes the most worldwide, followed by Norway). But before the coffee, you'll need something else. A coin. Okay, but why? This is where the tradition or game comes in.
Ensure that your coin is clean. It can be a penny. Place your penny at the bottom of your mug or glass. Then grab your pot of coffee and pour the coffee into your mug until you can no longer see the penny. Then grab your bottle of vodka (or moonshine, if you've got the hook-up) and pour the liquor until you dilute your coffee the point where your penny becomes visible again.
But here's the thing. You'll never see that penny again with light only entering the top of the glass. By the time you've diluted your coffee with liquor, you've got pretty much a mug full of liquor with a smidge of coffee. Whoops! Guess you have to drink it all! It's probably best to not use a huge mug. If you're using a glass, you'll see the penny when you pick up your glass of the counter since light will be shining from the bottom. Oh, add some sugar into that if you want.
Our Karsk Recipe
Okay, okay. You're not looking to get trashed before breakfast. But our recipe isn't a good hair of the dog either. Let's face it. This drink will do everything but recalibrate you after a crazy night. For Norwegians, coffee is a drink for any time of the day. We like coffee all the time too. So, for our purposes, maybe let's put a little more coffee in, less liquor, and forget about the whole coin ruse? What do you think? Here's our recipe.
---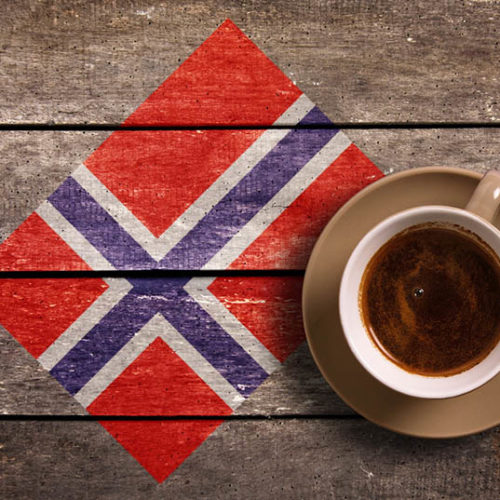 Easy Karsk Recipe
This drink will do everything but recalibrate you after a crazy night, so watch yourself. Here's our recipe.
Ingredients
6

oz

brewed coffee

6

oz

vodka

or moonshine if you've got it! We won't tell!

1

teaspoon

sugar
Instructions
Pour 6 oz of hot brewed coffee into a lowball or mug of your choice.

Add your teaspoon of sugar. Stir.

Add 6 oz of vodka straight on top

Drink up. If you can finish it.

Final Thoughts
We want to make a note about the method of brewing coffee. Though it's really your choice, we think certain methods are not as well-suited for a cocktail. Any brewing method that creates a false body, such as French press, tends not to mix well with other inclusions in your mug. We see this with cream. It doesn't create as smooth of a look as with filtered coffee. The same can go for liquor, though to a lesser degree. You can use a coffee pot or a pour-over method to make a strong brew. You probably won't want a watered-down cup of Folgers mixed with moonshine or vodka. It's better to balance it out. Cheers!
---
Featured Image Credit: gmstockstudio, Shutterstock