Along with Halloween and Valentine's Day, Easter's a great holiday to indulge in your favorite candies. But what if you could pair your favorite Easter foods with delicious coffee recipes? Whether you need something to serve with Easter brunch or a post-Easter egg roll treat, there are a lot of fun ways to celebrate with coffee.
Here are our 8 favorite Easter coffee recipes, including lattes, cold brew, and mochas inspired by the holiday. So scroll down and get ready to outdo the Easter bunny!

The 8 Best Easter Coffee Recipes
1. Easter Bunny Latte
If you're a big fan of Peeps marshmallows, you'll love this Easter coffee recipe from Torani. Combine vanilla and marshmallow syrup to make a latte that tastes just like a Peep. And yes, the bunny latte art is optional! Get the full recipe here.
---
2. Lavender Latte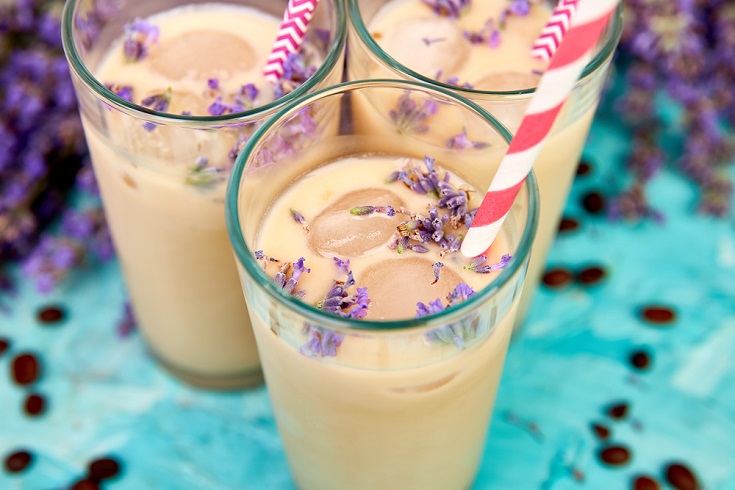 Pastel colors and egg dyeing are classic elements of Easter. That's why this lavender latte (which uses homemade lavender syrup) is the perfect way to celebrate! Spring flowers, pretty colors, delicious flavors… what more could you want? Get the full recipe here.
How to Make a Lavender Vanilla Latte (Hot or Iced)
Lavender lattes are surprisingly easy to make -- and delicious hot or iced! Whether you want a cozy lavender latte for a cold day or a refreshing iced lavender latte for a sweltering summer day, here the steps:
Try this delicious recipe!
---
3. Eggspresso
Eggspressos first emerged years ago in Perth, Australia, introduced by an innovative coffee shop called Karvan Coffee. How can you make them at home? Saw the top off of a chocolate Easter egg and pull a shot of espresso into it! Make sure you have a bowl ready to catch all that melting chocolate…
---
4. Swedish Egg Coffee
Most of the eggs at Easter are made of chocolate, but you can make a delicious coffee drink using real eggs, too. Why not try this
nutritious Swedish recipe
, which even
incorporates the eggshell
? Or take a look at our
favorite egg coffee recipes
.
---
5. Bunny Melt
No, this isn't a twist on a patty melt. The bunny melt is hot chocolate made by pouring hot milk over a chocolate Easter bunny. Make it a coffee drink by pouring hot espresso over a chocolate bunny! Get the full recipe here.
---
6. Cadbury Creme Egg Frappuccino
Now for something really decadent. Try blending Cadbury Creme eggs into your frappuccino! Top with another Cadbury or Easter sprinkles for a festive touch. Get the full recipe here.
---
7. Minty Cold Brew
If Easter reminds you of mint jelly, we've got the recipe for you! Make this minty cold brew for a low-sugar Easter pick-me-up. It also makes a great
St. Patrick's Day drink
.
Get the full recipe here.
---
8. Dark Chocolate & Caramel Latte
Dark chocolate and caramel? This latte practically is a chocolate bunny! Top with chocolate eggs or bunny-shaped marshmallows for a stronger Easter theme. Get the full recipe here.

Final Thoughts
Have you found an egg-cellent Easter coffee recipe? Whether you try a bunny melt, brew a lavender latte, or whip up an eggspresso, we hope you have a delicious Easter. Recover from a grueling Easter egg hunt with a minty cold brew or go wild with a Swedish egg coffee! Now, could you pass the jelly beans?
RELATED READS:
---
Featured image credit: Yulia Furman, Shutterstock