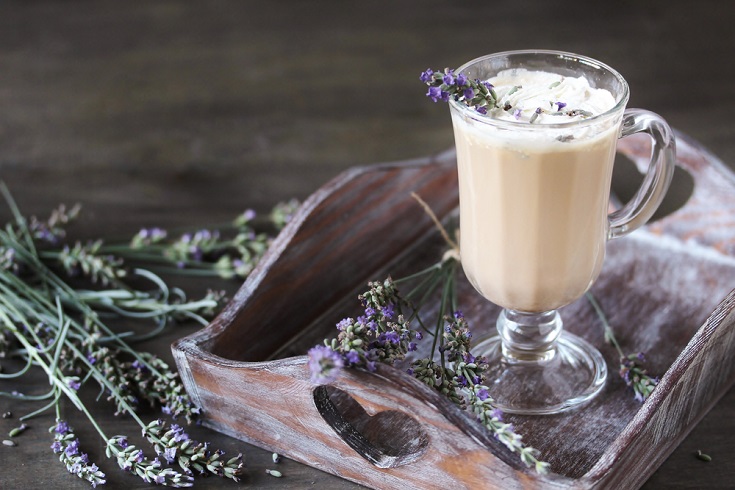 Are you a fan of new coffee drinks making the rounds at the hip and trendy coffee houses? If so, you are probably loving the tasty yet relaxing lavender latte. With its sweet, aromatic taste, this subtle and strong blend has become the new favorite.
Although many java-junkies are loving this new brew, not everyone is as eager to sit in a coffee house. If you're like us, there are probably times when you would rather enjoy this new latte at home in your comfies, reading a good book or catching up on your favorite show.
If this is you, we have the perfect win-win solution. You see, making a lavender latte at home is as simple as one, two, three! Below, we will share an easy recipe to brew this new, hot beverage.
As a bonus, we will also share a quick recipe for those hot days when you need something, well…iced!

The Preparations
Besides gathering your ingredients, there is not a lot of prep for this recipe. Of course, we do recommend that you have your post-latte-making plan in place. Whether you are going to start that new book or binge watch Friends on your couch, have those things ready to go as this isn't going to take long!
First, however, you will need to gather your coffee-brewing tools. The great thing about the lavender latte is you can make it with either coffee or espresso depending on what you have at home.
How to Make a Lavender Latte:
To get you from start to finish you will need:
Ingredients
¼ cup dried lavender
½ cup white sugar
½ cup of water
½ cup milk of your choosing
8 ounces of strong coffee or one espresso shot
2 tablespoons lavender syrup (see step one)
Equipment
2 small saucepans
Strainer
Whisk
Tablespoons
Measuring Cups
Espresso machine or coffee maker
Milk steamer or microwaveable container with lid
Mug
1. Make the Lavender Syrup
In a small saucepan combine the lavender and water, and bring it to a boil. Once boiling, reduce the heat to a simmer. Allow the mixture to simmer for 3 to 4 minutes before removing from heat. Let the mixture stand until it cools to room temperature.
Once the lavender and water have cooled, use the strainer to separate the leftover lavender buds from the water. It is important that you allow it to cool prior to straining so the mixture can steep.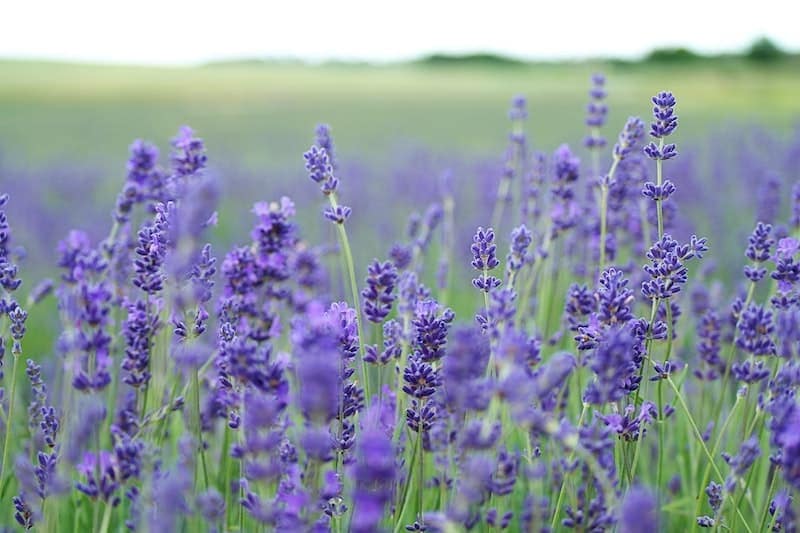 In a second saucepan, add the sugar and about 2 or 3 tablespoons of the lavender water. It should be just enough to wet the sugar. Bring to a boil then reduce heat to a simmer. You will want to whisk periodically. Simmer for about 4 to 5 minutes, or until you have a syrup-like consistency.
Add the rest of the lavender water. Whisk until all the sugar has dissolved. Remove it from the heat, and transfer it to the refrigerator.
2. Make the Coffee and Steam the Milk
The second step will require your remaining supplies and ingredients. Some of the supplies can be swapped out for those of your choice. For this article, however, we will share our favorite way.
First, using your favorite coffee maker, brew one strong cup (you can also make one shot of espresso if you have a French press or espresso machine).
While your coffee is brewing, add milk to a bowl, and using the milk steamer, heat it until you have a light-froth consistency. Around 30 to 45 seconds is typically sufficient.
If you don't have a milk steamer, there is a quick alternative. Pour the milk into a microwave-safe container with a tight lid. Microwave (without lid) for about one minute. You want the milk to be hot, but not to the point of boiling. Remove container from microwave (with oven mitts, please!) and tightly attach the lid. Shake for about 30 seconds or until you get the desired consistency.
Note: As this is a latte, not a cappuccino, you want to keep the milk liquidy, but with enough froth to give the brew the right texture. What you don't want is foam.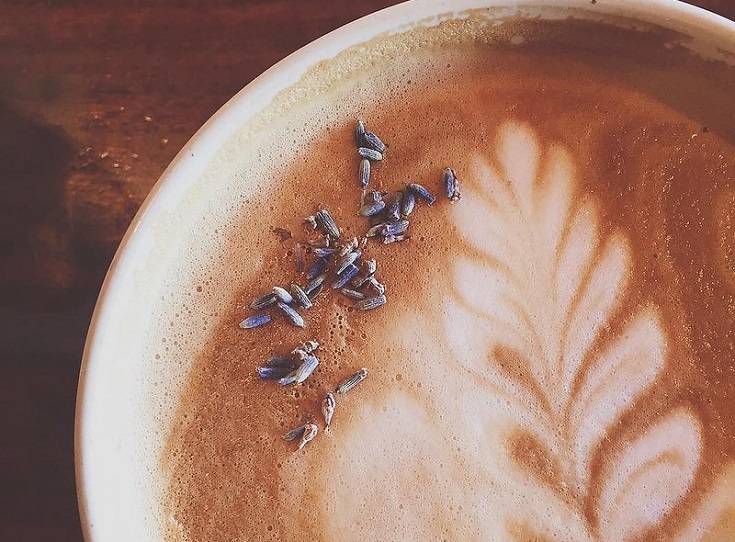 3. Combine and Enjoy!
In the mug of your choice, add your coffee and lavender syrup. Stir until well blended. Add the milk on top of the lavender coffee, and sprinkle a few lavender buds on top. For a sweeter latte, you can drizzle some of the lavender syrup on top of the milk, as well.
Enjoy your delicious drink!

How to Make an Iced Lavender Vanilla Latte
If you like the lavender latte, we bet you will also love the iced lavender vanilla latte for those hot days where you still want to enjoy your favorite brew.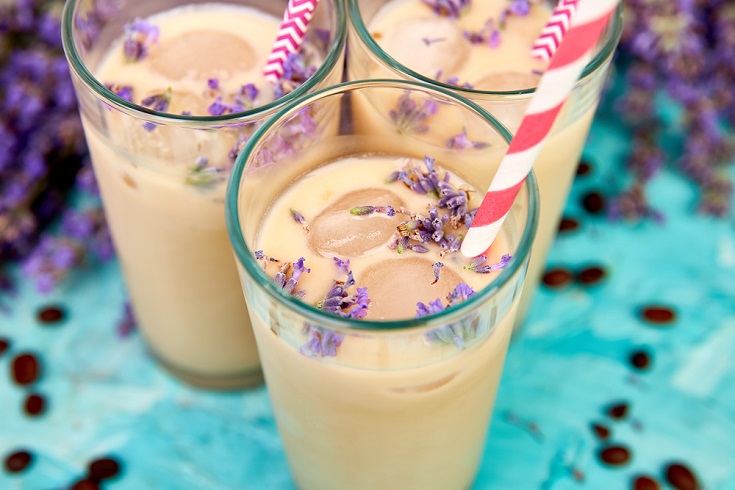 For this recipe, you will need to add a few extra items to the ingredients and supplies listed above:
1 vanilla bean split in half
1 teaspoon vanilla extract
1 cup of ice
2 fresh lavender sprigs (optional)
To make the lavender vanilla syrup, you will more or less follow the instructions above with a few small alterations.
1. Make lavender vanilla water.
First, combine the water, lavender, and both halves of the vanilla bean to a small saucepan. Bring to a boil, simmer for 3 to 4 minutes, and allow to cool to room temperature. Then strain the lavender buds and vanilla skins from the water.
2. Simmer with sugar.
In the second saucepan, add sugar and enough lavender-vanilla water to saturate it. Bring it to a boil and add the vanilla extract. Reduce heat to a simmer for 4 to 5 minutes while whisking often. Set aside.
3. Make coffee and steam milk.
Make your coffee and milk as usual.
4. Pour over ice and enjoy!
Finally, add ice to a cup followed by the milk and the lavender-vanilla syrup. Stir in the coffee or espresso shots last. Top it off with your fresh lavender sprigs for added flare.

Final Notes
Both of the recipes above can be modified to suit your tastes. For example, you can use any type of milk from regular whole milk to unsweetened almond. You can vary the amount of lavender syrup, as well. If vanilla is not your thing, try making a lavender latte on ice without it.
This is a great recipe to break out when company arrives, or if you are just kicking back by yourself. We hope the recipe and instructions above have given you all the info you need to create this new favorite brew at home.
Looking for more delicious coffee recipes?
---
Featured Image: Lyudmila Mikhailovskaya, Shutterstock