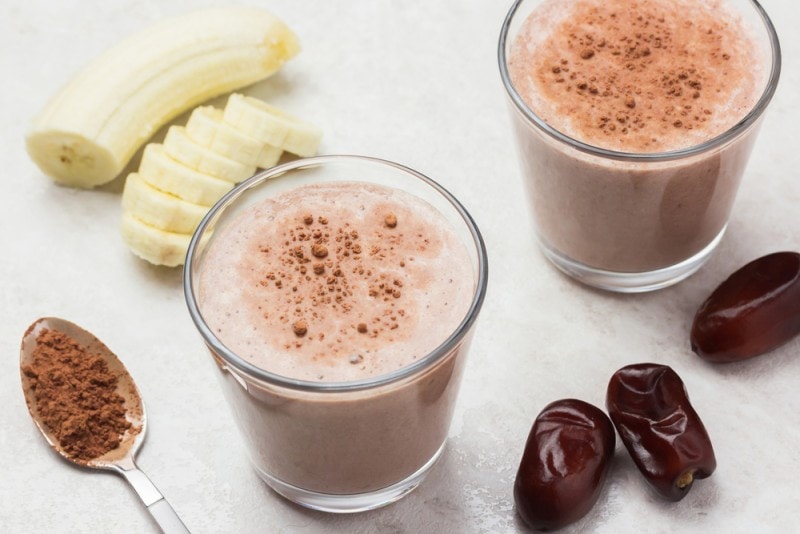 Smoothies are fun breakfasts or afternoon treats, and you don't have to find a Jamba Juice to enjoy them. But many smoothie recipes feature multiple forms of dairy, like yogurt and milk. Can you make a delicious coffee smoothie that's also vegan?
Of course! We'll show you how to make the vegan coffee smoothie of your dreams. All you need are a few simple ingredients — and a frozen banana. Get ready for a delicious frozen coffee drink!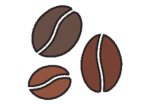 Delicious Coffee Smoothie (Vegan)
This easy coffee smoothie recipe is vegan, but it's also delightfully creamy! Freeze a banana or two ahead of time for an easy five-minute smoothie.
Equipment
Espresso machine or coffee maker

High-speed blender

2 tall glasses
Ingredients
½

cup

strong coffee

or 2 shots espresso

1

cup

almond milk

1

banana

frozen & chopped

1

tablespoon

almond or peanut butter

1

cup

ice

1

Medjool date

or 1 teaspoon agave

Cocoa powder or protein powder

optional

Cinnamon

nutmeg, or espresso powder (optional)
Instructions
Pour all ingredients into your blender. Blend on high speed until the mixture is smooth, adding a little more almond milk or ice if the consistency isn't right.

Taste your creation! Take a spoonful and see if your coffee smoothie needs anything. You can always add a pinch of cinnamon, nutmeg, or cocoa powder.

Pour your smoothies into two tall glasses. Serve with a sprinkle of your favorite spice or espresso powder.
Nutrition

Coffee Smoothie Recipe Tips
Getting the Texture Right
The first important step when you're making a coffee smoothie is to get the texture just right. This means balancing the frozen elements (banana and ice) with the liquid ingredients (almond milk and coffee). For the best blending, we recommend adding the liquid at the bottom of the blender bowl, then topping with powdered and frozen ingredients. Keep in mind that if you add a lot of dry ingredients, like protein powder or cocoa powder, you'll probably need to add more almond milk to keep the consistency smooth.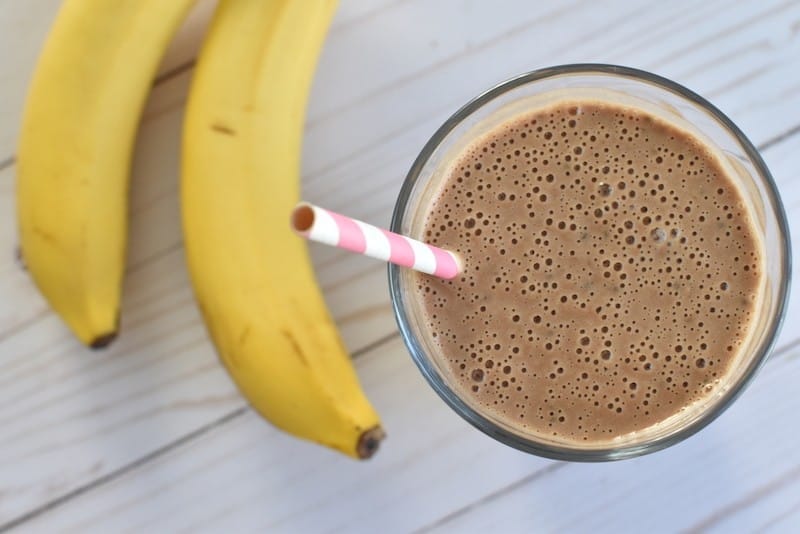 Getting the Flavor Right
Flavor's important, too — just ask your taste buds! If you like your smoothies sweet, add a Medjool date or two. Even easier? Spoonfuls of vegan agave! Prefer chocolate flavors? You can add more cocoa powder. Like spiced treats? Add some pumpkin spice, cinnamon, or nutmeg for a cozy frozen drink.
How caffeinated is a vegan coffee smoothie?
If you follow the above recipe, you can expect under 100 milligrams of caffeine in your smoothie. A shot of espresso has about 65 milligrams of caffeine, and a cup of brewed coffee has about 95. So unless you pump up your smoothie by adding extra espresso or brewed coffee, you'll drink between 50 and 65 milligrams of caffeine.
Not into caffeine? You can use a high-quality decaf coffee instead! You'll enjoy the flavor without the energy boost.

Waking Up With A Coffee Smoothie
Time to enjoy your blended treat! We hope you love this easy coffee smoothie vegan recipe. It's the ultimate protein-packed breakfast that you can blend on your way out the door. You don't need dairy to make a creamy, flavorful coffee smoothie!
RELATED READS:
---
Featured image: Irina Rostokina, Shutterstock