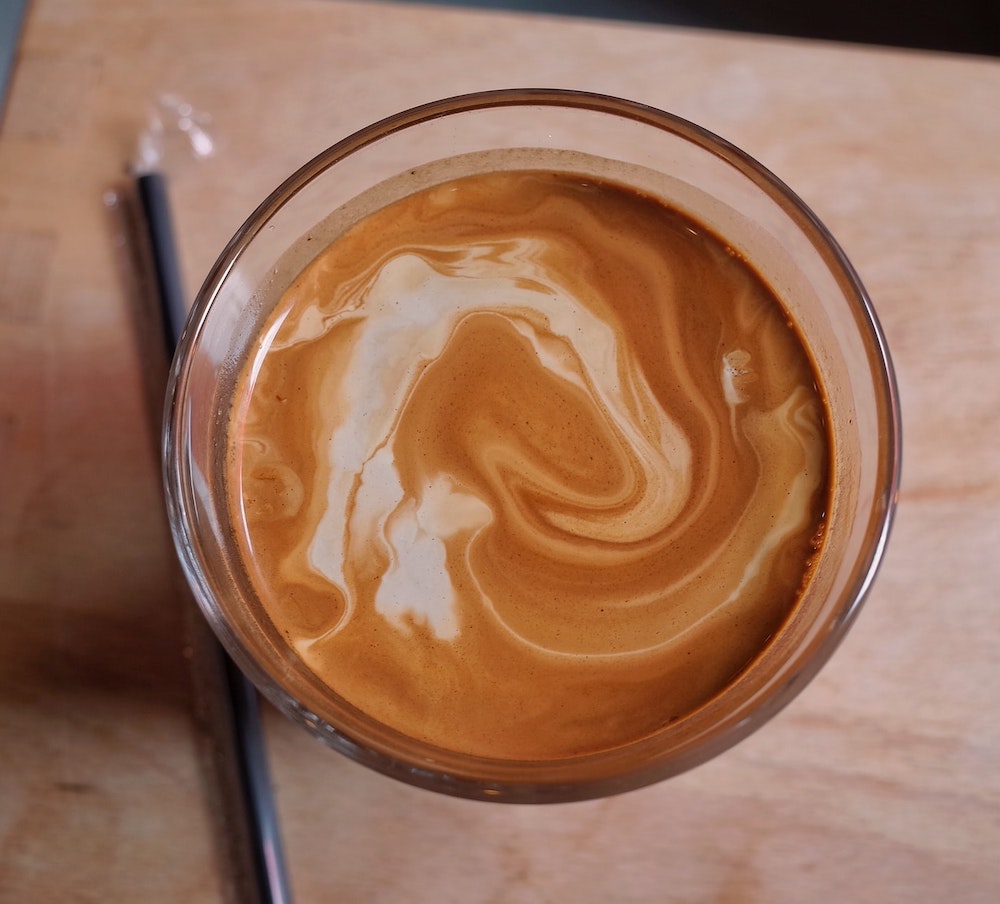 Are lattes your favorite espresso drink? You're not alone — they're the most popular coffee order in the US. This classic drink combines espresso with milk to form a hearty, energizing treat. In fact, the word "latte" translates to milk.
Rather than spend your time and money at a coffee shop, why not enjoy a latte at home with a latte machine? If you choose the right espresso machine, you'll have delicious lattes before you know it. But how can you be sure of what you're getting? What should you look for when choosing?
We've taken the guesswork out for you by compiling a comprehensive list of our top picks and reviewing them thoroughly. By the time you're finished reading this, you should be able to make a choice with confidence.
---
A Quick Glance at the Winners in 2023
Image
Product
Details

Best Overall

Breville

Easy cleanup
Best steam wand
Fairly easy to learn

Mr. Coffee

Automatic
Multiple servings at a time
20-recipe booklet

Best Value

Mr. Coffee Café Barista

Detachable milk carafe
Easy cleanup
Recipe book

The Ultimate Budget Buy

Mr. Coffee Café

Great quality latte
15 bar pressure pump system
Lowest-priced machine on our list

DeLonghi 15 Bar Pump

15 bar pressure pump system
Easy cleanup
Under $200
The 10 Best Latte Machines:
1. Breville BES870XL Espresso & Latte Machine – Best Overall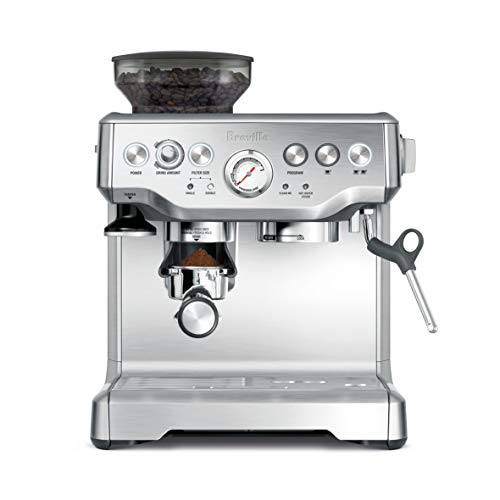 Breville's Barista Express tops our list because of its capabilities as far as coffee and milk quality are concerned. The first thing you'll notice in a good latte is the milk quality. As soon as the drink hits your mouth, you notice the temperature and the velvety smooth texture, or the lack thereof. With the Barista Express and a little practice, you can almost guarantee a perfectly textured latte every time.
Since this is a semi-automatic machine, you play a role in how your latte is going to taste. So, play around a little bit. This machine is super easy to learn and fun to use. You'll easily become addicted and will be adding accessories to your setup in no time. It is, without a doubt, one of the best latte makers for home and commercial use.
The bottom line: we think this is the best latte machine you can currently buy.
Pros
All-in-one (no separate grinder needed)
Easy cleanup
Best steam wand
Fairly easy to learn
Cons
Small water tank
Stainless steel and plastic makes it feel a little cheap
---
2. Mr. Coffee Automatic Café Latte Maker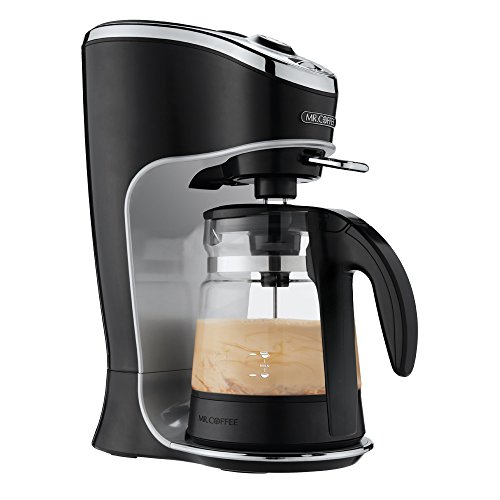 The Mr. Coffee Automatic Café Latte Maker differs very heavily from our first choice. Since it's automatic, we highly recommend it for those seeking efficiency above all else in a latte maker. But with ease of use, you do sacrifice quality of taste. Even though this latte maker makes amazing lattes, they don't stand up to the quality of the Breville Barista Express.
The Mr. Coffee Automatic Café Latte Maker is easy to learn and takes less than a minute to set up. You'll receive an informative recipe book that'll expand your latte repertoire. Even though you won't be experimenting with parameters on this machine, you can experiment with new flavors of lattes. Your mouth will thank you for it.
Pros
Automatic
Multiple servings at a time
20-recipe booklet
---
3. Mr. Coffee Café Barista Espresso & Latte Maker – Best Value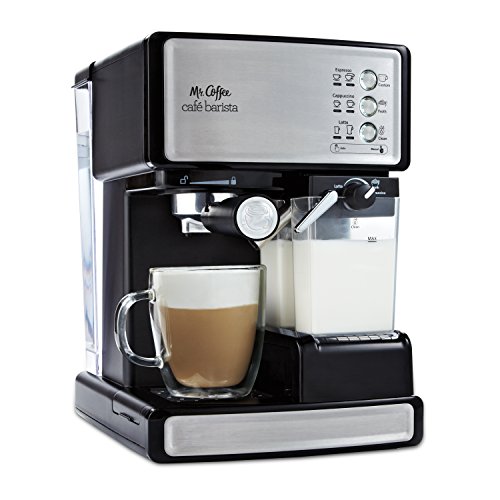 For those on a budget, we recommend the Mr. Coffee Café Barista Espresso and Cappuccino Maker. It doesn't advertise its latte making capabilities in the name, but for the price it makes an exceptional latte. Like the Mr. Coffee Café Latte Maker, this machine is automatic, making it easier for those who are on the go and don't have time to actually build their lattes. The only hands-on part is getting the espresso into the portafilter. Then use is as easy as pushing a button.
The major quality lacking with this machine is milk texture quality. If you're picky about the way your milk's textured, you may want to pass on this machine. We found that the milk is a little too airy, which is a personal preference. If you love airy milk in your lattes, then this is the latte maker for you.
Pros
Price
Detachable milk carafe
Easy cleanup
Recipe book
Cons
Cheap hardware
Can't control milk texture
---
4. Mr. Coffee Café Auto Espresso & Cappuccino Machine – The Ultimate Budget Buy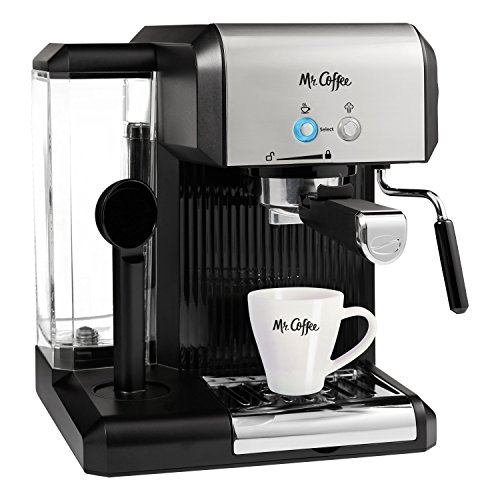 As the lowest-priced machine on our list, the Mr. Coffee Café Steam Automatic Espresso and Cappuccino Machine is worth considering. Our team recommends this for people who are just getting started in their at-home barista experience. For less than $100, you can get a good quality latte at home. Granted, it won't be the best quality latte, but it's a great start for beginner latte drinkers.
This machine makes our list because of its price and because it makes lattes that can contend with much more expensive latte makers. It's an automatic, but the steam wand is manual. You get to control the texture of your milk, which is a big plus. The steam wand works really well, surprisingly. We were able to achieve that perfect microfoam texture.
The major thing holding this maker back is that you can't steam and extract espresso simultaneously. In fact, you have to wait until the machine cools a bit to use the steam wand. Not too efficient, huh?
Pros
Price
Great quality latte
15 bar pressure pump system
Cons
Cheaply made
Can't use steam wand right after espresso extraction
Beginner machine – latte aficionados probably wouldn't like it
---
5. DeLonghi EC702 15-Bar-Pump Espresso & Latte Machine
The DeLonghi EC702 15-Bar-Pump Espresso Maker makes our list at number five. Although it produces a great latte, there definitely is a learning curve. The one thing that makes it stand out is that it can be used with pods, which we don't find too often on espresso machines with portafilters.
This machine is for people who don't mind experimenting with a semi-automatic espresso maker. You control the amount of water and time of espresso extraction, and a lot of people don't want that when preparing coffee on a busy morning. If you have the time and patience to figure out the parameters for coffee extraction, you'll love this machine. Once everything is dialed in, it produces an amazing latte. As far as hardware goes, it's super durable, but the steam wand could be longer.
Pros
15 bar pressure pump system
Stainless steel all around
Easy cleanup
Under $200
Cons
Learning curve
Steam wand is too short
---
6. Keurig K-Café Single-Serve Latte, Coffee & Cappuccino Maker – If You're a Keurig Fan
For all you Keurig lovers, the Keurig K-Café Single Serve Latte, Coffee & Cappuccino Maker has made the list just for you. Before we rave about this latte maker, this isn't for those who want the experience of having freshly ground beans seconds before extraction. If you care about that, this machine isn't for you.
We enjoy the efficiency of the Keurig K-Café Single-Serve. Initial setup and daily operation are easy. As with most latte makers that take pods, cleanup is a breeze, saving you time during a busy day.
As far as extraction goes, this latte maker got it right. You're just a push of a button away from a decently brewed latte. However, the milk frother isn't the best. For the price, it could be better. It's great for cappuccinos, because it froths to the point where the foam separates from the liquid, but that's not quite what we're looking for in a latte.
Pros
Large water tank
Automatic
Fast extraction
Simultaneous espresso extraction and milk steaming
Cons
Lacks the freshness of whole bean espresso
Milk is too foamy
---
7. Nespresso Lattissima Plus – If You're a Nespresso Fan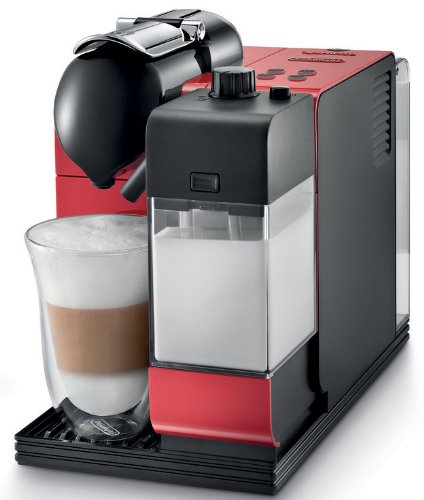 The Nespresso Lattissima Plus is a little powerhouse of an espresso machine. Its small size makes it extremely accessible, but it's a little on the expensive side. It makes delicious lattes for a maker that only takes capsules or pods. Another thing we enjoy about this machine, as with all machines that have this feature, is the detachable milk container. Having the milk already ready to go saves you time and energy.
The Nespresso Lattissima Plus is truly an automatic latte maker. It's for those who prefer using pods, and who want a pretty hands-off experience. However, this machine is made by DeLonghi but bears the Nespresso name. If you run into problems with the machine and need to reach out to customer support, you may be on a wild goose chase of who to talk to.
Pros
Easy cleanup
Hands-off automatic
Small machine
Cons
A bit pricey
Lacks freshness of whole bean espresso
Comes from two separate companies; customer support could be difficult
---
8. AICOK Espresso Machine with Milk Steamer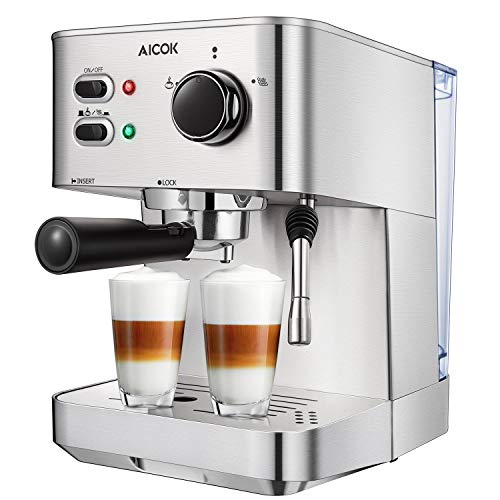 The AICOK Espresso Machine, Cappuccino Coffee Maker is another awesome little espresso machine. The price is right, sitting below the $200 mark. It's a manual portafilter machine, so it's not the best as far as quickness and efficiency are concerned. This is not the beginner's latte maker. Espresso extraction is manual, as well as milk steaming. Even if you're looking to experiment to get your feet wet with manual espresso machines, we don't recommend this one because the instruction manual isn't clear. Go with #5 on our list, the DeLonghi EC702 15-Bar-Pump Espresso Maker.
However, for those who are experienced and looking to experiment on a budget, this is your latte maker. The highlight with this machine is its two-year warranty with lifetime customer support.
Pros
Small size
Price
Good quality lattes
Lifetime customer support
Cons
Instruction manual is hard to understand
Manual machine
Can't extract espresso and steam milk simultaneously
---
9. Klarstein BellaVita Coffee, Cappuccino & Latte Maker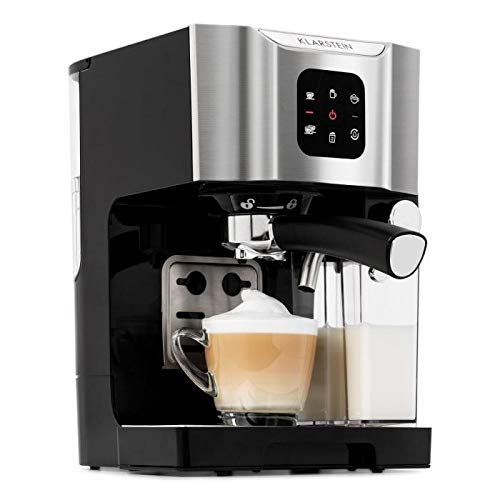 The Klarstein BellaVita Coffee Machine just barely makes our list. It makes a good latte espresso-wise, but the milk could be better. We love the versatility of machines that have detachable milk containers like this one, but the automatic frothing could always be better. The milk texture is very reminiscent of a cappuccino, even when you're intentionally frothing for a latte. The espresso extraction is optimized due to the 20 bar pressure it uses for deep, strong espresso. We'd recommend some freshly ground Central or South American beans to get those deep chocolatey flavor notes that taste amazing in lattes.
One huge deterrent we noticed about this machine is the use of plastic in the portafilter. With temperatures reaching past boiling point, plastic should not be used. If this is a concern to you, then you may want to skip this option.
Pros
20 bar pressure
Detachable milk carafe
Cons
Plastic in portafilter
Milk texture is too foamy
Starts to leak after continuous daily use
---
10. Hamilton Beach Espresso, Latte and Cappuccino Machine (40792)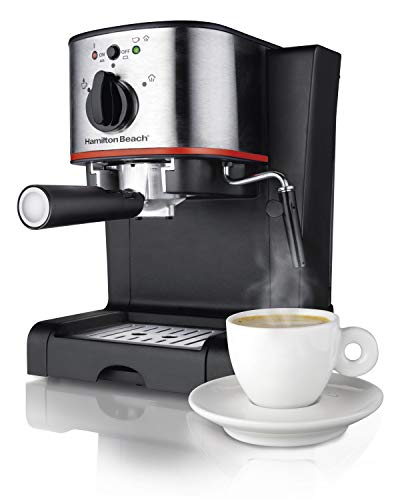 The Hamilton Beach Espresso, Latte and Cappuccino Machine made our list because it does deliver a decent latte. But a lot is lacking, which is why it's at number ten. For those looking to get by and who don't really care about the quality and flavor of the espresso, this machine is for you. It has a useful similar 3-in-1 function like the Klarstein BellaVita, offering versatility.
However, we can't deny that it's cheaply made. The steam wand is manual and is not the best. So even when you do pick up the learning curve of steaming milk, this machine still doesn't really deliver. It is a budget buy, but you can get better for around the same cost.
Pros
Doesn't take up too much space
3-in-1 function
Cons
Cheaply made
Starts to leak after continuous daily use
Steam wand could be a lot stronger
Lacking in flavor quality
---
Buyers' Guide: Shopping for the Best Latte Machine
Now that you're pretty well-versed in the variety of latte makers that make up our top ten, it's time to start considering the type of machine that's best for your needs. Just because the Breville Barista Express is our top pick doesn't mean it's the best for you. This guide will break down some common terminology, and hopefully, help you feel confident in choosing the latte maker for you.
Types of Espresso Machines
Let's distinguish the different types of espresso machines. All espresso machines fall into one of these two categories: semi-automatic and super-automatic.
If you want your latte quickly with little to no effort, get a super-automatic machine. Super-automatic espresso machines offer the ease of doing almost everything for you, from grinding coffee beans directly in the portafilter or brew group to controlling extraction and steaming milk. Super-automatic latte makers are also best for those who aren't too crazy about learning and experimenting with their machine. You just press a button, typically, and you're done.
If you want to control your coffee parameters and milk texture, consider a semi-automatic espresso machine. Semi-automatic espresso machines usually have a portafilter and group head type of brewing system. This means the best taste quality, but you have to work to get there. Depending on your skillset with espresso machines, it usually takes time to "dial-in" the machine. Dialing in means figuring out the best grind setting for the espresso beans, along with how much time the extraction takes (usually no more than 30 seconds), and the total output of extraction (usually no more than two ounces). Playing around with all those factors to make the perfect latte is fun, but not for everyone.
After figuring out what suits your needs best, the question to ask is: How do you feel about the quality of your lattes? Do you want something that's just going to hold you over because you're on a budget? Or do you want the best quality lattes no matter what?
Drink Quality in Super-Automatic Machines
The problem with drink quality in super-automatic espresso machines mainly has to do with the milk. Milk texture is one of the main qualities that makes or breaks a latte. We've found that most milk frothers or steam wands on super automatics make the milk too foamy. There's nothing wrong with foamy milk if that's your preference. But foamy milk is usually a characteristic of cappuccinos. Latte milk usually is a perfect mixture of foam and liquid altogether, without separation.
Espresso also plays a role in latte quality, but it's more forgiving than milk texture. With super automatics, the espresso extraction is usually out of your control. Sit back, relax, and don't worry about the espresso.
Drink Quality in Semi-Automatic Machines
There's plenty of room for error when it comes to drink quality with a semi-automatic espresso machine. But there's the potential to make the best latte you've ever had, too. That's what we love about semi-automatics. Everything is in your control.
Is the machine capable of providing the adequate temperature, extraction pressure, and/or steam pressure? From a semi-automatic, the most you can expect are the basics. The rest is up to you. The more time you put into learning how to optimize these machines, the better your drink quality will be. A great example of a semi-automatic machine that delivers amazing quality and is easy to learn is our number one pick, the Breville Barista Express.
Price
If you're a daily latte drinker, you'll definitely be saving money by buying a latte maker for your home or office instead of buying one from a coffee shop each day. At whatever price, we feel that the purchase is justified.
The price range on espresso machines can go from under $100 to over $2000. How can you determine which is the best for the money? It can be difficult to figure out, which is why we encourage all buyers to figure out the most important factor for them in daily latte consumption.
It's possible to buy an exceptional latte maker for under $1000. We include the budget options on our list because there are awesome espresso machines out there for less than $500. They may have a bit of a learning curve, but they work just as well as some of the expensive machines.
With super-automatic espresso machines, the prices tend to run a bit higher than semi-automatics. As they should; super automatics do more work. If you're interested in a super-automatic machine, expect to pay anywhere from $500 up to $2000.

Final Verdict
We trust that you're fully equipped with the knowledge needed to confidently purchase the right latte maker for your specific needs. The hard part is done already: learning about your options. Hopefully, you've taken our word for it and are considering our top choice, Breville's Barista Express. Its price is in the mid-range as far as latte makers go, but it's a great value considering the grinder is built into the machine.
If you're looking for something a bit lower-priced that still delivers a solid latte, consider the Mr. Coffee Café Barista Espresso and Cappuccino Maker. Either way, you can't go wrong. We hope this guide has provided the proper information you need for choosing the right latte maker.
See Also: 10 Best Espresso Machines in the UK: Reviews & Top Picks