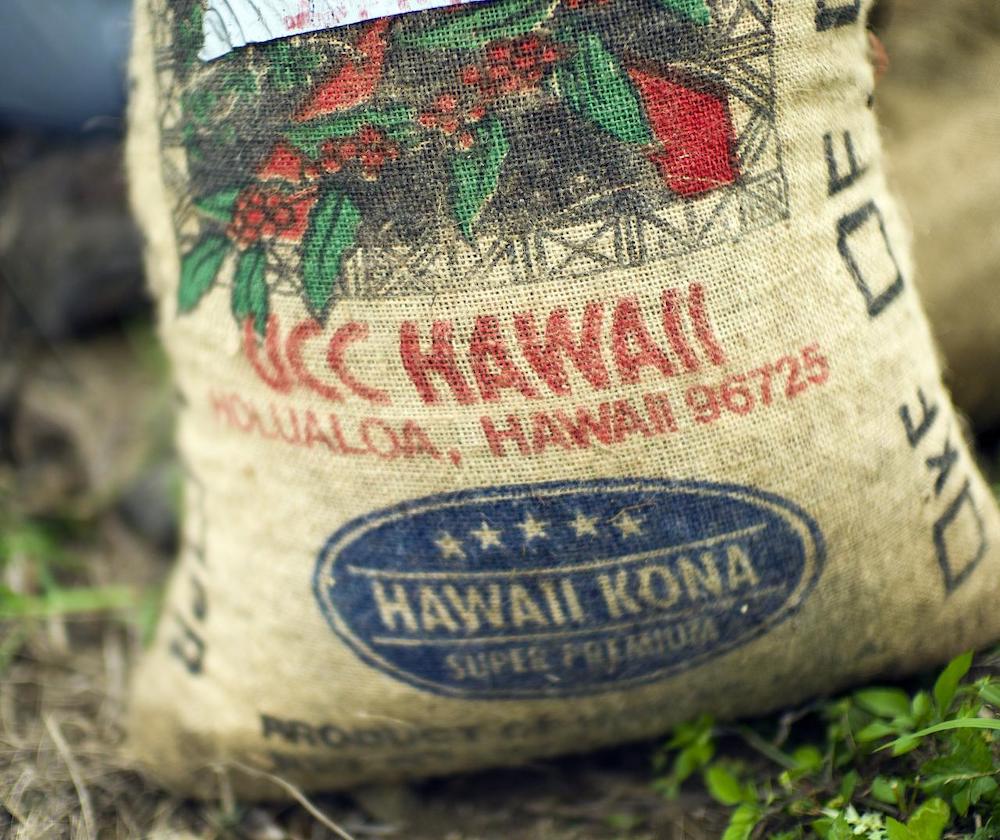 Our ten Kona coffee reviews are the product of many hours of tests (and many more hours of jittery energy). We take our coffee tests seriously, studying each cup and rating them on the basis of the factors that matter the most to busy consumers.
Taste is the number one priority. All the coffees on our list are fit to satisfy even the pickiest of palates. However, we also take the entire user experience into account. From the packaging, down to the price, we have chosen options that satisfy all your major concerns. Here are some of the best-tasting Kona coffee products on the market!
---
Coffee Affection's Favorites of 2023
Image
Product
Details

Best Overall

Koa Coffee

Naturally processed for better flavor
Hand-selected beans to ensure quality
Smooth, delicious taste

Best Ground Coffee

Hawaiian Lion 24K Gold Roast

Gourmet flavor
Available in drip grind size
Full-bodied, strong, and smooth

Best Decaf

Royal Kona Decaffeinated

Sun-roasted process leaves only the best beans
Smooth, robust flavor
Decaf

Landor Hawaiian Medium-Roast

Affordable
Large quantity
Smooth drinking experience

Blue Horse Medium-Roast

Unique spicy flavor
Organically grown
Single-origin beans
The 10 Best Kona Coffee Brands:
1. Koa Coffee Kona Natural — Best Overall
We start our list with our favorite Kona coffee beans: the vibrant Koa Coffee Kona Natural. This gourmet medium roast coffee is naturally processed, meaning you'll get stronger, more unique flavors.
Grown on Hawaii's Mauna Loa volcano, these beans are hand-picked to ensure that each cup of coffee boasts the highest possible level of quality. The radiant flavor features smooth notes for palates that appreciate a level of subtler sophistication.
This is a fairly pricey coffee, but the complex, smooth flavor is unbeatable. Your tastebuds will thank you!
All in all, this is our pick for the best Kona coffee brand. We think you'll love it!
Pros
Naturally processed for better flavor
Hand-selected beans to ensure quality
Smooth, delicious taste
---
2. Hawaiian Lion 24K Gold Roast — Best Ground Kona Coffee
Our top ground Kona coffee is, without question, the Hawaiian Lion 24K Gold Roast. This gourmet coffee is available in a convenient drip grind — and the full-bodied flavor is hard to resist.
This medium-roast Kona coffee boasts smooth, robust flavor, giving you a very smooth drinking experience. Fresh, strong, and just a bit exotic, this coffee is a vacation in a cup.
Like our top whole bean choice, it is a very pricey coffee, but that is to be expected with such a special variety of coffee.
---
3. Royal Kona Decaffeinated 100% Kona Coffee — Best Decaf
If you're looking for a good cup of decaf Kona style coffee, you may appreciate the Royal Kona 100% blend. This flavorful coffee is roasted by the sun and is made in small batches on a single Hawaiian estate. The limited roasting process ensures that only the finest beans make it into each bag.
The care and dedication translate into a smooth taste and a robust flavor that lower-end coffees can't quite compete with. Unfortunately, the coffee does leave a regrettably bitter aftertaste that is unusual for a product of this price.
Pros
Sun-roasted process leaves only the best beans
Smooth, robust flavor
Decaf
---
4. Landor Hawaiian Kona Coffee Medium Roast Whole Bean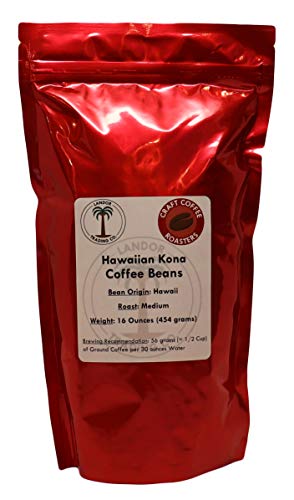 The Hawaiian Kona Coffee is a single-source product made of pure Arabica beans. Subtlety is a blessing and a curse with this coffee. On the one hand, the mild flavor means a relaxingly mellow drinking experience. On the other hand, the taste can come across as almost muted, especially when compared to some of the other products on our list.
However, there is a good deal of value to this blend. This is one of the most affordable options on our list, making it a good option for people who've been intimidated by the price tag of our last two coffees.
Pros
Affordable
Large quantity
Smooth drinking experience
Cons
Some people may feel that the flavors are muted
---
5. Blue Horse 100% Kona Coffee Medium Roast Whole Beans
Freshness is the guarantee of our fifth choice. Farm-fresh is a single-origin coffee farmed on a small estate in Hawaii. The beans are grown organically, collected by workers (who are paid a fair wage), and dried in the sun.
The purity of the process creates a truly unique flavor you won't find anywhere else. The flavor is rich and smoky with spicy undertones that set the coffee apart from comparable products.
However, it's important to note that the caffeine count is uncommonly low. If you are looking for a morning pick-me-up, this might not be it.
Pros
Unique spicy flavor
Organically grown
Single-origin beans
Cons
Unusually low caffeine count
---
6. Kona Kulana 100% Kona Coffee Dark Roast Beans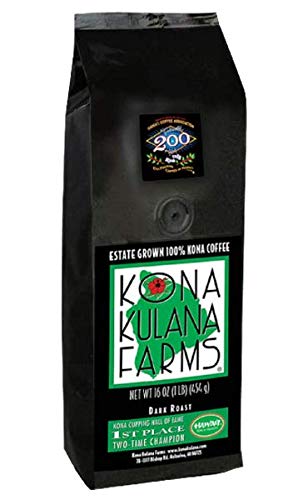 The Kona Kulana is an award-winning dark roast. This coffee features a low acidity, which makes the finished product taste balanced and smooth. This gives the natural flavors of the beans plenty of space to shine.
Astute tasters will notice hints of cinnamon, brown sugar, and even lavender. The overall drinking experience is extremely pleasant right up until the finish. However, there are two key exceptions. The aftertaste tends to come across as somewhat bitter, which compromises the overall drinking experience.
It also comes across as more acidic than some of the other coffees (which, incidentally, probably contributes to the bitterness in the first place).
Pros
Award-winning coffee
Low acidity
Balanced and smooth flavor
---
7. Cameron's Light-Roast Kona Blend (Ground)
You probably noticed that many of the options on this list are very expensive. Because of the way that Kona beans are grown and harvested, it can be hard to get a good deal, which is what makes the Cameron's Coffee Bag such an enticing opportunity.
This affordable coffee is carefully roasted to maximize the taste factor in each reasonably priced cup. The carefully selected beans are roasted in a sustainable facility to reduce emissions.
The taste is not quite as sophisticated as some of the other options. However, you may be willing to forfeit a little complexity to enjoy a delicious, affordable product.
Pros
Great product
Sustainably produced
---
8. Landor Hawaiian Kona Coffee Light Roast Whole Bean
The Hawaiian Kona Coffee light roast is a subtle option for drinkers who appreciate an understated flavor. This is a whole bean product that brings a tremendous deal of freshness to every cup. The understated, alkaline-enhanced taste will be a welcome treat for buyers who shy away from more bitter coffees.
It's a pretty decent coffee, but doesn't do much to distinguish itself relative to the other options on our list. Though the taste is pleasant and fresh, the exorbitant price is cause for some concern. For the money you pay here, you can get a coffee with a little more to offer.
Cons
Pricey
Lacks value relative to the other options on our list
---
9. KonaRed Ground Dark-Roast Kona Blend Coffee
The KonaRed is a moderately priced option that buyers on a budget will be especially fond of. This coffee promotes a balanced, smooth drinking experience and features chocolatey caramel notes with a faint floral hint in the background. The sophisticated flavor combination is only made more appealing by the company's commitment to eco production practices.
The beans are hand-roasted in small batches for a low environmental impact and a truly unique taste. While the coffee is slightly more acidic than we like to see, the overall experience is mostly very smooth. Note that this isn't a particularly potent product. It won't be a very good fit for people who like something with a strong taste and a tempting aroma.
Pros
Environmental
Ethical sourcing
Unique flavor profile
Cons
A little too acidic
Not very pronounced taste or aroma
---
10. Hawaii Roasters 100% Kona Coffee Medium Roast Whole Bean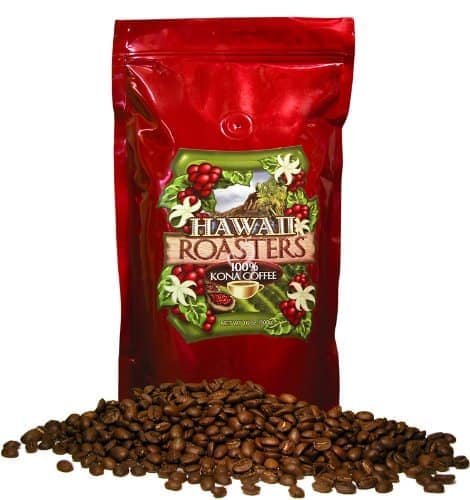 We end things with an affordable coffee that can be easily bought in bulk. Unfortunately, though, the value offering is the biggest thing that Hawaii Roasters coffee has going for it.
Though not bad in its own right, this whole bean coffee simply doesn't have the same level of sophistication and quality as the other options on our list. It's great for buyers on a budget who want to stock up, but it won't be for people who want a fresh taste, a unique flavor profile, or a delightfully aromatic smell that is pleasing to wake up to.
However, if you are okay with getting a rather plain coffee, this is a good option to consider.
Cons
Lacks freshness relative to higher-end coffees
Not very aromatic
Doesn't feature the high-end flavor profile of other coffees on this list
---
Buyer's Guide: Choosing the Best Kona Coffee Brand
If you haven't quite landed on a coffee yet, we have a few tips and tricks that may help the buying process go more smoothly. Here's how to find the best Kona coffee today:
Company Ethics
As buyers become increasingly aware of the environmental and humanitarian concerns that pertain to the world of coffee, fair-trade businesses become increasingly important.
While the aim of many companies is to produce as much coffee for as low a price as possible, some make ethics their priority. They do this both by harvesting the beans in a sustainable manner and by paying all their employees a fair, livable wage.
Shopping at fair trade companies tends to be pricey. The cost of their business operations is higher, and that cost is naturally passed on to the consumer. If you want to be a conscientious consumer, you will need to be willing to fork over a few extra dollars.
Bulk
The quantity of the coffee you buy has a big effect on its overall value. The bigger the bag, the better the price you will get per ounce.
It's the same approach one might take to buying paper towels or any other household product, but with one critical catch: the more coffee you buy, the less likely it is you'll get the chance to enjoy the beans while they're fresh.
From the moment you open a bag of beans, you're on a clock. Most experts feel that the freshness factor begins to decline sharply after one week. You can preserve the flavor somewhat by keeping the beans in a darkened, room temperature space, but even then, you are on a time limit.
Acidity
All coffee is acidic. It's just a fact of the product. However, some beans are more so than others. For example, dark roast coffee features chemicals that balance out the pH level in your stomach, making the drink less harsh. Conversely, light and medium roasts tend to be a little more acidic.
Brand Name
Coffee is a big brand business: Starbucks, Seattle's Best, the list goes on and on. When it comes to big brand companies, you often pay more for the name, and the same is true with the best Kona coffee brands. As you may have noticed on our list, you can find smaller manufacturers that provide delicious coffee at a much more manageable price.

Conclusion
Which of our Kona coffee reviews helped you make a final decision? The hope is always that you'll know exactly what you want by this point, but when faced with 10 great coffees, this is often easier said than done. There are a couple of standout options on our list that should appeal widely to certain types of drinkers.
If you are the type of person who likes to treat themselves to a very high-end cup of coffee, you may favor our top choice, the smooth, tasty Koa Coffee Kona Natural. If you're looking for pre-ground coffee, you may be interested in the Hawaiian Lion 24K Gold Roast, a delicious variety available in a convenient drip grind size. And if you prefer decaf, take a look at the Royal Kona Decaf 100% Kona Coffee.
There are also good choices for buyers on a budget. For example, the Landor Trading Co. Kona Coffee is a great combination of quality and affordability.
RELATED READ: All About Kona Coffee: What You Need to Know
---
Featured image credit: Growing Kona Coffee, Christopher Michel, Wikimedia, CC 2.0