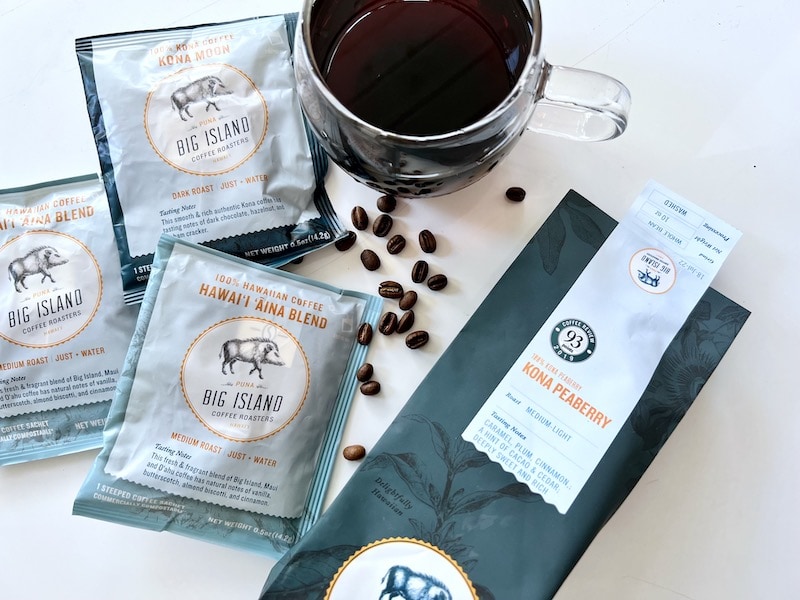 Our Final Verdict
We give Big Island Coffee Roasters a rating of 4.4 out of 5 stars:
Flavor
Quality
Resources
Convenience
Price
Big Island Coffee Roasters: At a Glance
Kona coffee often features on lists of the world's best beans, but unless you live in Hawaii, actually getting your hands on these tasty beans can be a little tricky. That's why we're always searching for great Hawaiian coffee companies! What did we think of Big Island Coffee Roasters? Keep reading to find out!
We were lucky enough to try the whole bean Kona Peaberry and several different varieties of the steeped coffee sachets from Big Island. The Kona Peaberry coffee had an impressively delicate, complex flavor, and the beans were some of the prettiest we've ever seen. And although we at Coffee Affection are typically whole bean fanatics, we were pleasantly surprised by the delicious convenience of the sachets. Let's dive into the detailed review!
A Quick Look
Pros
Choice of roast level and grind size
Steeping sachets are fully compostable
Great for pour-over or French press brewing
Eco-conscious company
Fully Hawaiian coffee
Hawaiian Coffee of the Month Club available
The Company
Big Island Coffee Roasters is a coffee company based in Hawaii's Puna district. The founders came across a small coffee farm listed on craigslist (of all places) and dove headfirst into the complex world of small-batch coffee. After learning the ropes, working with other local coffee farmers, and winning various Hawaiian coffee awards, founders Kelleigh and Brandon created the Big Island Coffee Roasters company we know today.
One thing we particularly like about Big Island is that it's an eco-conscious company. The company works hard to buy sustainable coffee from local Hawaiian farmers and runs 100% on renewable electrical energy. They pay local farmers fair prices and donate to wildlife rescue and habitat restoration organizations.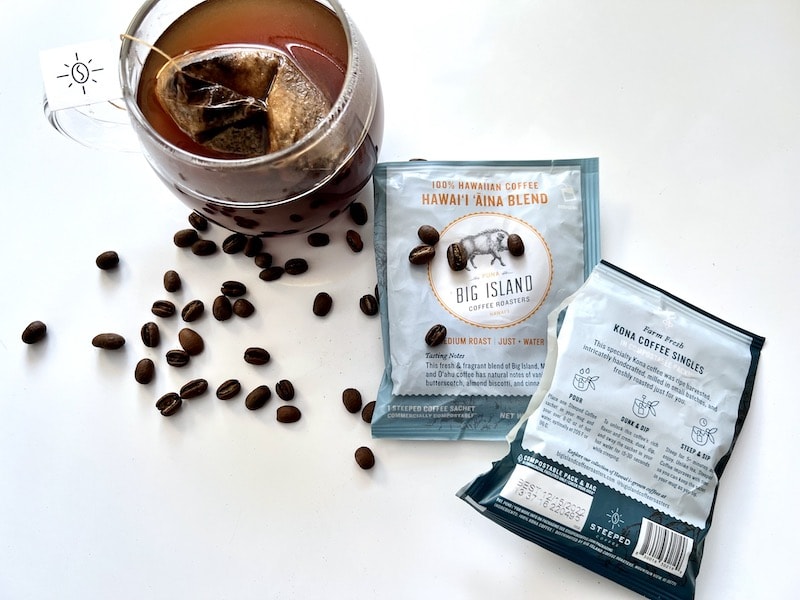 The Coffee
The key part of any coffee company review is this: is the coffee any good? We sampled a few different types of Big Island coffee to find out:
Whole Beans
The first coffee we tried was Big Island's whole bean Kona Peaberry. The peaberry beans were beautiful and fragrant, nicely roasted to a medium-light level. They bloomed well in our trusty Chemex brewer, and the resulting coffee was complex and sweet, with definite notes of chocolate, cinnamon, and fruit. In a word, this coffee is delicious!
Steeped Sachets
We also got to try Big Island's coffee sachets, which are individually packaged and come in several flavors and blends. To brew these sachets, all you have to do is steep them in hot water. The brewing instructions on the bag suggest steeping for at least 5 minutes and note that, unlike tea, the flavor will only improve if you leave the sachet in longer. We found that to be true – the flavor does improve as you let the coffee steep – though the sachet is pretty large to leave in your cup as you drink.
We were pleasantly surprised with the flavor of these sachets. Although the whole bean coffee was better, the individually sealed packaging and quality sachets allowed the flavor of the beans to come through quite well. And when you finish drinking, the sachet is fully compostable, which is a nice eco-friendly touch!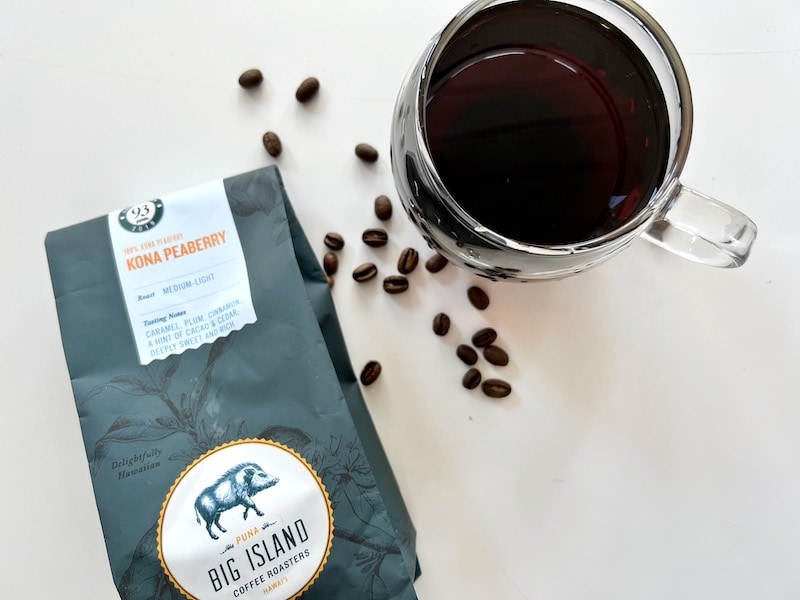 The Packaging
Big Island's regular coffee comes in high-quality bags printed with plenty of useful information like tasting notes, roast dates, and processing methods. If you're considering giving Kona coffee as a gift, we think Big Island is a good option. It's a little pricey, which isn't surprising given the quality of the beans and the company's sustainable practices, and it's nice to see packaging that feels suitably gourmet.
The sachets are also nicely packaged, with individual bags that would be convenient to throw in a suitcase or purse. You'll find brewing instructions, tasting notes, and more on these little bags.

The Verdict
So what's the bottom line on Big Island Coffee Roasters? We give this company a thumbs up for its flavorful coffee beans, eco-friendly practices, and nice packaging. You can choose between whole beans and a couple of grind sizes or opt for the convenient steeped coffee sachets. And if you really love Hawaiian coffee, you can sign up for a fun coffee of the month club!
On the negative side, this coffee won't fit smaller budgets, and there are shipping fees for smaller orders. But if you're willing to pay a little extra for great coffee, Big Island Coffee Roasters is a delicious option.