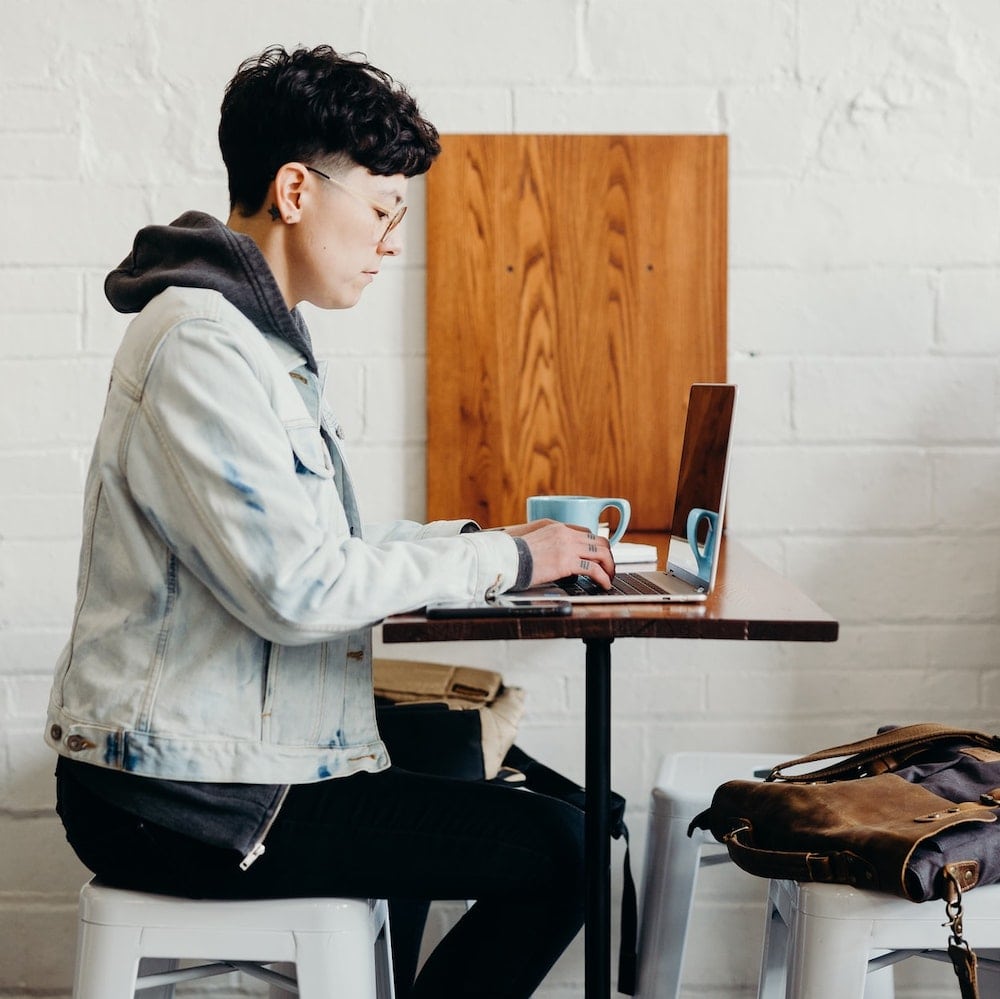 Maybe you need a cup of coffee to wake up for an early class or stay up late writing a paper. You can't beat the convenience of having a coffee maker in your bedroom. But if you're shopping for a dorm room, you'll want an affordable, easy-to-use machine that won't take up too much space. So how do you find a coffee maker that suits your needs?
Don't worry, we're here to help you find a great coffee maker that won't strain your budget. To help you shop, we've put together this list of the eight best coffee makers for college dorms. For each model, we've written a comprehensive review, looking carefully at price, design, durability, size, and warranty so you can choose the best brand for your dorm room. You'll be brewing delicious coffee in the comfort of your room before you know it!
---
A Quick Glance at the Winners of 2023
Image
Product
Details

Best Overall

Keurig K-Classic

3 cup sizes
Large water reservoir
Simple to use

Cuisinart Programmable

24-hour programmability
Brew pause
Self cleaning

Best Budget Buy

AmazonBasics

One-year warranty
Permanent filter
Removable & reusable filter

For Nespresso Fans

Nespresso Vertuo

5 brew sizes
Simple to use
Large water tank

Hamilton Beach Brew

Stays hot and tasty
Multiple Brewing Options
Cool design
The 8 Best Coffee Makers for College
1. Keurig K55 K-Classic Coffee Maker – Best Overall
It's hard to go wrong with a classic, and it's even harder to go wrong with the classic of a classic. The Keurig K55 K-Classic is exactly that; Keurig has proven that it isn't going anywhere, and this is the classic model of a brand that is sticking around. This machine makes life so easy — all you have to do is insert your flavor pod of choice or your ground coffee with the Keurig adapter, close the lid, and push what size cup you'd like. Not only is this product ideal for an everyday coffee drinker, but it is especially ideal for college kids. The water reservoir holds 48 ounces of water, so you can make plenty of coffee before having to refill it. An auto shut-off will turn your machine off when you inevitably procrastinate and forget.
Everyday cleaning is easy, but you will need to descale this machine every once in a while. Fortunately, Keurig has a simple "how-to" on their website.
All in all, we think this is the best coffee maker for college available this year.
Pros
Three cup sizes
Large water reservoir
Classic make from a classic company
Simple to use
Cons
Descaling required every now and then
---
2. Cuisinart 12 Cup Programmable Coffee Maker
The Cuisinart isn't quite as simple to use as our top pick, but it is highly programmable and a dream for college students with a busy schedule. The most impressive thing about this coffee maker is that you can program this product up to 24 hours in advance, so when it's time to study or wake up and you've been running around with study groups and extracurriculars and totally forgot to brew your morning pot of coffee, it will remember for you!
As advertised, you can brew up to 12 cups of coffee. You can also pause the brewing process, which is handy if you initially want four cups of coffee but then want another four cups a half-hour later. Even better, this coffee maker has a self-cleaning option — if only your dorm room had that. This machine is consistent and comes from a reputable brand. If it wasn't for the ease of the Keurig, we could easily see this as our top pick.
Pros
24-hour programmability
Brew pause
Brews up to 12 cups
Self-cleaning
Cons
Slightly complex
Won't clean your dorm room for you
---
3. AmazonBasics 5 Cup Coffee Maker – Best Budget Buy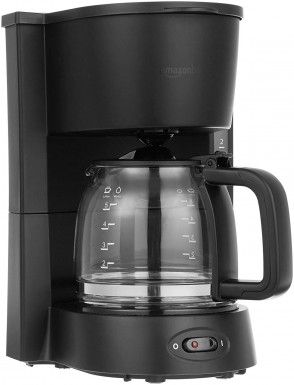 One of the things that makes a coffee maker great for a dorm room is reduced costs, and Amazon delivers with its AmazonBasics 5 Cup Coffee Maker. One thing we often overlook when thinking about coffee is the price of items needed after the coffee maker has been purchased, like filters! This coffee maker comes with a removable and reusable filter. Just give it a simple rinse, and you are good to go! This item also comes with a mid-brew cut-off, so if you are wildly desperate for coffee (don't worry, we know how that goes), then you can pull out the pot while it is brewing to pour yourself a cup. Now, some may see the price of this item and think it is too good to be true, but it is backed by Amazon's one-year warranty, so this maker is both good and true.
You will have to wash this coffee maker by hand, however, as it is not dishwasher safe. The size of the water tank is a bit misleading as well. It isn't small but it isn't the advertised five cups.
Amazon Hack: Want to take this product to the next level? You can buy smart plugs that work with Amazon's Alexa, use them with this coffee maker, and have a voice-activated coffee maker. All you have to do is sync the app for the smart plugs with the app for Alexa, and you can wake up, turn to your coffee maker, and say, "Alexa, brew me some coffee please," and just like that, coffee will start brewing. You can also control the coffee maker from your phone with this setup if you forget to turn it off (though it does have an auto shut-off).
Pros
Can be turned into a smart coffee maker
Permanent filter
One-year warranty
Cons
Not dishwasher safe
Misleading specs of water tank
---
4. Nespresso Vertuo Coffee & Espresso Machine – For Nespresso Fans
A primary lesson taught in college is the importance of time. With the Nespresso Vertuo, you will be less stressed because this machine heats up in an astounding 15 seconds. It also allows you to choose between five drink sizes, ranging from a 1.3-ounce espresso to a 14-ounce drink that will keep you warm on the long walk to the classroom. Just like the Keurig, this machine is quite simple: Place your pod in the holder, close the lid, and then hit a button. The water tank holds 40 ounces of water, so if you are in for a particularly heavy night of studying, you could have nearly 40 shots of espresso.* Another perk of the Nespresso Vertuo is that it comes with a welcoming kit of 12 different pods for you to experiment with.
You do have to use Nespresso pods in this machine, as nothing else works with it. Also, if you like a piping hot cup of coffee, this machine might not meet that standard.
*We do not advocate drinking 40 shots of espresso. Yikes.
Pros
Five brew sizes
Simple to use
Large water tank
Cons
Nespresso exclusivity
Not very hot
---
5. Hamilton Beach Brew Station 12-Cup Drip Coffeemaker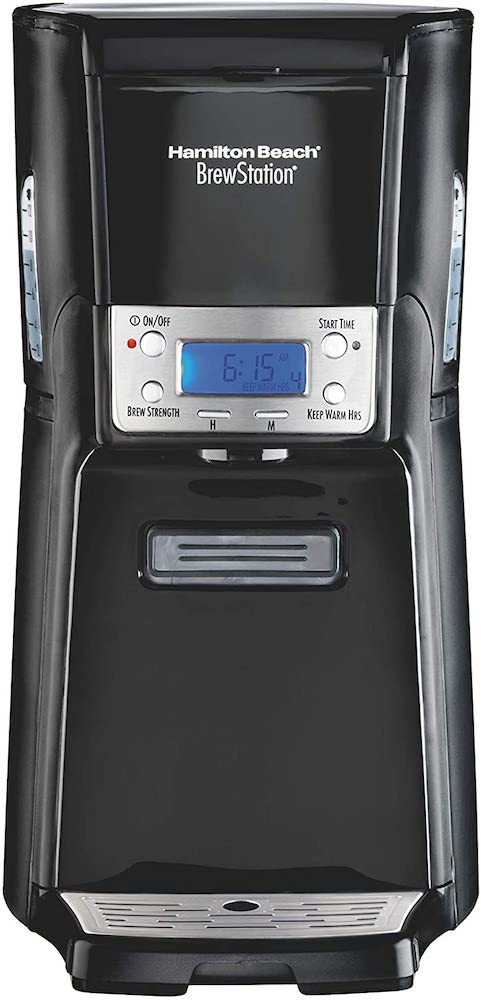 This interesting coffee maker brings you the best of both worlds of drip coffee and pod coffee makers. While drip coffee makers make a whole pot of coffee and pod coffee makers make individual cups, the Hamilton Beach Brew Station Summit brews a pot of coffee and holds it internally so you can dispense one cup at a time. Because everything is self-contained, the coffee will stay hot and tasty for up to four hours. With such a setup, you'll be able to study (read: procrastinate) for hours on end. The Brew Station gives you options when it comes to what you are brewing as well: You can brew regular strength, bold strength, or even iced coffee.
The downside to this device is that it is not easy to clean and will keep alerting you when it is dirty. We also heard that when first purchased, the coffee maintains its great flavor, but as time goes on, it starts to get bitter. We assume this has to do with the difficulty in cleaning.
Pros
Stays hot and tasty
Brew options: regular, bold, and iced
Cool design
Cons
Hard to clean
Bitters over time
---
6. CHULUX Single Serve Coffee Maker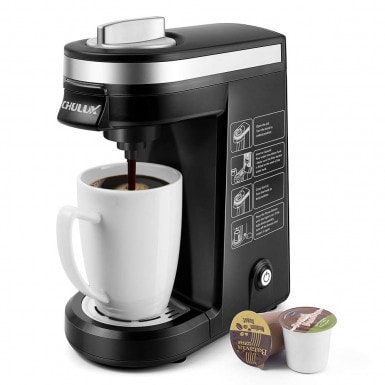 The CHULUX Single Serve is an interesting machine in that it serves a specific purpose and does it pretty well, but it is still very limiting. Keurig and Nespresso work with pods made specifically for them. The CHULUX works with any pod, no matter the brand. For college kids who have families who want to get them gifts but have no idea what to send, this opens up a world of possibilities.
So, why is this maker so limiting? The water tank is only 12 ounces. This means that it can fit in really tiny spaces, but college kids probably aren't having only one cup of coffee at a time, and with all the studying to be done, who has the time to fill the water reservoir between each cup?
If you do have time to refill the tank, however, the rest of the process is quick. You go from closing the lid to a hot cup of coffee in three minutes. This machine is as easy to use as a Keurig or Nespresso and easy to clean as well. With one push of the button, both jobs are done! Since it's made out of BPA-free material, you can rest assured that this coffee maker meets your high standards for health and safety.
Durability seems to be a concern with this unit, but CHULUX has a fantastic customer service team ready to assist.
Pros
Uses any brand of coffee pod
Cup is ready in three minutes
BPA free
Cons
Durability concerns
Water tank only 12 ounces
---
7. Hamilton Beach 12-Cup Programmable Coffeemaker
This coffee maker is similar to the previous Hamilton Beach product on this list, albeit not quite as nice. The water reaches proper temperatures, and the tank itself holds plenty in its 12-cup brewer.
The quality of the Hamilton Beach is lacking in areas that you may not even think about when using a coffee maker. For example, removing the pot and putting it back on the heating plate is a bit tough. You might have to yank on it, and then when you put it back in, you have to center it perfectly or the next time you brew a pot, water will spray everywhere.
This item is also loud for a coffee maker. You may be wondering why is this a good coffee maker for a dorm room. Because college is all about learning life lessons, and with this product, you will learn how to deal with adversity.
Pros
Makes 12 cups of coffee
Water gets to proper temp
Cons
Hard to remove and replace pot
Loud
---
8. BLACK+DECKER DCM18S Coffeemaker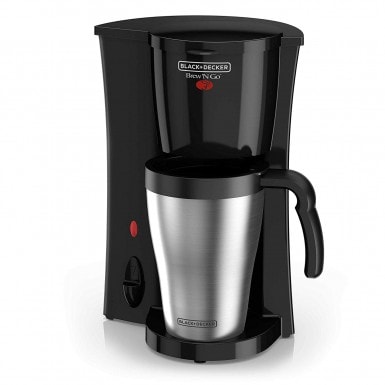 The Black+Decker DCM18S was practically made for dorm rooms. Everything about this coffee maker is about saving space. Like the CHULUX, this is a machine that tries to take the best of both worlds of pod coffee and drip coffee, though this product is just drip coffee that you brew into a cup. It comes with a travel mug and utilizes a permanent filter.
Sadly, this item sometimes leaks. You can try telling professors that your coffee maker spilled coffee all over your homework, but this seems to be the only upside to a leaky coffee machine.
---
Buyer's Guide – Choosing the Best Coffee Maker for a College Dorm
Everyone knows that every college kid needs access to either decent coffee or just a lot of it. There's so much to consider when making such a purchase, whether you are the student or the parent.
How much space do you have?
Your dorm probably won't have much space, so you'll need something that fits into tight quarters. We curated this list with that in mind, so you can't go wrong with any of these, but some are smaller than others, and there are other factors to think about. With a drip coffee maker, you'll have to keep your coffee beans somewhere cool and dark, and with a pod coffee maker, you'll need an area to put the pods. Either one takes up additional space.
How much coffee do you drink in your dorm?
Do you like to sip on a cup slowly, or do you pound coffee to get as much caffeine as possible? Pod coffee makers seem to offer the best of both worlds because of how quick and easy to use they are.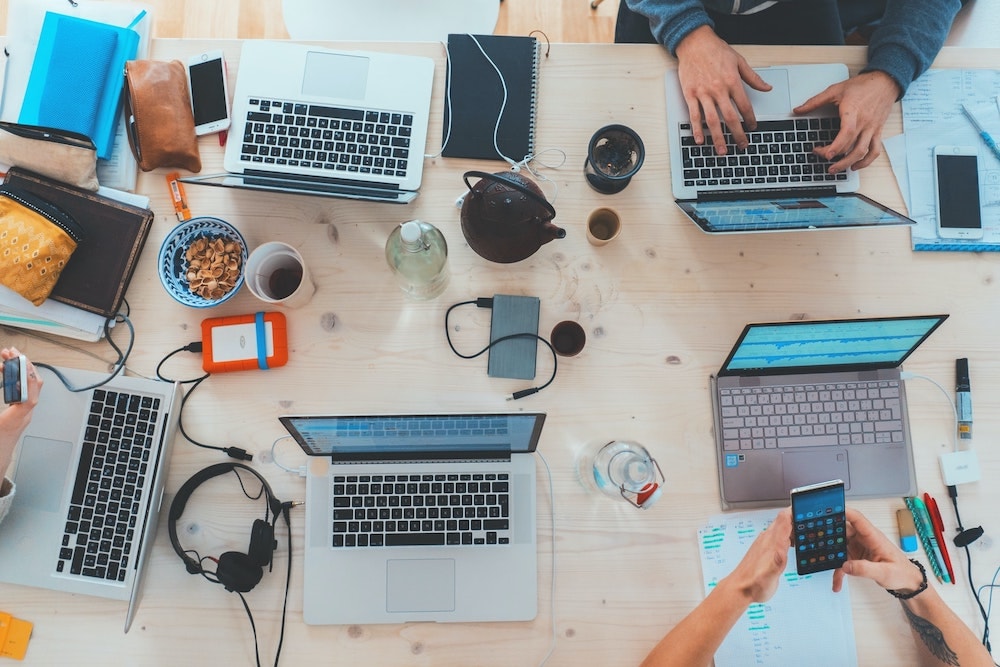 How much are you willing to spend?
Of course, most of this will come down to how much you are willing to spend on a brewing machine for your dorm room. The great thing is that there are options out there that are not the best but still make a great cup of coffee. Amazon also offers a one-year warranty on their products if you are uncertain about a low price tag.

Conclusion
College is supposed to be one of the best times of your life, so you might as well enjoy it with good coffee. Of course, there are so many coffee makers to choose from, picking one can be difficult. If you can narrow down the broad parameters around your coffee drinking habits, you should be able to find a coffee maker that fits right into your dorm room.
For us? We enjoyed studying up for this list, as we double-majored in coffee and are now going back for our masters. We hope these reviews were helpful, and we wish you the best of luck in your scholarly endeavors!
RELATED READ: What are the best small coffee makers?