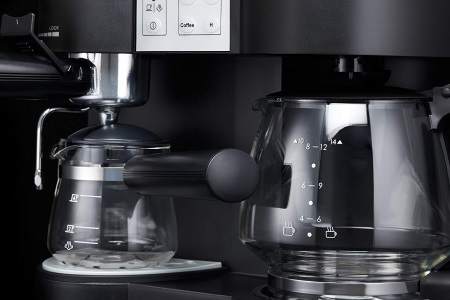 The coffee maker has been a ubiquitous home appliance for a long time. But tastes have broadened over the years as people started to want brew options, like being able to make a quick cup of pick-me-up espresso in the afternoon or after entertaining friends at a dinner party.
Traditional coffee makers and espresso machines take up a lot of counter space, however. Fortunately, someone invented a machine that can do both!
We looked at some of the best coffee and espresso maker combinations and wrote reviews about them. If you like our reviews but want a little more info, there's a buyers' guide to help guide your purchase.
---
A Summary of our Favorites for 2023
Image
Product
Details

Best Overall

Keurig K-Cafe

Easy to clean
Versatile
Great at frothing for cappuccino

AICOOK Combo

Good value
Versatile
More environmentally-friendly

Best Value

Nespresso Vertuo Combo

Great value
Excellent pod system
High-end feel

Miele Combo

Excellent coffee and espresso
Simple design
Easy to use

DELONGHI Combo

Versatile
Easy to clean
Good milk frother
The 6 Best Coffee and Espresso Maker Combos
1. Keurig K-Cafe Coffee and Espresso Combo Machine – Best Overall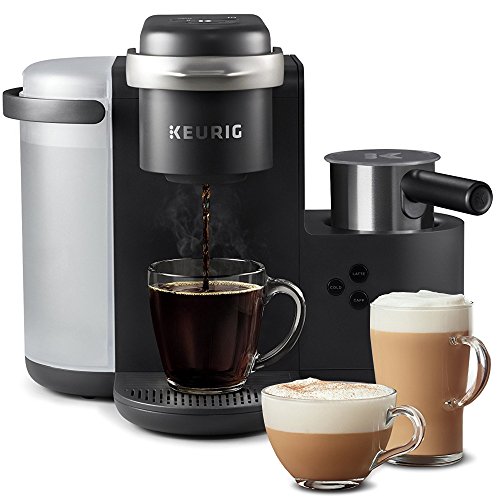 The Keurig K-Cafe is our favorite combination coffee maker and espresso machine because it does a lot of things really well. If you're looking for a combination machine that brews great coffee in the morning and makes a good cup of espresso after dinner, this is it.
The K-Cafe excels in frothing milk for lattes and cappuccinos. The built-in frother does a great job — and is easy to clean! Even better, it's also dishwasher-safe. The convenience of a frother that's as easy to use as it is to clean is a big reason the K-Cafe gets our top spot.
One significant drawback is the price. If you've got a strict budget, this one might be outside your range. But this is still one of the best combo coffee makers that come with a frother.
In short, we think this is the best coffee and espresso maker combo of the year.
Pros
Easy to clean
Versatile
Great at frothing for cappuccino
Good value
---
2. AICOOK Espresso & Coffee Machine Combo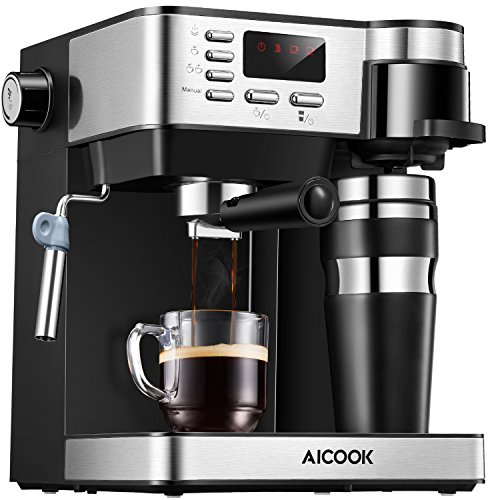 We like the AICOOK Espresso and Coffee Machine 3 in 1 for all the same reasons we like the K-Cafe. It does a lot of things well, and the price is a little better. You can brew regular coffee, make espresso, and froth milk for advanced drinks like chai lattes.
It doesn't use pods, so while it doesn't offer quite the convenience, it also doesn't create a long-term environmental waste problem.
We didn't give it our top rank because, while it's more affordable, it's also a little more difficult to use. The milk frothing feature doesn't work as well as the K-Cafe's. That's a big deal if you're into lattes.
Cons
Difficult to use
Poor milk frothing
---
3. Nespresso Vertuo Espresso & Coffee Maker Combo – Best Value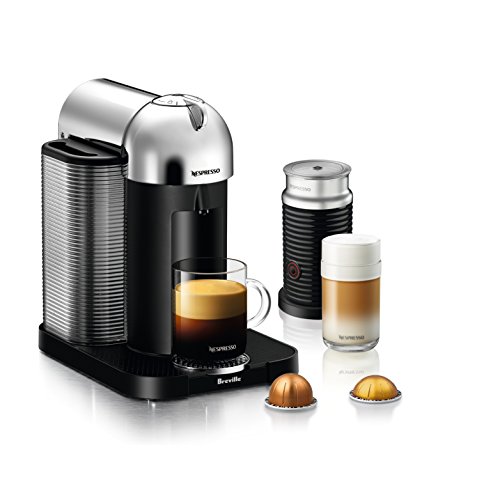 If you're looking for a more affordable combination pod machine, the Nespresso Vertuo could be a great option. It's much more reasonably priced than the K-Cafe and AICOOK models, and it's one of the most compact machines we looked at. Plus, it's an attractively designed combination coffee and espresso machine!
Beyond value, it brews a great cup of coffee. Nespresso's reputation for having a pod system that's second to none is well deserved and reflected in this coffee-espresso combination machine.
That said, it's not a great choice if you want to brew multiple cups. It's designed for a single serving, though there's a little flexibility there. If you're brewing for yourself or your small family, this model should be fine. But if you're throwing a party, you may want to invest in a bigger model.
Pros
Great value
Excellent pod system
Cons
Single-serving machine only
Limited use
---
4. Miele Combo Coffee Espresso Maker Combo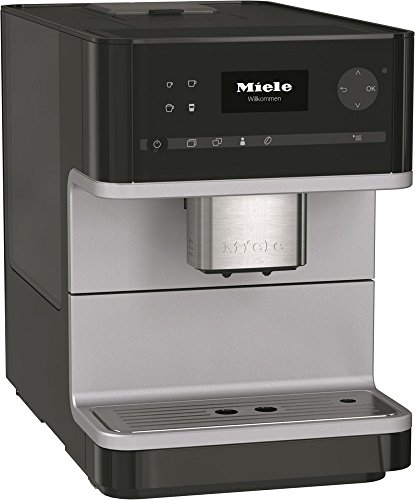 We don't have a lot of pros and cons for the Miele CM6350 because the one issue is a really significant one. This machine is very expensive compared to the other ones we looked at. Even saying that is understating how much more money this will cost you than even the next most expensive model. In fact, based on average prices, it's as expensive as the five other machines we reviewed put together.
If it produced coffee superior to the other coffee makers to that magnitude, we'd have to respect that and maybe give it a shot at our Top Pick or Runner-Up. But it didn't, so we dropped it down in our rankings. The coffee is the best in our field, just not by that much.
Pros
Excellent coffee and espresso
---
5. DELONGHI Combo Coffee & Espresso Maker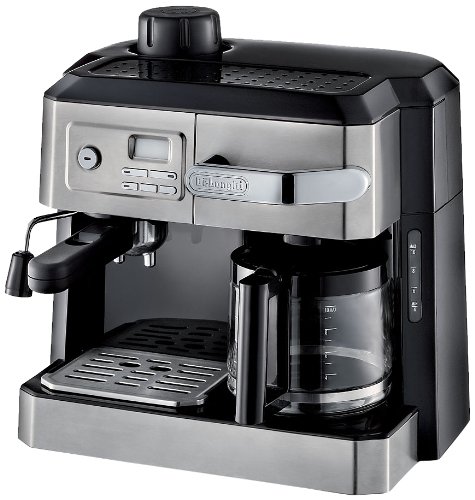 The things that the DELONGHI BCO330T does well would make the difference between a good coffee machine and a great one, if only it hit a couple of important notes that good coffee machines have in common.
It's versatile. It'll do whatever you want in a coffee machine, from making drip coffee to frothing milk. In fact, it's got a great frothing action. It's also pretty easy to clean. If you don't have a lot of time to keep house, this is a good one to have.
However, the price is high, and it has a habit of not working when you need it to. That's a bad combination that negates what it does well. What's the point of having well-frothed milk if you can't make great coffee?
Cons
Not very reliable
Expensive
---
6. Krups XP160050 Coffee and Espresso Maker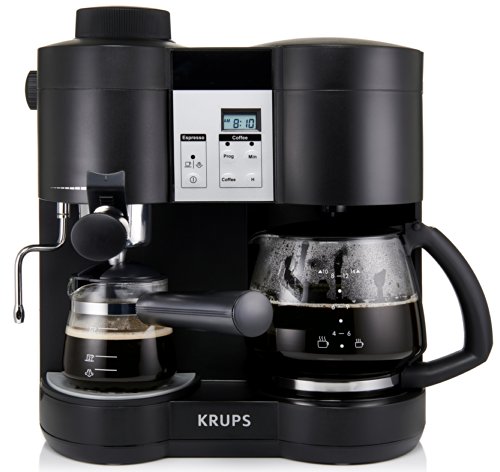 Part of the point of these combination coffee machines is what they'll save you versus buying coffee at a shop. Even the coffee machines that cost a lot, like the Krups XP160050, will produce savings versus buying coffee every day at a cafe.
That's what we like about this combination coffee and espresso machine, too. You'll save money making it at home in this as opposed to going out. The coffee is pretty good, too.
You can do better, however. This one is not only priced higher than almost everything else we ranked, it's just not well constructed. The danger with any combo machine is that a lot of attention is paid to the guts and little to the casing, which is what happened here. The casing is easy to damage and the internal machinery is easy to break. That's kind of an outrage, considering the price.
Pros
Decent coffee on a budget
Cons
Poorly constructed
Really expensive
---
Buyer's Guide: How to Find the Best Coffee and Espresso Maker Combo Machine
A coffee and espresso combo machine might seem like a really obvious innovation, but the two use different processes to make beverages. Understandably, you might want a little more information on how to tell different models apart before you buy. Although you probably like both kinds of coffee, there is probably one that you prefer. It's helpful to know how to spot which combination maker will do a better job of delivering the results you want.
Features
By its very nature, the combination coffee and espresso machine is a feature-driven gadget. You're buying it because you want some versatility in what it can do. Searching for the right one starts with knowing what features you want. If you want to make a cappuccino, you'll need to find one with a frothing arm, for instance. Espresso tends to be a one-cup-at-a-time brew, whereas a traditional drip maker can give you a whole pot. You'll want to see how the maker works.
Pods vs Grounds
If you're a real coffee snob, chances are you prefer really good beans ground fresh for the strongest, tastiest coffee. If you're just after a cup of something warm and soothing in the morning, you might be okay not putting in the effort or spending the money on beans and a way to grind them. Make sure you get a combination set that makes drip coffee the way you like it.
There's a tradeoff in those two basic kinds of coffee makers, which is…
Ease of Cleaning
Maintaining a properly working coffee maker requires that you keep it clean. Having a bunch of coffee grounds all over everything is also unsightly and attracts ants. Find a combination set that is easy to clean.
One advantage of pod coffee makers is that they're easier to keep clean. The mess is usually confined within the pod itself, which you pitch after using. That creates a landfill mess, of course. As for the espresso maker, if you're concerned about keeping it clean, consider how you add the very fine grounds. The bright spot is that when you're done with it, the grounds will be compressed into a hardened little puck that's usually knocked out of the basket.
Durability
You aren't going to give your coffee maker to a gorilla to throw around a room and see if it'll smash, as you might with luggage. But there are a couple of parts you'll want to keep in mind while buying it. The first is the decanter. If you get a cheap one that'll shatter if you accidentally knock it against the side of the sink, that's the same thing as not having a coffee maker.
One thing few people pay attention to is the pump. It gets the most wear and tear of anything because it lifts water, which is surprisingly heavy. The coffee maker pump is usually the part that goes bad and requires the replacement of the entire machine. Take a look at the pump's reputation for reliable, consistent service.
Size
One reason for buying a combination coffee and espresso machine is that having two similar gadgets can take up a lot of room. If you combine the two into the same central frame, you can save space on your counter or whatever you use as a coffee service. That will make a little room for either a really smashing new blender or that French press you've always wanted to try.
Price
It's not always true, but the more you pay, the more you usually get. For something like a combination coffee maker and espresso machine, there's a range in price from a few bucks to more than a grand. Price is significant in figuring out which is the right model for you. If you want really good coffee and lots of options, prepare to spend more. If you're just looking for something to make coffee for friends, you don't need to spend as much.
Start by figuring out what you need, and then consider what you want, what you'd like, and what you can do without. Then, find the best combination coffee maker within your budget.
We recently reviewed budget espresso makers. You can find our roundup here.

Final Verdict
Keurig's K-Cafe got our Top Pick because it's versatile and good at both espresso and regular coffee. AICOOK's Espresso and Coffee Machine 3 in 1 Combination was pretty good, too, and a little more affordable. We just thought it was harder to use and didn't do as good a job frothing milk. Nespresso's Vertuo is a great budget option, although it's a little limited in what it can do.
We hope you found our reviews of value, and if they were just tips on how to shop for a combination coffee maker and espresso machine, that you also read through our buyers' guide for additional tips.
We truly hope you manage to find the best coffee and espresso maker combo for your needs. Our coffee maker and espresso machine combo reviews were designed to do just that. Happy brewing and sipping!
SEE ALSO: 15 Different Types of Espresso Machines: Which is Right for You?