An impressive 64% of Americans are coffee drinkers, so there are a huge number of coffee makers on the market. But if you also appreciate a cup of tea or hot chocolate, you may want to purchase a coffee maker with a hot water dispenser, which will let you easily brew a wide range of hot drinks.
To help you find your new favorite coffee maker, we've tested some of the best models on the market. The result? This list of the four best coffee makers with hot water dispensers available in 2021, complete with detailed reviews and a quick buyer's guide. Keep reading to learn all about each model's design, features, and durability. Get ready to find a great coffee machine!
---
Top Picks for 2022:
Image
Product
Details

Top Pick

Cuisinart Coffee Plus

12-cup carafe
Fully automatic
Hot water on demand
CHECK PRICE

Best for the Money

Hamilton Beach 2-Way

Brews two ways
Fully programmable
Brew strength selector
CHECK PRICE

Cuisinart Single Serve

Fully programmable
Iced beverage setting
Fits any size cup
CHECK PRICE

Mr. Coffee Versatile Brew

Delay brew
Brew strength selector
On/off light
CHECK PRICE
The 4 Best Coffee Makers with Hot Water Dispensers:
1.

Cuisinart Coffee Plus 12-Cup Programmable Coffeemaker – Top Pick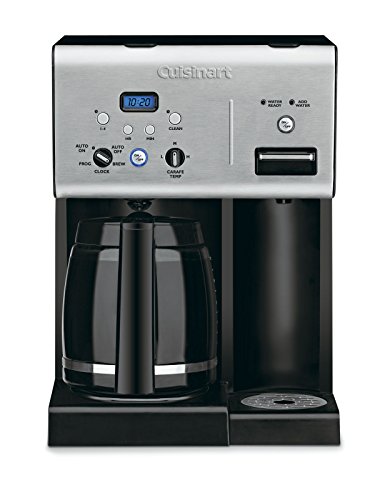 The Cuisinart Coffee Plus 12-Cup Programmable Coffeemaker is a fully automatic machine with a programmable brewing start time, an auto shutoff, and a self-cleaning feature. It can brew up to 12 cups of coffee at a time and keep it warm on a temperature-controlled heater plate with three heat settings.
The drip tray is removable for easy cleaning. The only small issue is that the carafe has an inner lip that doesn't allow all the coffee to pour out.
This machine has a hot water system that is separate from the coffee maker and delivers it to a hot water dispenser on demand for making any other hot beverage or soups.
Overall, we think this is one of the best coffee makers with hot water dispensers that you can buy!
Pros
12-cup carafe
Fully automatic
Carafe temperature control
Hot water on demand
Hot water system is separate from coffee maker
Removable drip tray
Cons
Lip in carafe doesn't allow all the coffee to pour out
---
2.

Hamilton Beach 49980A 2-Way Coffee Maker – Best for the Money
The Hamilton Beach 49980A 2-Way Brewer Coffee Maker can brew coffee one cup at a time, or a full 12-cup carafe. It's fully programmable to get your brew started while you sleep, so you can wake up to a hot, fresh cup of joe.
The brew strength selector button allows you to set how strong you want your coffee to be. There is a warming plate to keep your beverage warm, and an auto shut-off to protect your coffee from burning.
The small opening on the water reservoir makes getting water into it challenging. We also had to check the time when we set the timer at night because the clock was losing time slowly. You may need to double-check it when you program it, so it'll start brewing when you want it
Cons
Small water reservoir opening
Clock doesn't hold time very well
---
3.

Cuisinart SS-700 Single Serve Brewing System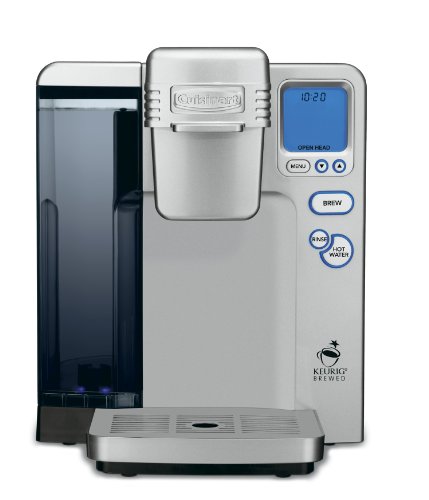 The Cuisinart SS-700 Single Serve Brewing System is fully programmable. The brew option button allows you to make different brews, including iced beverages.
The huge 80-ounce reservoir is removable to make it effortless to fill. You can brew a full 12 cups of coffee at once, or you can brew one cup at a time. The drip tray is removable for cleaning. The opening for the mug on the individual side is tall enough for any size from the standard travel mug to the smallest cup.
A few months after we got our SS-700, it quit brewing out of the blue. We called Cuisinart, and it had us go through a long, detailed process to get it working again. From reviews, it seems that this is a common issue with this coffee maker. As long as you repeat the process, it'll last a couple of years before you need to replace it.
Pros
Fully programmable
Iced beverage setting
80-ounce removable water reservoir
Removable drip tray
Fits any size cup
Cons
Stops brewing every so often and has long process to get it working again
Only lasts a couple of years
---
4.

Mr. Coffee Versatile Brew 12-Cup Programmable Coffee Maker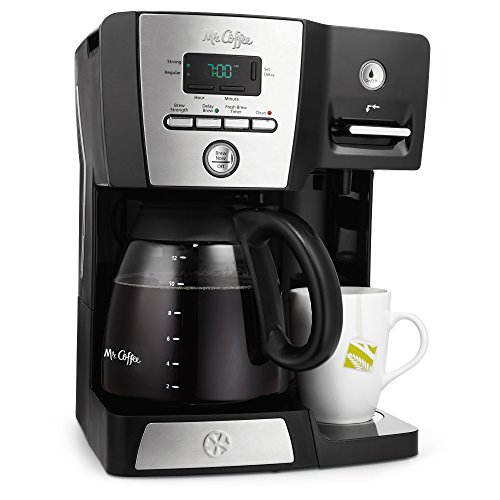 The Mr. Coffee Versatile Brew 12-Cup Programmable Coffee Maker has a delay brew button that lets you get the pot ready and delay brewing until you want it. There's also a brew strength selector to tailor how strong or weak your coffee will be.
If you're brewing a pot and want a cup before it's finished, the "Grab-A-Cup" auto pause will stop the brew while you pour your cup and start again when the carafe is back in place. There's a light on the face of the machine indicating whether it's still on.
The reservoir is small, so it doesn't hold enough to brew a whole pot and have some left for other hot beverages. You'll have to fill it a couple of times if you'll be using both systems.
The paper coffee filters don't hold up. They tend to collapse and allow grounds into the carafe. The hot water dispenser works okay, but the lever is awkward to use.
Pros
Delay brew
Grab-A-Cup auto pause
On/off light
Brew strength selector
Cons
Paper filters allow grounds into carafe
Lever to hot water is awkward
Small reservoir
---
Buyer's Guide: How to Find the Best Coffee Makers With Hot Water Dispensers
There are so many different types of coffee makers, and they all have unique features. Thinking about them all can get confusing, so we've made a list of the most important things to consider when you're looking.
Convenience
Manual pour-over: Manual pour-over coffee makers require your full attention while brewing
Simple automated: A simple automated coffee maker only requires you to push a few buttons to get it to work. You may want to keep an eye on it, but constant attention isn't needed
Fully automated: Fully automated coffee makers do everything for you. Put your coffee in the filter before going to bed, set a timer for when you want it to start brewing, and wake up to a fresh brew
Pod: Pod coffee machines make a single cup at a time and are great for home, or the office, where people prefer different kinds of coffee
Type of coffee
Some machines are strictly for making coffee, while others are for making espresso. Brewers made for one specific thing will give you the highest quality and best-tasting beverage, but they also take up a lot of counter space.
Hybrid machines are available that can make both coffee and espresso. They do a decent job and take up less physical space, but if you're looking for perfection, stick to the individual brewers.
Brew size
Most coffee makers allow you to brew the amount of coffee you need, anywhere from a single cup to a full-capacity carafe. Some only allow you to brew one cup at a time. These are great if you live alone, or have a family that all like different kinds or flavors of coffee.
Others can make up to 12 cups at a time. These are great for someone who drinks a lot of coffee throughout the day, or those who are hosting a group of people.
Custom brewing options
The more automated a coffee maker is, the more choices you have to make. Some machines allow you to choose the temperature of your water. Some allow you to set the brew strength manually. Others have hot water dispensers for those who want a hot beverage but don't care for coffee.
Body size
Your coffee maker's size doesn't have anything to do with how good a flavor it will produce, but it won't work at all if it's too big for the space available. Measure your area so you can get one that's the appropriate size.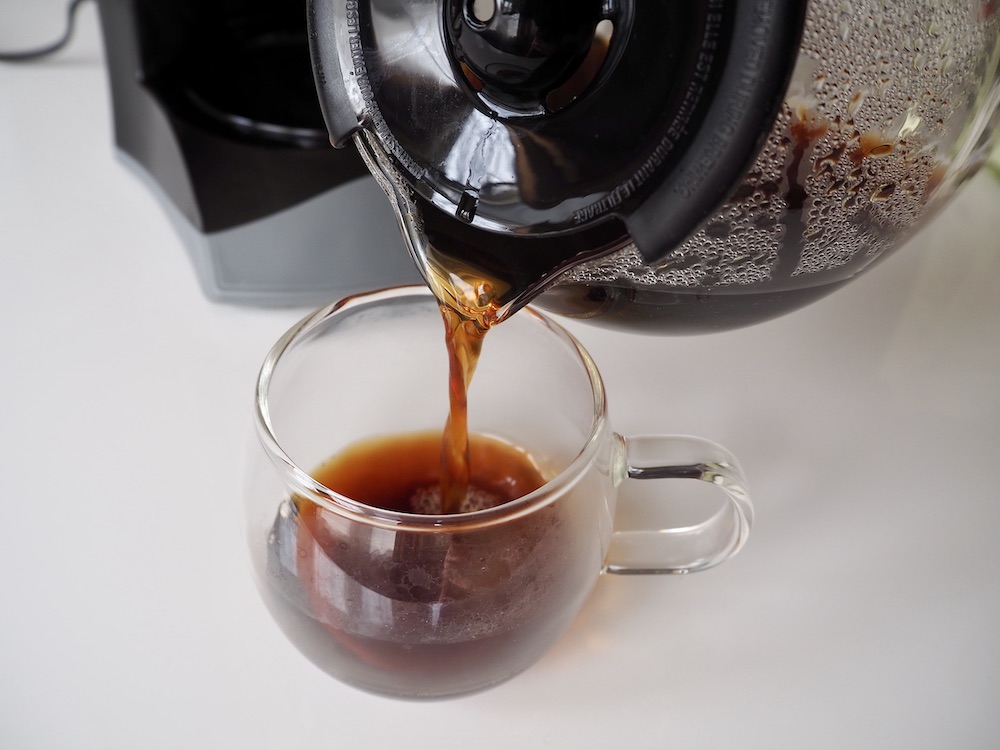 Extra features
Warming plate
Warming plates will keep your coffee warm throughout the day. They can leave a slightly burnt taste, however, especially when there's only a small amount in the carafe.
Auto shut-off
Some brewers have an auto shut-off feature that turns the machine off after a certain period, so you don't have to worry about it burning.
Thermal carafe
Thermal carafes are best for those who drink coffee throughout the day. Their insulation will keep the coffee warmer longer.
Audible alerts
Certain machines sound an audible alert when brewing's finished.
Milk frothing
Milk frothing is available on selected brewers to make milk foam for lattes.
Bean grinding
Many people have separate bean grinders, but there are coffee makers that have them included.
Cleaning reminder
People don't clean coffee makers every day, and it can be challenging to know when the inside's cleaned since you can't see it. Some brewers have lights indicating when it's time to clean them.

Conclusion
Even though coffee is America's most popular beverage, it isn't for everyone. Many people and businesses prefer the versatility of a coffee maker with a built-in hot water dispenser. We reviewed some of the best coffee makers with hot water dispensers and found four that we think can meet anyone's needs.
Here's a quick recap of our favorites. Our all-around top pick is the Cuisinart Coffee Plus 12-Cup Programmable Coffeemaker. If you're working with a smaller budget, you may prefer the Hamilton Beach 49980A 2-Way Brewer Coffee Maker, which offers great value.