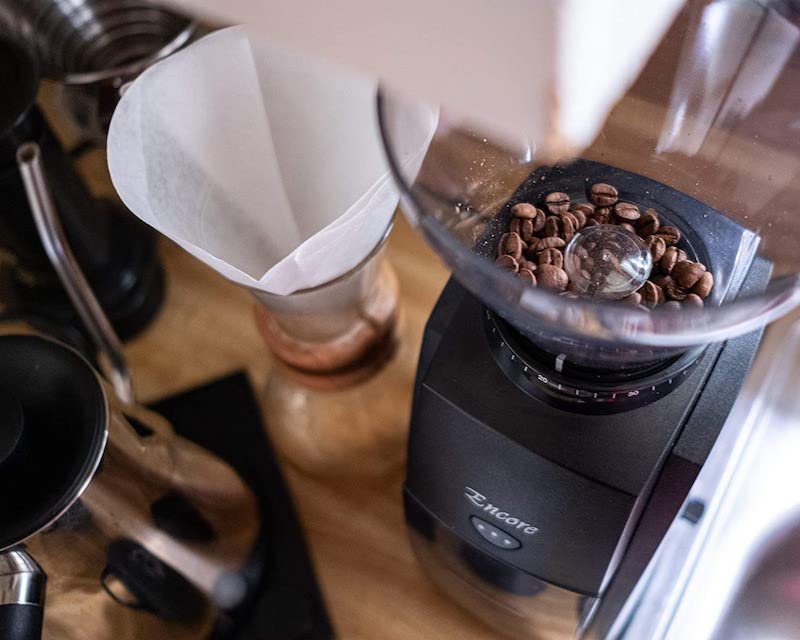 Coffee grinders come in all price ranges, from dirt-cheap models to top-of-the-line machines that are priced like they're made of solid gold. Given how popular it has become to grind your own coffee, there are more brand-name manufacturers selling grinders in the mid-price range than you might think. So how do you find your best option?
We've done the reviews you'd do yourself if you had the time. We've compared features, analyzed the good and the bad, and come up with a final list of five grinders for your consideration. This should make it simpler for you to decide which model you want to spend your hard-earned money on.
---
Comparison of our Favorite Picks in 2023:
Image
Product
Details

Top Pick

DeLonghi America

Multiple grind settings
Small footprint
Easy to use

Breville

Grinds directly into containers
Digital display and timer
Low heat

Best for the Money

Capresso

Very quiet
Low heat on burrs
Wide grinding range

Baratza Encore

Go-to entry level grinder
40 grind settings
Stainless steel burrs

Bodum Bistro

Multiple color options
12 Grind Settings
Preset timer
5 Best Burr Coffee Grinders under $200 – Reviews:
1. DeLonghi America Burr Coffee-Grinder – Top Pick
This coffee bean grinder has eighteen grind settings plus three "strength" settings.  The strength settings determine how many grams of coffee ground go into each cup.  Combine that with the grind settings for espresso, drip, pour-over, and French press, and you have nearly an infinite variety of settings for every palate.  It's really quite remarkable.
This machine has an excellent design, works wonderfully, and looks fantastic on the counter.  It's sleek and functional with an LED display on top.  It has a small footprint so it's not a counter hog.  It leaves a lot of room on the counter for the rest of your kitchen utensils.
It's so easy to use you almost don't need the manual.  The "espresso portafilter" attachment is especially popular.  You can grind coffee straight into the espresso filter for a single easy step. Likewise, there's enough room for you to grind it directly into a storage carafe.  Talk about convenience!
Occasionally it has problems grinding small enough for espresso, but the removable upper burrs can be taken out for cleaning which seems to solve the problem.
Pros
Multiple grind settings
Excellent design and style
Grind into alternate container
Small footprint
Easy to use
Cons
Won't always grind small for espresso
---
2. Breville Burr Coffee Grinding-Machine – The Runner-Up
This beautiful machine sports sixty grind settings (from the finest to the coarsest) to satisfy the most discriminating taste buds.  It has stainless steel conical burrs which minimize grinding heat and preserve the flavor.
Like the top pick, you can grind directly into the portafilter, a grind container, filter basket, or paper basket—whichever you prefer.  The electronic timers have 0.2-second increments which allow very precise grind time adjustments for your individual taste.  Because it's digital, there aren't any worries about bumping the machine and throwing off your adjustments.
The bean hopper is easy to remove and store.  The grounds always dispense down instead of out the front, which keeps it from clogging.  If you want to change the grind size and time, the digital display and timer simplify that process too.
It's very quiet and has a removable magnetic grounds tray.
This machine performs poorly when grinding for a French Press or Moka pot. It also uses a plastic impeller to move the grounds into the collection container. The cheap impeller can wear down too easily, at which point the whole machine is dead until a new impeller can be installed.
Pros
Beautiful machine
Low heat
Grinds directly into containers
Digital display and timer
Cons
Cheap plastic impeller
Poor French Press and Moka
---
3. Capresso Infinity Burr Grinder – Best for the Money
This machine has a wide range of settings from ultrafine Turkish to coarse French Press, which are further divided into extra fine, fine, medium, and coarse. The burrs are commercial grade steel with a reduction motor that grinds slow with little noise and a minimum of static. The slow grind also prevents heat buildup.
Despite the wide range of settings, it works best if left on one setting. Grounds tend to collect under the nylon collar around the upper burr. To change the bean and/or the grind setting you'll need to first take it apart and clean it to remove the previous grounds. Coffee grinders are supposed to be convenient and this process isn't.
The selection knob for choosing how much to grind looks like it came from the dashboard of Ford Taurus. It's made of cheap plastic that breaks too easily; this is clearly the product of poor engineering.
This is a decent grinder but the grounds retention, the need for cleaning between grind changes, and the cheap knob will keep it out of the running for the top two spots. Still, for the price, it's the "best for the money."
Pros
Very quiet
Low heat on burrs
Wide grinding range
Cons
Retains grounds under top burr
Needs cleaning between grind changes
Knob is cheap plastic
---
4. Baratza Encore Burr Coffee Grinding Machine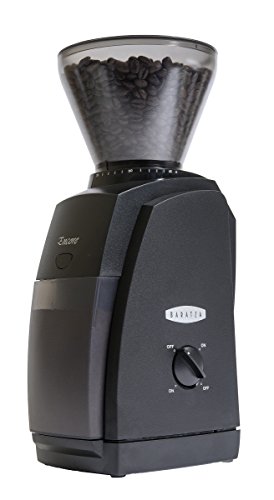 The Baratza Encore is advertised as "THE go-to entry level grinder." Maybe it is, maybe it isn't.
It has forty grind settings (which is respectable), and it performs decently on the coarser end of the scale for French Press and such. Its construction is all plastic except for the stainless steel conical burr grinders. It seems fairly sturdy at first glance.
However, don't fill the hopper with beans beyond the halfway point or you'll wind up with a clog that'll take you an hour or more to get rid of. You have been warned.
Adjusting the setting is harder than necessary and the sturdy construction is an illusion. Many parts break, causing jams. When you call customer service they don't want to fix an "in warranty" machine but will ship you the part so you can fix it yourself. Following their repair instructions leaves scratches, nicks, and dings on the machine. And the repairs only work some of the time.
It spills grounds out of the basket and performs poorly on fine grinds. Along with the other problems we've mentioned, this leaves it in fourth place on the list.
Pros
Works if the setting isn't changed
Stainless steel burrs
Cons
Plastic construction is fragile
Clogs if the hopper is too full
Poor customer service
Won't do fine grinding
---
5. Bodum Bistro
This grinder comes in a variety of colors: black, chrome, copper, red, and shiny copper. Apparently, this is supposed to make up for having only twelve grind settings. Unfortunately, this is another one of those products that works well when it's working. But most of the time it isn't.
The internal gears, which should be made of metal, are of a cheap plastic that could break within a few weeks of purchase. What's worse, Bodum doesn't sell replacement parts. Once these gears break (and they will), you're left with a useless machine.
Due to its cheap plastic construction, it's prone to frequent jams, necessitating disassembling the grinder to clear the jam. This creates a mess of bean debris littering the counter when you take it apart. Who wants to clean up a mess when they should be drinking coffee?
Bodum refuses to honor their warranty if you buy the grinder from a "third party." Since most people buy from retailers and other "third parties," why bother having a warranty?
This is badly designed and horribly engineered, made worse by the fact that the manufacturer exhibits utter contempt for its customers. Who needs it? This will never be in the top two on the list.
Cons
Frequent jams
Plastic gears break easily
Creates a mess
Bodum won't honor their warranty
Bad design and engineering
---
Buyer's Guide – Picking the Best Burr Coffee Grinder under $200
You've read through our list of the five best mid-range burr grinders, but have you decided which to buy? Keep reading for our quick tips to the important features.
Consistency
You'll want a grinder that can accurately and consistently grind your beans at a range of sizes, from super-fine to extra-coarse. Burr grinders, which crush coffee beans between burrs, are the most consistent grinders available. Look for models with a range of easy-to-adjust settings.
RELATED READ: How fine should you grind? The Ultimate Coffee Grind Size Chart
Durability
If you're investing in a good grinder, you'll want it to be sturdy. Weaker plastic gears, hoppers, and knobs may fall apart quickly and shorten the lifespan of your grinder. Lower-quality burrs that jam easily may be frustrating and require you to monitor your grinder, even if it has a built-in timer.
Accessories
Though a high-quality grinder is an excellent stand-alone coffee appliance, you may want to further upgrade your coffee experience with useful accessories like burr cleaning brushes, which will help you keep your burrs in good shape. Over time, you may also need to purchase replacement burrs.

Conclusion
Burr grinders can be major upgrades to your coffee brewing experience, and they don't have to cost a fortune. In our reviews, the DeLonghi America KG521 is the all-around top pick. If you're willing to trade a few features for a better price, our "best for the money" choice is the Capresso 560.04 Infinity.
Hopefully, these reviews and buying tips have helped you narrow down the field so you can get the perfect grinder for your needs. You'll be able to grind your own beans perfectly!
Keep reading: