If you prefer your coffee freshly ground, you need a burr grinder that gets the job done. If you're looking for a grinder under the $100 mark, you'll need to be very careful in how you assess the various offerings on the market.
There's a lot of them to choose from—so many, in fact, that it can get pretty confusing trying to sort them out. Luckily for you, we've taken the time to do the hard part for you and put it in this handy list of reviews. We've covered the highlights with a "pros and cons" list for each grinder to make it even easier. All you have to do is read through these reviews and pick out the grinder that's best for you—whether it's at home, the office, or in the great outdoors.
---
A List of our Top Picks for 2023
Image
Product
Details

Top Pick

DeLonghi Ariete

Quiet
15 grind settings
Multiple size settings

Capresso Infinity

Moderately quiet
Very stylish
Low static buildup

Best for the Money

KRUPS Burr

Nice lines
Easy grind settings
Works well

Our Favorite Manual Model

Eparé Burr

Portable
Rugged construction
15-setting manual grinder

Cuisinart Supreme

Simple to use
18-position grind setting
Moderately Quiet
The 5 Best Burr Grinders Under $100 – Reviews
1. DeLonghi Ariete 3017 Burr Coffee Grinder – Top Pick
Our favorite burr grinder, the De'Longhi Ariete 3017, has fifteen settings for grind fineness or coarseness, as well as adjustable cup size choices.
The bean hopper can be removed even when it's full of beans, which makes life easier for you.  There are even clicks between the numbers on the grind settings so that you actually have thirty settings rather than fifteen.  The start/stop button on top even gives you the option of stopping mid-grind if you realize you selected the wrong settings.  That way you don't waste a hopper full of beans or have to spend extra time regrinding them.
It's definitely quieter than older model grinders, which helps with your peace of mind.  Adding to your contentment, this grinder has tight fittings to prevent spills on the countertops.
Because of the numerous plastic parts, there is some buildup of static electricity, which causes some grounds to jump out when it's opened.  Overall, you'll enjoy this superior coffee grinder, as it's the best burr grinder under $100 available in 2021.
Pros
Quiet
15 grind settings
Multiple size settings
Hopper removable when full
Stop grinding at will
Cons
Static electricity buildup
---
2. Capresso 560.01 Infinity Burr Coffee-Grinder Mill – The Runner-Up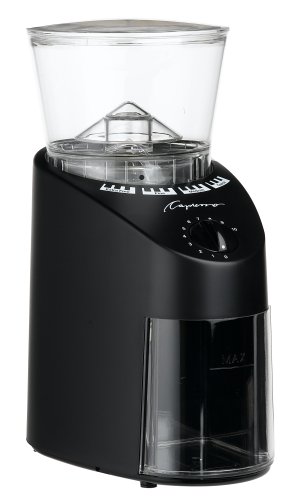 Our runner-up is another commercial-grade coffee bean grinder that delivers everything from a coarse ground coffee to an ultrafine Turkish one.  It's compact and stylish so it'll fit well with any décor.
This grinder is quiet and dependable.  It has very little static electricity buildup while delivering consistent results.  It's easy to pour the grounds directly from the hopper into your espresso machine or coffee maker.  The bean hopper on top will hold about 1/2 pound of beans, more than you'll ever want to keep in there at a time.
The exit from the grinding chamber isn't as open as we'd like, leaving some grounds in it.  Though they can be extracted with a bit of tapping, it is an annoyance.  The rotating setting knob is made of cheap plastic which breaks easily, necessitating a trip through the manufacturer's customer service lines.  It's not always a pleasant trip.
For these reasons, we put it in second place. But it's still a good, satisfying grinder that does the job.
Pros
Moderately quiet
Very stylish
Low static buildup
Consistent results
Cons
Leftovers in grinding chamber
Rotating knob breaks easily
---
3. KRUPS GX5000 Burr Coffee Grinder – Best for the Money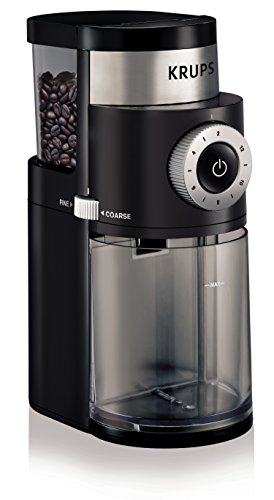 This black-and-gray grinder has classic lines that will complement any kitchen or office.  The grind settings on the side are easy to read. At the touch of a finger, the recessed knob turns fine powder for espresso to a coarse grind for French Press.  You can select the number of cups of coffee you're making to get exactly the right amount of grounds, and the start button is prominently displayed in the middle of the dial.
It's a bit louder than it needs to be and is somewhat slower than the top two on the list.  The results aren't always consistent either. While these issues keep it out of the top two, the price makes it the "best for the money" on this list.  It's a very decent coffee bean grinder.
Pros
Nice lines
Easy grind settings
Works well
Cons
A bit loud
Slow grinding
Inconsistent results
---
4. Eparé EPKA04 Burr Grinder – Our Favorite Manual Model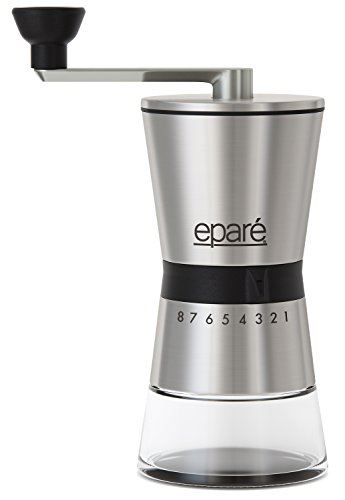 This fifteen-setting manual coffee bean grinder is small and compact, perfect for campers and outdoor types who want to take the comforts of home with them into the wilds.
Its stainless steel construction, with a glass base, gives it the rugged ability to survive at the bottom of your backpack while still delivering good results.  It grinds well, with reasonably consistent results.
However, the grinder isn't stable.  You have to hold it steady throughout the whole process or it tips over.  It's also not as easy to use as the manufacturer would have you believe.  It's difficult to grind and it takes a lot of grinding to achieve a very small output.
The smallest grind is still too coarse for espresso, so you'll use this more for regular coffee or French Press.  The handle also has an unfortunate tendency to come off.
For hiking and outdoor activity, this is a good grinder, but at home, you'll want an electric one that produces better results.
Pros
Portable
Rugged construction
Cons
Unstable
Grind is too coarse
Requires lots of grinding
Difficult to grind
---
5. Cuisinart DBM-8 Supreme Coffee Grinder
This burr grinder has an eighteen position grind selector which is achieved by turning the top bean hopper.  The amount of grinding, measured by the cup, is selected with a bar slide on the top-front of the machine.  It starts out being moderately quiet and very simple to use.
Unfortunately, the results are far from consistent.  A fine powder coats the collection bin regardless of the setting.  That powder also collects in the machine, requiring frequent cleaning.  The electronic switch is flimsy.  If you leave it on one setting you'll be fine but if you change the setting, the switch will come apart sooner rather than later.
This is not a burr grinder as advertised.  It's a gravity-fed blade grinder—which accounts for the unwanted powder.  With use, it becomes progressively louder until it reaches a very unpleasant level.  The cheap design doesn't last very long either.
Due to its inherent flaws, this grinder has to be relegated to last place on the list.
Cons
Inconsistent results
Switch is flimsy
Blade grinder
Too loud
Cheap design
---
Buyer's Guide: How to Find the Best Burr Grinders Under $100
The most expensive model or the top pick on the list isn't necessarily the best one for you.  If you always use the same grind setting, one of the lower-ranked models might be better.  You can set everything the way you like it and then leave them alone.  This greatly reduces the odds of breakage or other problems arising.
Of course, if you like one kind of grind in the morning to wake you up, another one for lunch with your friends, and something else altogether at night after a long day, then you'll want one of the top models with a greater range of options to meet your eclectic tastes.
Available Options
For refined coffee tastes, you'll also need to get a stainless steel coffee vault to store your beans.  The perfect time to get it (or to replace your old one) is when you're purchasing a new burr grinder.  Bundle it together with your new grinder and you'll be able to save on shipping.
A good coffee grinder cleaning brush, preferably with a solid wood handle and natural bristles, won't qualify for free shipping if you buy it separately. But if you add it to your order you'll be able to receive it at the same time as your new grinder and also save on shipping.  Throw in a stainless steel coffee scoop along with it and you'll have everything you need to enjoy your coffee.

Conclusion
The beautifully made DeLonghi Ariete 3017 is the top pick on the list.  Quiet and dependable, this grinder delivers consistent results for everything from French Press to ultrafine Turkish grounds.  Hit start and prepare to enjoy a delightful cup of coffee made just for you.
For the budget-conscious among you, the KRUPS GX5000 is our choice for the "best for the money."  It has classic lines, gets the beans ground the way you want, comes with easy-to-use controls, and won't break the piggy bank.
Hopefully, our efforts have been a huge benefit to you in choosing the burr grinder that's best for your needs and your budget.  It's rather confusing out there sometimes, and we trust that these reviews will make your selection task a lot simpler.
More grinder-related content: