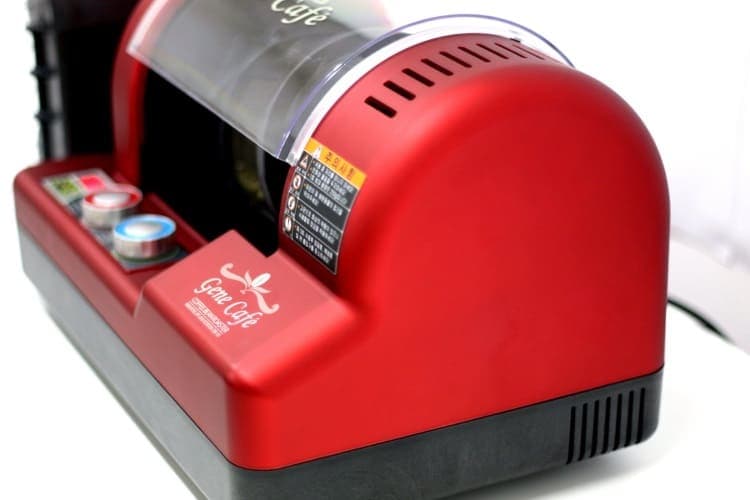 Our Final Verdict
We give the Gene Café Coffee Roaster a rating of 4.5 out of 5 stars:
Build Quality
Features
Price
Gene Café Coffee Roaster: Review Summary
Gene Cafe is a brand dedicated to being of consistently high quality, and that's exactly what it delivers with its roasters. They are designed for both new and experienced home roasters, because of the easy use and the ability to have more control over the roast. Gene Cafe uses this roaster to give you a simple, unique roasting experience. It is the first roaster of its kind with a vortex twisting roast chamber that gives an even roast. The automatic cool-down means you won't over-roast your beans. The view into the roasting chamber also helps you keep watch on the beans, or just lets you watch the fascinating process of roasting. There are several other features that make this one of the best coffee roasters on the market. Take a look for yourself and decide if this is the right roaster for you.
Gene Cafe Coffee Roaster – A Quick Look
Pros
Roasts 0.5 pounds of coffee beans at a time
Even, consistent roast
Full-view glass detachable chamber
Automatic time and temperature controls
Automatic cool-down
Chaff collector
Overheat protection feature
Cons
Assembly can be confusing or difficult
Manual can be hard to read for some
| | |
| --- | --- |
| Brand: | Gene Cafe |
| Product Type: | Coffee Roaster |
| Material: | Heat-resistant tempered glass tube (Pyrex©) |
| Mixing Type: | Twisting off-axis rotation |
| Heating: | Indirect hot air (0~30 minutes) |
| Temperature Control: | 0ºF – 482ºF |
| Color: | Black or red |
| Product Dimensions: | 19"x10"x9" |
| Product Weight: | 12.13 lbs |
| Max. Capacity: | 0.5 lbs |
Automatic Time and Temperature Controls
Using a Gene Cafe roaster means not babysitting your roasting beans, while still getting exactly the roast you want. The automatic temperature control allows you to roast coffees at various roasting stages that you choose. The temperature controls are designed as an easy-to-read dial button, so you can get the exact temperature you're looking for.
---
Full-View Detachable Glass Chamber
The full-view glass lets you see your coffee as it's roasting to make sure you get the exact roast level you desire. The detachability of the roasting chamber also allows the user to empty, clean, and fill the chamber easily.
Unique Vortex Twisting
This feature allows off-axis chamber rotation, which is what completely distributes the green coffee during roasting and gives the most consistent roasting results.
---
Automatic Cool-Down
One common problem when roasting is that the beans can roast a little longer after you remove them from the heat. With the Gene Cafe roaster, you have an automatic cool-down cycle. This cycle prevents residual heat from over-roasting the beans, so you won't have to deal with that problem again.
---
High-Efficiency Chaff Collector
This might not seem like an important feature, but it is. Chaff and escaping gases can leave an off taste in the coffee beans during roasting. Gene Cafe designed this product to circulate the chaff and gases away from the beans as they roast. The chaff is collected in a removable, easy-to-clean compartment.
FAQ
Q: Does it have an automatic shut off feature?
A: Yes, it has an overheat protection feature that shuts off the roaster automatically when it gets close to overheating.
Q: Does it come with a chaff collector?
A: Yes. This is included in the box with the roaster and it makes cleanup very easy.
---
What the Users Say
Positive Feedback: Both beginners and experienced roasters were pleased with the roaster's design and functionality, as well as the awesome results it produces.
Experienced roasters were happy with this roaster because it has the ability to fine-tune desired roast profiles. Those who want more control over their roast should use this roaster because of the temperature and time settings. The clear view into the chamber also helps you keep an eye on your coffee to see if it's reached where you want it yet.
This Gene Cafe roaster gives consistent roast results. There are a lot of factors that play into getting a perfect roast, and this has them all. The unique vortex twisting roasting chamber, the temperature controls, and the automatic cool-down all make getting the exact roast you want possible.
The roaster's capacity has also impressed many customers. They love that they can roast so many beans at once and that they all come out looking uniformly roasted.
Roasters who are beginners appreciated the easy use and understanding of the Gene Cafe roaster's functionality. The operations are easy to understand, so it takes less time to learn how to operate the machine and start roasting.
Negative Feedback: There weren't very many negative reviews, but the ones that were negative agreed on the same issues.
Assembly was difficult for some customers. Customers complained that the chaff collector didn't fit properly, and the manual didn't explain how to fix the issue. After using some problem-solving skills, the customers who had an issue with assembly were able to get their roasters properly assembled and usable.
Other customers complained about the instruction manual in general. It was slightly hard to read and seemed like it had been translated by someone who didn't speak English.

Conclusion
The Gene Cafe roaster has tons of features that make it easy to roast coffee while getting consistent results. The best part is that you can control the process as much as you want. The automatic temperature and time controls make it easy for beginners but can give an advanced roaster a challenge to try new roast profiles. The consistent results are thanks to the vortex twisting roasting chamber. The flavor of the beans is enhanced by avoiding the chaff and gases getting into your coffee during the roasting process. If you want to roast flavorful coffee at home and have it be an easy or creative experience instead of stressful, consider using the Gene Cafe roaster.
RELATED READ: How to Start a Coffee Roasting Business (Tips & Tricks)