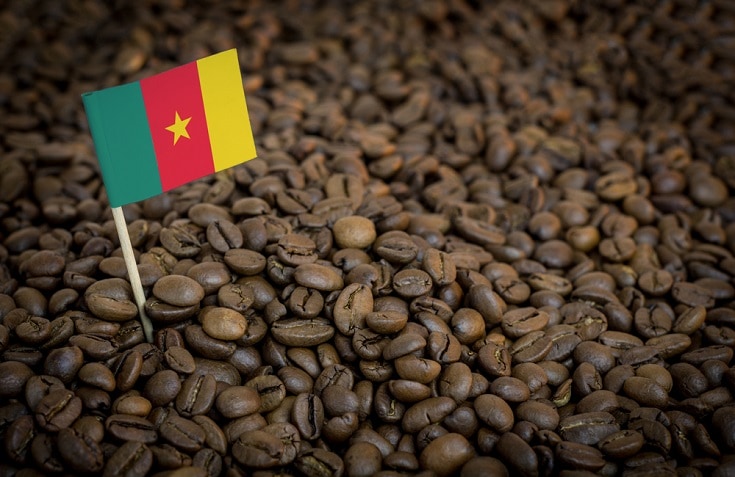 Cameroon is a Central African country that is a microcosm of the African continent as a whole. Due to its position in the center of the continent, Cameroon has an impressive level of biodiversity and a widely varying climate in different parts of the country. Cameroon coffee follows suit with a large number of varied growing regions. Coffee farms along the coast mainly grow Robusta, while Arabica is the primary varietal in the mountainous high-plateau regions.
Compared to other coffee-producing countries, Cameroon is not as well known, and that's why we're here to help bring it into the limelight. In this article, we'll introduce you to Cameroon's coffee history and teach you everything you need to know about their different growing regions and the coffee they produce.

A Short History of Cameroon Coffee
Like many coffee-producing countries, Cameroon's coffee history began with outside influence. In 1884, German colonizers realized Cameroon's climate and geography were ideal for coffee farming and started encouraging the practice.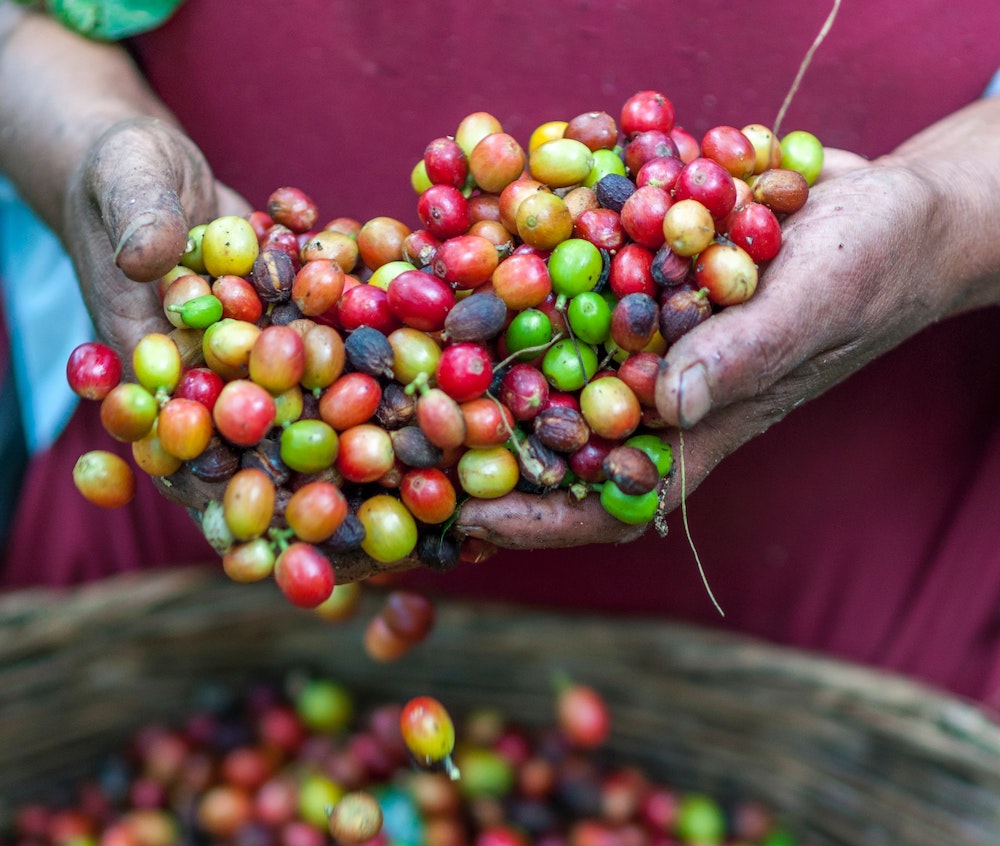 It didn't take long for coffee farming to flourish in Cameroon, and the success of Cameroon coffee was ensured when coffee farming made its way to the western regions of the country in the late 1920s. In 1928, 200,000 coffee seedlings were planted in the western city of Dschang under the watchful eye of agricultural engineer René Coste. Coste's expertise and the spread of coffee plants throughout the country greatly increased Cameroon's coffee production and cemented the country as a major coffee producer for many decades.
Cameroon coffee production peaked in 1990 when they were the 12th highest global producer of coffee. Since then, a devastating combination of governmental interference and a worldwide recession crippled Cameroon's coffee industry. Even today, Cameroon hasn't fully recovered and currently sits in the 21st spot on the list of coffee-producing countries.
Present Day Production
Today, Cameroon grows both Robusta and Arabica coffee, with Robusta exports outnumbering Arabica by 4:1. Belgium, France, and Portugal make up most Robusta exports and Germany accounts for a whopping 70% of Arabica shipments.
In 2014, the Cameroon government initiated a project to revive the country's coffee industry, funding the proposal with a 100% increase in export taxes.
Growing Regions and Flavors
Despite the difficulties of the last few decades, Cameroon coffee remains a sought-after origin among specialty coffee roasters and drinkers. Robusta dominates the Cameroon coffee scene and is grown mostly at lower altitudes in the country's western region.
Robusta coffee is usually used as a base for blends since its powerful, borderline harsh flavor doesn't taste as good alone. Cameroon Robusta is full-bodied with nutty and earthy tasting notes.
Arabica is also grown in Cameroon but on a much smaller scale. Arabica is not as resilient as Robusta and only flourishes under specific conditions. The ideal Arabica environment has rich soil, plentiful rainfall, and a moderately high elevation. Thankfully, Cameroon's Bamileke and Bamaoun provide the perfect climate for growing Arabica with their high altitudes and nutrient-packed, volcanic soil.
In sharp contrast to Robusta coffee, Arabica beans have a more delicate, complex flavor that makes them a delight to brew with on their own. Cameroon's Arabica coffee has the fruity, floral flavors and high acidity characteristic of many African coffees.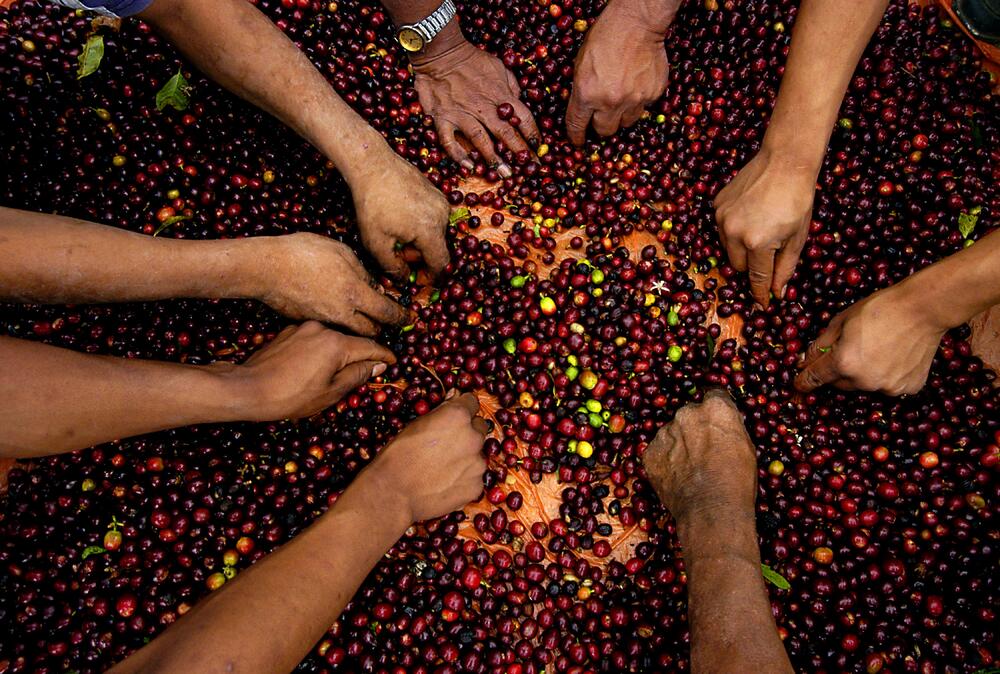 Something Special
Cameroon's crown jewel of coffee comes from a small region in the Northwest Province called Boyo. Boyo coffee is typically grown in small batches at elevations exceeding 5,000 feet and in the richest soil possible. Many farms in the Boyo region only process the coffee by hand and produce micro-lots, minuscule specialized batches that boast extremely high quality and fetch equally high prices.
Coffee grown in the Boyo region is special and unlike other coffee from Cameroon or anywhere else, for that matter. We recommend getting your hands on a batch if you can but be warned — it won't be cheap. Still, it's worth paying a bit more to experience something unique and special that you can only get from Cameroon.
Making the Most of Cameroon Coffee
We are partial to preparing African coffee in a pour-over, and Cameroon's Arabica in general and Boyo specifically uphold this rule. Robusta is a bit tricky since it's mostly used in blends. It is unlikely that you will purchase 100% pure Cameroon Robusta and need to find a way to brew it optimally.
If you decide to look for some Cameroon coffee, we will reiterate that Cameroon Boyo coffee is the way to go if you're willing to splurge. It's expensive but not excessively so, and we think it's more than worth its higher price. If you pick up some Boyo coffee, give it a try in a pour-over. High altitude beans generally have floral and fruity flavors that shine when brewed in a pour-over, and we think it's the best way to sample Cameroon coffee.

Conclusion
Not many people think of Cameroon when they think about coffee-producing countries. Compared to other African countries like Kenya and Ethiopia, Cameroon's coffee production isn't very impressive, so we understand why they might fly under the radar. However, overlooking Cameroon altogether is a mistake as they produce some high-quality beans that are excellent examples of modern specialty coffee.
The bottom line recommendation you need to know if you're looking to try Cameroon coffee is to look for coffee from the Northwest Province's Boyo region. Coffee from Boyo is grown at high altitudes in rich, volcanic soil and provides a coffee experience you won't find anywhere else.
RELATED READS:
---
Featured Image: BERMIX STUDIO, Shutterstock