Being surrounded by amazing coffee shops is every coffee lover's dream. Whether you're planning a move or just a vacation, you might wonder: which US city has the most coffee shops per capita?
The bad news is that there isn't a really simple answer. Data can be hard to wrangle, and it's hard to be sure without visiting every single coffee shop in the country (yes, that's a vacation suggestion). And the good news? There are thousands of great coffee shops all over the country — and great cities for coffee lovers exist coast to coast!
The Short Answer
Though it depends on who you ask, Berkeley, California is likely the US city with the most coffee shops per capita. But the best cities for coffee lovers overall are Seattle, Washington, and New York City.

Which US city has the most coffee shops per capita?
Berkeley, California has the most coffee shops per capita, according to the latest analysis done by the website ApartmentGuide. Berkeley, the home of Peet's Coffee and the famous university, has an impressive coffee shop for every 2,073 people. To put that number in context, there's one US McDonald's for every 23,130 people. And the state of California has one Starbucks for every 14,126 people.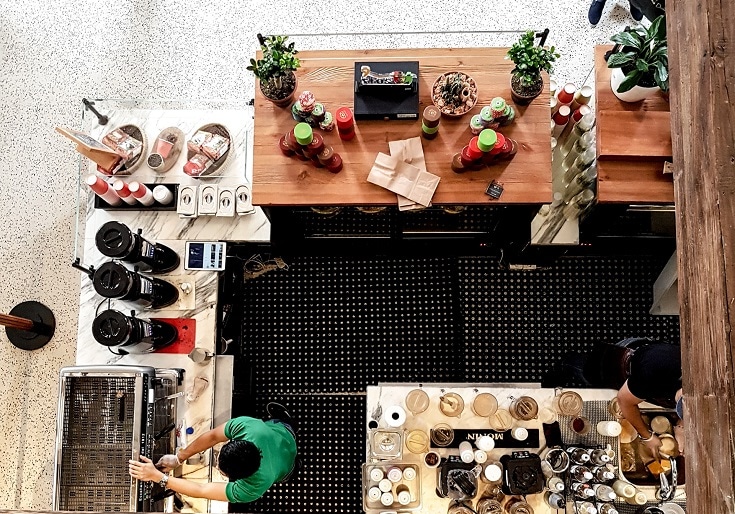 Which other cities have lots of coffee shops per capita?
According to ApartmentGuide, other top contenders include Vancouver, Washington (1 per 2,224 people), San Francisco, California (one per 2,297 people), and Seattle, Washington (one per 2,308).
The website WalletHub, on the other hand, calculates that Orlando, Florida, Honolulu, Hawaii, and Pittsburgh, Pennsylvania have the most coffee shops per capita. But the analysis weighed other factors like affordability, percentage of coffee drinkers, and availability of wifi to determine that Seattle is the best US city for coffee lovers. You can see how each city ranked on the above map!
What about New York City?
Another top contender for the most coffee shops per capita? New York, New York. The big apple is a famously coffee-loving city, and a clear majority of adult residents enjoy their espresso. According to a 2018 study, 62% of adult New Yorkers drink coffee, and 42% need coffee to start their days.
The reason New York doesn't top the per capita list is that there are just too many people living there. According to ApartmentGuide, there are 9.1 coffee shops per 10,000 people in New York City. That's an amazing 764 total coffee shops, 2.5 per square mile, which is way more than any other US city.
SEE ALSO: 10 Best Coffee Shops in Chelsea
Why isn't there a simple answer?
Statistics can get complicated fast! Coffee shops, like all small businesses, can come and go pretty quickly. Unless it's a census year, exact population counts can be tricky, too. So since there isn't an official list of coffee shops per capita, it all depends on your methodology. Multiple companies collect industry information, and how you analyze that data after you license it will affect the list. But the good news is that lots of US cities have an impressive number of excellent coffee shops.

Final Thoughts
The bottom line? If you want to try a new coffee shop every day for two years, head to New York City. But if you insist on heading to the city with the most cafes per capita, Berkeley is the spot for you! And plenty of other cities have great coffee shops, too.
RELATED READS: