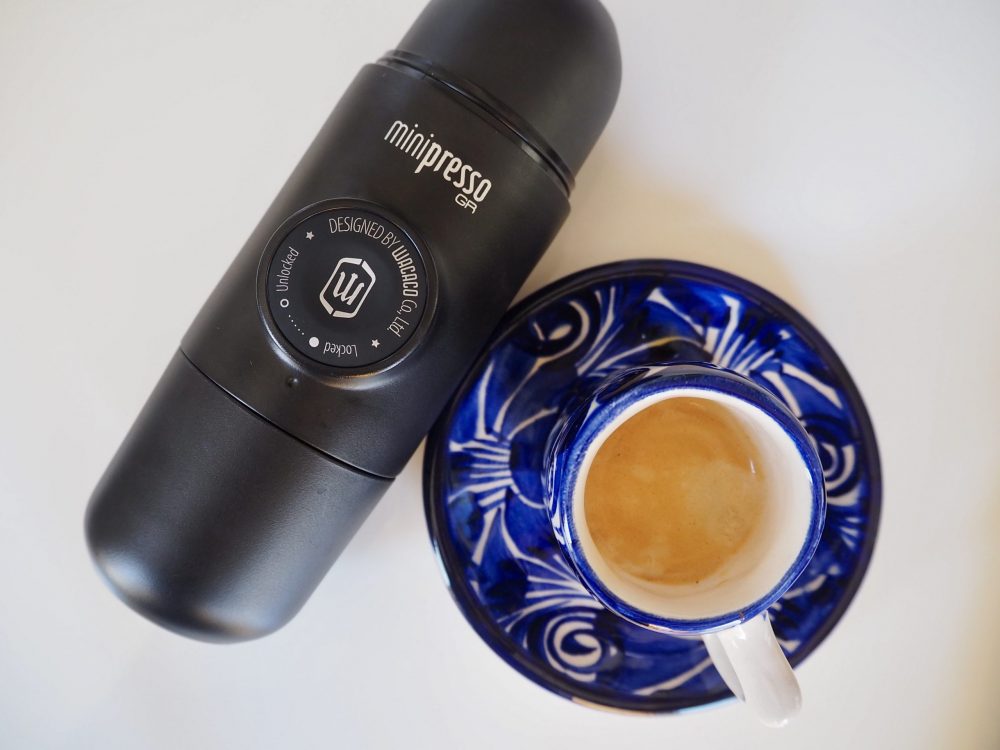 Our Final Verdict
We give the Wacaco Minipresso a rating of 4.4 out of 5 stars:
Ease of Use
Design
Espresso Quality
Build Quality
Price
Wacaco Minipresso Review: At a Glance
If you're shopping for a travel-friendly espresso maker, the Minipresso from Wacaco is worth considering. But is it well-made and easy to use? Even more important, does it produce high-quality espresso? To find out, we extensively tested the Minipresso and put together this detailed review.
Our verdict? The Wacaco Minipresso is a well-designed, highly portable espresso maker. Once you get the hang of it, this espresso maker is easy to use, requiring only a few pumps to build pressure. Best of all, it quickly produces robust, intensely flavorful espresso topped with impressive crema.
Pros
Flavorful espresso with impressive crema
Easy to use and rinse clean
Reasonably priced
Lightweight and portable
Nicely-designed
Cons
Many components
Plastic construction
Can be difficult to pump
| | |
| --- | --- |
| Size: | 6.89 x 2.75 x 2.36 inches |
| Bars of Pressure: | 8 |
| Water Reservoir: | 2.35 ounces |
| Portafilter Capacity: | 0.28 ounces |
| Weight: | 0.8 pounds |
| Warranty: | 1 year |
The Process
Though there are quite a few steps, pulling a shot of espresso is fairly simple with the Minipresso. You'll need to read the instruction manual once or twice, but you'll pick it up quickly. Here's the basic process:
Add coffee grounds to the filter basket and place it on top of the machine's body. Screw on the extraction head, keeping the device vertical. Then fill the bottom cup with hot water, carefully screw the whole thing together, and get your cup ready.
Twist the pump to unlock it. Then flip the Minipresso upside down and start pumping, holding the extraction head directly over your espresso cup. Within about 10 pumps, the espresso will start to come out. Keep pumping until you've pulled a full shot, about 40 to 50 pumps.
Having to aim the Minipresso while pumping is inconvenient, and there's no pressure gauge to measure your progress. We also found that some of the pumps were difficult as the pressure built. But if you're willing to put in the effort, you'll be rewarded with an amazing shot of espresso.
The Espresso
If you're looking for delicious, high-quality espresso, you may be pleasantly surprised by this device. The espresso we created was rich and complex, with a full body and an appealing aroma. Even better, it was topped with a beautiful golden crema.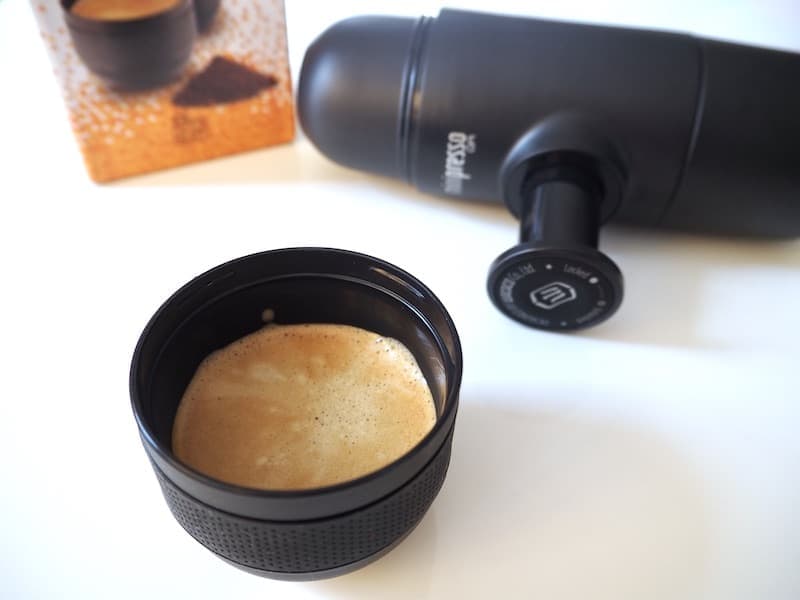 This espresso is closer than you might expect, but it's not quite what you'll find at a good coffee shop. If you're looking for a professional-grade shot of espresso, you may need to invest in a full espresso machine.
Extra Features
We especially liked the included coffee scoop. Fill it with finely-ground coffee, attach it to the filter basket, and flip. Tamp using the bottom of the scoop and you have a perfect puck! No measuring or separate tamper required.
The Minipresso also comes with a cap that doubles as an espresso cup. This is very convenient for on-the-go brewing. It keeps the extraction head clean and doesn't require you to carry a separate cup.
Frequently Asked Questions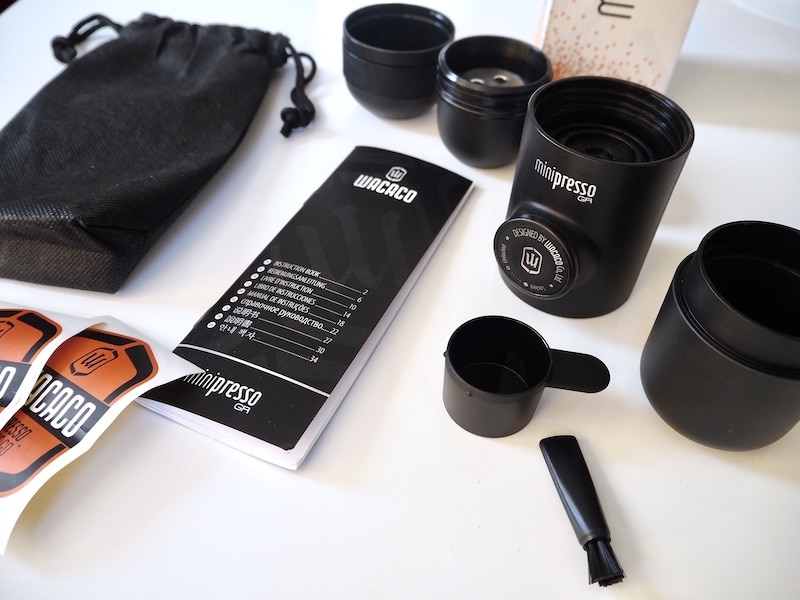 Q: What comes in the box?
A: The Minipresso comes with quite a few pieces:
Cap/espresso cup
Extraction head
Filter basket
Body with lever
Water compartment
Coffee scoop
Cleaning brush
Instruction manual & stickers
Travel bag
Q: Can you make more than one shot at a time?
A: No. You can pull a shot using more or less water, but to pull another, you'll have to redo the whole process.
Q: Can you use ESE (Easy Serving Espresso) pods?
A: No. This espresso maker is only compatible with fine coffee grounds. However, you can purchase the Minipresso NS instead, which is compatible with Nespresso Original capsules.

Wacaco Minipresso: The Verdict
 Are you looking for a reasonably-priced, highly portable home espresso maker? The Wacaco Minipresso may be your new favorite appliance. It's self-contained, well-built, and easy to use on the go. When we tested it, we were particularly impressed by the espresso, which was complex, aromatic, and topped with crema.
The drawbacks? This manual machine can be difficult to pump, and without a gauge, you won't be able to tell how much pressure you've built. Plus, though it's compact, it's not particularly stylish and is fully made of plastic.
All in all, the Minipresso wowed us. It's affordable and sturdy, and the espresso is so good, you may want to ditch your espresso machine. Give it a try and see what you think!
RELATED READS: