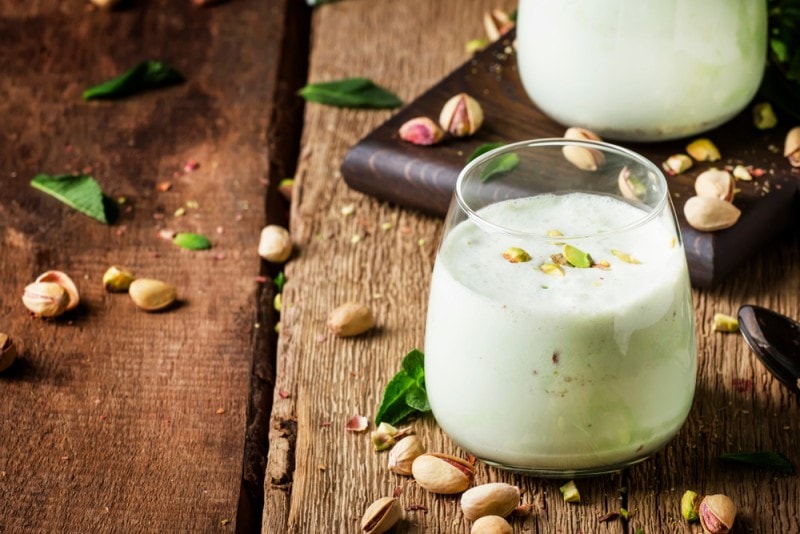 The Starbucks pistachio latte combines espresso, steamed milk, a sweet pistachio sauce, and a "salted brown butter cookie flavored topping." It's sweet, rich, and nutty, with a good balance of espresso and pistachio flavor.
To recreate this unusual drink at home, you can whip up a pistachio simple syrup and a buttery brown sugar mixture. Mix these tasty additions with your fresh espresso and velvety steamed milk for a drink that might be even better than the original!

Homemade Starbucks Pistachio Latte
The Starbucks pistachio latte is a creamy, nutty delight with a delicious browned butter twist. You can make an impressive version at home with pistachio simple syrup and a brown sugar butter mixture. Delicious and oh-so-satisfying!
Equipment
Espresso machine or coffee maker

Small saucepan

Airtight container

Fine mesh strainer

Large mug
Ingredients
Pistachio Syrup
½

cup

water

½

cup

white sugar

⅓

cup

pistachios

shelled and chopped
Pistachio Latte
2

shots espresso

or ½ cup strong coffee

8

ounces

milk

any kind

½

tablespoon

butter

½

tablespoon

brown sugar
Instructions
Make the pistachio syrup.
Combine water, sugar, and chopped pistachios in a small saucepan. Bring to a boil over medium heat.

Boil for about 10 minutes, stirring occasionally, until the sugar fully dissolves and the texture becomes thick and syrupy.

Remove from the heat and let the mixture cool. Then pour it through a fine-mesh strainer to remove the pistachio pieces.

Store your syrup in an airtight container in the refrigerator.
Make the pistachio latte.
Pull two shots of espresso.

In a small saucepan, heat butter over medium heat. Stir constantly until the butter is lightly browned. Then remove it from the heat and stir in the brown sugar.

Steam your milk. If you don't have a milk steamer, you can heat it in the microwave or on the stovetop and then whisk it.

Pour the milk into your mug and add the browned butter mixture on top. Then add the espresso and 1 tablespoon of your pistachio syrup. Stir your drink and enjoy!
Nutrition

Starbucks Pistachio Latte Recipe Variations
The above recipe is delicious as-is, but you may want to adjust it depending on the ingredients you have on hand. Here are a few simple tips!
Pistachio Syrup
Our recipe has you make a quick simple syrup with chopped pistachios, water, and sugar. It's fast and easy, and you can make a large batch to add to all of your coffee drinks and baked goods throughout the week. If you don't want to shell and chop pistachios, you can buy pistachio extract at many grocery stores or online. You can also add a few whole pistachios to your finished drink as a fun garnish!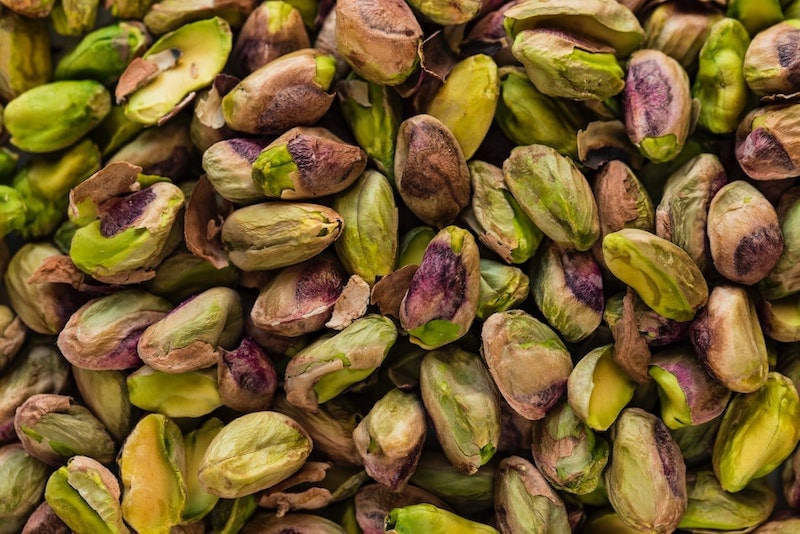 Brown Sugar & Butter
The browned butter and sugar mixture is what really takes this drink over the top, and browning butter is simple as long as you keep an eye on it. The flavors are caramelly and quite impressive. If you're trying to cut your calories, you may want to skip this addition or use less of it.
Espresso and Milk
The base of any latte is fresh espresso and creamy steamed milk. When you're making lattes at home, you can make the coffee and milk any way you like, including substituting regular brewed coffee and your favorite kind of milk. True espresso shots will always taste the best, but strong brewed coffee is delicious, too. And if you like a really nutty pistachio latte, why not try using almond milk?

Final Thoughts
Ready to whip up an amazing homemade Starbucks pistachio latte? This recipe practically makes itself! You don't have to find a coffee shop to enjoy this tasty drink, which is an unusual combination of butter cookies, pistachios, and espresso. Impress your friends or get your morning off to a great start! We hope you love this buttery drink as much as we do.
RELATED READS:
---
Featured image: 5PH, Shutterstock