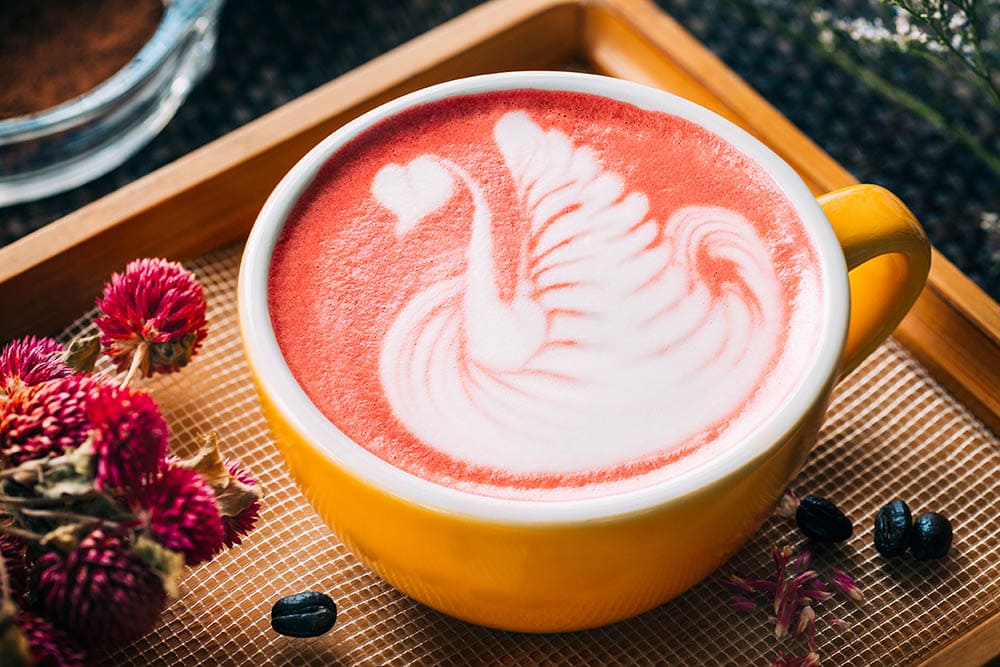 Sometimes we need a change of pace to combat the humdrum routine and keep things interesting, and our morning coffee is a great venue for spicing things up. Red velvet lattes are an interesting twist on the classic latte that brings a little extra sweetness and coarser texture to the party. If you've ordered a red velvet latte from your local coffee shop, you might be under the impression that they're not suitable for making at home since they look fancy and involved, but they're quite easy to make.
In this article, we'll teach you our favorite red velvet latte recipe and give you a little history and background on where the name comes from. If you want to learn how to whip up a red velvet latte in the comfort of your own home, this guide is for you!

Red Velvet Lattes: A Bit of Background
Red velvet lattes are several steps removed from their inspiration: red velvet cake. In the mid to late 1800s, light, airy cakes became popular, and bakers started adding cocoa to the mix to increase the lift and sponginess of their cakes. When baked, the cocoa added a reddish hue to the cakes and, combined with the texture, inspired the name red velvet cakes.
The new red velvet cakes remained popular into the 20th century, and the recipe was largely unchanged until the 1940s when World War II rationing made essential baking ingredients like sugar and cocoa hard to obtain. Cunning bakers switched to using beets to sweeten their cakes and attempt to preserve the fluffiness they were known for, which worked surprisingly well and, as a bonus, maintained the red coloring.
Today, without any wartime rationing to contend with, bakers again use cocoa to make velvet cakes, and food coloring gives them the iconic reddish tint.
So, what does this have to do with lattes? We're glad you asked. Red velvet lattes are a sweeter take on the traditional latte and include chunks of chocolate or chocolate shavings, giving the drink a mocha-like flavor. However, unlike mochas which often use chocolate syrup, red velvet lattes have a coarser texture thanks to the chocolate pieces. Someone made the connection between adding cocoa to the cake mix and adding chocolate to lattes, and the rest is history.
Many baristas emphasize the connection between red velvet cakes and lattes by adding red food coloring to their red velvet lattes, but it's only for style.
---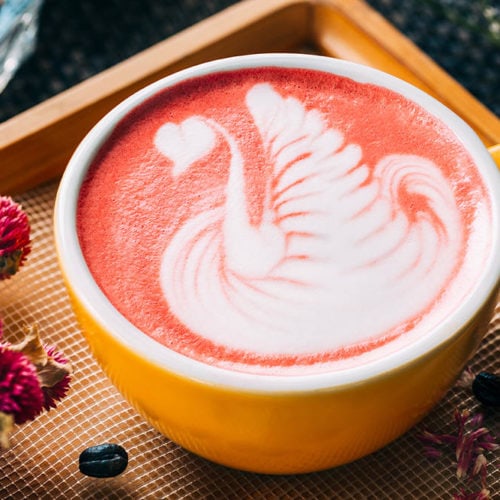 Delicious Red Velvet Latte Recipe
Red velvet lattes are a sweeter take on the traditional latte and include chunks of chocolate or chocolate shavings, giving the drink a mocha-like flavor. This recipe makes enough for one double espresso red velvet latte or two single espresso lattes.
Equipment
Small saucepan

Stovetop

Espresso machine

Tall latte glass

Spoon
Ingredients
2

oz

espresso

2

cups

milk

6

oz

semi-sweet chocolate chunks

1

tsp

vanilla extract

½

tsp

red food coloring

Whipped cream

(optional)

Chocolate shavings

(optional)
Instructions
In a small saucepan, combine the milk, sugar, and chocolate chunks. Stir continuously over low heat until the chocolate starts to melt. We like to remove from heat slightly before the chocolate is completely melted to enhance the texture of our lattes.

After you remove the saucepan from heat, add food coloring and vanilla extract. How much food coloring you use is completely up to you. We find ½ teaspoon to be adequate for producing the distinct red hue.

If you're making a double latte, slowly pour the milk into the espresso. If you're making two separate drinks, separate the espresso and pour an equal amount of the milk mixture into both drinks.

Top with whipped cream and chocolate shavings.
Nutrition

How to Make Your Own Red Velvet Creamer
Our red velvet latte recipe is great when you have a little extra time, but if you want to make a red velvet latte on a busy morning, it's easier to use red velvet creamer. This creamer recipe makes enough for one latte. You can scale it up to make a batch for a week's worth of coffees since it will stay fresh for up to a week.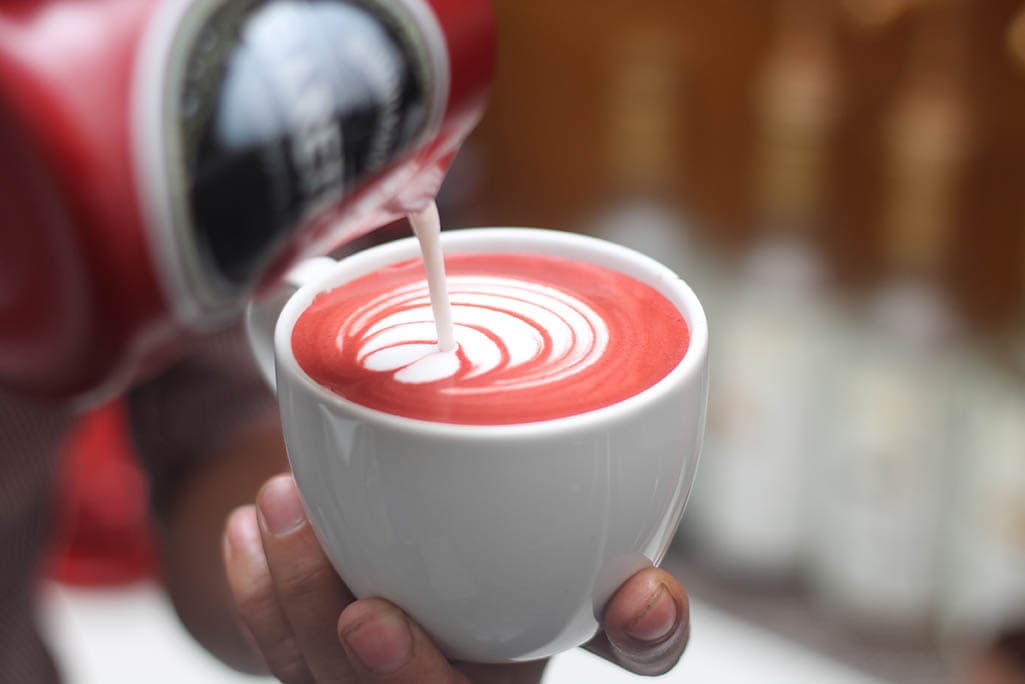 Equipment
Medium saucepan
Whisk
Container with lid for storage
Ingredients
1 cup of milk (prefer whole milk)
½ cup heavy cream (or half-and-half)
2 tablespoons cocoa powder
3 tablespoons granulated sugar
2 teaspoons vanilla extract
½ tablespoon of red food coloring
Steps
In a medium saucepan, combine the milk, heavy cream, cocoa powder, sugar, and vanilla and whisk over low heat until the ingredients are well-mixed.
Add the red food coloring.
Remove from heat and let the mixture cool to room temperature.
Pour the creamer into a jar with a lid and store it in the refrigerator. We like to use a glass container to avoid stains and lingering flavors, but any container with a lid will work.

Conclusion
Red velvet lattes have an interesting history rooted in 19th-century baking traditions. Today, the red in a red velvet latte is mostly included as a nod to the historical connection and to give the drinks a little extra style. Red velvet lattes are sweeter than ordinary lattes and have a thicker, rough texture. The coarseness and sweetness give the red velvet latte its name and make for a unique coffee drinking experience.
We hope this recipe helps you make your own delicious red velvet latte at home. Red velvet lattes are surprisingly easy to make and are sure to brighten your day and impress your guests—we won't tell them how easy it is to make if you won't.
See also: 
---
Featured Image Credit: CWIS, Shutterstock