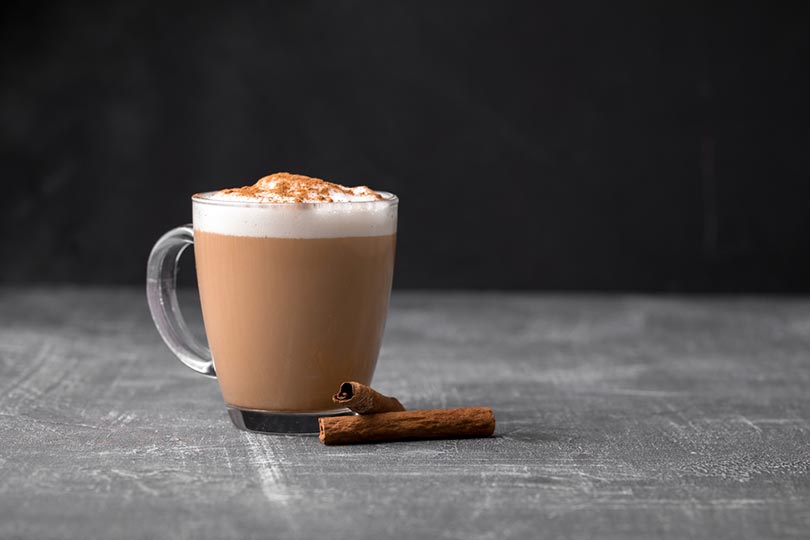 Sometimes, you just need a sweet drink to perk up your day, and one of the best drink choices is a churro latte. But while some coffee shops will charge you an arm and leg for this frothy, sweet, cinnamon-infused drink, did you know that there's an easy way to make one for yourself?
This recipe is easy to follow and quick to complete and will save you money on your favorite drink! Keep reading, as we break down everything that you need to know to make your own churro latte.

How to Make a Churro Latte:
Ingredients:
1 cup whole milk
1 cinnamon stick
½ cup heavy cream
1 teaspoon vanilla
2 cups brewed hot coffee
Sweetener
Ground cinnamon
Equipment:
Small saucepan
Stovetop
Medium bowl
Blender
1. Combine the milk and cinnamon stick in a small saucepan.
Add just the whole milk, not the heavy cream at this step.
---
2. Heat until the milk starts to simmer, then take off the heat and let it sit for 10 minutes.
Put the saucepan on the stovetop on low heat, and take it off as soon as the milk starts to simmer.
---
3. Combine the heavy cream with a sweetener, and beat until softly whipped.
You're making the whipped cream here: Add some of your stevia, sugar, or another sweetener to the heavy cream, and beat it until it's softly whipped.
---
4. Mix the coffee, sweetener, and vanilla.
Add the desired amount of sweetener, and mix it with the vanilla and coffee.
---
5. Discard the cinnamon stick and transfer the milk to a blender.
The cinnamon flavor is already in the milk, so you don't need the stick anymore! Toss the stick, and blend the milk until it's frothy.
---
6. Add the milk to the coffee mixture, and top with whipped cream and cinnamon.
Add the milk to the coffee, top it with the desired amount of whipped cream and cinnamon, and you are finished making your drink!

The Churro Latte Experience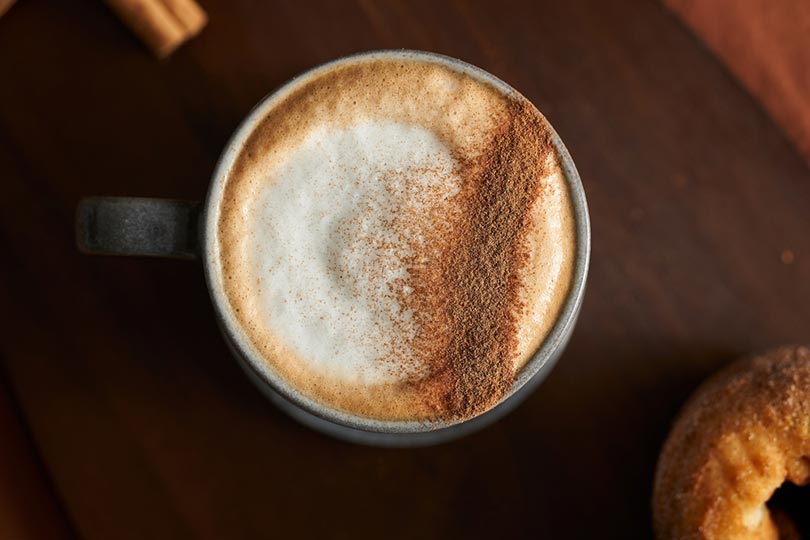 What type of sweetener should you use?
There are many different options that you can use, and it's up to you to find your favorite.
You can use white sugar or go with something like stevia or another artificial sweetener. Don't use a sweetener like honey because it'll change the consistency of the drink while you're trying to prepare it.
We recommend two to three packets of a sweetener like stevia or about 4 to 6 teaspoons of sugar. Of course, you can add or remove sweetener from the recipe as much as you'd like, since you're the one making it!
Do keep in mind that adding a sweetener like sugar will add calories, while a no-calorie sweetener like stevia won't.
Are there health benefits to a churro latte?
While we can't say that a churro latte is the healthiest drink option out there, we can say that since you're drinking coffee at the same time, there are a few health perks. The antioxidants in the coffee provide numerous health benefits, like a reduced risk for Alzheimer's and Parkinson's, and it can also help your heart!
Just don't drink too much because this is a high-calorie drink, and sweeteners aren't always the best for you either.
---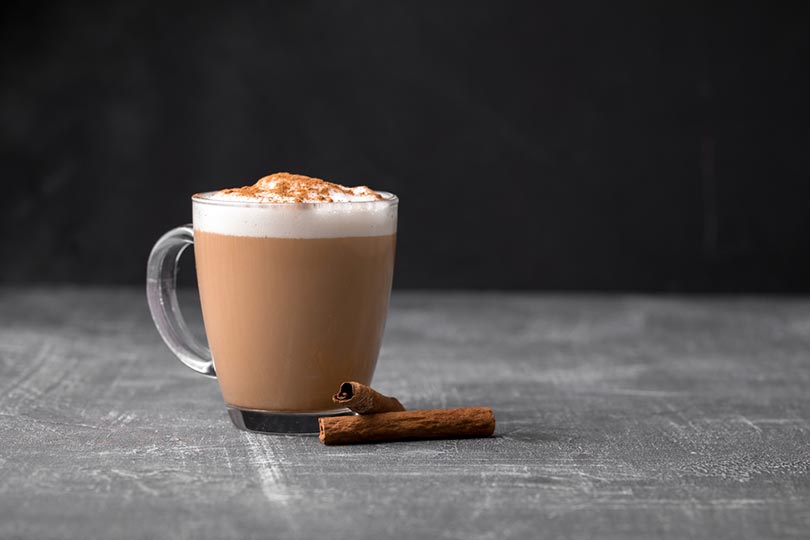 Simple Churro Latte Recipe
The next time that you want a churro latte, you don't need to head out to an expensive coffee shop. This simple churro latte recipe can cure that craving without breaking the bank or taking too much of your time!
Equipment
Small saucepan

Stovetop

Medium bowl

Blender
Ingredients
1

cup

whole milk

1

cinnamon stick

½

cup

heavy cream

1

teaspoon

vanilla

2

cups

brewed hot coffee

Sweetener

Ground cinnamon
Instructions
Combine the cinnamon and milk in a saucepan. Put it on low heat until the milk starts to simmer. Remove from heat and let it sit for 10 minutes.

Meanwhile, combine the heavy cream and sweetener, and beat until it's softly whipped.

Mix the brewed coffee, sweetener, and vanilla.

Froth the milk by removing the cinnamon stick, and putting the milk into a blender. Blend the milk until it's frothy.

Add the milk to the coffee mixture, and top with whipped cream and cinnamon.
Notes
Image Credit: Hihitetlin, Shutterstock
Nutrition

Conclusion
Now that you know how to make your own top-notch churro latte, nothing is keeping you from starting your morning on the right foot. It's easy to make, and more importantly, it tastes great from start to finish!
---
Featured Image Credit: Hihitetlin, Shutterstock