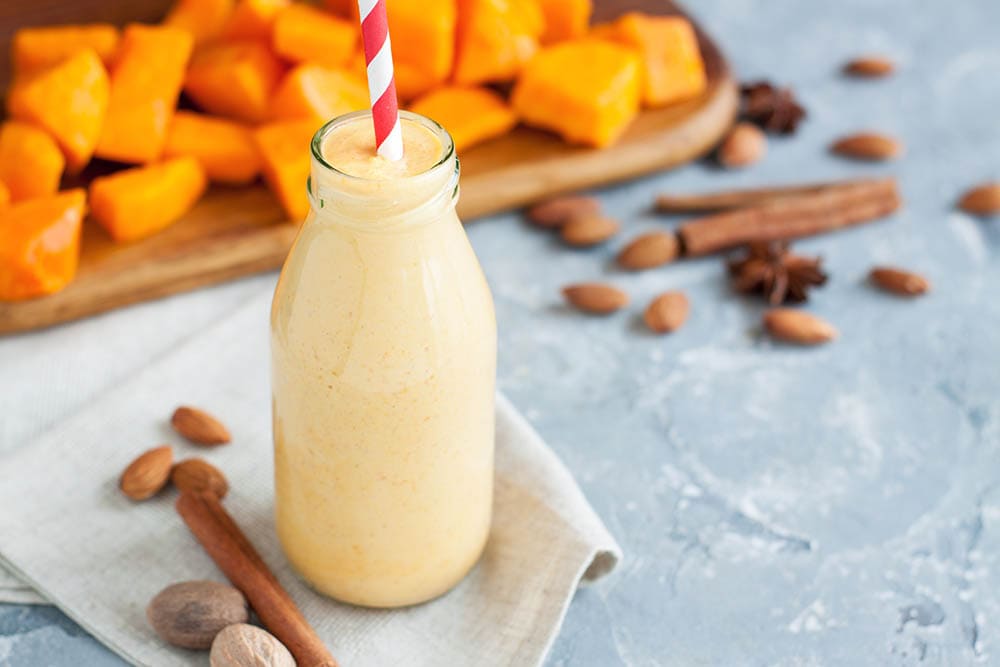 Pumpkin spice is considered the taste of the fall season. When the weather turns colder, many people enjoy having this taste in their morning coffee, lattes, and snacks. The question is, did you know you could add pumpkin spice to your morning protein shake for a healthy start to each day? If you love pumpkin spice and protein shakes, this recipe is right up your alley.

How to Make a Pumpkin Spice Protein Shake
Ingredients
10 ounces unsweetened almond milk
1 scoop vanilla protein powder
¼ cup pumpkin puree
1 teaspoon pumpkin pie spice
½ teaspoon vanilla extract
1 cup ice
Equipments
Blender
Shake glass (optional)
1.   Collect all your ingredients.
Gather all the ingredients we have listed, including a good protein powder of your liking.
2. Add ingredients and blend.
Place all ingredients in your blender and blend until smooth.
3. Drink and enjoy.
Pour into glass and drink immediately.
---
The Pumpkin Spice Protein Shake Experience
Pumpkin spice is a flavor and aroma people love to experience during the cooler months of the year. This warm taste is inviting and warm. The nostalgic taste associated with pumpkin pie is many drink lovers' preferred way of welcoming the holiday season.
When making a pumpkin spice protein shake, your chosen protein powder plays a big role in how your drink will taste. It's best to use a protein powder you've used previously and enjoy when crafting this recipe. The same can be said about the almond milk you choose. The better ingredients used, the richer, more enjoyable your drink will be.
Ways to Shake Things Up
Pumpkin spice may be your go-to flavor, but there are ways you can mix this pumpkin spice protein shake recipe up to make each one something different. One of the most popular additions to this shake recipe is frozen bananas. By freezing your bananas ahead of time, you can pop them in the blender with your other ingredients and add an extra flavor to your shake you can enjoy.
Another yummy addition is cinnamon sticks. If you're not on the run and plan on enjoying a shake with a friend, this garnish is a great addition to liven up the taste. You may even find yourself nibbling on the stick while you chat with your guests or family members.
The Health Benefits of a Pumpkin Spice Protein Shake
Adding a pumpkin spice protein shake into your diet is a great way to replace a meal. Pumpkin is a great source of vitamins A and C. Pumpkin also provides a boost to your potassium. The included pumpkin pie spice is also a great anti-inflammatory. This low-calorie meal option can help boost your body and provide you with a few healthy benefits while tasting amazing.
---
Simple Pumpkin Spice Protein Shake Recipe
If you're ready to add the taste of fall to your healthy lifestyle, this simple pumpkin spice protein shake is for you. Feel free to "shake up" this protein shake recipe to your liking by adding frozen bananas or other fun extras.
Ingredients
1

scoop

Vanilla protein powder

10

oz

Unsweetened almond milk

¼

cup

Pumpkin puree

1

tsp

Pumpkin pie spice

½

tsp

Vanilla extract

1

cup

Ice
Instructions
Gather all your ingredients. Make sure to choose the almond milk and protein powder you enjoy.

Add all ingredients into a blender and mix until smooth.

Pour into your shake cup and enjoy.
Nutrition

Conclusion
This simple pumpkin spice protein shake is easy to make and a great option for people wanting a healthy drink or snack. For a great fall flavor, whip this recipe up and kick back to watch the leaves change color outside or replenish after a satisfying workout.
---
Featured Image Credit: Iryna Pospikh, Shutterstock