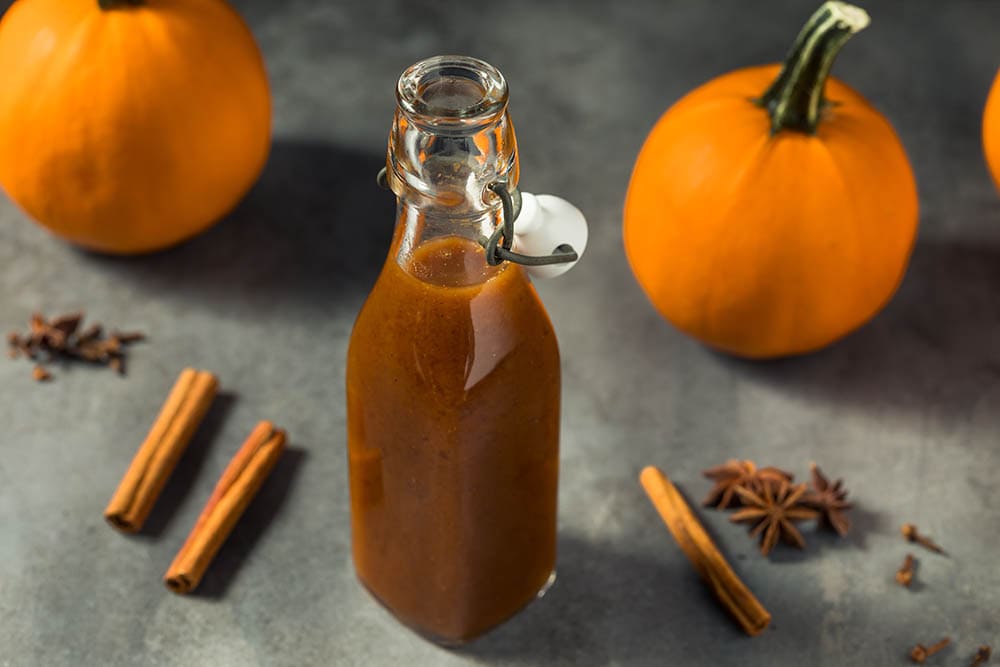 Pumpkin spice is often considered the flavor of fall. When the air is crisp and the leaves change, a fresh pumpkin pie in the oven can fill a home with warmth and memories. But what about a bit of pumpkin spice in our cup?
Instead of rushing out to your local coffee shop for your favorite pumpkin spice lattes and coffees, you can simply make your syrup at home. With this simple recipe, you can enjoy a yummy pumpkin spice drink or drizzle this delectable syrup on your favorite snack.

How to Make Delicious Homemade Pumpkin Spice Syrup
Ingredients
¾ cup water
¾ cup brown sugar
¼ cup pumpkin puree
2 teaspoons pumpkin pie spice
Equipments
Small saucepan
Whisk
Mesh strainer
Airtight container for storage
1. Add all the ingredients.
Gather all your ingredients then add them into a small saucepan on medium heat.
2. Mix and simmer your ingredients.
Whisk all ingredients together thoroughly, ensuring the brown sugar is fully dissolved. Bring to a simmer and cook for 3 minutes.
3. Strain the syrup for consistency.
Use a mesh strainer to remove the pulp from your syrup. This helps with the consistency and thickness of your syrup.
4. Store syrup in an airtight container.
Store your pumpkin spice syrup in an airtight container inside the refrigerator. Your syrup can be kept for up to a week.
5. Add syrup to all your favorite food and drinks.
Your pumpkin spice syrup goes great in coffees or lattes. Add a teaspoon to provide a great, seasonal taste you'll love. This syrup can also make pancakes, waffles, and oatmeal taste amazing.
---
The Pumpkin Spice Syrup Experience
Why Do People Love Pumpkin Spice?
If you've never tasted a pumpkin spice latte you may be wondering what all the fuss is about. These lattes and specialty coffees are made using recipes, very similar to this one, for pumpkin spice syrup. But what is pumpkin spice?
Originally, before everyone decided to put it in their coffee, pumpkin spice was created to make baking easier. By blending several warm spices, it became easier for bakers to create the perfect pumpkin pie. With this being a popular pie for Thanksgiving and Christmas, it's only logical for people to associate pumpkin spice syrup and the drinks and goodies made from it as staples of the fall and holiday seasons.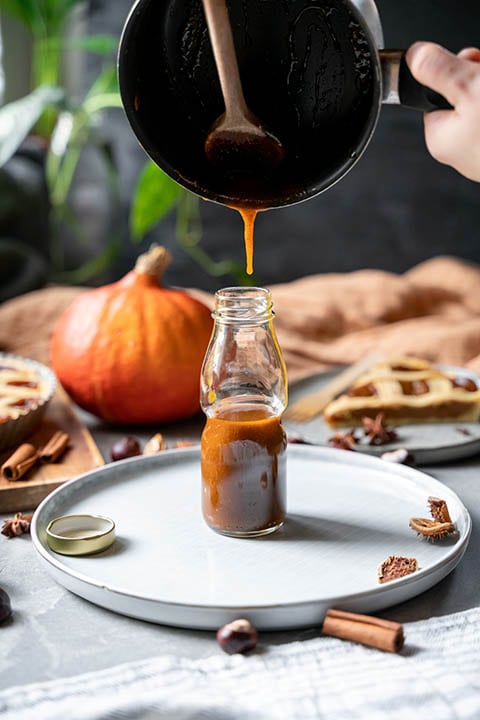 What Does It Taste Like?
Pumpkin, without the help of added spices, isn't that tasty. When you add nutmeg, cinnamon, ginger, and allspice, pumpkin spice is born. Before companies decided to make money on this great combination, people made magic on their own. Now, with pumpkin pie spice so easily available, it's easy to craft pumpkin spice syrups and other treats to enjoy.
With the addition of sugar, pumpkin spice instantly becomes a sweet concoction many people love. While on its own, pumpkin is bland, once the spices and sugars are added you'll quickly get a kick of sweet spice that is hard to ignore. By adding a syrup made of this spice to your coffee or latte, it's almost like having a fresh-baked pumpkin pie in a cup.
---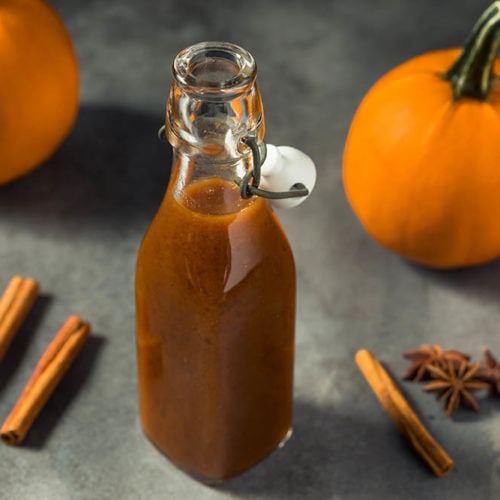 Simple Pumpkin Spice Syrup Recipe
If pumpkin spice tickles your taste buds and is a must-have, especially in the fall, this syrup recipe is what you need in your life. This simple recipe can be added to all your favorite drinks and snacks. If you need more pumpkin spice kick, this syrup can be adjusted to your liking.
Equipment
Small saucepan

Whisk

Mesh strainer

Airtight container for storage
Ingredients
¾

cup

Water

¾

cup

Brown sugar

¼

cup

Pumpkin puree

2

tsps

Pumpkin pie spice
Instructions
Add all ingredients to a small saucepan.

Whisk thoroughly and bring to a simmer for 3 minutes.

Pour the syrup through the small mesh strainer. This removes the pulpiness from the syrup.

Store in an airtight container in the refrigerator for up to one week.

Add this syrup to your favorite coffee or latte. This syrup also goes great on pancakes, waffles, or oatmeal. Simply stir and enjoy!
Nutrition

Conclusion
If you're a lover of the taste of fall, then learning how to make this tasty pumpkin spice syrup can help you experience these tastes at home. This simple recipe only takes a few minutes and can make your next cup of coffee or warm latte scrumptious.
SEE ALSO: 6 Scary Good Halloween Coffee Recipes
---
Featured Image Credit: Brent Hofacker, Shutterstock