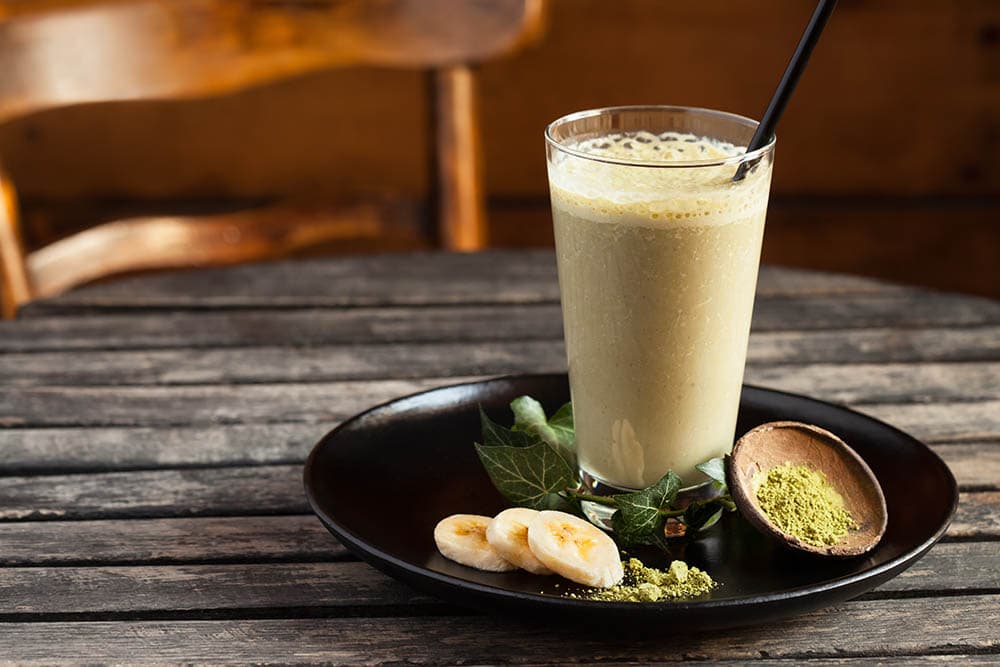 If you've ever been to a Starbucks, you've probably seen someone walking out with a slightly earthy, light green drink in their hands. Matcha lattes are quite popular and have a unique taste, often marketed as a coffee alternative.

What is Matcha?
A green tea variant, matcha is a loose, green powder that varies in quality, color, and flavor. Matcha is the result of grinding baby green tea leaves into a fine powder, useful to have on hand for drinks, cooking, and baking. Matcha is incredibly popular and important in Japan, whether it's for a ceremony or simply to enjoy as a drink. Famous tea houses have matcha blends that go back generations, adorning names that are unique to that tea house's blend.
Tradition and ceremony are the key components of matcha in Japan, going centuries back to when green tea first arrived in Japan. Matcha was created in China around the 1100s, though the process of making tea powder goes back much further. Matcha and green tea were introduced to Japan by a Buddhist monk in 1911, Eisai, and quickly adopted into the Japanese culture. Today, matcha is still an important facet in Japanese culture, especially where it's grown in the districts of Kyoto and Aichi prefecture.
What Does Matcha Taste Like?
It has an earthy base that many sweeten with honey or sugar, while the milk dilutes the notes of bitterness. It's got a similar "feel" to normal lattes with a slightly grainy texture, but the flavor profile is naturally closer to green tea. But green tea drinkers will be in for a surprise because it's also not quite the same as green tea, especially referring to consistency. While matcha traditionally doesn't have added flavors, many matcha powder brands offer a wide variety of flavors.

Different Types of Matcha & Which One to Buy
Matcha can be tricky to buy if you're new to it since there are different types, grades, and even shades of green. When you're making matcha cookies, you wouldn't use the same matcha as you would in a tea ceremony. That's why it's important to buy the right kind of matcha for smoothies and lattes, so you don't end up with a bitter, grainy drink.
Ceremonial Grade
Ceremonial grade matcha is the highest quality and best-tasting matcha, used for drinking and ceremonial purposes as the name suggests. It's bright and lively in color and will smell slightly sweet, as well as a light earthy scent. It may have a touch of bitterness, but true ceremonial-quality matcha will be smooth to drink. If you want to make traditional matcha as well as lattes, this is the grade to buy.
Culinary Grade
Culinary grade is lower quality because it's useful for baking in larger quantities. The bitter taste and slightly dull colors make it less appealing as a drink, but it works great for baking and cooking purposes. The bitterness rarely transfers into cookies and cakes, so the matcha doesn't have to be a ceremonial grade for culinary uses.
Latte Grade
Latte grade matcha is a fairly new grade of matcha that is in between ceremonial and culinary grades. It's much closer in quality, color, and flavor to ceremonial grade, but isn't as expensive. Some brands specialize in latte-grade matcha, making it more affordable to make modern drinks. If you're looking for matcha for lattes, smoothies, and shakes, latte grade will be a better value than ceremonial grade.
Health Benefits of Matcha
Matcha isn't just popular because of its taste and history, but also because of its health benefits. There are plenty of reasons to swap out a coffee for some matcha once in a while. Green tea is also great for health, so it's no surprise that matcha is as well. Here are some possible health benefits of matcha:
Contains antioxidants: green tea and matcha are abundant with flavonoids and a few other antioxidants, which help prevent damage to the cells by free radicals. Thankfully, a matcha latte may help your body fight off these free radicals, which could help your overall health.
Improves Brain Function: matcha has caffeine that is similar to green tea, which hits at a slower but more even level than coffee. There are other chemicals like L-Theanine and b-complex vitamins, which are all responsible for normal brain function.
Metabolism Boost: matcha may help speed up the metabolism, similar to green tea. It may help burn fat and speed up the metabolism, due to a thermogenic effect that naturally burns through fat. Many diet supplements contain green tea extract, but matcha is a tastier way to get these benefits.

Easy Matcha Smoothie Base Recipe
Our matcha recipe below is simple and easy, but it starts with a matcha smoothie base. You can add any ingredients you want to the matcha base and you'll have a tasty smoothie in no time. If you're not a fan of coffee or bananas, make the smoothie without them. However, the banana adds a creamy, thick texture to the smoothie so you may have to use more ice or milk for a thicker drink.
---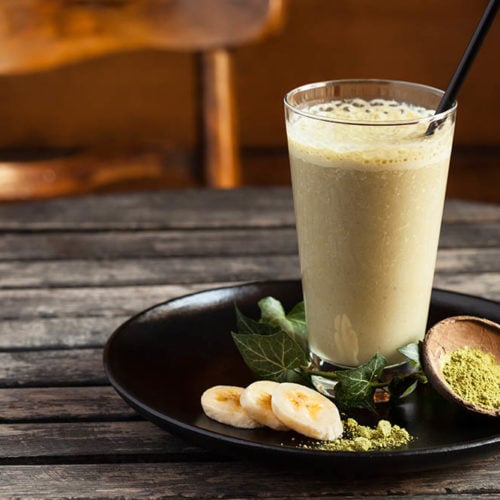 Banana Mocha Matcha Smoothie Recipe
The banana mocha matcha is a real sweet treat, perfect after a long hike or a hot summer day. Add protein powder if you're looking to add more protein to your diet. Enjoy!
Ingredients
1

tsp

Latte or ceremonial grade matcha 

1

Banana

¾

cup

Oat milk

¼

cup

Coffee

½

tsp

Chocolate syrup

1

scoop

Chocolate protein powder

Optional

1

tsp

Honey

Optional

1-½

cup

Ice
Instructions
Add ice, 1 teaspoon matcha powder, and oat milk to the blender and blend until fully combined. This is the basic matcha smoothie base. Add more or less ice to your preference if you don't plan on adding banana.

Peel and dice a banana, then add it to the blender with the coffee, chocolate syrup, chocolate protein powder, and honey. Blend until smooth. Pour in a tall glass and serve immediately.
Nutrition
---
Featured Image Credit: Milos Batinic, Shutterstock