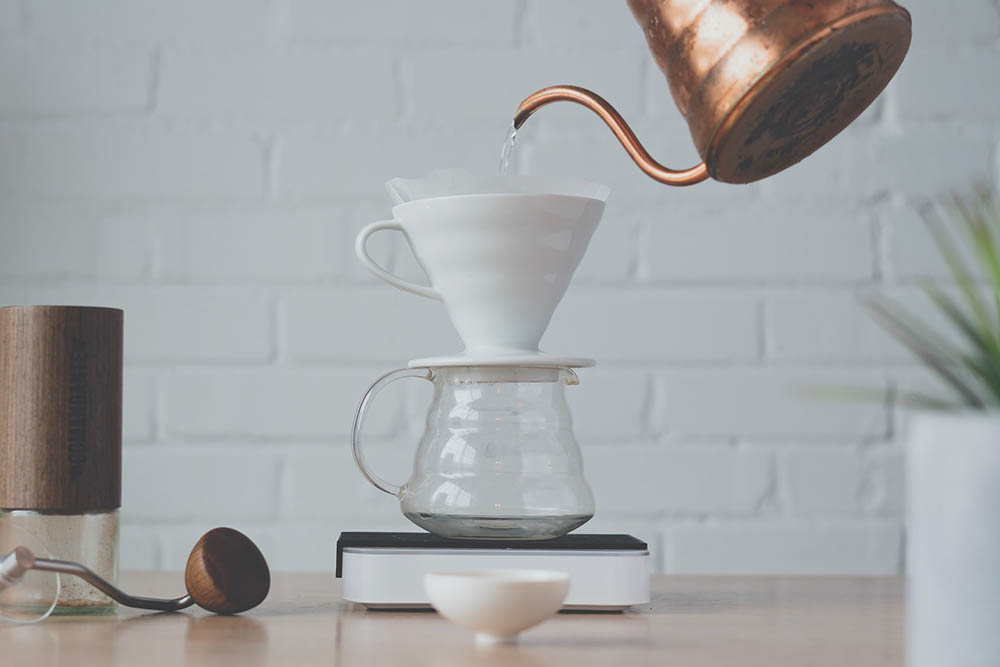 Move over, V60: there's a new pour-over coffee maker in town! Famed Japanese coffee company Hario is releasing a new brewer, the W60, with some very cool features.
Hario designed the W60 with the help of Pete Licata, the 2013 World Barista Championship winner. Much like the Tetsu-Kasuya Mini Drip Kettle, which was designed by the winner of the 2016 World Barista Championship, this is an expertly created and tested brewer.
Should you give it a try? Keep reading to learn about what makes this new pour-over so different!

How does the Hario W60 work?
The overall design of this new pour-over brewer, the Hario W60, doesn't look all that different. It's a curvy cone shape that rests on the lip of your cup or carafe. The V60's spiral lines are there, and there's a small handle.
The real place where this brewer differs is in the filters. The V60 is designed to work with special paper filters, but this brewer features something very different: a flat-bottomed reusable filter. This removable plastic and mesh filter sits at the top of the brewer, creating a flat bed for your coffee grounds. If you want to use a paper filter, you can add it below.
You can brew at least three different ways using the W60: with the flat-bottomed brewer and the paper filter, just the flat-bottomed brewer, or just the paper filter. This versatility calls to mind the AeroPress, which can brew in all kinds of ways! Here's a quick overview of the three brewing methods:
1. Flat-Bottomed Brewer
If you opt to use just the flat-bottomed brewer, you'll end up with a full-bodied cup of coffee and a little sediment. This filter takes about 3.5 minutes to finish brewing, and Hario recommends a grind size slightly finer than you'd use for the V60 (fine to medium-fine).

2. Paper Filter
If you only use a paper filter, you can expect a similar process and result to using the V60. Rinse the paper filter, use a medium-fine grind size, and expect a brewing time of about 2.5 minutes.
3. Brewing With Both Filters
The real point of this brewer seems to be using both filters so you can get the best of both worlds. Spread your grounds in the flat-bottomed brewer and place a rinsed filter beneath it. Then you get all of the full-bodied flavors without the sediments or potentially unhealthy oils. Brewing with both filters will take a little longer — about 4.5 minutes — and Hario recommends using a fine to medium-fine grind size.
Should you give the Hario W60 a try?
The W60 certainly has some tempting design features, so our vote is yes! The ability to experiment with different filters — and even combine multiple filters — is exciting. Pete Licata, this brewer's designer, says his big focuses were on the flat-bottom filter, which allows you to keep the bed of coffee grounds even, and on versatility. If you're a fan of pour-over brewing and want to dedicate some time and effort to perfecting a new technique, you'll probably love this brewer. It's not out in the US yet, but you can check it out on Hario's global website!

Final Thoughts
This new brewer isn't available in the US yet, but we're certainly looking forward to giving it a try when it is! The Hario V60 is such a simple, effective coffee maker, and the W60 seems like a tempting innovation. You can brew with paper filters, a permanent mesh filter, or both — letting you experiment to find your favorite recipe!
RELATED READS:
---
Featured Image Credit: Julien Labelle, Unsplash