Lavender is a flower from the Old World, one of the oldest and most recognizable plants around the globe. It has many great qualities and possible benefits, anywhere from aromatherapy to anxiety. It's a great alternative to sleeping medicine and even an antiseptic, making it one of the most versatile natural remedies available. Lavender also goes great in recipes and drinks, even coffee drinks like lattes. It may help with caffeine jitters and give you a sense of calmness in the morning, especially if you're a heavy coffee drinker. For a calmer morning, try out our lavender oat milk latte recipe using a lavender simple syrup and oat milk:


All About Lavender
Lavender is a diverse flower that has over 20 types, though there are around 5 types that seem to be the most popular: English Lavender, Spanish Lavender, French Lavender, Portuguese lavender, and Lavandin. Each type has unique characteristics, though many people tend to reach for the English Lavender for teas and cooking. Experiment with the different types of lavender to see which one you prefer, making different lavender simple syrups to suit each drink or recipe.
Most Popular Types of Lavender
English Lavender

Soft balance of sweet and floral scent
Great as an all-purpose lavender due to its balanced aroma
One of the most popular types of lavender

Spanish Lavender

Upright buds with "rabbit ear" bracts on top
Soft lavender aroma mixed with other floral scents
Great for dry, hot climates

Portuguese Lavender

Visually stunning with big lavender blooms with spikes
One of the most popular lavenders for cooking and culinary arts
Attracts bees and butterflies from its strong, sweet aroma

French Lavender

Strong medicinal, camphor aroma
Great for oils and cleaning solutions
Thick blooms with purple spikes on top

Lavandin

Strongest and most aromatic of the lavender types
Best for essential oils and perfumes
Sweet and floral with an earthy undertone
Health Benefits of Lavender
The use of lavender for medicinal purposes is a centuries-old concept, going back to the Ancient Egyptians and the Romans. It's a versatile plant that can provide some healing benefits, even acting as an antiseptic. Unlike newer supplements entering the health and wellness market, lavender has a long history of use and can potentially offer a wide range of benefits:
Calming Effects: Lavender is famous for its calming and relaxing abilities, whether you have anxiety, insomnia, or trouble relaxing.
How to Make Lavender Simple Syrup
What is a Simple Syrup?
Simple syrup is a sugar and water reduction, creating a liquid form of sugar. It's a great base to create flavored syrups with fruits, herbs, and flowers. The ratio for simple syrup is 2:1 sugar to water, which gives the perfect consistency. Simple syrup is great for drinks, sauces, and baking, adding new notes and flavors to your coffee and baked goods. The best part is that it's easy and quick to make!
Is Lavender Simple Syrup Easy to Make?
Yes! Making lavender simple syrup is easy to make, if you have fresh or dried lavender to use. While some recipes may call for lavender essential oil, we don't recommend ingesting essential oils. It's best to use real lavender for this syrup.
Lavender Simple Syrup
Simple syrup is great for adding new notes and flavors to your coffee. The best part is that it's easy and quick to make!


Oat Milk & Lavender Lattes
Oat milk is a newer type of non-dairy milk, and millions love it in their coffee and espresso drinks. The reason is due to the consistency of oat milk, which is creamier and thicker than most non-dairy milk. Oat milk is also nut and soy-free, so it's better for those who have allergies and dietary preferences. It's also simple to make at home, but it requires are culinary-strength food processor to get the right consistency.
Vanilla Flavored or Unflavored Oat Milk?
Vanilla flavored oat milk will work just fine and may even add to the lavender and coffee. But some brands have a stronger flavor, so it may overpower the lavender. Also, flavored oat milk tends to have a higher sugar content, which can add even more sugar to your lavender latte. In the end, it comes down to preference.
---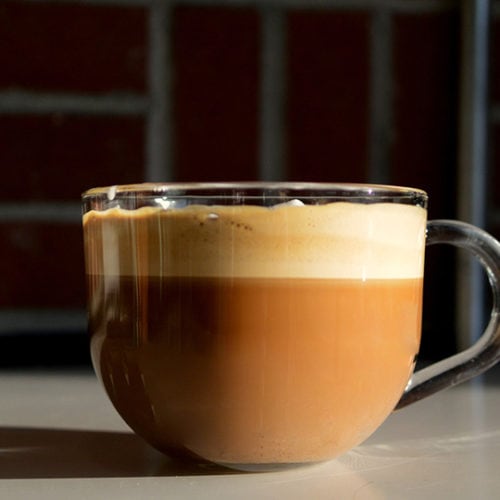 Hot or Iced Lavender Oat Milk Latte Recipe
For a calmer morning, try out our lavender oat milk latte recipe using a lavender simple syrup and oat milk.
Equipment
Mason jar or tall mug

Milk frother
Ingredients
Espresso or dark roast coffee

Cold brew

for iced latte

Ice

for iced latte

Oat Milk

½ - 1

tbsp

lavender simple syrup
Instructions
In a mug, add espresso or dark roast coffee. (For iced latte: set aside espresso to chill or use cold brew coffee. Then add to a mason jar or glass and add ice halfway.)

Add ½ - 1 tbsp of lavender simple syrup, leaving a small amount left. Slightly stir the syrup into espresso or coffee.

Add oat milk to the frother and froth the milk until foamy. Pour the oat milk into the glass, being careful, but do not stir.

Drizzle a little lavender simple syrup on top for taste, then add some lavender sprigs for garnish. Enjoy!
See Also: How to Make Lavender Milk Tea at Home: Simple Recipe
---
Featured Image Credit: Chrisdunlap8, Shutterstock