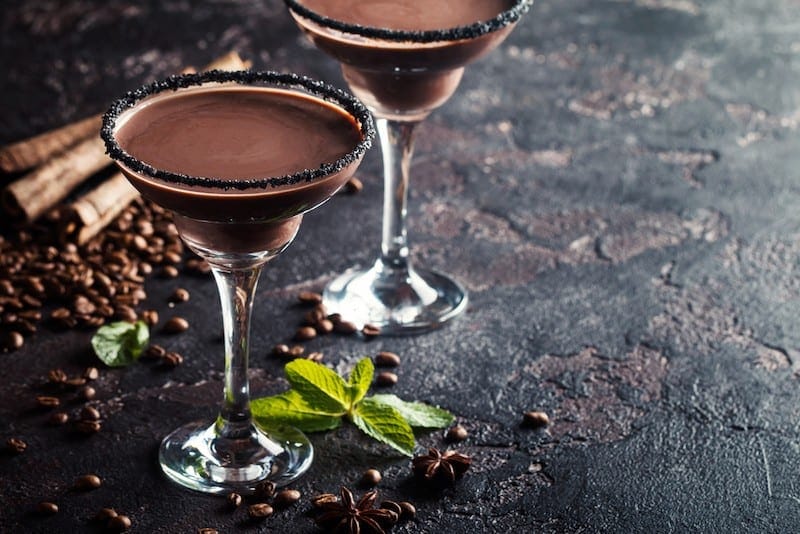 We love unwinding at the end of a long week with an adult beverage (or two!), and we're always looking for ways to incorporate our coffee fanaticism into our lives. Coffee liqueur cocktails have been around for a long time, but recently there has been an increased interest in using coffee from mixologists. Biased as we are about coffee, we think this might be because of specialty and craft coffee's growing popularity. Whatever the reason may be, we're not complaining.
Crafting cocktails is a complicated business, and some people even get college degrees learning how to design new mixed drinks. Adding coffee to the mix not only makes things tastier but also more complicated. To ease some of the confusion, we've gone ahead and compiled this list of 11 coffee cocktail recipes complete with pictures to give you a head start. Next time you're hosting a get-together, you can whip up a few of these coffee-inspired drinks and be sure you'll impress your guests.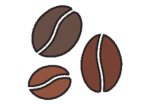 Top 11 Coffee Cocktail Recipes:
1. Mexican Coffee Cocktail
This one is a classic for a good reason. It's easy to make but delicious and is a great starting point for an introduction to coffee cocktails. The spice from the cinnamon goes well with coffee liqueur and gives this drink a cappuccino-like quality. Yum! See the full recipe here.
Ingredients
1 oz Kahlua or similar coffee liqueur
½ oz tequila
6 oz hot coffee
Whipped cream
Cinnamon
Recipe
Brew one serving of your favorite hot coffee.
Add the tequila and coffee liqueur to the coffee.
Top with whipped cream and sprinkle a pinch of cinnamon over the top.
---
2. Espresso Martini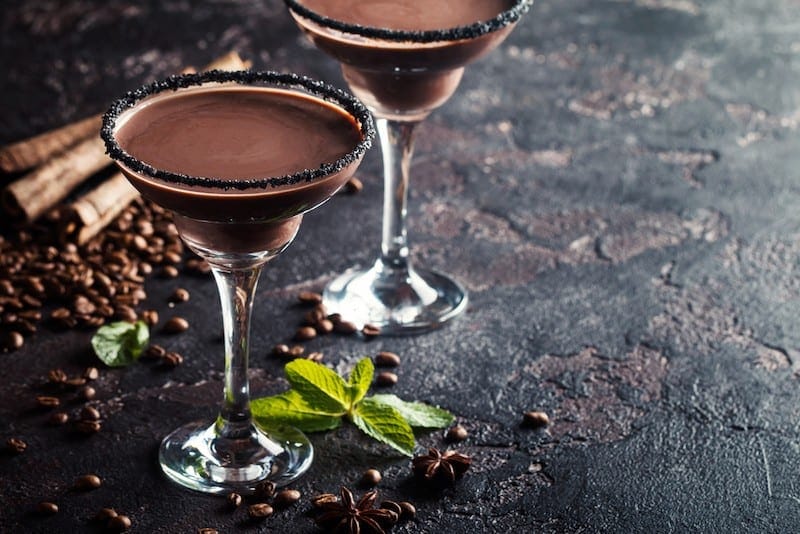 Martini recipes are all the rage these days, and one of the most popular varieties is the espresso martini. We didn't get the appeal until we tried one. They're not hard to make despite their fancy aesthetic, so they make a great coffee cocktail to make to impress your friends and family. See the full recipe here.
Ingredients
1–2 oz espresso (substitute 2 oz strongly brewed coffee)
1 oz vodka
Ice
1 oz Kahlua
½ oz simple syrup
3 whole coffee beans (for Garnish)
Recipe
Brew the espresso or strong coffee.
Add the espresso (or coffee), vodka, Kahlua, simple syrup, and ice to a cocktail shaker.
Shake well for at least 30 seconds.
Strain into a chilled martini glass.
Garnish with three coffee beans.
---
3. Black Russian
If you thought the first two cocktails were easy to make, wait until you see this one. It actually doesn't get any easier than the Black Russian. This coffee cocktail is perfect for people with a sweet tooth since it contains cola to taste. See the full recipe here.
Black Russian Recipe (With Homemade Coffee Liqueur)
All you need to make a Black Russian cocktail at home is a few simple ingredients! For our recipe, we're going to make our own coffee liqueur, but you can also pick up Kahlua at the liquor store. A Black Russian is one part coffee liqueur to two parts vodka. Serve it over ice with a splash of cream or cola if you'd like.
Try this delicious recipe!
Ingredients
¾ oz vodka
¾ oz coffee liqueur
Cola
1 cherry
Ice
Recipe
Combine the coffee liqueur and vodka in a glass.
Add ice and stir
Top off with cola (how much is up to your taste preference)
Garnish with a cherry (optional)
---
4. Concorde #2
The Concorde is a coffee liqueur cocktail that is typically served as a flaming shot. It is quite strong and definitely not for the faint of heart. Be careful with this one; both the flame and alcohol content can be dangerous. See the full recipe here.
Ingredients
½ oz coffee liqueur
½ oz Irish cream
½ oz overproof one (like Bacardi 151)
Recipe
Use a spoon to carefully layer the ingredients in this order: coffee liqueur, Irish cream, overproof rum.
Carefully light the rum on fire (this is technically optional but adds a nice dramatic flair)
Blow out the shot before you drink it!
If flaming alcohol is your thing, we also recommend this delicious flaming Spanish coffee cocktail:
Flaming Spanish Coffee Recipe
What makes the flaming Spanish coffee so special? Caramelized sugar and rum mix with coffee and coffee liqueur to make this delicious, complex coffee cocktail. And did we mention that you set it on fire? Here's the unexpectedly simple recipe.
Try this delicious recipe!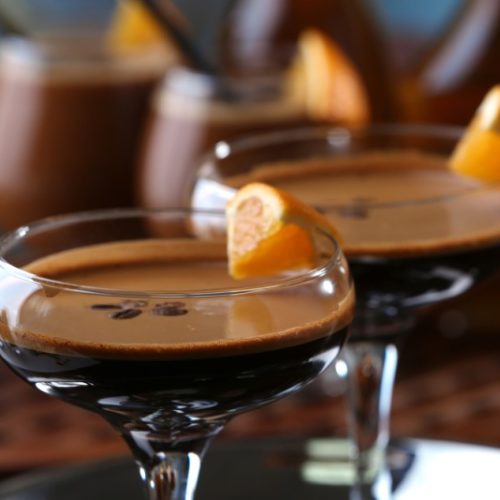 ---
5. Irish Coffee Cocktail
Like Mexican coffee, Irish coffee is a staple in the coffee cocktail universe. There are tons of Irish coffee variations, and there is no one recipe that is agreed upon by everyone. This recipe is our favorite.
Irish Coffee with Baileys
Are you wondering how to make Irish coffee? This hot coffee cocktail is easy to make and perfect for cozy winter nights. Combine hot brewed coffee with Baileys and Irish whiskey for an irresistible treat.
Try this delicious recipe!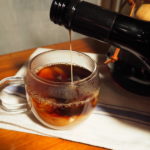 Ingredients
1 ½ oz Irish whiskey
¾ tablespoons sugar (optional)
4 oz of strong coffee
Whipped cream
Recipe
Brew the coffee. The stronger, the better.
Add the whiskey to a warm glass.
If you're using sugar, stir it in now.
Float the cream over the whiskey by pouring gently over the back of a spoon.
Top with whipped cream.
---
6. Baileys Pumpkin Spice Latte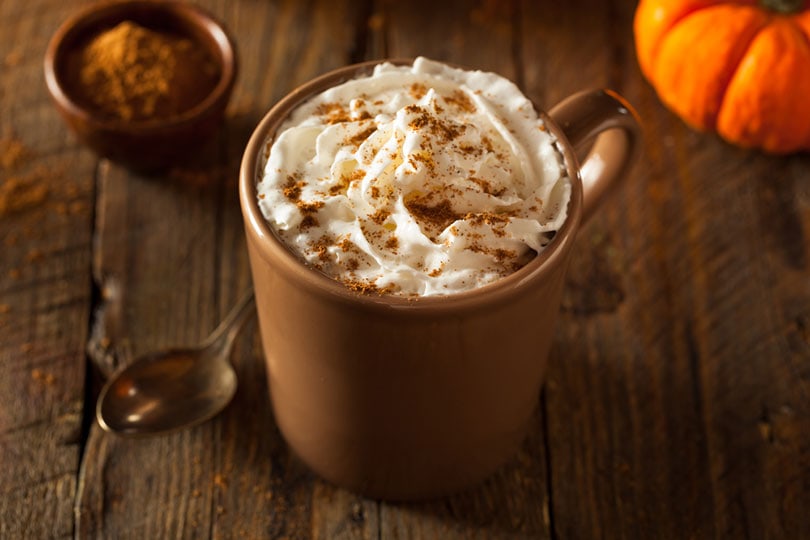 Pumpkin spice is extremely popular nowadays and is quickly becoming an autumn tradition. Coffee cocktails haven't been left out of the pumpkin spice craze, and this Bailey's pumpkin spice latte makes the perfect cocktail for welcoming in the fall. See the full recipe here.
Ingredients
2 oz Baileys Pumpkin spice
1½ oz hot coffee
1 oz your choice of milk
Cinnamon stick (optional as garnish)
Recipe
Brew 1½ oz of your favorite hot coffee
Add 2 oz of Bailey's pumpkin spice.
Add 1 oz of milk
Garnish with a cinnamon stick for an extra kick of flavor
---
7. Boozy Iced Coffee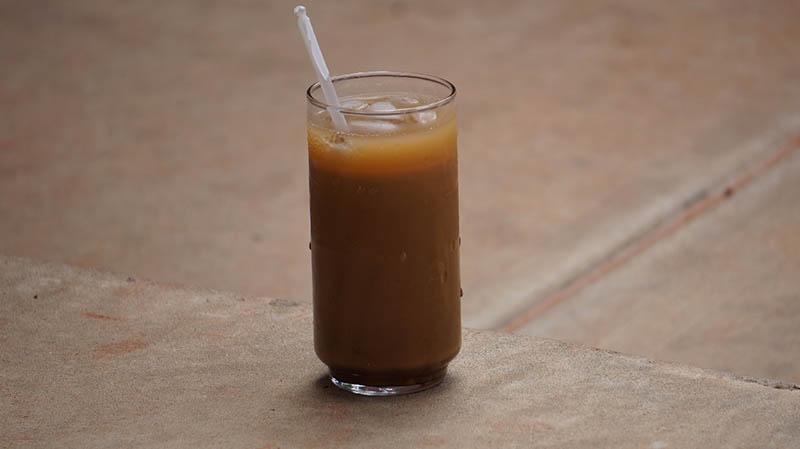 So far, the drinks on this list have been simple to make. Well, we're going to break that tradition now. Boozy Iced Coffee isn't necessarily hard to make, but it does require a lot of ingredients. It is called Boozy Iced Coffee, after all. See the full recipe here.
Ingredients
¼ oz whiskey
¼ oz spiced rum (like Captain Morgan's)
¼ oz cinnamon whiskey (like Fireball)
¼ oz cinnamon schnapps (like Goldschlager)
¼ oz peppermint schnapps (like Rumple Minze)
¼ oz almond liqueur (Amaretto)
Iced coffee (about 4 oz)
Ice
Recipe
Combine all the ingredients in a cocktail shaker
Shake for 30 seconds to 1 minute
Strain into a chilled glass so that the glass is approximately half full.
Top off the glass with iced coffee
---
8. Creamy Mocha
This one is always a favorite when we break it out at social gatherings. Creamy mocha isn't a drink to have with dessert as much as it is the dessert. See the full recipe here.
Ingredients
2 oz Irish cream
1 oz rum cream
1 oz coffee liqueur
Chocolate shavings
Slivered almonds
Recipe
Add ice cream to a blender.
Pour the Irish cream, rum cream, and coffee liqueur over the ice cream.
Blend together until well mixed.
Garnish with chocolate shavings and slivered almonds.
---
9. B-52 Shooter
The B-52 is another layered shot that's a bit different from most. It has Grand Marnier in it, which gives it a unique flavor that makes an interesting combination with the coffee liqueur and Irish cream. See the full recipe here.
Ingredients
1 part coffee liqueur
1 part Irish cream
1 part Grand Marnier
Recipe
Pour the coffee liqueur into the bottom of a tall shot glass.
Layer Irish cream on top of the coffee liqueur using the back of a spoon.
Layer the Grand Marnier on top of the Irish cream.
---
10. Kentucky Bourbon Coffee
We like this one because it's a bit different from the rest. This is one of two drinks on our list that uses Bourbon as a base. Bourbon is a common tasting note in some coffees, so it makes a natural ingredient for a coffee cocktail. See the full recipe here.
Ingredients
4-6 oz of coffee
1 oz Bourbon
½ oz coffee liqueur
1 teaspoon of brown sugar
½ teaspoon vanilla extract
1 ½ oz heavy cream
Recipe
Brew a mug of hot coffee (about 4-6 oz).
Pour the Bourbon, vanilla extract, and coffee liqueur into the coffee and stir.
Sweeten with about a ½ teaspoon of brown sugar.
Gently float the heavy cream on top with a spoon.
---
11. Cold Brew Coffee Cocktail
You knew there would be a cold brew cocktail, didn't you? We love cold brew, and this cocktail has all the smoothness and sweetness of cold brew coffee behind it. It's quite sweet but not too sweet, which can be a fine line to walk. See the full recipe here.
Ingredients
1 oz heavy cream
5 oz Bourbon
½ oz Triple Sec
2 ½ ozs cold brew coffee
½ maple syrup
Ice
Recipe
Prepare the cold brew overnight the day before. We like 1 part coffee to 7 parts water. Let it steep for at least 16 hours before filtering.
Combine the cold brew, Triple Sec, Bourbon, and maple syrup in a shaker with ice.
Shake vigorously for 30 seconds.
Strain over ice and top with the heavy cream.
Still searching for the perfect recipe? Try one of our favorite Kahlua coffee recipes, learn how to make a Coffee Nudge cocktail, or try a cozy Bavarian coffee cocktail.
---
Featured Image: Goskova Tatiana, Shutterstock