If you weren't following internet trends way back in 2016, there's a crazy drink you may have missed: the freakshake. This over-the-top dessert comes in dozens of flavors and will be irresistible to anyone with a serious sweet tooth.
Keep reading to learn everything you've ever wanted to know about the infamous freakshake. And stick around for a quick recipe — and a whole lot of flavor suggestions!

What is a Freakshake?
This drink trend has a crazy name, and its ingredients are pretty freaky, too. A freakshake is a milkshake with other desserts like cake, chocolate bars, doughnuts, and candy sticking out of the top. You might see everything from a slice of birthday cake to an entire s'more or a rainbow lollipop topping your freakshake! Unsurprisingly, these drinks are calorie-bombs, coming in at up to 2,000 calories a pop, and truly serious desserts all around.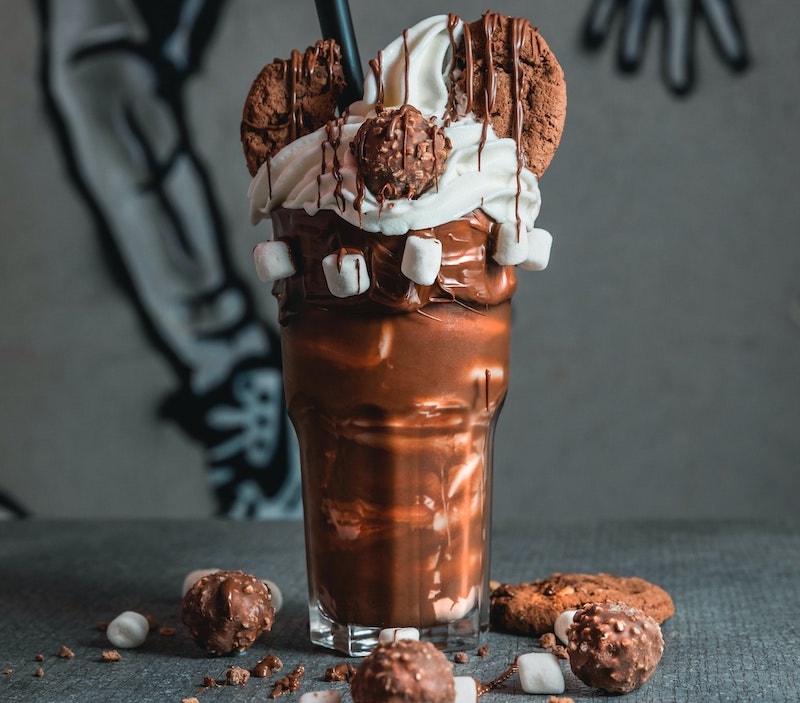 How can you try a freakshake?
We have Australia to thank for the freakshake, but these over-the-top drinkable desserts have quickly spread to trendy coffee shops all over the US. If you want to try a freakshake, you can look for one at your favorite cafe — or try making one at home! The good news is these drinks are easy to make at home and endlessly customizable. This brings us to our simple coffee freakshake recipe:
---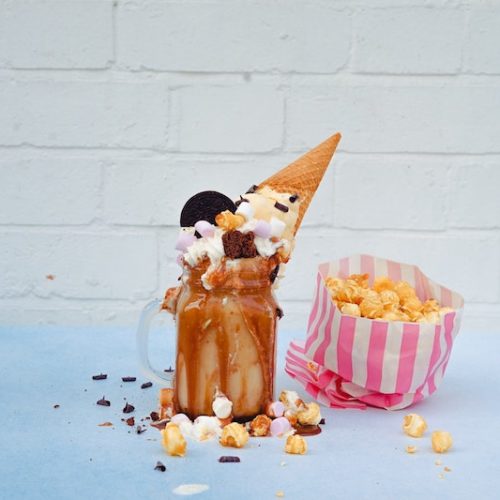 Decadent Coffee Freakshake
If you have a serious sweet tooth, you won't be able to resist this incredibly delicious recipe! Make a coffee milkshake and top it with an ice cream cone, Oreo cookie, brownie, and any other dessert you have on hand. Your decadent coffee freakshake awaits…
Equipment
High-speed blender

Tall glass
Ingredients
Coffee Milkshake
2

shots

espresso

or ½ cup strong brewed coffee

2

scoops

ice cream

½

cup

ice cubes

½

teaspoon

vanilla extract

1

teaspoon

cocoa powder
Freakshake Toppings
1

small brownie

1

scoop ice cream

with sugar cone

1-2

Oreo cookies

Caramel sauce

to taste

Espresso powder

marshmallows, or chocolate chips (optional)
Instructions
Combine all of the coffee milkshake ingredients in your high-speed blender. Blend until you have a smooth, even consistency.

Pour the milkshake into a tall glass. Carefully add all of your toppings, starting with the ice cream cone, brownie, and Oreo cookies. Drizzle on your caramel sauce and add the espresso powder, caramel corn, marshmallows, or chocolate chips at the end.

Enjoy your coffee freakshake immediately!
Notes
All of the toppings are entirely customizable, so you can use any desserts you have on hand. If you have a slice of cake or pie, you can use that instead of the ice cream cone. Add chocolate-covered espresso beans, hot fudge, M&Ms, or anything else you can think of!
Nutrition
---
What other flavors can you make?
There isn't a limit to the kinds of freakshakes you can make. Starting with the base, you can make anything from a strawberry milkshake to an Oreo, blueberry, peanut butter, or birthday cake milkshake. From there, you can add any dessert that sounds good. Try gummy worms, cupcakes, doughnuts, candy canes, chocolate wafers, caramels, fresh fruit, or sprinkles. Why not experiment and see what tastes good?

Homemade Freakshakes: The Bottom Line
Freakshakes are insanely rich, wildly decadent dessert drinks that combine milkshakes with every other possible dessert. You can order (or make at home) s'more freakshakes, Oreo freakshakes, pecan pie freakshakes, caramel apple freakshakes, or almost anything else. Here at Coffee Affection, our favorite kind of freakshake always starts with a coffee milkshake. The rest is up to you!
RELATED READS:
---
Featured image: Unsplash