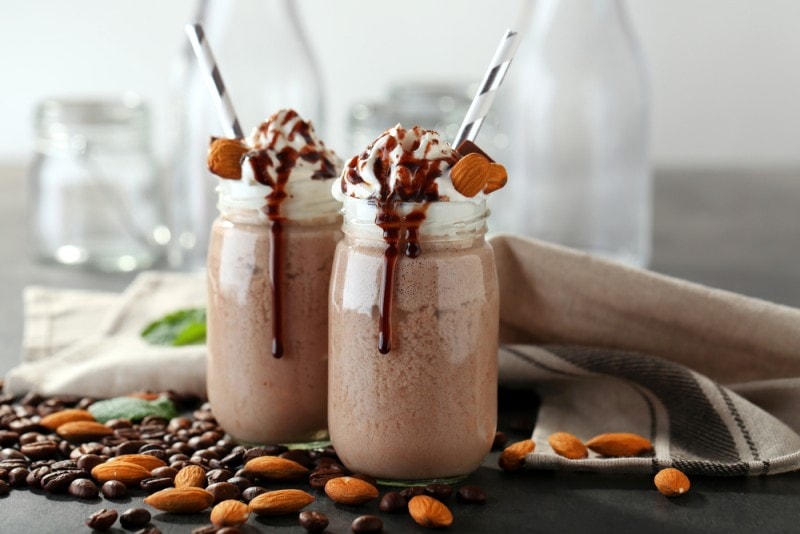 If you're looking for a drink that's both refreshing and flavorful, the Coffee Coolatta could be for you! Vanilla, hazelnut, almond, and chocolate come together in this nutty, rich drink inspired by the Dunkin' Donuts version.
Here's what to know about the Coffee Coolatta, including an easy recipe and a few handy brewing tips. You'll love this drink — trust us!

What's a Coffee Coolatta?
At Dunkin' Donuts, the Coffee Coolatta was a nutty frozen coffee drink. The chain discontinued the drink back in 2017, replacing it with a lighter blended coffee. The Dunkin' version was a cult favorite featuring a variety of nuts, chocolate, and vanilla. It contained an impressive 990 calories and 132 grams of sugar — making it a particularly decadent summer treat.
Dunkin' still offers the Coolatta in three flavors: blue raspberry, strawberry, and vanilla bean. But if you want a coffee-flavored Coolatta, you'll have to make one at home! Keep reading to learn how.
---
Homemade Coffee Coolatta Recipe
Dunkin' Donuts may have discontinued the popular Coffee Coolatta, but that doesn't mean you can't still enjoy it! Here's how to create this nutty, chocolatey, sweet frozen coffee drink at home. You can adjust any of the flavorings to match your preferences!
Equipment
Coffee maker

High-speed blender

2 tall glasses
Ingredients
1

cup

strong brewed coffee

cooled

1

cup

milk

any kind

1

tablespoon

vanilla syrup

1

tablespoon

hazelnut syrup

1

teaspoon

almond extract

1

tablespoon

cocoa powder

2

cups

ice cubes

Whipped cream

optional
Instructions
Brew a cup of strong coffee using your favorite coffee maker. Let the coffee cool down for a few minutes.

Combine all ingredients except the whipped cream in your blender. Blend on high speed for 2 minutes or until the texture is smooth and consistent.

Pour the Coolatta into two tall glasses. Top with whipped cream and a sprinkle of cocoa powder or cinnamon if you'd like. Enjoy your refreshing drink!
Nutrition

Recipe Tips & Variations
The Coffee Coolatta is an easy, decadent drink to make at home. Here are a few tips to help you brew the best possible drink!
Syrups & Extracts
Our recipe uses vanilla syrup, hazelnut syrup, and almond extract to give this blended drink an impressive flavor. You can easily make coffee syrups at home using water, sugar, and your favorite extracts. Want to make almond syrup and use hazelnut extract? No problem!
The syrups add flavor and sugar to the drink, so if you decide to use only extracts, you'll probably want to add a sweetener like honey, simple syrup, or brown sugar. Of course, you can always skip the sugar for a lower-calorie drink, but keep in mind that it won't taste quite like the Dunkin' version.
How to Make Vanilla Syrup for Coffee
Coffee syrups are easier to make than you might think. The base is a simple syrup with equal parts water and sugar. For this guide, we made a simple but delicious vanilla syrup. Once you've mastered the basics, feel free to experiment with other flavors!
Try this delicious recipe!
Coffee
Great coffee is crucial to this recipe, so we don't recommend skimping on the beans. Use your favorite brewing method, like a French press, drip machine, or pour-over, and make the coffee a little stronger than you usually would. You want to be able to taste the coffee, not just the nuts, sugar, and chocolate.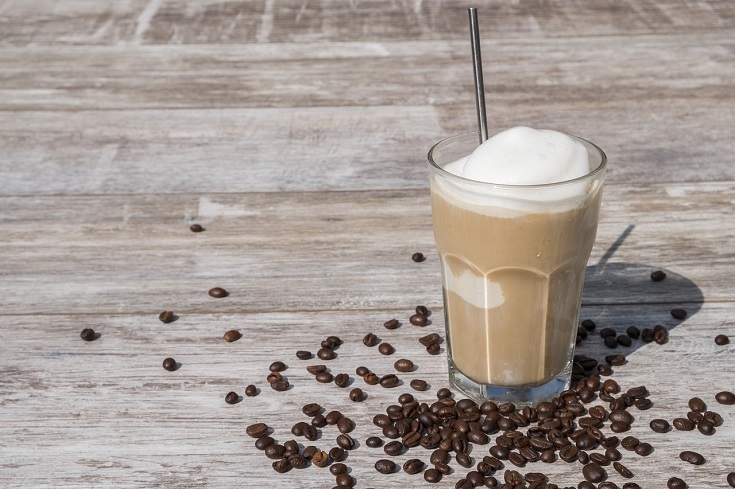 Chocolate
As for the chocolate flavors, though our recipe uses cocoa powder, you can substitute many other forms of chocolate. Try chocolate syrup, chocolate chips, or a chopped-up chocolate bar. You could even try mixing in your favorite hot chocolate mix!

Final Thoughts
There you have it: a simple homemade Coffee Coolatta recipe. We hope you enjoy this decadent blended coffee drink, which deliciously combines chocolate, nuts, and coffee. It's the perfect treat for a hot afternoon! Time to start your coffee engines…
SEE ALSO: How to Make Dunkin' Donuts Iced Coffee (Tasty & Easy)
---
Featured Image: Africa Studio, Shutterstock