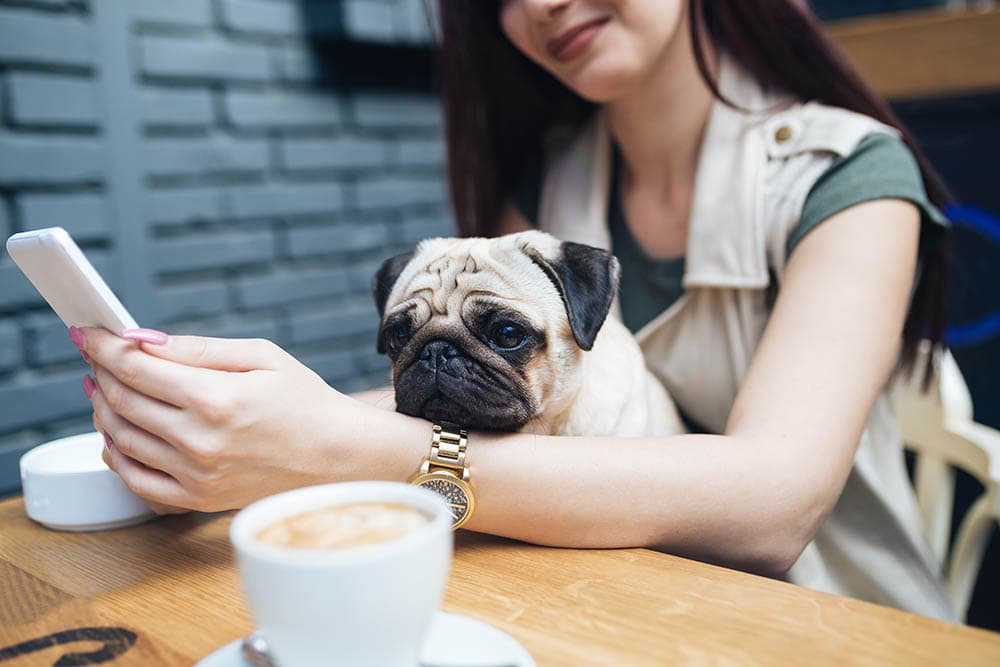 For coffee lovers who are also pet parents, finding coffee shops that allow dogs can be a bit difficult. While many don't mind you picking up a takeaway order, being able to sit down and enjoy the coffee shop experience with your pet is the goal for those who love treating their dogs and enjoying a great cup of coffee.
This list of 25 dog-friendly coffee shops is a great place for you to begin your quest. If you're local to any of these locations, you can feel at ease taking your pup with you to enjoy great conversation, friendly atmospheres, and of course, coffee and treats for you and your furry pal.

Top 25 Dog-Friendly Coffee Shops in the US
1. Pups & Cups Café
If you're looking for the perfect place for you and your pup, Pups & Cups Café may be your destination. This cute café has a pet menu that offers locally crafted treats for your dog. While you enjoy a hot or iced coffee, your furry friend can enjoy their free puppuccino.
---
2. Little Dog Coffee Shop
Little Dog Coffee Shop is the perfect getaway for you and your pet. With great coffee and cones for your pup, you can sit inside or outside to enjoy a nice, relaxing day.
---
3. Mutt & Joe
Mutt & Joe is a truly unique coffee shop, and so is their clientele, who are made up of coffee-drinking humans and dirty dogs. You can enjoy a nice beverage in their café while your dog gets their own pampering at their doggie spa. By booking an appointment, your dog can receive a nice doggy bath and grooming while spending time with other dogs. This way you both get to take a moment to relax.
---
4. Southern Girl Coffee
At Southern Girl Coffee you and your dog are treated like family. Their menu offers several delicious coffee beverages and fresh ground options to take home. If you need an event catered or a venue for hosting, they have options to make your life easier.
---
5. The Flying Squirrel
The Flying Squirrel is open 7 days a week to offer you and your pup the perfect getaway when needed. This fun coffee spot offers great brews and snacks for your pups. They also provide weekly events and live music where pets are also invited.
---
6. Copper Star Coffee
Copper Star Coffee offers a fun environment for both people and pets. With a friendly staff, yummy snacks, and great tasting coffee, this shop is the ideal place to stop and relax when you and your furry friend need it.
---
7. Nexus Coffee and Creative
Nexus Coffee and Creative is considered one of the country's most dog-friendly coffee shops. Offering great coffee, a cool atmosphere, and a creative outlet for local artists, this coffee shop is truly a great place to spend time and socialize.
---
8. Stella's Coffee
Denver is a great city for dog lovers, and it also has a great coffee shop: Stella's Coffee. The shop offers great-tasting lattes, coffees, and even matcha teas. They also have a pet-friendly patio where you and your dog can sit and enjoy amazing drinks and great snacks. The pet-loving staff will also make your dog feel welcome while you're visiting.
---
9. Willoughby's Coffee & Tea
Willoughby's Coffee & Tea is a roasting company that provides amazing, brewed coffees and teas at their local shop. You and your dog will be welcomed with open arms when you stop by this local coffee shop to chill and partake in your favorite drink.
---
10. Arena's Deli and Bar
Arena's has something to offer everyone, even your pooch. With food, drinks, and great coffees you can spend time visiting with friends or simply enjoying the terrace with your dog on your next visit.
---
11. Greenstreet Café
Greenstreet Café is considered very dog and coffee-lover-friendly. While this café features a happy hour and a large assortment of food and drinks, they also prepare great coffee. If you and your pet want a nice cup of joe, their terrace is a great place to enjoy it.
---
12. Sean's Harvest Market
This shop offers catering, parties, and great coffee. You and your pup are welcome on their pet-friendly patio where you can enjoy a nice snack or a hot cup of coffee to relax.
---
13. The Spoke & Bird
The Spoke & Bird is a great coffee shop in Chicago with delicious drinks and space for all patrons, including pets. You and your dog can enjoy your drink and snacks inside or out on the patio for great people watching.
---
14. Café Patachou
Café Patachou offers both indoor and outdoor seating making it great for people with pets who want a quick stop for coffee. Their brew is freshly made and delicious while their menu has something for everyone.
---
15. Scenic Route Bakery
Scenic Route Bakery is the perfect place for you and your pup to take a break from a long walk with amazing coffee and yummy pastries. This café is very welcoming to pets and offers seating both inside and outside for you and your dog.
---
16. Black Dog Coffee House
Black Dog Coffee House brings the focus back to the brew. While this coffee shop has great food and pastries, you'll find their amazing coffee to be your biggest reason for stopping by. Add in the fact that they are pet-friendly, and you and your pup can make a day of it together.
See also: 10 Best Coffee Shops in Kansas City to Try Today!
---
17. A Cup of Common Wealth
This coffee shop is all about taking care of the people around them. The friendly staff is welcoming to you and your pup while offering amazing roasts and great-tasting coffee. If you and your pup need socialization, this is the place to be.
---
18. Café Beignet
Café Beignet is the place to be if you and your dog want great treats and a family-oriented atmosphere. The friendly staff of this establishment works hard to provide you and your dog with a great experience. The wide variety on the menu ensures both you and your pet will find something you like.
---
19. Jaho Coffee Roaster
Jaho Coffee Roasters is centrally located and offers outdoor seating for pet parents who want to bring their dog along for a trip to the coffee shop. With yummy treats on the menu, you and your pup will have the opportunity to enjoy something delicious.
---
20. Outside Coffee Co.
Outside Coffee, Co. has created an oasis for dogs. With gardens and outside seating, you and your pup can spend the day drinking coffee and enjoying dog-friendly treats while interacting with the amazing staff.
---
21. Diamonds Coffee Shop
Diamonds Coffee Shop is a nice, relaxing place to enjoy coffee and snacks with your furry best friend. The welcoming atmosphere is ideal for pets and the menu is sure to have something both you and your dog will love.
---
22. Blue Dog Bistro
Blue Dog Bistro has great coffee and a relaxing atmosphere making it a great place to take your dog when out and about. The pet-friendly terrace will allow you to kick back and enjoy a great day with your favorite canine.
---
23. Joplin Greenhouse and Coffee Shop
Visiting the Joplin Greenhouse and Coffee Shop is a unique experience. With their locally grown, brewed, and made coffee drinks you can enjoy a great cup of coffee while you and your pup browse through the greenhouse. Outdoor seating is also available for pets and people wanting to take in the beauty of the greenhouse.
---
24. Madhouse Coffee
Madhouse Coffee is the perfect place if you and your dog are night owls. This coffee house is open 24 hours a day, 7 days a week, to provide great coffee and treats to people on the go. Stop by and enjoy a snack with your pooch anytime during the day.
---
25. The Grind Rail Trail Café
If you and your pup are out enjoying The Grind Rail Trail, stopping by this café is a must. You can sit back and relax while your pup makes friends with other dogs enjoying a treat.
See Also: Best Black-Owned Coffee Shops In the US
---
Featured Image Credit: hedgehog94, Shutterstock