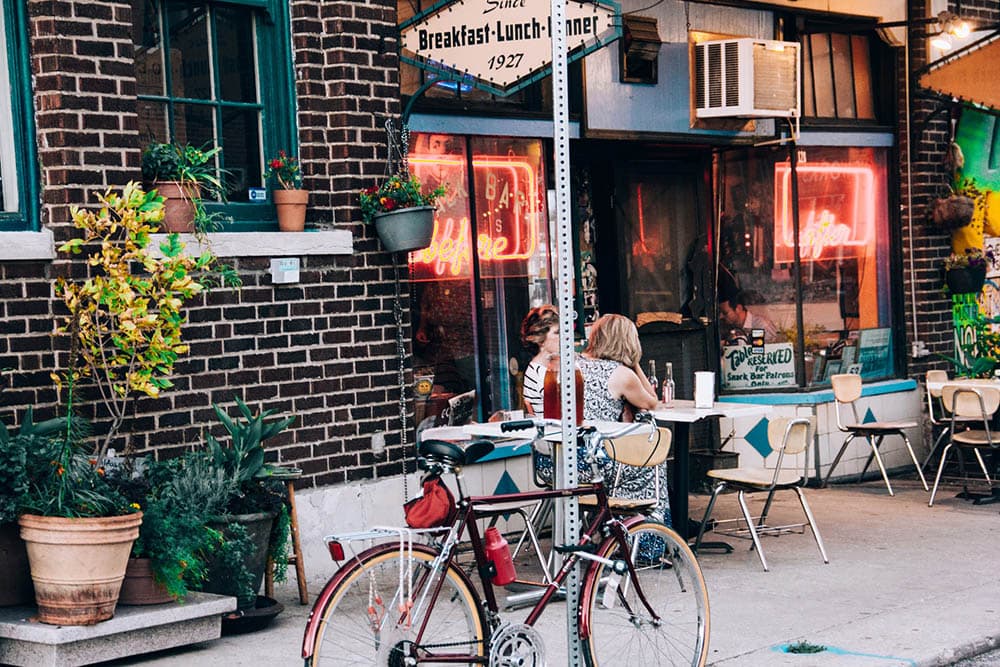 A full-flavored cup of coffee can be the perfect addition to your morning or afternoon routine. In fact, coffee seems to be one of those cultural staples that's always familiar, relaxing, and comforting. So, it's no surprise that almost every city has its own stable of frequented coffee shops, and Kansas City is no different.
Kansas City is known for its Jazz Heritage, barbecue, and the Chiefs, of course. But what about its coffee shops? We've done some digging to find the 10 best coffee shops to visit if you're planning a trip to Kansas City or simply looking for a new spot to enjoy a nice cup of joe. Check them out below!

The 10 Best Coffee Shops in Kansas City:
1. City Market Coffee House
305 Main Street, Kansas City, MO 64105
This small yet quaint coffee shop has homemade treats and a variety of different coffee blends. There are many tables inside the shop and an upstairs area with patio seating. Outside seating is also available in case you want to enjoy your cup of java while taking in the fresh air and scenery.
Service is usually very quick, and according to many online reviews, the owners and the servers are very welcoming. This place is highly recommended for its delicious breakfast combos and coffee, lattes, and other beverages.
---
2. Cafe Ollama
523 Southwest Blvd. Kansas City, MO
Cafe Ollama is another hot coffee hot spot in Kansas City. Its Latin American influences, relaxing environment, and slow-brews keep the establishment filled with local patrons and out-of-towners. Cafe de Olla, which is the shop's specialty blend, is made with traditional Mexican coffee, piloncillo, and cinnamon. The shop is run by owner Lesley Reyes and her relative. This shop brings a little bit of Latin and Mexican culture to Kansas City.
---
3. Parisi Coffee
Union Station 30 W Pershing Rd #100, Kansas City, MO 64108
Parisi Artisan Coffee has been open since 2006. The owners focus on providing high-quality coffee and even have their own selection of various roasts that they sell both in the store and online. The shop is known for its warm environment and various pastry options.
Many locals regard this particular shop as having the best French Press in town, and their hand-selected roasts are said to be some of the best that you can find in the city.
---
4. Summer Moon
9127 Metcalf Ave., Overland Park, KS
Summer Moon is actually a Texas-based coffee shop. They've recently moved to a new location near Overland Park, Kansas City. The secret recipe for their drinks is a moon milk-sweetened creamer.
Summer Moon also has a small assortment of different snacks and pastries to accompany your morning cup of coffee. However, their main attraction is their Moon Milk Lattes, which are complemented by the super-comfy and stylish space.
---
5. Hitides
519 E. 18th St., Kansas City, MO
Hitides is another stylish shop to check out in Kansas City. Their tiki-themed coffee shop has an artistic vibe and is a cool spot that will make you feel like it's summertime all year. You can get classic espresso drinks, drip coffees, tea, and hot cocoa.
Their drink specialties include flavored lemonades, a variety of tropical bagels, donuts, and other tasty treats. So, if you're looking for a laid-back spot to enjoy your coffee or other non-caffeinated drinks, here's a great spot to try.
---
6. Jinkies
8350 W.151st St. Overland Park, KS
Overland Park's Jinkies is decorated in 1970s flair, including references to Scooby Doo, lemonades, and vintage records hanging all around. It's owned and operated by a mother-daughter duo who pride themselves on creating unique and seasonal-flavored coffee lattes. Their coffee beverages also have some very interesting flavoring combinations such as raspberry, s'mores, popcorn, and orange sherbet.
---
7. Kinship Cafe
719 N. Sixth St., Kansas City, MO
Kinship Cafe, is a black-owned coffee shop that prides itself on providing high-quality coffee and a sense of community to the local area–they even feature brews from local coffee makers. TJ Roberts owns the cafe, which is located in the Strawberry Hill District.
This shop offers a small but complete menu of branded coffee brews as well as soups, wraps, kale salads, and sweets. The "Flash Brew" is their specialty brew and is available both in the store and on their website.
---
8. Rock Island Coffee
https://www.instagram.com/p/CS4RBkvrEuk/
6515 Railroad St. Raytown, Kansas City, MO
Rock Island Coffee is owned by Thatcher Rogers, who's been involved in coffee his whole life. Rogers has a small staff and prepares many of the brews himself. This shop is very low key, small, and has a perfect balance of coziness and comfort.
Many brews are homemade, and their lattes are all the rave with frequent visitors. And if you need an extra pep in your step, be sure to check out their "Expresso Tonic".
---
9. Anchor Island
4101 Troost Ave., Kansas City, MO
Armando Vasquez and Michael Hastings opened Anchor Island in 2019. This tropical-themed coffee shop has a variety of different specialty coffees, teas, and other beverages. Their homemade (and unique) creations include their "Dirty Sunrise, " an orange-flavored drink that includes a cherry-flavored espresso shot drizzled with dark chocolate.
They also have the "Green Espresso", which is an unroasted and earthy coffee beverage. Anchor Island also serves green espresso, which can be hard to find in many coffee shops.
---
10. Headrush Roasters Coffee & Tea
7108 N Oak, Kansas City, MO
Headrush Roasters has a huge assortment of loose-leaf teas, chai, and bubble teas. Their salted caramel mocha is one of the most popular drinks on their menu. It's kind of a hole-in-the-wall, but worth a try.
If you're looking for a small place without all the bells and whistles, here is a good coffee spot to consider. Their espresso is affordable, and many of their coffee and tea products are also available on their website. The vibe in the shop is relaxing, and it's never too crowded to stop in for a quick cup of java.

Kansas City Coffee: Final Thoughts
So, as you can see, there is no shortage of awesome coffee shops in Kansas City, Missouri. Most of the shops are open Monday through Sunday, and parking may vary depending on the location, with downtown spots being the most difficult. And if you're a big fan, note that many of these spots also offer their homemade brews on their websites.
Looking for more coffee shops?
---
Featured Image Credit: Xochi, Unsplash