DeLonghi La Specialista is a relatively new product in the espresso machine market. There has been a lot of discussion around La Specialista, because people felt like DeLonghi's machine looked too similar to it's direct competitor the Breville Barista Express. We are going to to discuss more about that in a bit.
I personally love the Delonghi EC9335.M, regardless of the discussions around the uncanny similarity with the Breville Barista Express.
Delonghi EC9335 La Specialista is a great alternative, and a competitor of Barista Express. Our review shows why La Specialista is a great espresso machine.
La Specialista is a hybrid machine, placing between a semiautomatic and a fully automatic espresso machine. This means it gives you more control over the brewing process, compared to a super automatic. At the same time it includes advanced features that makes your espresso brewing experience incredibly easy. Not quite automated, but simple enough. I'll show you what that means in a moment.
As we mentioned, a comparison example of a high end domestic hybrid is the Breville Oracle. The Barista Express is a great machine but La Specialista is at least on par with it, feature wise and in overall quality.
The Delonghi La Specialista EC9335.M is the best semi automatic espresso machine that Delonghi has to offer. New out in May 2019, it is the Ferrari of domestic espresso coffee makers. Read on to find out what makes this machines so great!

Delonghi La Specialista EC9335.M Review
Target Market
The Delonghi EC9335.m is suitable for everyone. The whole point of the design is that it makes coffee making fool proof. You can make a great espresso even if this is your first time doing it. The more you practice and learn, the more you understand how to tweak your shots for perfection.
Price
The Delonghi La Specialista retails for around $800. Consider that the machine contains both a grinder and an espresso maker. Also, when you take in consideration the amount of features the price is absolutely worth it.
Read on, and you will see how this machine is going to make your espresso brewing a great experience, and why you should consider it as your next purchase.
La Specialista Dimensions
This machine is a proper espresso machine that will yield commercial, professional barista standard coffee. By default, it needs to be a bit bigger. It weighs nearly 29 pounds it measures 12.4 by 14.5 by 17.5 inches.
Dual Thermoblock boilers
One of the main differences between a domestic coffee machine and a commercial machine are the boilers. A domestic machine generally has one boiler to take care of the espresso and the milk.
The problem there is that coffee and milk need to be heated at different temperatures. Commercial machines, and the Delonghi EC9335M, have two boilers so that coffee and milk can be heated separately, to optimum temperature. This is the main reason for the size.
DeLonghi EC9335.M Materials
This machine is mainly made of steel. The casings are stainless steel, as is the boiler and the brew head. The portafilter head is steel and the handle is plastic. This stops the handle from heating up and burning you. Any part of the machine that comes into contact with coffee or hot water is steel and any metal that you can see on the machine is steel. The black plastic detailing then compliments the look of the machine perfectly.
Water Tank
The Delonghi La Specialista EC9335M boasts a removable 2.5 litre water tank. That's nearly 90 ounces of coffee before you need to refill!
Espresso Tray and Water Wand
The EC9335.m also has a useful espresso tray, like you would see on commercial espresso machines. Less distance between machine and cup is better for good extraction.
If you are making an americano, however, there is an independent water wand which adds the water after the espresso is brewed to make it an americano. This wand is perfectly placed so that you don't need to move your coffee cup for this step.
Portafilter and Filter Baskets
La Specialista comes with two pressurized filter baskets, a single and a double. The pressurized filter basket are double walled and they help for a proper extraction even when the barista makes mistakes.
With a non-pressurised filter basket, the dose, the tamp and the grind size are responsible for creating pressure. An experienced barista has no problem with getting these parameters in a perfect ratio. Pressurised baskets allow you to get away with getting these parameters perfect.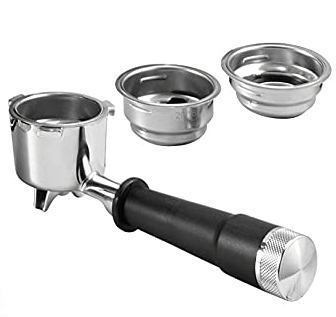 Delonghi have only included pressurised filters with this machine to really make the brewing process as simple as possible. One of the main selling points of the machine is very easy to use and requires no barista technique.
There is also a volume mark on each basket so you know when you have the perfect volume of ground coffee in your portafilter.
The experienced barista that needs more control over the brewing process will need to purchase non-pressurised filter baskets for their la Specialista.
The aluminium portafilter has a plastic handle, and it takes 51mm baskets, if you want to buy non-pressurised ones.
Delonghi La Specialista Features
Now to the good stuff. When I was testing the Delonghi La Specialista Espresso Machine, I really felt like a kid at Christmas. There is so much going on with this machine, it's incredible.
Built in Grinder with Smart Grinding Technology
One of the first things you will notice when you look at this handsome machine is the fact that it has a built in grinder. This in itself is an incredibly useful feature. It is so important to have freshly ground coffee.
The container or hopper of the grinder has a capacity of 250 grams, which is a standard bag of coffee.
This grinder is completely programmable. It has six grind settings ranging from fine to course. Grind setting 1 is very fine (turkish grind) and grind setting six is course. Setting 1, 2 or 3 are the most appropriate settings for espresso, as espresso requires a fine grind. the six settings are included to account for external temperature, weather and other factors that can change the grind requirements. Whatever the situation, this grinder will allow you to grind the perfect espresso, hassle free.
You can also very easily adjust the volume of the dose (the amount of ground coffee). The video below is a demonstration of a Delonghi barista adjusting the grind and the dose to get a perfect espresso.
The grinder signals when it is empty, another automated feature!
The coolest thing about this grinder though, is the smart grind technology. It is is totally automatic. It starts to grind as soon as you lock the portafilter into place.
Smart Tamper
Again, one of the highlights of the Delonghi La Specialista is the Smart Tamper. Unlike other built in tampers on cheaper machines, this tamper is built into the machine and operated by a lever on the left of the machine. You simply pull this lever and the machine tamps the espresso perfectly. No tamping technique required.
The best thing about the tamper for me is that it leaves no mess! Everything is internal, so there are no loose coffee grinds on your coffee machine or countertop.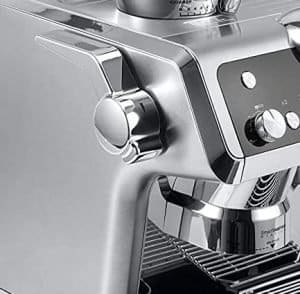 This makes cleaning an absolute breeze. I hate mess, and cleaning is my least favorite thing about coffee making. There is nothing worse than a long busy day at a coffee shop followed by a two hour clean down!
With this machine being a hybrid, cleaning is largely taken care of for you. Another thing to note is that the coffee and the water are kept separate so there is no risk of mould or anything like that.
Sensor Technology
If you forget what portafilter you have used, the Delonghi EC9335.m will sense what filter you are using and automatically dose the right amount of espresso for you.
Pre-Infusion
A feature of good coffee machines, like this one, is pre-infusion. It is important that the coffee comes into contact with a bit of water before the brewing itself begins. The pre-infusion is all done internally and automatically.
The Delonghi EC9335.M will automatically pre infuse your coffee before brewing. This just means a bit of water is added to coffee puck before the brewing process begins. This allows the coffee grounds to fully soak and start expanding, avoiding channeling and uneven extraction as a result of the channeling.
It is important to know that during the pre infusion, the pressure gauge will be low when you first press the brew button, then will move into the perfect pressure zone as the brewing starts.
Internal Temperature Regulation
Another thing you will notice when you look at the Delonghi La Specialista espresso machine for the first time is the temperature and pressure dial. The internal temperature regulation will make sure that your coffee is always being brewed at optimum temperature. This is between 195 to 205 degrees Fahrenheit, ( 91 degrees to 96 degrees Celsius). The machine displays everything on the dial for your piece of mind.
Milk Steaming and Frothing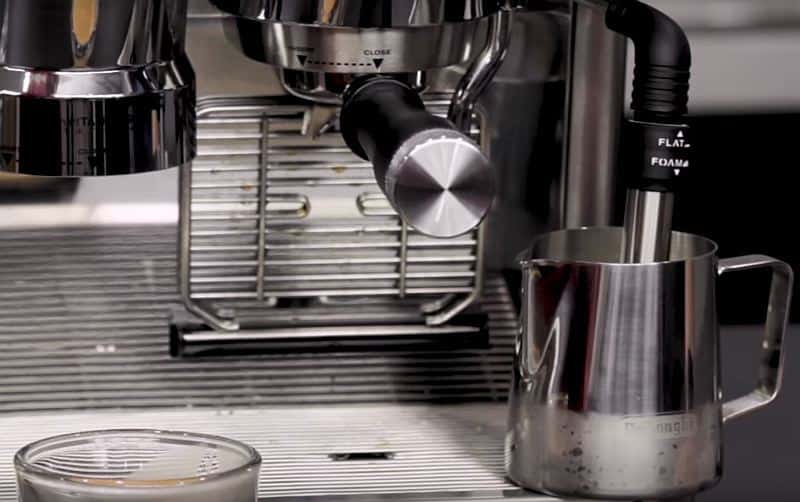 Panarello Steam Wand
I have talked about the Panarello steam wand before. It is a patented feature of Delonghi. However, the Panarello wand on the Delonghi La Specialista got an upgrade. You can adjust the wand to give you flat white, latte or cappuccino foam. After that the wand takes care of everything for you, absolutely no technique required. Professional baristas report that the Delonghi EC9335.m delivers professional barista quality micro foam without any technique.
The "Advanced Latte System" as DeLonghi likes to call it, is indeed a unique steaming and frothing device, unlike anything else on the market. You just need to place the steaming wand into the milk jug, turn on the steaming knob, and it will do its job. No need to master the technique, to know how to create a vortex, or to know when to move the wand deeper into the milk jug.
Even more convenient, you have two frothing modes: flat, for steaming milk, (mostly for lattes), or foam, for frothing milk, (mostly for cappuccinos).

Takeaway
If you can get over the price tag, there is really not a lot that we can say against the Delonghi La Specialista EC9335.m. It is completely hassle free, it is quiet, it is beautiful and it produces industry standard coffee without any technique required.
See Also: