Our Final Verdict
We give Breville Barista Express a rating of 4.7 out of 5 stars:
Brew Quality
Convenience
Features
Price
Review Summary
Breville is a relative newcomer to the world of home coffee appliances, but they've quickly made a name for themselves over the last decade. Breville's coffee and espresso machines are some of the best options for people looking to make excellent coffee quickly and easily at home. The Barista Express is one of Breville's high-end models and is a good option for serious espresso aficionados only, as the price is likely to make less invested customers do a double-take.
The Barista Express is an all-in-one espresso machine capable of making café quality espresso. It comes with a built-in grinder, a digital temperature control system, and a built-in steam wand. It also has several brewing options ranging from automatic to fully manual, giving you the flexibility to grow your skills as you learn the art of espresso. If you need an espresso machine that can churn out large amounts of espresso for entertaining guests, the Barista Express isn't the machine for you. Despite its lofty price, there are still some features it lacks compared to other similarly-priced espresso machines.
If you are an espresso-lover that is serious about making genuine coffee shop quality espresso at home, the Barista Express is a very impressive and capable machine that can help you take your espresso game up a notch.
Grab a fresh cup of coffee and settle in for our Breville Barista Express review.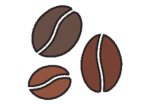 Breville Barista Express – A Quick Look
Pros
Built-in conical burr grinder
Digital temperature control
Built-in steam wand
Adjustable grind size
Cons
Expensive
No milk frothing temperature control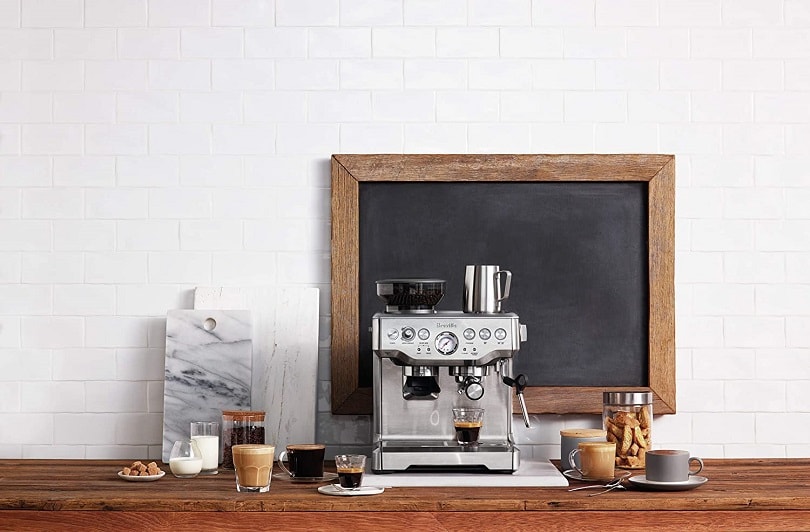 | | |
| --- | --- |
| Brand Name: | Breville |
| Model: | Barista Express |
| Height: | 12.5 inches |
| Width: | 13.6 inches |
| Depth: | 12.6 inches |
| Weight: | 23 pounds |
| Grinder included: | Yes |
| Automatic Mode: | Yes |
| Manual Option: | Yes |
| Fast Heat: | No |
| Steam Wand Included: | Yes |
Built-in Grinder
There are a lot of things to love about the Barista Express, but the built-in grinder is at the top of the list. It saves so much time and effort having a built-in grinder that we don't think we could go back to using a separate grinder. When you grind coffee beans with the Barista Express, the dose is calculated automatically, and the machine grinds the right amount of coffee without any user input required. The coffee gets loaded directly into the portafilter, making it even more convenient and easy to use.
Sometimes machines include cheaper or lower quality grinders to save money. The Barista Express is not one of those machines, and its grinder uses a stainless steel conical burr that performs as well or better than many stand-alone grinders we've used. It's impressive and consistent and takes the guesswork out of the sometimes tricky process of grinding for espresso.
Digital Temperature Control
Espresso is the most finicky method of making coffee. If everything isn't just right, your coffee won't taste as good as it could, and the difference between an excellent, smooth shot and a mediocre unimpressive one is incredibly small. Water temperature is one of the most difficult parameters to get right when brewing espresso because standard kitchen thermometers are inaccurate and many machines heat water inconsistently. The Barista Express solves these problems by using a digital thermometer and PID control system behind the scenes to continuously heat and cool water, ensuring the perfect temperature every time.
If you've never used a machine with a temperature control system, you might be surprised at how large of a difference it makes. Without a smart control system, the water temperature can vary a lot between brews and make it nearly impossible to make consistently great espresso.
Construction and Durability
The Barista Express is made of mostly stainless steel, making it easy to clean and very durable. The buttons and knobs are all satisfyingly tactile, easy to operate, and clearly labeled. The built-in steam wand and portafilter are also high-quality easy to use.
We don't love how the top, side panels, and bottom are plastic, but we understand the design choice. These areas see less wear and tear and are less likely to require cleaning, so making them plastic saves weight and money.
We also don't love the small reservoir, which only holds almost 70 ounces and yet still feels like it constantly needs to be refilled. Whether this is a problem for you depends on how much espresso you make and how frequently you brew.
Extra Features
Breville makes various machines that come with a wide array of features. In many ways, the Barista Express is relatively bare-bones compared to other Breville espresso makers and some other brand's similarly-priced models. We love the grinder and temperature control, but some standard options are noticeably missing.
The most glaring absence is a fast heating mode that is standard on most other machines at this price point. We don't mind waiting a bit longer for the machine to heat up, but, interestingly, the Barista Express doesn't have this option.
Another puzzling decision is leaving out a temperature control for the milk frother. Almost all high-end machines include at least a manual temperature control, and many have fully automatic milk-frothing settings. We can't help but feel disappointed that the Barista Express doesn't have frothing temperature control, especially since its water temperature control is so sophisticated.
None of these missing features make the Barista Express unusable, but we do miss them and feel like other machines that cost the same or even slightly less typically have them. Whether they outweigh the other impressive features the Barista Express has depends on your priorities.

FAQ
How good is the warranty that comes with this model?
The Barista Express comes with a 1-year limited warranty that covers most of the basic issues you could encounter.
How easy is it to clean?
The main machine is easy to clean and has removable parts that give you access to hard-to-reach areas. There is also an automatic cleaning mode that works well. The grinder is relatively easy to maintain, however you need to regularly use the included brush to remove fine particles and old grounds.
Is this model suitable for beginners?
A beginner espresso drinker could use this machine on automatic settings and instantly make excellent espresso, however, we recommend most beginners purchase a lower-priced, entry-level machine first. The Barista Express is quite expensive and requires some experience to use the more involved manual operation mode.
---
What the Users Say
Most of the buzz around the internet on the Barista Express is positive. People regularly praise the built-in grinder specifically and say it is one of the best built-in grinders they've used. Some users are wary of included grinders because of their reputation as low-quality, but the Barista Express' grinder receives nothing but praise. Grinding directly into the portafilter is a great feature and cuts down on the amount of manual effort required.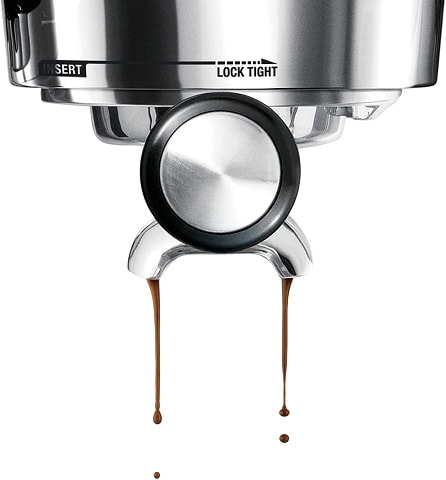 Many reviews specifically mention that the quality of life features are well-designed and make monitoring their brew easy. The temperature control system and pressure gauge give users the control needed to make consistently great espresso and troubleshoot when a shot doesn't come out as anticipated.
There are mixed reviews of Breville's customer service, with some users reporting helpful interactions and others complaining about slow response times and unhelpful information. We can't speak from experience, but it seems like Breville's customer service is inconsistent, so you might wind up spending some time contacting them if something goes wrong.

Conclusion
Overall, Breville's Barista Express is a high-quality, luxury espresso maker aimed at bringing the café espresso experience home. There are many features designed to make it easier to pull consistently excellent shots and options for manual control for people who want to practice their technique. If you are a serious espresso drinker and want a machine that can make world-class espresso, the Barista Express is for you. People looking for a first espresso machine or those alarmed by the high price should look at another machine that targets beginners.
See Also: