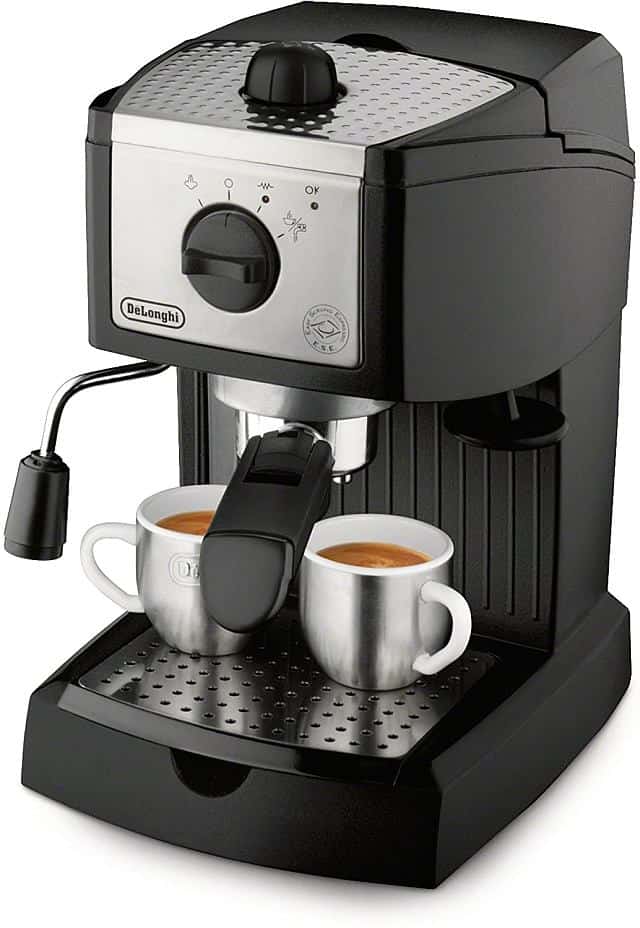 Our Final Verdict
We give the De'Longhi EC155 a rating of 4.4 out of 5 stars.
Build Quality
Features
Price
Ease of Use
Cleaning
Whenever home brewed espresso is mentioned, the Delonghi espresso machines are normally what spring to mind. Delonghi is one of the most popular domestic espresso manufacturers on the market, and for good reason. They provide user friendly machines that produce consistent coffee. The Delonghi espresso machine EC155 is a perfect example.
De'Longhi EC155 Espresso & Cappuccino Maker: Review Summary
The Delonghi EC155 espresso machine is a great, cheap espresso machine. EC155 is easy to use, produces consistent coffee, and is long-lasting if used properly.
The machine has been on the market for 15 years or so and is still going strong. This is a big positive. This nifty machine has stood the test of time. The company has also ironed out any issues or kinks associated with the machine over the years.
The machine is compact, reliable if maintained properly, and is the perfect choice for someone whose budget is limited.
You can use the DeLonghi ECC155 with ground coffee or ESE pods for the convenience inclined.
For this reason, we have chosen to review this espresso machine for you today as a great example of a domestic, entry-level pump-based espresso machine.
A Quick Look at the De'Longhi EC155:
Pros
Great value
Good pump-based espresso machine
Compact
Dual-function 3-in-1 portafilter
Cons
No 3-way valve
Small cup sizes
Water tank can be hard to attach
Awkwardly designed tamper

De'Longhi EC155 Specs
Price – Is It Worth the Price?
First and probably most important (depending on your priorities) is the price. The Delonghi EC155 pump espresso machine retails at roughly $100.
Remember this is a pump-based espresso machine. Steam-based espresso machines can be purchased for a cheaper price but the coffee quality isn't as good. For a pump-based machine, $100 is a pretty darn good price.
Dimensions
Next, we have dimensions. The EC155 is just over 11 inches long, 7.5 inches wide, 9.5 inches deep and it weighs just over 6 pounds. This translates to mean one thing: it's small. This Delonghi is super compact and takes up very little kitchen space, which is a very useful quality.
Portafilter
The portafilter is definitely worth mentioning. The EC155 has a patented dual-function, 3 in 1 portafilter.
This portafilter comes with a large, double espresso basket and a single espresso basket depending on your preference. There is also a neat little storage area next to the water tank for the basket you're not using.
However, if grinding and pulling espresso sounds like a bit too much work for you, the portafilter is also compatible with E.S.E espresso pods. You can literally load a pod, turn the control knob and you're in business.
The final thing about the portafilter to mention is the material. The portafilter was originally made with plastic. A couple of years ago, the Delonghi EC155M espresso machine hit the market. This version of the machine replaced some of its plastic parts with aluminum, including the portafilter. The aluminum version looks sleeker, makes better-tasting coffee, and is longer lasting.
Boiler and drip tray
While we are on the topic of materials – the boiler and the drip tray are both made of stainless steel. This is especially impressive for the boiler. A stainless steel boiler is very unusual in a coffee maker of this level. It means that the machine is safer and will last longer – a big plus!
Steam wand
The Delonghi espresso machine EC155 comes with what is known as a Panarello steam wand. This means that there are little holes on the top of the wand that let more air into the milk and create a much foamier, fluffier milk. This is can be a positive as it makes it very easy to foam milk, but also a negative if you are a little more experienced or are more prone to thinner, latte foam.
Seattle Coffee Gear point out that in the Delonghi EC155 espresso machine user manual it is recommended that you place the steam wand just 5 millimetres below the surface of the milk for optimum frothing results. If you have too much foam you can also submerge the wand completely. Once the holes on top are covered, the milk will stop frothing.
Other specs
The EC155 comes with a 35-ounce water tank which is a good size considering how small the machine is. The top of the machine also heats up and can act as a small heating tray for your espresso cups.
This Delonghi machine has two thermostats for optimum espresso and steering temperature. If you use the steam wand when the machine is set to espresso temperature, you will get hot water instead of steam. This is handy for making tea or hot chocolate.
Qualities to be aware of
The Delonghi EC155 pump-based espresso machine does not come with a 3 way (solenoid) valve. This is a device that releases pressure from the group head. Without it, pressure builds up after brewing an espresso. This means that you just need to wait a moment after brewing before you remove the portafilter. If you don't, the result will be a mini coffee explosion, which is messy and not very pleasant. Trust me, I'm speaking from experience!
It also means that the leftover coffee in the portafilter is going to be watery. There is nothing to be done about this, it is just an aspect of the machine and does not mean you're pulling a bad shot.
I personally own a machine with a 3-way valve, but this feature comes with an added cost. To be honest, if you are constricted by the budget, this is not a big problem, you just need to learn the routine and follow it.
Cup size
Due to its size, this machine is really only big enough for espresso cups or shot glasses. This is also mentioned in the Delonghi EC155 user manual. This can be frustrating but there is an easy solution: if you want a bigger coffee, just pull the shots into small cups and decant them into your favorite, bigger mug.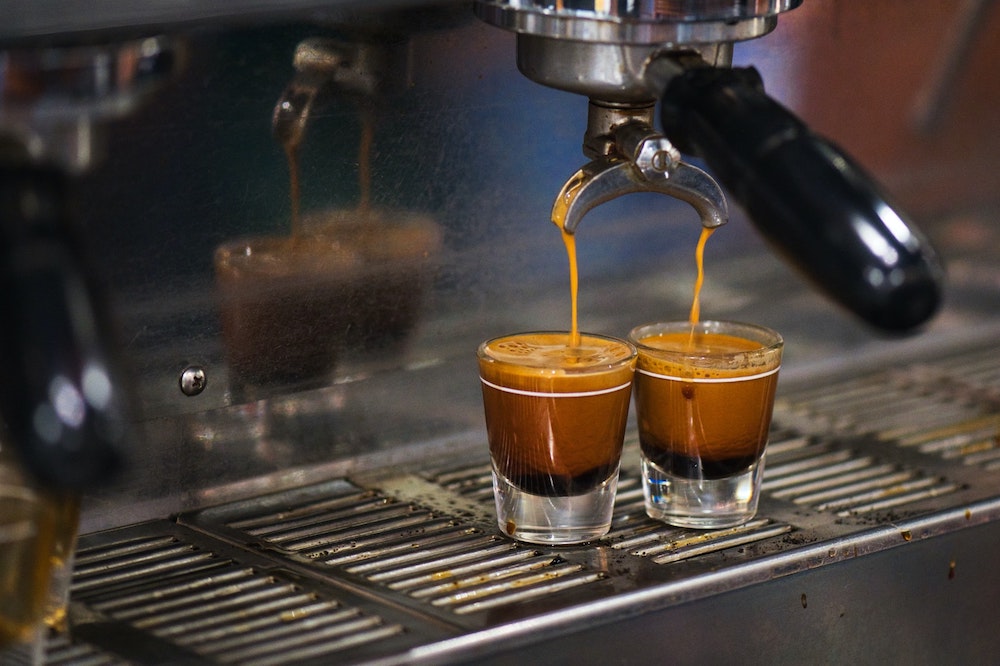 Water tank
The water tank needs to be inserted firmly into the machine. If the tank isn't properly inserted, the machine won't work. Amazon reviewers have often thought the machine was defective when it was actually just the water tank not being attached properly!
Tamper
Finally, the tamper is at an awkward angle and is difficult to use. The tampers that come with the machine are usually not great at the best of times. The best solution is to buy a proper hand tamper, which doesn't cost so much money but will save you so much hassle.

De'Longhi EC155: The Verdict
All things considered, we find the Delonghi EC155 espresso machine to be a very handy little espresso machine. The coffee is good and consistent and, at this price point, we're very impressed! If you have a little leeway on your budget, you can consider the De'Longhi ECP3420, which is a better machine. The ECP3120 is another alternative only slightly more expensive than the EC155.