If you're looking for a drink to enjoy on a cold winter night, you'll probably want to consider Bavarian coffee. This simple-yet-decadent drink comes together quickly and doesn't require any special equipment. And did we mention how delicious it is?
Here's the easiest Bavarian coffee recipe, plus a few brewing tips and flavor suggestions. You'll be a Bavarian coffee expert before you know it. Let's get started!

What is Bavarian coffee?
Bavarian coffee is a hot coffee cocktail made with brewed coffee, peppermint schnapps, cream, and coffee liqueur. It's a decadent drink that's perfect for a wintry night in front of a roaring fire.
Where does this drink come from? Bavaria is a large state in the Southeastern area of Germany. Bavaria includes the city of Munich and the Bavarian Alps, which is probably where this drink originated. The Zugspitze mountain, part of the Bavarian Alps, is the highest point in Germany, and Bavaria has a harsher climate than much of continental Europe. Given all of that, it's not hard to imagine enjoying a hot, rich coffee cocktail on a snowy mountainside!
---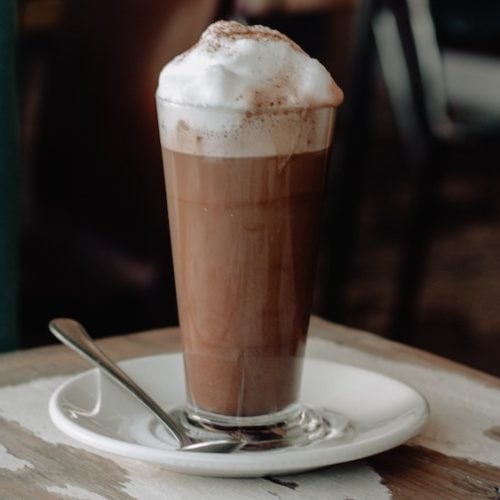 Cozy Bavarian Coffee
Bavarian coffee is a delicious, warming cocktail that comes together in minutes. Make your own coffee liqueur for an extra impressive drink!
Equipment
Coffee maker

Large mug

Spoon
Ingredients
½

cup

strong brewed coffee

½

ounce

peppermint schnapps

½

ounce

Kahlua or Tia Maria's

1

teaspoon

white sugar

1

ounce

half-and-half

Whipped cream
Instructions
In your mug, combine the coffee, schnapps, liqueur, sugar, and half-and-half. Stir until the sugar dissolves.

Top with a dollop of whipped cream and a few chocolate shavings or sprinkles if you'd like. Enjoy your Bavarian coffee!
Nutrition

Homemade Bavarian Coffee Variations
Ready to start experimenting with this simple recipe? Here are a few delicious suggestions.
Coffee Liqueurs
There are quite a few high-quality coffee liqueurs available at most liquor stores. Some of our favorites include Kahlua (a Mexican coffee liqueur made with rum) and Tia Maria's (a Jamaican coffee liqueur now made in Italy). But another great option is making coffee liqueur at home. It's surprisingly easy, with an impressively complex flavor profile.
Homemade Coffee Liqueur
Coffee liqueur is surprisingly easy to make at home -- all you need are a few simple ingredients and a week or two of resting time!
Try this delicious recipe!
Coffee
How should you make the coffee for this recipe? You can use any brewing method, from your standard drip machine to pour-overs and French presses, but we do recommend making your coffee stronger than usual. If you're sensitive to caffeine after dark, you can always use a high-quality decaf coffee for all the flavor and none of the caffeine.
Cream
Our recipe uses half-and-half, but you can substitute heavy cream for a richer drink. You can also try a milk alternative like almond milk or oat milk — or add your favorite coffee creamer, instead!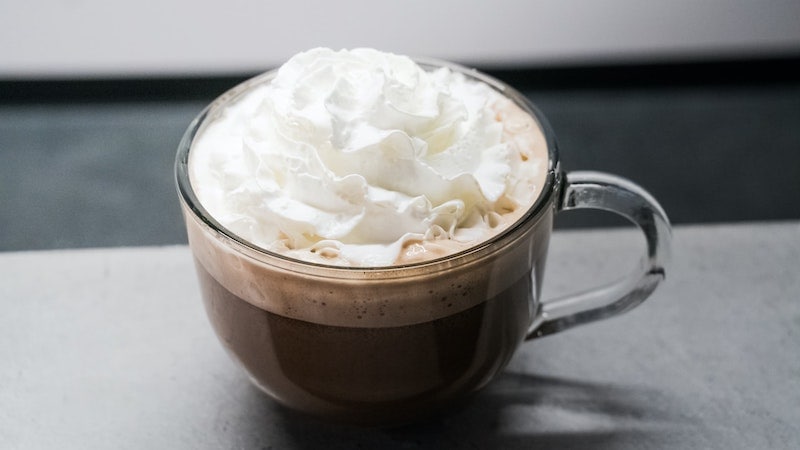 Peppermint
Mint is a key flavor in this drink, so you don't want to skip the peppermint entirely. But if you're not a schnapps fan, you can substitute a little peppermint extract and vodka, or whip the peppermint into your cream topping. Yum!

Wrapping Up
Ready to start making your new favorite coffee cocktail? We hope you enjoy this easy Bavarian coffee recipe — whether or not you're on a snowy mountaintop! This creamy, lightly alcoholic delight is one of the best drinks we've tried this year.
SEE ALSO:
---
Featured Image Credit: Sincerely Media, Unsplash