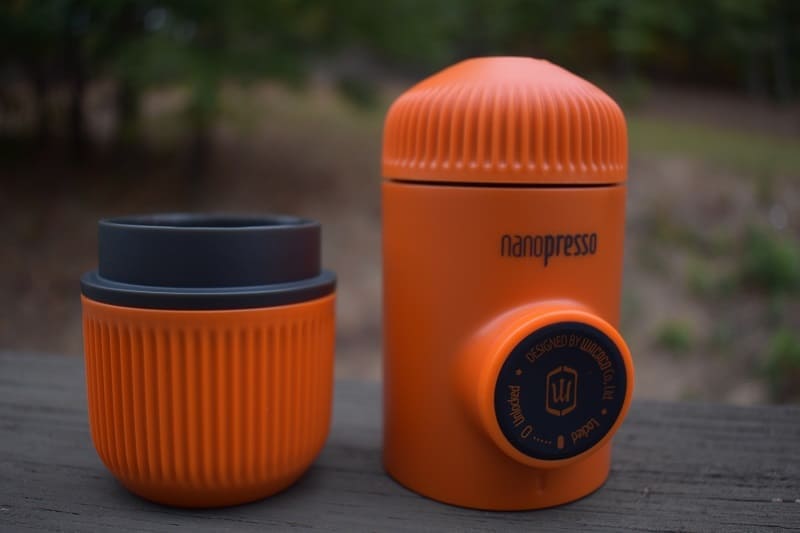 Our Final Verdict
We give the Wacaco Nanopresso a rating of 4.6 out of 5 stars:
Build Quality
Power
Features
Price
Review Summary
We took a close look at the Wacaco Nanopresso to see if it's worth the money and effort. How did it stack up? This little gem of a machine is ideal for the casual espresso drinker, but the hard-core espresso lover may find it too simplistic. Either way, the Wacaco Nanopresso is small but mighty, solidly constructed, and easy to use. It's perfect for frequent travelers, who can take it on vacation or camping. The only drawbacks are making sure you have access to boiling water and the ability to clean it after use.
This machine is brought to you by Wacaco. Perhaps not surprisingly, the founder of this company came up with the idea for a portable espresso gadget after having a poor espresso shot in a hotel while traveling. Having experience in the industry, he decided to create an espresso maker that could be available for anyone who desires good espresso anywhere.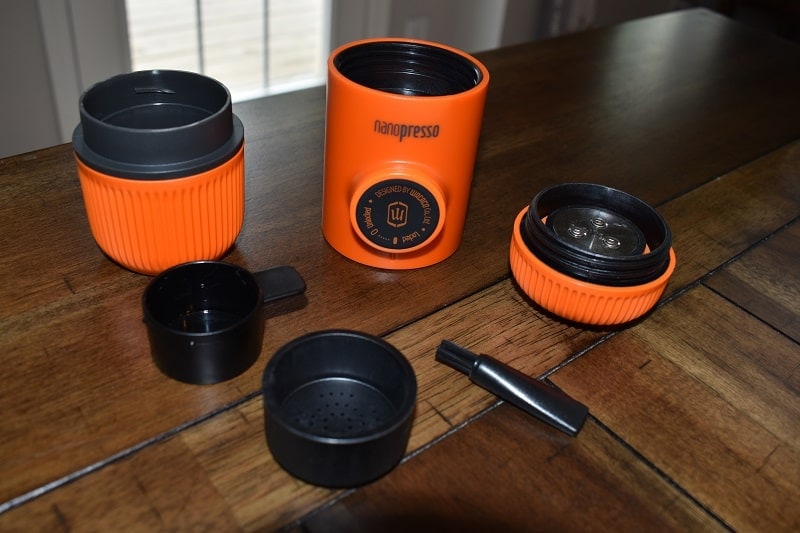 Nanopresso – A Quick Look
Pros
Portable
Compact
Light
Easy to use
Durable
Cons
Difficult to clean if traveling
| | |
| --- | --- |
| Size: | 2.4 by 2.8 by 6.1 inches |
| Weight: | 11.8 ounces |
| Bars of Pressure: | 18 (260 PSI) |
| Water tank capacity: | 80 ml |

Easy to Use
Now for the fun part: We tried the Nanopresso out to see just how easy it is to use, and we were pleasantly surprised! One glance through the instructions was all it took to get it going. However, the instructions are in small text and may be difficult to read, albeit easy to follow. Also, before making your espresso, you can preheat the unit by running only hot water through it first.
We heated some water, ground some coffee beans, and we were already halfway done. The Nanopresso comes with a coffee scoop that also serves a tamper. Once you unscrew the filter basket, pull out the filter. Add coffee to the coffee filter, and tamp it with the bottom of the scoop. Screw the filter basket onto the Nanopresso.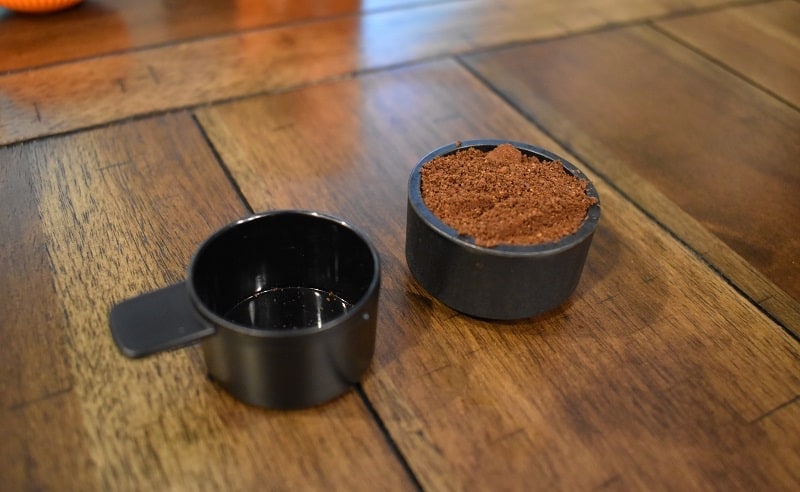 There are two water levels noted in the water tank for 50 and 80 ml. You'll want to have the tank on a level surface to pour in the boiling water. Once you've added the water, screw the main body onto the tank.
The pump piston is located on the front of the body in the locked position. Turn the piston to unlock, and it will pop out of the body. Flip the body 180 degrees and get ready to pump. The directions indicate that you'll need to hold the body with both hands while pumping. However, we discovered that if you prop the body on the cup, you can use one hand for pumping because the piston moves fluidly.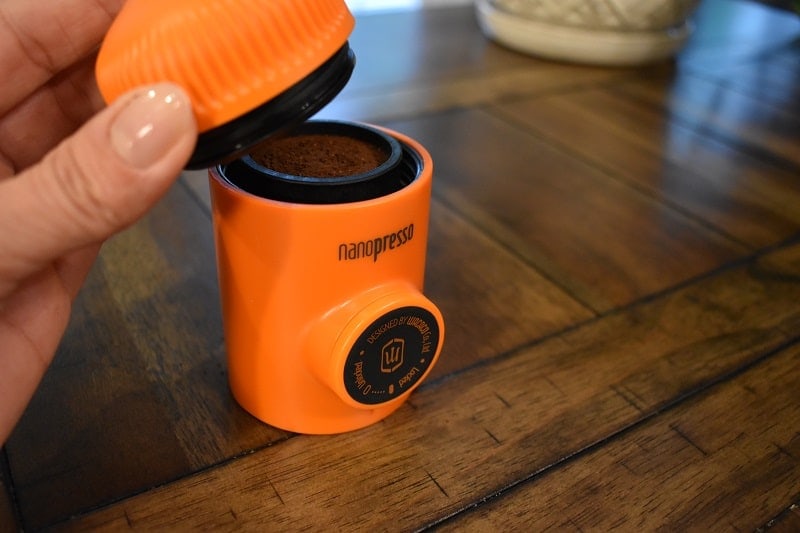 The first eight strokes build pressure, and you'll continue to pump until the water tank is empty. It's easy to feel when it gives. We used Lavazza Super Crema coffee beans for this test and were impressed with the crema produced by this portable pump system. We didn't have high expectations that this would taste as good as other brewing methods, but we were delighted by the result, and the process was easier than easy.
---
Portability
This machine is lightweight and perfect for traveling or camping. It weighs less than one pound. The construction is plastic, but it's sturdy, so it should hold up well to being tossed in your luggage or backpack. All you need to add is coffee and water.
Wacaco took the espresso maker one step further with the traveler in mind. You can separately purchase accessories to make the Nanopresso compatible with Nespresso capsules.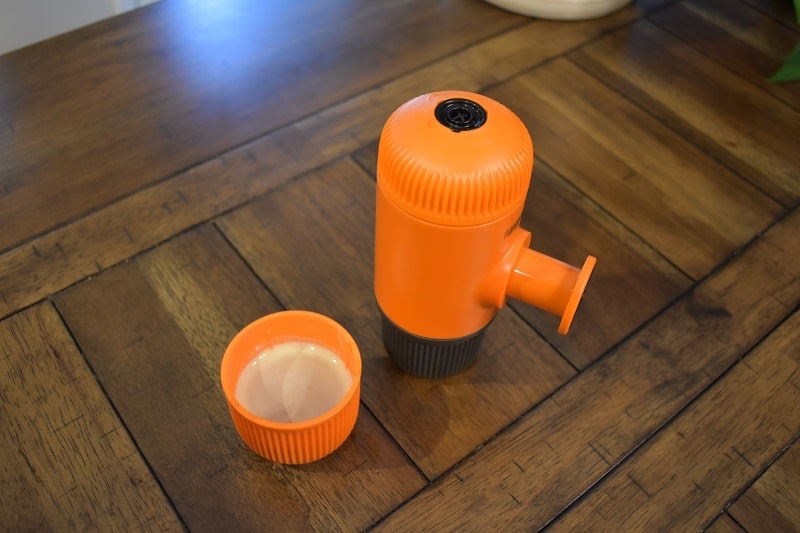 ---
Cleaning
If you're at home, cleaning the machine isn't difficult. If you're traveling, however, it may take a little more attention to get the job done and not just make a bigger mess. We did notice that the coffee grounds were difficult to get out of the filter basket. If you're traveling and in a hurry to check out of your hotel room, you may want to keep a big Ziploc bag with you so you can just zip it in and clean it later.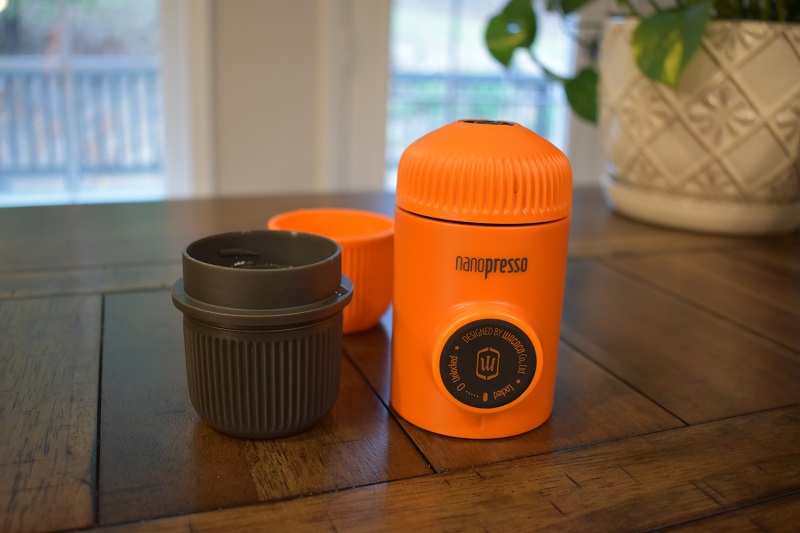 After a certain amount of use, about 20 shots, you'll want to take everything apart for a deep clean. The instructions for that are easy to follow as well.
The Verdict
The Nanopresso is convenient for the constant traveler, camper, occasional espresso drinker, or minimalist. It's a great product that's easy to use and easy to transport. If you need to use it for more than two people, though, you may want to consider a product designed for multiple users.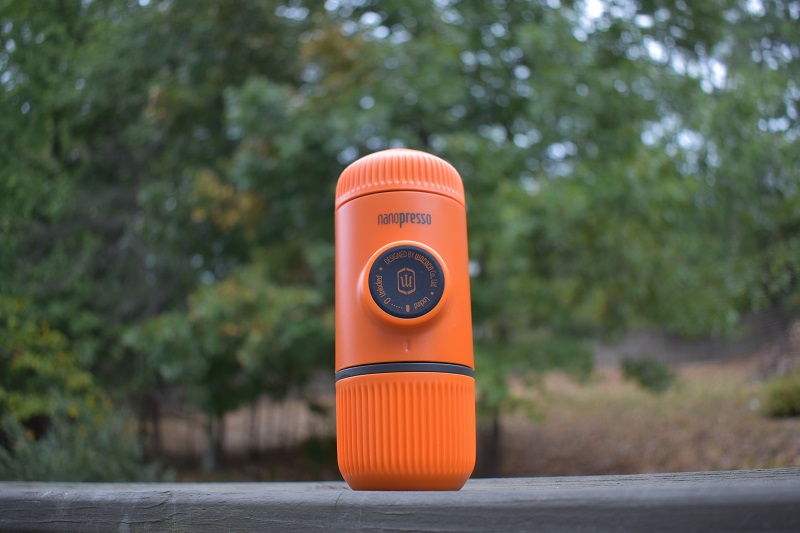 Wacaco Nanopresso FAQ
1. What comes in the box?
The Nanopresso arrives assembled in the box. Taken apart, it consists of:
An espresso cup
A water tank
A scoop
A brush
The main body
A filter basket
A portafilter
A bag
Instruction booklet
You'll need to supply the water and coffee.
2. Can it use capsules?
You can separately purchase an adapter to make the Nanopresso compatible with Nespresso capsules. It isn't possible to use K-cups.
3. Can I pack this in a carry-on?
Yes, although you may have to explain what it is to TSA agents.
4. Are all parts of the Nanopresso submersible?
Yes, all parts are can be submerged in water for cleaning.
5. Does it come with a warranty?
Yes, it comes with a one-year warranty.
See also: