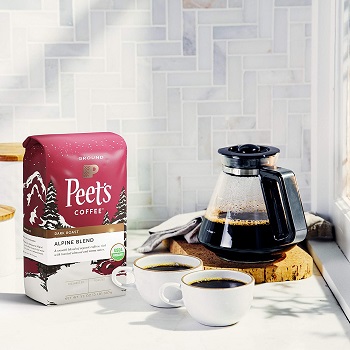 The surge in popularity of specialty coffee in the last few decades has created an explosion of new coffee brands, and existing companies – like Peet's Coffee – enjoyed increased visibility as more people became interested in drinking better coffee. New coffee businesses come and go, but those with staying power have something the others don't. For Peet's, that extra something is a large range of excellent coffee that upholds a tradition of excellence dating back to the mid-1960s.
A company like Peet's has tons of coffees to choose from, and if you're interested in trying what they have to offer, it's easy to be overwhelmed by the sheer number of choices available. We've done you a favor and put together these reviews of the ten best Peet's coffee options available this year. This was not an easy task, but we tried to include something for everyone. Whether you're a bold dark roast fan or prefer a more delicate light roast, Peet's has something for you.
---
A Quick Comparison of Our Favorites in 2023
Image
Product
Details

Best Overall

Peet's Coffee Major Dickason's

Rich, bold flavor
Smooth mouthfeel
Easy to use K-cup format

Best Value

Peet's Coffee French Roast

Delicious, chocolatey flavor
Velvety texture
Very affordable

Premium Choice

Peet's Coffee Single Origin Brazil

Bright, vibrant flavor
Well-balanced flavor profile
Eminently drinkable

Peet's Coffee Espresso Capsules Nerissimo

Good price
Strong, dark roast flavor
Consistent between capsules

Peet's Coffee Dark Roast Variety Pack K-Cup

Variety flavor for a price of one
Great for undecided people
Perfect for dark roast aficionados
The 10 Best Peet's Coffee Varieties
1. Peet's Coffee Major Dickason's Blend – Best Overall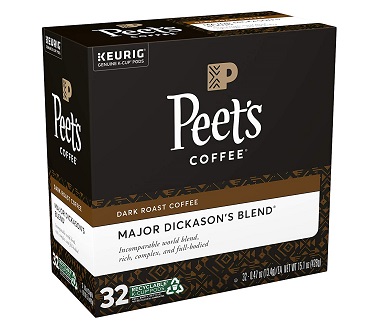 We're kicking things off with one of our favorite dark roast coffees, not just from Peet's, but from any company. Major Dickason's blend is a robust, powerful dark roast that manages to bring a lot of flavor to the table without any bitterness. If you're a fan of big, full-bodied coffee, this is the perfect blend for you. People who prefer lighter roasts might not love it, but we're willing to bet that most coffee drinkers would enjoy it.
A big benefit of Peet's coffee is that they're available in convenient K-cup pods. If there is an easier way to make coffee, we don't know about it, and we're glad that Peet's is committed to offering their best coffees in pods. K-cup coffee makers have a reputation for producing bland, uninspired coffee. Major Dickason's proves that it's the coffee itself and not the brewing style that determines the quality.
We don't have many complaints, and the only thing that puts a slight damper on our enthusiasm is the price. It's not overly expensive, and the price isn't high enough to keep it out of our top spot, but it isn't the cheapest coffee around.
All in all, we think Major Dickason's blend is the best Peet's coffee you can buy currently.
Pros
Rich, bold flavor
Smooth mouthfeel
Easy to use K-cup format
Cons
Slightly expensive
Might be too strong for some
---
2. Peet's Coffee French Roast – Best Value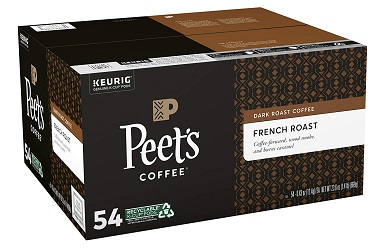 At number two, we have Peet's French roast. French roasts are dark roast coffees known for having a well-rounded chocolatey flavor, and Peet's has that in spades. This coffee is an excellent example of a French roast and – like the Major Dickason's – doesn't have any harsh qualities characteristic of many dark roasts.
This coffee is also available in a K-cup, which is a great option for people with pod-style coffee makers.  Now is a good time to mention that Peet's uses environmentally friendly recyclable K-cups, which removes a major drawback of using pods.
We found the French roast to be slightly weaker and less flavorful than Major Dickason's, which is what prevented it from taking the top spot. It is cheaper than Major Dickason's, however, which makes it the best Peet's coffee for the money.
Pros
Delicious, chocolatey flavor
Velvety texture
Very affordable
Cons
Not as flavorful as Major Dickason's
---
3. Peet's Coffee Single Origin Brazil – Premium Choice
Rounding out the trio of top picks, we have Peet's single-origin Brazil. Single-origin coffees are generally considered higher quality than blends and therefore are usually more expensive. This coffee follows that model, and the single-origin Brazil is one of Peet's most expensive offerings.
One sip is all you will need to see why single origins get so much praise. This coffee is a medium roast that is paradoxically packed with flavor while still being light and vibrant. It's one of the best single-origin coffees we've had in a K-cup, and the ability to make such delicious coffee so easily is a huge bonus.
The only drawback is the price, and it was hard not to make this our top pick. Major Dickason's and the Brazil single origin are both excellent coffees, but ultimately the price was the deciding factor. If you have a few extra bucks, splurge for the Brazil. If money is a concern, it might be better to save some money and skip this one. It is excellent, but it can be hard to justify spending so much money on coffee.
Pros
Bright, vibrant flavor
Well-balanced flavor profile
Eminently drinkable
Cons
Hard to justify the high price
---
4. Peet's Coffee Espresso Capsules Nerissimo
Here we have the first non-K-cup on our list. These Nerissimo capsules are Nespresso compatible espresso capsules, so make sure you have a suitable machine before buying them.
These capsules are an 11 on the Nespresso intensity scale, which puts them on the high end. The coffee is dark roasted and strong but strays dangerously close to being too strong for our taste. It isn't bitter, but the cups we made weren't as smooth as we hoped.
Still, this coffee is quite good, and we would definitely buy it again. It's made from high-quality 100% Arabica coffee, and all of the capsules in the box we had were nearly identical, which is what we expect from a company of Peet's caliber. They aren't the cheapest Nespresso capsules around, but they aren't expensive, and we feel they are fairly priced.
Pros
Good price
Strong, dark roast flavor
High level of consistency between capsules
---
5. Peet's Coffee Dark Roast Variety Pack K-Cup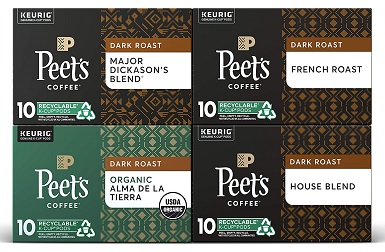 If you have trouble making decisions like we do, this is the perfect option for you. The dark roast variety pack comes with Major Dickason's blend, French roast, Organic Alma de la Tierra, and House Blend K-cups. We already discussed Major Dickason's and the French roast, and the House Blend appears further down the list, so we won't get into the individual coffee too much.
This made the list because it gives you a way to sample several dark roasts without having to risk buying a large box of coffee pods, only to discover that you don't like them. We strongly prefer Major Dickason's and the French roast to the House Blend and the Organic Alma de la Tierra, but the beauty of the variety pack is you can try all four and decide for yourself.
The price is right, and we recommend this sampler pack of K-cups to any dark roast lover. It's an excellent way to get a broader taste of what Peet's has to offer than buying one at a time.
Pros
Try four different dark roasts for the price of one box
Great for undecided people
Perfect for dark roast aficionados
Cons
You might not like a large fraction of the coffee you pay for
---
6. Peet's Coffee Decaffeinated Especial K-Cup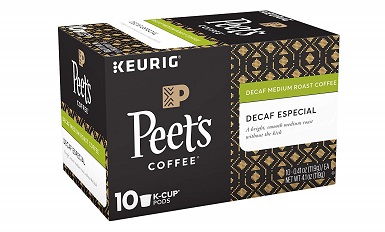 Peet's Decaffeinated Especial K-cups are the first decaf coffee to make the list. Decaf drinkers face an uphill battle trying to find good tasting coffee. Most companies don't put a lot of effort into their decaf coffee since the pool of drinkers is much smaller. We're happy to report that Peet's decaf especial is one of the better decaf coffees we've had.
Our bar is set pretty low for decaf coffee, but this one manages to surpass our expectations. It isn't mind-blowing, and it doesn't hold a candle to the other coffee above it, but it's drinkable and – dare we say – enjoyable. There is a time and place when even caffeine drinkers want decaf coffee, and Peet's especial is one of the few options that can satisfy regular coffee drinkers.
It comes in K-cups for convenience but is a little on the expensive side. If you want to cut down on caffeine, you can find many coffees worse than this one to mix into your rotation. If you manage your expectations, you might be surprised.
Pros
Solid decaf coffee
More flavorful than most other decaf K-cups
Cons
Still noticeably decaf
Somewhat expensive
---
7. Peet's Coffee Luminosa Breakfast Blend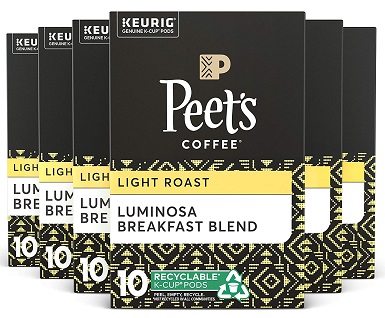 Luminosa is our favorite light roast K-cup from Peet's and is a change of pace from all the dark roasts thus far. The trouble with light roasts is they can be finicky. They're difficult to roast and brew, and if you don't get everything just right, they taste strange and sour.
Luminosa is a Colombian light roast that avoids most of the pitfalls light roasts usually succumb to. Unfortunately, it does this by playing it safe, and the result is a cup of coffee that is fine but unremarkable. It isn't bad, but it isn't good either; it's just sort of bland. We must admit we were disappointed in this one a little bit, but if you find dark roasts to be harsh, you might like it.
Since it is a K-cup, we had no recourse to adjust the grind size or any brewing parameters to try to coax a better cup out. Even with all that said, light roast fans or people looking to try something different will probably find a lot to like here. It doesn't taste bad; it's just not as good as it could be. It feels like a missed opportunity that is so close to being great.
Pros
Light and smooth
Good for a change of pace
Cons
Bland, uninspired taste
Thin mouthfeel lacks substance
---
8. Peet's Coffee K-Cup Decaf House Blend
Here we have our second decaf coffee, this time the House Blend. We won't rehash our feelings about decaf coffee, but this one is not as good at avoiding the stigma associated with decaf coffee as the especial is.
Decaf dark roast coffee is an even more difficult feat to pull off than decaf medium roast coffee, and the House Blend decaf suffers because of it. If we had to pick a go-to decaf coffee, we would choose the Especial every time. The House Blend fails to come close to what we expect from a dark roast, and we understand why, but we still don't want to drink it.
So why is it on the list, you ask? Because there aren't many decaf dark roasts out there, and even though we aren't big fans of it, we recognize that it does play a difficult role. We should say that Peet's decaf House Blend isn't horrible or disgusting; it just doesn't do it for us. It is stronger than the Especial, so if you are incapable of drinking caffeinated coffee but love dark roasts, this might be one of your better options.
Pros
Affordable
A rare, drinkable decaf dark roast
Cons
Doesn't taste like a caffeinated dark roast
Strong without being flavorful
---
9. Peet's Coffee Organic Alpine Blend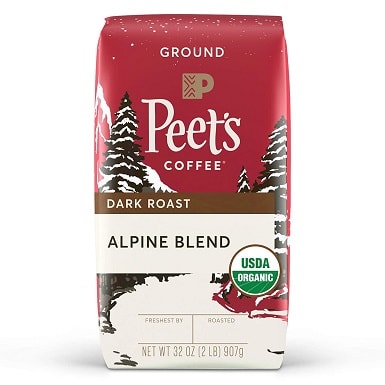 The penultimate coffee on our list is the Organic Alpine Blend. This coffee is from a set of farms located in Latin America and has notes of almond, cocoa, and toasted nuts. It is another dark roast, and we can't help but compare it to Major Dickason's and the French roast. It falls well short of those coffees for us, but that could be personal taste.
The almond and toasted nut flavors give the coffee a strange taste that didn't blend well with the cocoa. We didn't get any bitter notes, and the strength was spot on, so it might just be a personal preference that caused this one to drop to number nine.
Our dark roast preferences skew towards bold, chocolate-centric flavor profiles, and the Organic Alpine Blend is more of a medium-dark roast than a pure dark roast. It isn't a bad coffee and is worth a try, especially if you tend to gravitate towards medium-dark roasts with nutty-tasting notes.
Pros
Unique, nutty flavor
Medium-dark roast
Cons
Nut and cocoa flavors have a strange aftertaste
Thinner than we'd like
---
10. Peet's Coffee Holiday Blend Coffee
This was a controversial pick for us, and it just squeezed in ahead of the closest runner up. Peet's Holiday Blend is a dark roast Kenyan coffee with notes of candied fruit, dark chocolate, and – here's the controversial part – Indonesian spice. Some people love this flavor, but we struggled to see why. The spiced flavor is overpowering rather than being a subtle accent to the taste, and we couldn't get past it.
Ultimately, this coffee made the list because it's a widely praised coffee that just happens not to be our cup of tea – or should we say coffee. We did make slight improvements by using less coffee than we usually would in a French press. This is a ground coffee and not a K-cup, so make sure you don't buy it if you only have a pod-style brewer without a reusable filter
Pros
Very unique spiced flavor
Uniform roast
Cons
Spiced flavor is overpowering
Hard to brew
---
Buyer's Guide: How to Find the Best Peet's Coffee
Now that we've finished the rundown of the ten best Peet's Coffees, let's talk about some tips to keep in mind when you're shopping for coffee.
Roast level
How your coffee is roasted plays a huge role in the experience, you get in your mug. Dark roasts are a Peet's specialty, and they've perfected the art of creating bold, flavorful coffee that avoids crossing the line and becoming bitter. Dark roasts aren't for everyone, though, and Peet's has several options if ultra-dark coffee isn't what you want.
Our favorite non-dark roast is the Brazil single-origin medium roast. If you're looking for a flavorful coffee that doesn't smack you in the face with robust, malty flavors, it's your best bet.
Light roasts are known for being lighter-bodied and for having fruity flavor profiles. They can be hit or miss, and sometimes they take more effort than they're worth to get right. Brewing a light roast can be a frustrating experience, and when light roasts come out bad, they're usually sour and undrinkable or harsh and astringent.
Brew method
The interplay between roast level and brew method is one of our favorite topics to discuss and something you should think about when buying coffee.
A lot of the coffee on this list comes in a K-cup, which takes most of the guesswork out of choosing the right coffee. K-cups are the ultimate convenient way to make coffee, and having Peet's coffee available in pods makes it widely accessible.
If you prefer a more hands-on experience, start by buying pre-ground coffee. You can use pre-ground coffee in a K-cup style brewer if you have a reusable filter, but you can also use it in automatic drip machines, Moka pots, and even some pour-overs.
Quality
One of the many benefits of buying from a well-respected and timeless company like Peet's is you don't have to worry about getting subpar coffee. Peet's uses 100% Arabica beans in many of their coffees and sources their beans responsibly from farms worldwide.
Sometimes small-batch roasters can struggle with quality control, and one bag winds up being completely different than the next. Peet's has the benefit of being an established, large-scale company and can ensure that every bag is nearly identical.
Responsibility
There is increasing awareness in the coffee industry of the unique challenges faced by farmers to meet demand and simultaneously produce coffee in a sustainable, environmentally responsible way. Many coffee companies are taking steps to support responsible practices and help ensure that coffee farmers are fairly compensated for their hard work.
Peet's has been sourcing their coffee with sustainability in mind since 2016 and has programs in place to assist farmers in creating better ways to produce coffee.
As a consumer, it is important to think about where you buy your coffee and who you buy it from. Supporting companies that have the industry's future in mind is one of the best ways to help contribute to the health and longevity of coffee as a whole.

Conclusion
We hope you enjoyed our reviews of our favorite Peet's coffees! We tried to put our personal tastes aside to bring you a diverse sampling of Peet's coffee that has something on it for everyone. There are many more Peet's coffees you could try, so don't let this list restrict your decision. If something sounds good but to you but didn't make our list, give it a try anyway.
Our overall recommendation is to go with Major Dickason's Blend. It's bold without even a hint of bitterness, and it's priced competitively. If you're looking for something a little bit cheaper, go with the French roast. It isn't as robust or flavorful as Major Dickason's blend, but it's almost as good and is an excellent example of the French roast style. If you are willing to pay a little more for a single-origin coffee, the Brazil is the way to go. It's ridiculously smooth and is one of the most balanced coffees we've tried.