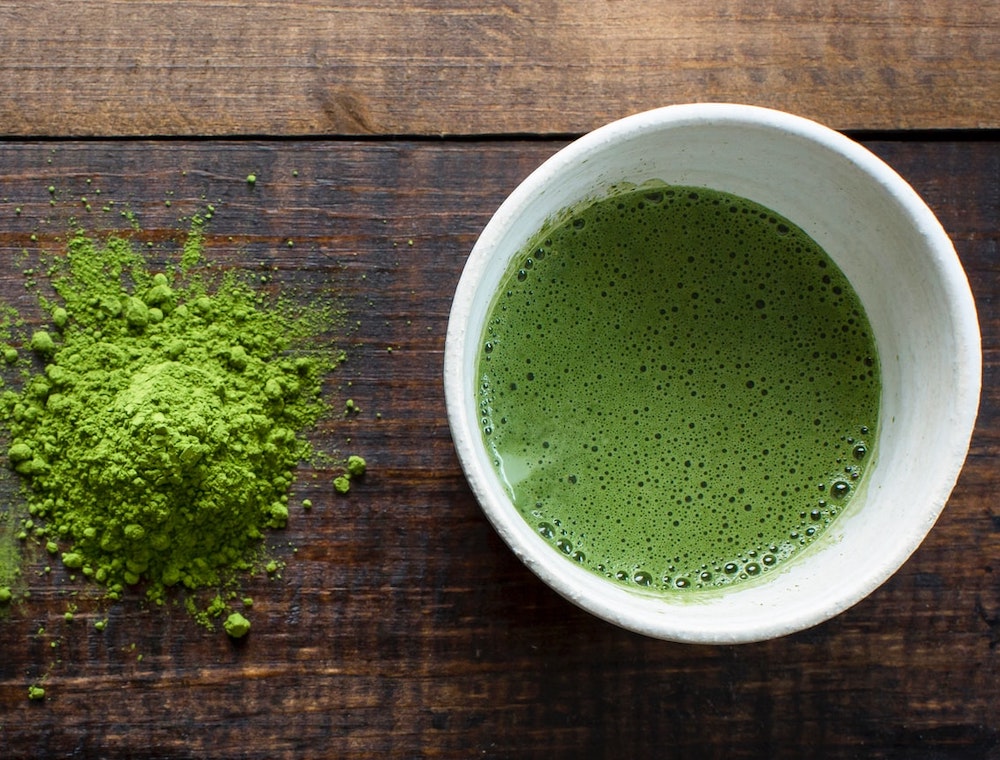 Great green tea starts with a quick steep in pretty hot water. Overly long brewing or low-quality tea leaves can give your tea a bitter flavor. That makes a single-use coffee maker, which injects a jet of really hot water into the K-cup for a quick brew, ideal for making it.
If you've already invested in a single-use coffee maker like a Keurig, you can get more value by expanding the variety of drinks you can quickly make. Luckily, K-cups come in a wide range of flavors, from hot chocolate to tea.
We put together reviews of some of the best green tea K-cups on the market and included a handy buyer's guide at the end. Hopefully, you'll find your new favorite K-cups.
---
Summary of our Favorite Brands & Flavors in 2023
Image
Product
Details

Best Overall

Lipton Chamomile Mint

Excellent flavor
Perfect for iced tea
Good value

Celestial Seasonings

Outstanding flavor
Excellent for iced tea
No bitterness

Cha4TEA

Affordable
Great value
Tasty with sugar

Twinings of London

Good flavor
Well-known brand in tea circles
High-end

VitaCup Infused Tea

Health benefits
With added vitamins
Made with matcha
The 5 Best Green Tea K-Cups
1. Lipton Chamomile Mint Green Tea K-Cups – Best Overall
Lipton Green Tea K Cups took traditional green tea and gave it a twist by adding soothing chamomile and flavorful mint, delivering one of the finest-tasting teas you can buy. It's great hot, but on hot, humid summer days, the mint gives it a freshness that makes it an ideal iced tea. Just brew it, pour it over ice in your favorite teacup, and enjoy and relax.
An ever-present issue for K-cup drinks is that the per-cup price is always a lot more expensive than any other way to make them. It's important to note that among K-cup green teas, this one is overall a good value. You can find ones that cost less by the cup, but they also don't have the quality.
One drawback is that in adding chamomile and mint, Lipton offers a tea that is not an authentic green tea. If you're looking for one of those, you'll need to find a different option.
Pros
Excellent flavor
Perfect for iced tea
Good value
---
2. Celestial Seasonings Authentic Green Tea K Cup
If you're looking for an authentic green tea, the Celestial Seasonings Authentic Green Tea pod is a great way to go. It delivers everything you'd expect in high-grade traditional steeping, but with the speed and efficiency of a pod coffee machine.
That imparts excellent, subtle flavor. What's more, if you're looking for a green tea to drink iced, this is a great option, too. There's no bitterness that requires a post-steeping sweetener.
One drawback is that if you sort things out by per-cup price, it might give you a case of sticker shock. It's the perfect example of how you get what you pay for. Pay more, and in this case, you get more, a lot more.
Pros
Outstanding flavor
Excellent for iced tea
---
3. Cha4TEA 36-Count Green-Tea K-Cups
Our favorite thing about Cha4TEA's green tea K-cups is that they're a really good value for a pretty good tea. The per-cup price is among the best, and it still delivers a solid drink. Considering that K-cup drinks tend to come with a pretty steep price, that makes Cha4TEA the best value in the field we looked at.
That said, if you've tested our top two teas and then go to the Cha4TEA green tea, you'll definitely notice a dropoff in quality. It's still a good tea, but it can't compete with our top two when it comes to making a great drink. If you use it for iced tea, it will need sweetener.
It's a great budget K-cup green tea and a great option if you just want a basic cup of green tea. If you're looking for an otherworldly experience, you'll need to spend a little more.
Cons
Drop in quality
Will want a little sweetener for iced tea
---
4. Twinings of London Green Tea K Cups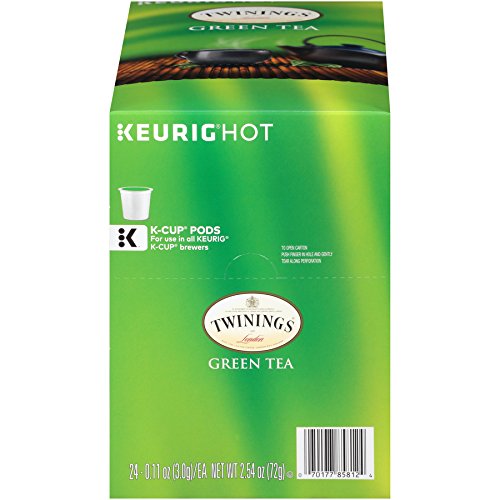 Twinings of London is a well-known brand in tea circles. It's best known for black teas associated with English culture, but it does a good job with other kinds of tea, including green. For a basic green tea, Twinings of London Green Tea K-Cups have a pretty good flavor.
A significant drawback is the price. K-cups, in general, come with a high per-cup price, and for green teas, the Twinings line is especially so.
We have to conclude that the price is mostly paying for the Twinings name, too. While this tea has good flavor, it's not as good as the other teas. The flavor suggests that it could use a longer steeping time, which is usually a pretty good indicator that the tea is made from leaves below the best available.
Cons
Price
Good, not great, quality leaves
---
5. VitaCup Green Tea Coffee Keurig Cups/Pods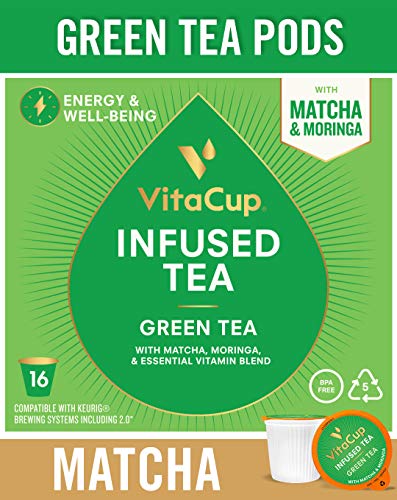 Green tea gets a lot of hype for delivering health benefits. We're certain that soon we'll hear about how it can cure bad hair days. The slight hitch is that there isn't a lot of research to support most of it. VitaCup's Green Tea Coffee Cups sought to address that by boosting tea with added vitamins, so at least you know you're getting something out of it.
Beyond that, it's bad. It's low on flavor, has a bitter aftertaste, and is really expensive. You're probably better off just buying a bottle of vitamin supplements and spending a little more on K-cups of a better brand. VitaCup's green tea is what you get when people start to take the unfounded health merits of so-called miracle foods too seriously.
Cons
Tastes terrible
Needs sweetener
Overly pricey
---
Buyer's Guide: How to Find the Best Green Tea K-Cups
Among hot teas, green tends to be associated with a lighter, more natural flavor. It's less processed than black or oolong teas and is generally associated with Asian teas. Because most of us associate tea with either bags with paper tags at the end of a string or loose tea that you put into a ball, it might be a bit intimidating to know how to buy it by the K-cup. We put together this short buyers' guide to help you figure it out.
Quality in speed
Whatever you use to brew green tea, there's one thing it was marketed on: its ability to brew hot drinks quickly. This is actually really important when it comes to brewing green tea, or tea of any kind. The quality of the tea you have determines the length of time you need to steep it. The better the quality of tea, the less time you'll want to steep it. It's also important to know that the longer you steep tea, the greater the odds are that you'll release tannins that'll give it a bitter taste. Make the best use of your brewing machine's short brewing time by getting the best leaves possible.
SEE ALSO: Our favorite coffee machines with hot water dispensers
Tea companies know tea
Lots of companies market themselves as offering a wide variety of drink types. You can often find variety packs with various coffees, teas, hot chocolates, and even ciders. If you're looking for the best green tea, though, you might want to look for tea-specific brands. These are companies that made their names selling tea. As a result, they're apt to do a really good job translating the tea from traditional bags and loose tea leaves to pods. It's probably an even better idea to look for companies that specialize in green teas, which have slightly different steeping requirements than black and other kinds of tea. When in doubt, go with the expert.
Flavors
Another good criterion is to look for different flavors. The great thing about the best green tea K-cups is that they permit their makers to infuse their tea leaves with a wide range of flavors. You can find green tea blends with subtle hints of cinnamon, nutmeg, ginger, jasmine, or chamomile. This is a great way to try different twists on traditional green tea flavors and find the one you like best.
The bonus to this is that while K-cups are pretty pricey per cup, they come in smaller packages than tea bags do. It might cost more upfront, but if you buy a package of eight pods of a green tea blend you don't much care for, you won't have a bunch of extra junk sitting around waiting to get used up.
It's also worth mentioning that we've reviewed mocha K-cups, dark-roast K-cups, and light-roast Keurig pods.
Price
Price is an undeniable factor when buying the best green tea K-cups. Teabags are usually very inexpensive. You can get a box of 100 for a few bucks. As we noted, if you buy a blend you don't like, you're stuck with a lot of tea bags that'll never get used.  We also have to point out that no matter how good a coffee machine you have, manual steeping will always produce the highest quality results. Be aware of this so that you don't break your budget trying to get the best possible K-cup green tea imaginable.

Conclusion
To review, our top recommendation for green tea K-cups is Lipton's chamomile-mint green tea blend. It's just fantastic, hot or cold. If you're looking for an authentic pure green tea experience, you might want to go with the Celestial Seasonings K-cup. It is quite expensive, but it's also the best raw green tea experience we found. Cha4TEA has a great budget option. It's not as flavorful as the other two, but it's good for its price.
With a single-cup brewer and a supply of high-quality K-cups, you can quickly brew a wide range of drinks. When you're looking for a soothing cup of green tea, why not try one of these great brands?
RELATED READ: We also recently wrote a guide on how to brew a matcha latte at home. Take a look!