If you tend to drink the same kind of coffee day in and day out and want to liven it up a bit, a coffee syrup is an excellent way to do that. You can make it at home, but if you'd like to buy syrup, you're in luck! There are all kinds of flavors available, and they're suitable for everything from putting a splash of flavor in a cup of black coffee to adding a new layer to the taste of a carefully crafted latte.
We took a look at some of the syrups you might run across and wrote reviews to give you a better idea of what they have to offer. We also included a quick buyer's guide at the end so you can make an informed choice. Keep reading for our list of the best coffee syrups!
---
Comparison Table (Last Updated in 2023)
Image
Product
Details

Best Overall

Torani 4x Set

All-natural ingredients
Outstanding flavors
Great value

Best Sugar-Free

Jordan's Caramel Pecan

Good value
Sugar-free
Healthy

Best Organic

Monin Vanilla

Great flavor
No artificial ingredients
Organic

DaVinci Hawaiian Salted Caramel

Natural ingredients
Mixes well into cold drinks
Exotic flavor

Upouria French Vanilla & Caramel

Vegan
Gluten-free
Comes with pumps
The 10 Best Coffee Syrups
1. Torani 4x Coffee Syrup Set – Best Overall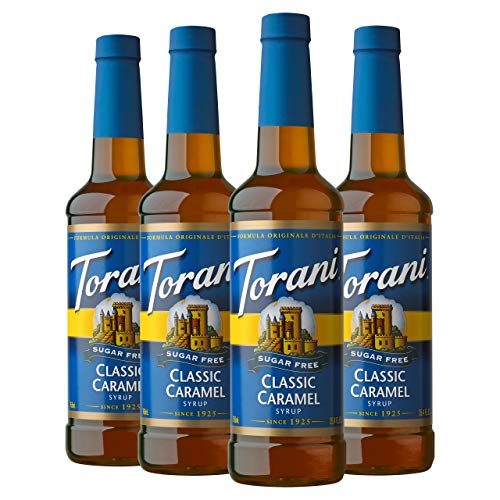 Vanilla and hazelnuts pair well with the robust flavors of dark roast coffees, and some of the best vanilla and hazelnut syrups available are in this four-pack from Torani. When you add caramel and French vanilla, this package includes all the best Torani coffee syrups.
Torani's reputation for outstanding flavor is well deserved. The all-natural ingredients the company uses give these outstanding flavors. There isn't a dud among them. When you break the price down to cost per ounce, it's also an excellent value.
The one thing we didn't like is that it's a big upfront investment. Not in terms of money, but commitment. This is four bottles of coffee flavoring. If you buy this, plan to flavor a lot of coffee to make sure you get your money's worth.
The bottom line? This is the best coffee syrup available right now. Enjoy it!
Pros
All-natural ingredients
Outstanding flavors
Great value
---
2. Jordan's Caramel Pecan Syrup – Best Sugar-Free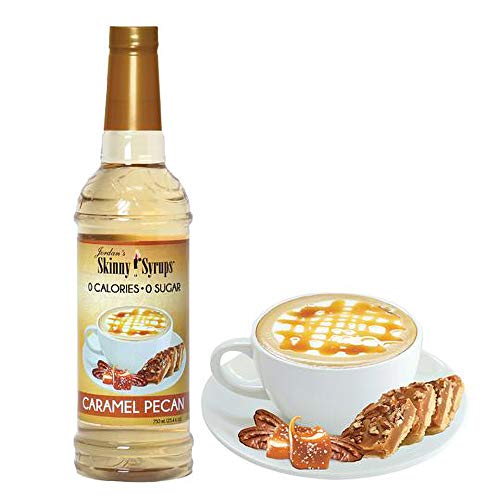 Jordan's Skinny Syrups Caramel Pecan is one of the top sugar-free syrups for lattes and other types of coffee. The flavors of caramel and pecan go well together, and they also complement the frothy complexity of a latte.
The most attractive thing about this syrup is that it's a healthy alternative to sugary sweeteners. It's also Atkins- and Keto-friendly, and even kosher. While you're probably not going to buy a syrup based purely on price, at what it costs for the size of the bottle, it's also a really good value.
That comes with a cost, however. While it tastes great, like a salt alternative that doesn't taste quite the same as salt, the flavor of this one is just off a little bit.
Pros
Good value
Sugar-free
Healthy
---
3. Monin Vanilla – Best Organic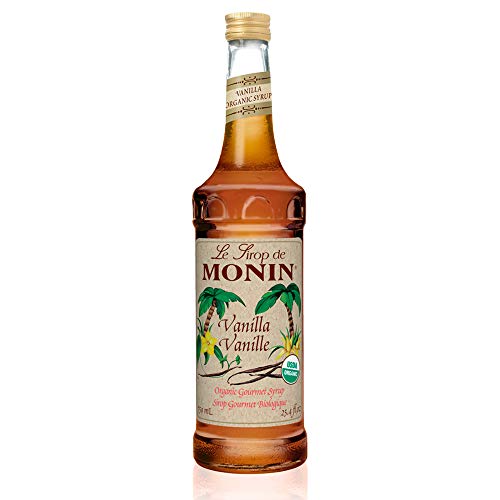 Vanilla is among the most versatile flavors. It pairs well with robust dark blends, and it also goes well in complex chai lattes. Monin is among the best makers of syrup, and its Organic Vanilla is our pick for best organic option.
Using all-natural ingredients gives it a natural taste. With some sweeteners, the artificial ingredients come through in the finished product and you can taste them.
There are two things we didn't much care for. The first is that once it's open, you have about a month to use it up before it goes bad. If you're an occasional user, that might mean wasting money. The second is that you need to use a lot of it to get the flavor right. If you're only an occasional user, that means you might still be able to use it up before it goes bad. If you use it frequently, however, you'll run out of it frequently.
Pros
Great flavor
No artificial ingredients
Organic
Versatile
Cons
Short shelf life
Need to use a lot
---
4. DaVinci Hawaiian Salted Caramel Coffee Syrup

DaVinci's Hawaiian Salted Caramel mixes a little savory into its sweetness in this all-natural ingredient syrup. Those natural ingredients help prevent any of the "off" aftertastes of syrups made from artificial ingredients.
One thing we like is that it mixes well into cold drinks. Some syrups have trouble doing that, leaving most of what you put into your glass as sludge on the bottom. This one blends perfectly to give your morning cup of cold brew just a whiff of the exotic.
The salted caramel flavor is a bit weaker than our top coffee syrup choices, and we could see where some people might not be able to detect the actual caramel flavor unless you dump half the bottle in. Also, while the bottle itself is pretty reasonably priced, the per-ounce price is a bit more than the other syrups we've looked at.
Pros
Natural ingredients
Mixes well into cold drinks
Cons
Expensive
Flavor is weaker
---
5. Upouria French Vanilla & Caramel

A two-pack with one bottle of each popular flavor, Upouria's French Vanilla & Caramel Flavored Syrup combination is great for anyone who likes lattes, cappuccinos, or any other drink in that category.
In a health-conscious world, these are vegan and gluten-free and made from all-natural sweeteners. One thing you'll also like is that they come with pumps for each bottle for easy application to your drink. A couple of pumps and your drink takes on another layer of flavor complexity.
They're also a little on the watery side. It's less like adding syrup and more like adding flavored water. The bottles are also pretty big. If you buy these, you should go in knowing that you're getting quite a bit of coffee flavoring.
Pros
Vegan
Gluten-free
Comes with pumps
Cons
Big commitment
Thin
Not very flavorful
---
6. Starbucks Cinnamon Dolce Syrup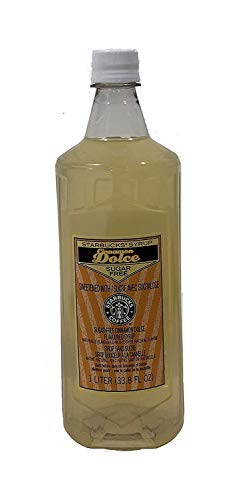 A little splash of cinnamon is probably a seasonal thing, more tied to cooler weather than some of the other syrups we've looked at that have year-round appeal. So, it's good that Starbucks gave its Cinnamon Dolce Syrup a long shelf life. That way, when you spend the money for it, you won't feel rushed to use it all up.
It does impart a nice sweet flavor to whatever you put it in. It's a bit different than other syrups, but we're not sure whether most people would consider it real cinnamon flavor. We'd call it "cinnamon-y."
It's also pretty expensive. You're paying for the brand name.
Cons
Not much cinnamon flavor
Expensive
---
7. Amoretti Peppermint Syrup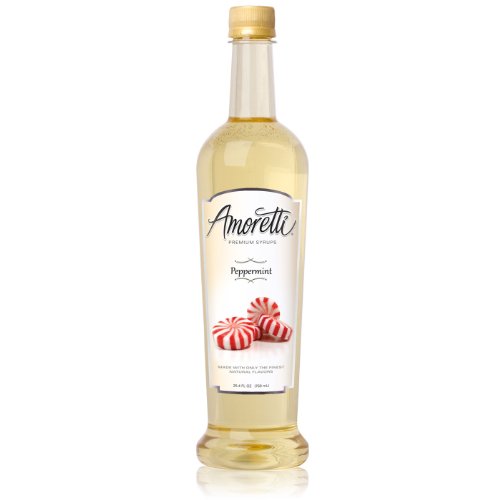 A little splash of peppermint right around the holidays can turn a basic cup of coffee into something more festive without having to spend a lot of money on overpriced heavy creamers. That's why we like Amoretti's Premium peppermint syrup. It's a bottle of holiday cheer.
We also like the flavor. It's solidly peppermint, so you're getting what you pay for.
It's also pretty expensive, and most people won't want to put peppermint in their drinks throughout the year. That means that if you've got stuff competing for counter space, you'll probably want to find a place to store it or get something with more year-round appeal.
RELATED READ: How to Make a Peppermint Mocha (Recipe & Pictures)
---
8. D'arbo Syrup (Elderflower)

We find the Elderflower syrup from D'arbo interesting. It's not like anything we're used to flavoring our coffee drinks with. If you're really into experimenting, it's not prohibitively expensive.
That said, it is expensive compared to other syrups. For something that will require some experience to get the most out of, that might be too much for normal users for whom it'll be a little too exotic.
We also found ourselves overwhelmed a bit by its lemon flavor. That might work in coffees from the lightest roasts, but anything more and it'll probably result in a cup of coffee thrown down the drain.
Cons
Expensive
Limited in use
Overly lemony flavor
---
9. Autocrat Coffee Syrup

In an age where people prefer simple ingredients, Autocrat's Coffee Syrup is a throwback to a time when people didn't much care. We won't wade into the arguments about what is fashionable. We'll just share what's in the product.
It's made largely from high fructose corn syrup, not from cane sugar like most of the pricier syrups we looked at. We won't debate the merits of the two, but we will say that this one is just too sweet. Plan to either use only a little of it, use it to cut a bitter iced coffee or cut it with alcohol like rum. We are also put off by the packaging, which frightens us a little (we don't know why).
The one thing in its favor is that it's one of the most affordable syrups. It's less than half the per-ounce price of most of the all-natural products we've looked at.
Cons
High fructose corn syrup
Too sweet
Ghastly packaging
---
10. Ghirardelli Syrup Squeeze Bottle Set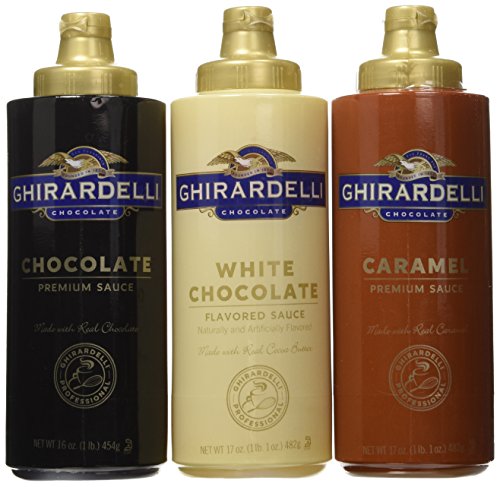 What happened so that Ghirardelli's Squeeze Bottles of caramel, chocolate, and white chocolate rounded out our reviews at the bottom? It wasn't the flavor. All three have pretty good flavor.
It wasn't the price. Despite being a well-known brand name, they came in at pretty affordable in per-ounce pricing.
It was the shelf life. Once you order these and open them, you've got a very narrow time to use them up before they expire, as in a few weeks. That sets you up for a race in how to use as much of this in as short a time as possible, versus the looming deadline by which you need to toss it all in the garbage.
Cons
Really short shelf life
It's a lot to use in a short time
---
Buyer's Guide: Selecting the Best Coffee Syrup
Now that you've seen our favorite coffee syrups of the year, it's time to answer the burning question on your mind. How do I choose the right coffee syrup for me? A coffee syrup should provide you with flavor, which is why your personal preferences are so important. While everyone has different taste buds, there are a few things you should always expect from a great coffee syrup. Let's take a look at a few of the criteria we kept in mind when choosing the coffee syrups we included in this review and help you start your journey of taste testing and finding the one you love the best.
Flavor
We may as well hit the most important thing to consider when choosing the right syrup for your cup of coffee, flavor. You'll find tons of different flavor variations available when it comes to these types of syrup. Whether you're a French vanilla, hazelnut, or Irish crème fan, choosing options you enjoy will make your journey through the world of syrups more enjoyable. For those of us who don't have picky taste buds, this may be easier. By throwing caution to the wind, you can try mixed syrups like chocolate caramel or even caramel pecan. The options can be endless.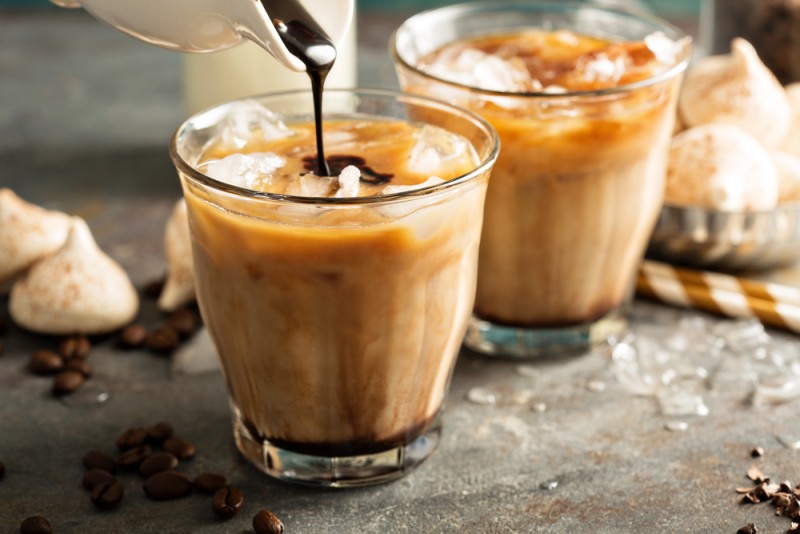 Potency
Potency may not be high on your list of criteria when choosing a coffee syrup, but it was on ours when we conducted our taste tests for our review. When adding syrups to your coffee, you expect great taste. You want this taste without needing to add ¼ of a bottle to achieve it. If you try coffee syrups and find yourself needing to add large amounts to get your desired flavor, that may not be the brand for you. You may simply be a fan of the sweeter things in life, but still, coffee syrups should change the taste of your coffee and outlast more than a couple of cups of coffee.
Ingredients
We all want the best when it comes to the products we bring into our kitchens to consume. You should look at your coffee syrups the same way when you are choosing one to try out. Before making any purchase, look at the ingredients list. If you prefer a more all-natural product, then organic syrups are right up your alley. If you aren't particular, you can search for companies that use fresher, more consistent ingredients and processes for your peace of mind.
You may also choose to only have vegan or vegetarian products in your home. If that's the case, don't worry. Many coffee syrups are made specifically for you. By taking a close look at what goes inside, you can choose a syrup flavor crafted for your individual needs and preferences.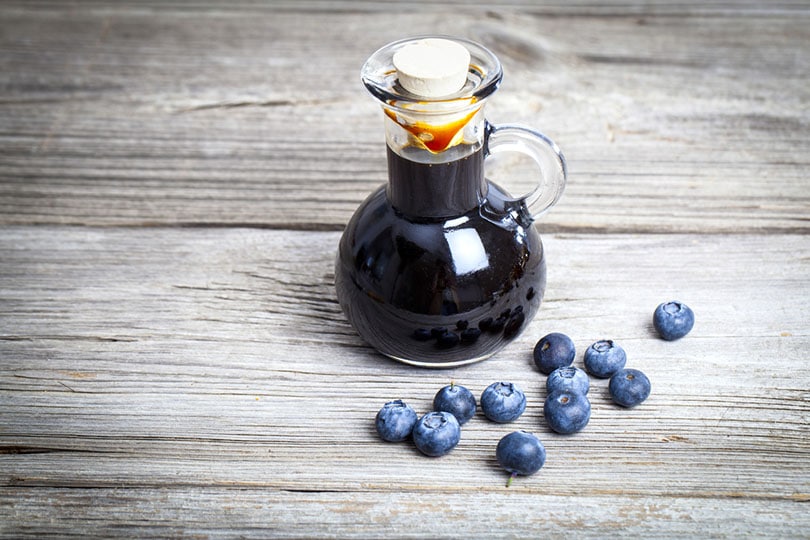 Sweeteners
If you are new to the world of coffee syrups, there is something you should know. They are intended to be sweet. Unfortunately, some people have intolerances to artificial sweeteners, while others are doing their best to lower the amount of sugar in their diets. No matter where you fall on the spectrum, you'll find a syrup that can fit into your dietary needs.
If you have sugar issues, suffer from diabetes, or are simply trying to be healthier, you'll find some coffee syrups are flavored without sugar. Two of the most popular artificial sweeteners used for giving coffee syrup its great tastes are aspartame and sucralose. Neither of these sweeteners has any calories, which fairs well for your diet. But which one is best for you? Aspartame is considered the least favorable of these two options. It has been linked with several unhealthy side effects. If you prefer your syrups to be sweetened with an artificial sweetener that is the safer option, check the ingredients list for sucralose.
Packaging
Packaging is another thing to keep in mind when choosing a coffee syrup to add to your coffee station. Screw on and flip tops can keep your syrup fresh longer. In most instances, you'll find that your coffee syrup is protected by more than just a lid. Always ensure the syrups you purchase are sealed for your protection and free of any evidence of tampering.
Another thing you'll notice about the packaging of coffee syrups is the type of bottle used. Most companies use plastic or glass bottles. This gives you options according to your preference of containers and recyclability. If you purchase your syrups in stores or choose to order online, always check your bottles. Cracks in glass bottles can be dangerous. You'll also find that plastic bottles can be damaged just as easily. This is especially true when having them shipped. If you see these types of issues, always avoid using the contents inside.
Price
Last but least, when it comes to choosing coffee syrup for your daily cup of joe, the price must be a consideration. While some syrups are on the higher end and make promises of amazing taste, you can still find coffee syrups designed to accommodate your budget. Often, as you'll see in our review, you can even order bundles to help you save money. If you spot a flavor of syrup you're interested in, but the price is a bit steep for your wallet, simply move on to another on our list and you'll surely find a coffee syrup you can use to enhance the flavor of your drink.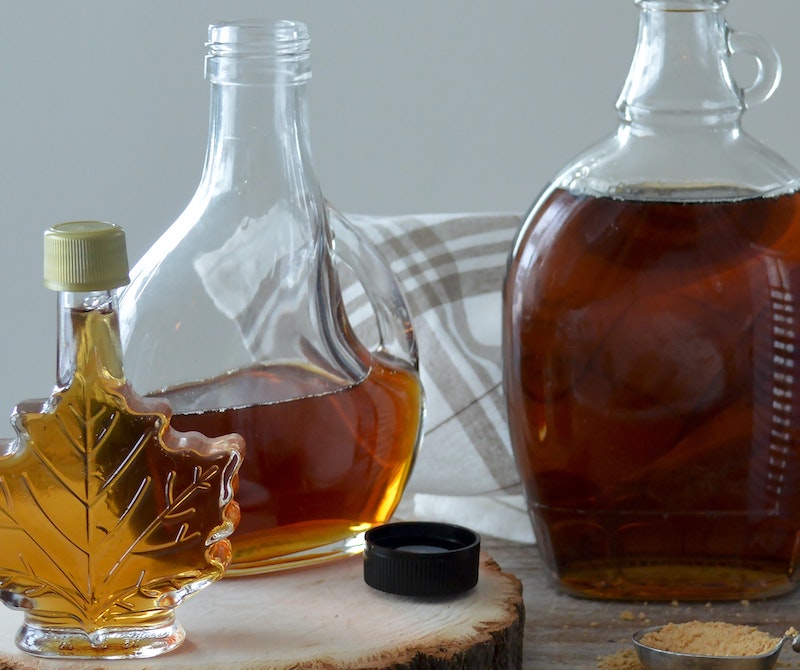 One Last Thing to Remember
When choosing a syrup for your coffee, double-check and make sure it is designed for coffee. Coffee syrups dissolve well in both hot and cold drinks. This is what makes it unique. You'll find other syrups such as cocktail syrup, agave nectar, and cooking syrups advertised on Amazon and other shopping sites. Avoid these syrups if you're hoping to perk up the flavor of your coffee. These syrups may not mix as well, could have more calories than those specially crafted for coffee, and could be too sweet for your purposes.
Choosing the perfect coffee syrup is all about your personal preferences. It starts with a pretty simple decision: What tastes good to you? You probably want your coffee to taste as good as possible, so buying a syrup that looks good on paper but doesn't work for your taste buds isn't going to do you any good.
Finding a flavor you like can either be your destination, or it can be the launching point for an adventure trying out different kinds of syrups and ingredients. You might always go back to your one true love, but at different times and in different moods, something else might be perfect.
Related Reads:

Final Verdict:
In our reviews, we gave Torani's 4-Pack of caramel, vanilla, French vanilla, and hazelnut our top pick because the flavors are wonderful. While it's a big commitment to make at the time of purchase, it's also a versatile assortment. Jordan's Skinny Syrups Caramel Pecan is a great choice that goes well in lattes, but because it's sugar-free, it might taste a little off. Monin's Organic Vanilla was our top choice for organic coffee syrups. In addition to being organic, it's also versatile, but it goes bad pretty quickly.
We hope that our reviews and buying tips help you find delicious coffee syrup for your tastebuds. Whether you're looking for caramel, peppermint, or chocolate flavors, there are plenty of great syrups to choose from. Enjoy your flavored coffee!
---
Featured image credit: Pixabay