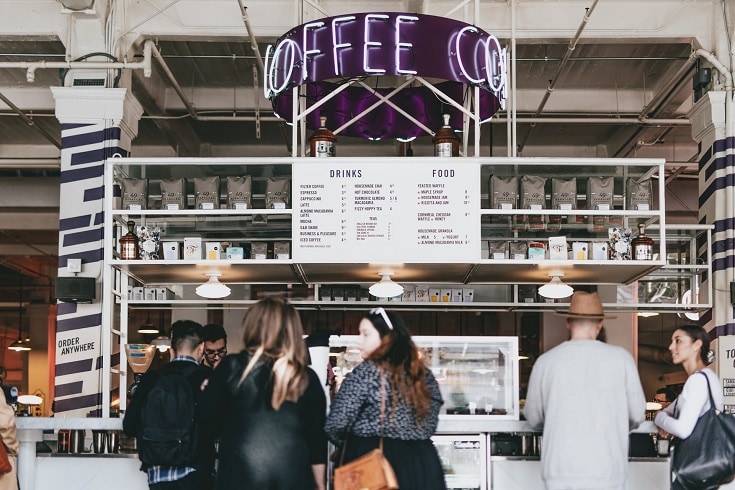 Take a minute to think about which US cities you associate with coffee. Seattle is sure to come up, as is Portland, Oregon. Maybe Los Angeles and New York cross your mind too since, let's face it, what aren't LA and New York known for? We're pretty confident that St. Paul, Minnesota wouldn't make your list, and we're here to tell you that you might have to question your assumptions.
The better half of the twin cities – if you ask St. Paul residents at least – has an impressive lineup of specialty coffee shops and roasters that can give any "coffee city" a run for its money. Whether you're visiting and need a place to grab your morning cup or if you're a longtime resident looking to get to know your city better, this article is for you. Check out these 10 coffee shops that will help keep you warm through cold Minnesota winters with style.

The 10 Best Coffee Shops in St Paul:
1. Cafe Astoria
Cafe Astoria is a welcoming, cozy coffee shop that serves stellar coffee, killer crepes, and a selection of delicious tea. Charming is the first word that comes to mind when you enter Cafe Astoria. The staff is friendly and knowledgeable, and the service is speedy. The outdoor seating area is a particular highlight and a great place to sip your brew in nicer weather.
You will discover a well-stocked coffee menu with all the standard drinks you'd expect alongside numerous smoothies, iced and hot teas, and blended frappes. If you're hungry, you can order an oatmeal bowl or smoothie bowl or indulge in one of the delicious crepes. Cafe Astoria is a one-stop-shop for breakfast and a hot beverage, and we recommend you pay them a visit at 180 Grand Ave to see what they're all about.
---
2. Quixotic Coffee
If you like naturally lit, wood-accented coffee shops that exhude comfort, Quixotic Coffee should be high on your list of places to visit. Despite having a friendly, homey feel, Quixotic coffee has ample seating. You can hunker down in a private booth or sit at a more open table to focus on work while you sip your hot beverage of choice.
The menu includes standard coffee drinks as well as nitro cold brew, tea, and smoothies. Their food menu is small but covers lunch and breakfast with a variety of snacks, sandwiches, and pastries to choose from. Quixotic is a great place to grab breakfast and get a jump on the day's work. Head over to 769 Cleveland Ave S and check them out.
---
3. Cahoots Coffee Bar
Most coffee shops fall into one of two categories. There are the cozy, rustic shops and the sleek modern shops. And then there's Cahoots Coffee Bar. We love the name, and the offbeat, odd choice perfectly encapsulates what Cahoots is all about. The decor at Cahoots is unique and quirky with loads of personality.
Once you take in the sights, you can order one of their delicious espresso drinks or ask for one of the assorted teas on the menu. One place we find Cahoots lacking is in ordinary coffee choices. They are an espresso-focused shop, and that's fine, but you should be aware of that before you go. If you want to order a cappuccino or Americano, Cahoots is more than capable of whipping you up a delicious one. They're located at 1562 Selby Ave.
---
4. Dogwood Coffee Bar
Hot on the heels of the zany Cahoots Coffee Bar, we have a coffee shop with a modern aesthetic: Dogwood Coffee Bar. Here you'll find clean lines, minimalist decor, and plenty of seating. Dogwood is spacious and welcoming, and it's always possible to find a seat even at the busiest times.
The coffee at Dogwood coffee bar is excellent, and the baristas are skilled and friendly. If you have some extra time, let them flex their artisanal muscles and order a pour-over, you won't regret it. If you're going to hang out for a while, you can order a pastry or cookie from the small food menu. The coffee can be expensive, but it's high-quality, and many are single-origin coffees that tend to fetch high prices. You can find them at 825 Carleton St.
---
5. Claddagh Coffee
Claddagh coffee is neither quirky like Cahoots or modern like Dogwood. Instead, it is a traditional, rustic coffee shop that would feel as at home in the 1920s as it does today – and we mean that as a compliment. The charming and cozy interior is welcoming and makes us want to settle in with a good book and a cappuccino and let the hours fly by.
Claddagh coffee's menu is one of the most extensive menus we've seen anywhere, not just in St. Paul. They have every espresso drink you could ask for, tons of teas, pastries, sandwiches, soups, loaves of bread…and that's not even everything. They also have a special menu of custom Claddagh drinks. It would take many months for one person to try everything they have, but their coffee is so good that we'd be willing to try. If you want to try out their coffee for yourself, head over to 459 7th St W.
---
6. Workhorse Coffee Bar
Workhorse Coffee Bar gives you a small-town coffee shop feel in the middle of a big city. Their staff is personable and chatty, and happy to answer any questions you might have. There is a decently sized seating area consisting mostly of tables. Workhorse is, appropriately, a great place to enjoy a hot cup of coffee and get some work done.
They sell locally roasted specialty coffee and also have a small menu of pastries and baked goods. You can also get some breakfast foods like sandwiches and croissants, but the coffee is the highlight and outshines the food in our opinion. They're located at 2399 University Ave W.
---
7. Bootstrap Coffee Roasters
Bootstrap Coffee Roasters, as you can probably tell from the name, roast their own coffee in-house. Sometimes, premium specialty coffee can be more expensive than the quality warrants, but we're happy to report that Bootstrap coffee is worth every penny. They roast their coffee to perfection, and each coffee they sell is outstanding. Their selection isn't extensive, but their focus is on quality over quantity.
If you pay them a visit at 432 Wabasha St S, make sure to grab a snack to go with your coffee. Bootstrap's menu has a small selection of croissants, pastries, and doughnuts that go well with a hot cup of delicious coffee.
---
8. Spyhouse Coffee
If you want the classic cozy coffeehouse experience, Spyhouse Coffee is where you'll get it. The slab countertop and tack board menu give Spyhouse that traditional coffee shop vibe that we can't get enough of. The seating area continues that theme but is quite small, so you might not be able to find a seat during the busiest times.
All of the coffee at Spyhouse is great, but we especially loved the espresso. It was clear from our first sip of cappuccino that Spyhouse's baristas mean business and can pull a shot with the best of the best. Their menu has standard café fare and is good for a quick bite if you're looking to nosh. You can pay them a visit at 420 Snelling Ave S.
---
9. Caydence Records & Coffee
https://www.instagram.com/p/CImEr3KFemK/
Caydence Records & Coffee is a unique experience unlike any other we've encountered anywhere. The name gives you an idea that music and coffee are what they're all about, and after just one step inside the door, you can tell they're not kidding. At Caydence, their passion for music is matched only by their passion for coffee.
If you're a fan of good music and great coffee, Caydence is a dream come true. The coffee is excellent and made even better by thumbing through rows of albums while you enjoy it. As an added bonus, the walls are dotted with art from local artists, giving Caydence a genuine local feel. Caydence is a must-see coffee shop if you're in the St. Paul area. You can find them at 900 Payne Ave.
---
10. JS Bean Factory
Last but not least, we have JS Bean Factory. The shop has an artsy aesthetic and features live music occasionally at night. Seating is limited, but it shouldn't be too hard to find a seat most of the time. It gets very crowded when there is live music, so be sure to check the schedule before you go. There is a beautiful outdoor seating area that helps a bit when the weather is amenable.
Their menu is solid but standard. They roast their own coffee – quite well, we might add – which guarantees freshness and makes every drink delicious and brimming with flavor. If you show up at JS Bean Factory a little hungry, you're in luck because they serve delicious pastries and other light bites. You can see what they're all about at 1518 Randolph Ave.
RELATED READS:
---
Featured Image Credit: Nathan Dumlao, Unsplash