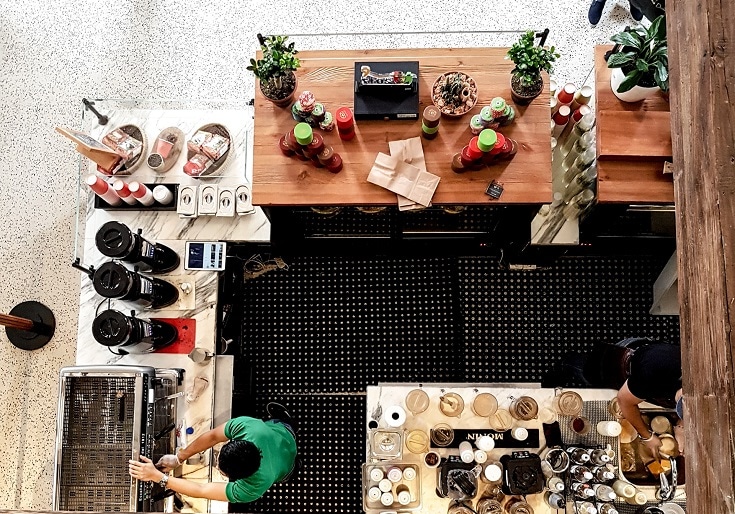 The seat of the American government is, unsurprisingly, a lively place. On any given day, there are untold numbers of critical meetings taking place, heated debates occurring, and busy people getting things done all across the Washington DC metro area. Lawmakers work around the clock to keep the largest democracy in the world running as smoothly as possible, but they don't do it without help.
Washington DC's coffee scene is as vibrant as any other major city's despite not having a specific reputation as a coffee hot spot. We put together this guide to help correct that oversight and help you discover all the wonderful places around DC where you can grab a cup of delicious coffee and a quick bite. Whether you're a tourist looking for a pick-me-up in between visiting museums and landmarks or a busy professional who needs some extra fuel to keep the productivity train rolling, this article is for you.

The 10 Best Coffee Shops in DC:
1. The Coffee Bar
The first stop on the DC coffee tour is at an assuming little shop simply called The Coffee Bar. It would be easy to pass this shop without a second glance, but boy, would that be a big mistake. The Coffee Bar serves the best cappuccino we've had in the DC area alongside locally sourced baked goods and pastries.
Atmospherically, The Coffee Bar is cozy and rustic, if also a bit on the small side. If it gets too cramped inside, there's always the outdoor patio where you will find more seating. The patio is a great place to enjoy your coffee and watch the world go by in nice weather. Check them out at 1201 S St NW.
---
2. The Wydown Coffee Bar
Don't let the similar name fool you. The Wydown Coffee Bar is unaffiliated with The Coffee Bar, but it does serve up comparably excellent coffee and treats. Wydown has a more extensive food menu than the coffee bar and offers complete breakfast items like egg sandwiches and assorted toasts.
Unlike The Coffee Bar, at Wydown, you'll find a modern aesthetic – complete with abstract art adorning the walls –  a spacious lobby and equally large seating area. It tends to get crowded, so leave yourself a little extra time if you plan on going before work. Suppose you want some great coffee and a delicious breakfast, head over to 1924 S St NW.
---
3. Grace Street Coffee Roasters
Grace Street Coffee Roasters, as the name suggests, isn't just a coffee shop; it's also a roaster. Their coffee is ethically sourced and roasted by a team of professionals on the premises to get the most out of every bean. The difference is obvious, and the coffee at Grace Street is second to none.
At Grace Street, coffee is the star of the show, but some light bites and pastries play supporting roles. Inside, you'll find a clean, bright seating area with plenty of room to pop open a laptop and get some work done while you enjoy your single-origin pour-over. Give them a visit at 3210 Grace St. NW.
---
4. Compass Coffee
Compass Coffee is a DC local roaster that offers an impressive lineup of coffee from around the world. Their menu features fair-trade beans from Africa, Central, and South America, East Asia, and a seasonal blend rotation. The staff was friendly and happy to chat, and the overall environment was welcoming.
If you have a chance to check them out at 1535 7th St NW, but you can also find their coffees in any of their other DC locations as well as in many restaurants around the DC area. At their locations, you'll find artisanal sandwiches and pastries alongside their exceptional specialty coffee.
---
5. Swing's Coffee
Swing's Coffee is located in the heart of Washington, mere steps from the White House. Swing's is another shop that roasts its own coffee, and the staff is friendly and knowledgeable. They have a small selection of pastries, but that's not why you come to Swing's. Their coffee and espresso are out of this world and competitively priced considering the quality.
The atmosphere at Swing's is comfortable and welcoming. We enjoyed our exceptional pour-over in a cozy, rustic environment and could definitely see it becoming a favorite spot if you live or work nearby. Check them out at 640 14th St NW.
---
6. Slipstream
Slipstream is a cute coffee shop that offers great coffee and breakfast options in a convenient, central location. We realize cute is sometimes a euphemism for cramped, and that is partially the case with Slipstream. There isn't much seating despite having both indoor and outdoor areas. If you visit during busy hours, it's likely you won't find a seat.
The breakfast menu at Slipstream is quite extensive and has something for everyone. They also have lunch options and a selection of baked goods, making Slipstream a great place to grab a snack and some coffee. You can find them at 1333 14th St NW.
---
7. Bourbon Coffee
Bourbon Coffee is one of the best places to hunker down for some serious work or study in the DC area. They have a welcoming atmosphere with comfortable seating options perfect for working solo or in a team. The internet is also blazingly fast with unlimited access, which is not always easy to find these days.
The coffee is top-notch, albeit a bit pricey. However, if you purchase a fresh bag of beans, they throw in a free cup which is a nice touch and makes the price more stomachable. The coffee is sourced exclusively from Rwanda, which explains the elevated price. We think the quality and cause are good enough to warrant the price and you should give them a look when you find yourself in the area. They're located at 2101 L St NW.
---
8. Qualia Coffee
Qualia Coffee is a DC roaster with several locations around the metro area. Their coffee is roasted at least weekly, so you know you'll always get a fresh, delicious cup whenever you happen to drop by. They make a mean pour-over, and their espresso is nothing to sneeze at either.
Service can be a bit slow, so make sure you leave yourself extra time to visit Qualia. They offer a smattering of baked goods and pastries. We recommend trying some of the cookies, which were out of this world delicious. Stop by 3917 Georgia Ave NW when you need a pick-me-up.
---
9. Emissary
Emissary is a spacious coffee shop with ample seating both indoors and outside, located at 2302 P St NW. Their menu has all your favorite espresso drinks, pour-overs, and two cold brew blends which are must-haves. They also have a fairly extensive food menu with everything from a basic egg sandwich to smoked salmon toast.
If you drop in later in the day, you can also enjoy their limited beer and wine menu. You can also pair a post-work beer with any of the choices from their small bar snacks menu as a nice way to unwind after a busy day.
---
10. Sidamo Coffee & Tea
Our final stop on the DC coffee tour is at Sidamo Coffee & Tea. Sidamo specializes in espresso and tea, but you can order regular coffee as well made with 100% Ethiopian coffee. The quality of all the drinks we've tried is high, but the latte was a particular stand out.
You can find a substantial selection of food items ranging from egg sandwiches and bagels for breakfast to paninis and roast beef sandwiches for lunch. There is a delightful outdoor garden seating area in the back that is a great place to enjoy your coffee in warmer weather. Make sure to check them out at 417 H St NE.
---
Featured Image: Faisal Khalid, Unsplash