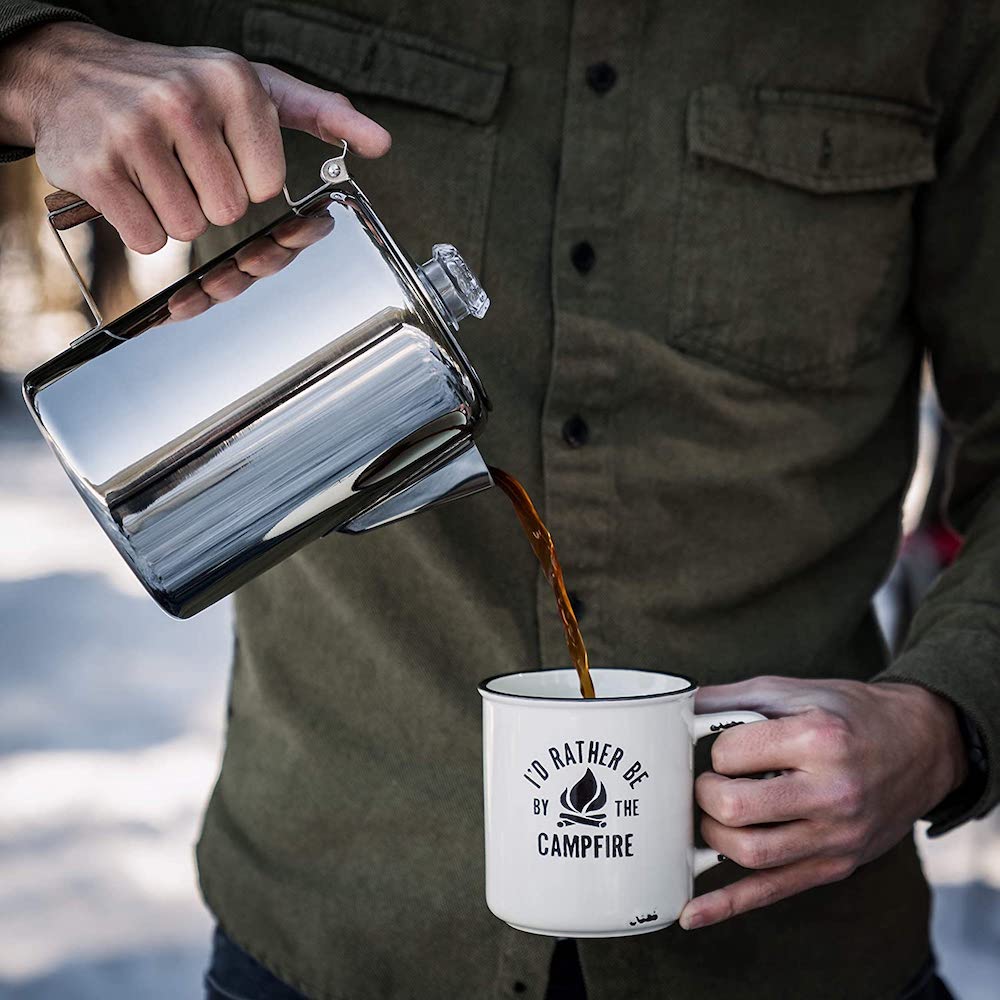 Percolators have been a popular brewing method for over a century. After all, the first percolator patent was filed back in 1889, and though newer brewing types like drip and single-use machines have gained popularity, they've never quite replaced the percolator. There's a reason that they remain among the top brewing styles: equally at home on the stove or a campfire, percolators create rich, full-bodied coffee using simple, steam-driven technology.
When you start looking for a percolator, you quickly discover that there are hundreds on the market, all with different features, looks, and price points. To help you shop, we've tested the best stovetop percolators on the market and put together this list of our eight favorites. Our in-depth reviews compare price, design, durability, and capacity to help you find a great stovetop percolator. We hope this guide saves you time and leads you to a great choice.
---
A Glance at the Winners of 2023
Image
Product
Details

Best Overall

Coleman

Durable stainless steel body
Large 12-cup capacity
Easy to clean

Best Value

Farberware Yosemite

Effective metal filter
Lifetime warranty
Dishwasher-safe

Coletti "Bozeman"

Nine-cup capacity
Lightweight
Includes paper filters

TOPS Rapid Brew

Large 12-cup capacity
Durable stainless steel body
Permawood handle and glass knob

CAFÉ BREW COLLECTION

Eight-cup capacity
BPA-free
Dishwasher-safe
The 8 Best Stovetop Percolators
1. Coleman Stovetop Coffee Percolator – Best Overall
Our top pick, the 12-cup Coleman Stainless Steel Percolator, is elegantly designed and made of durable, easy-to-clean stainless steel. Though it has a higher price point, it also has a high capacity and a timeless look.
With no plastic parts, the Coleman percolator feels expensive and equally useful in your kitchen or on a camping trip. The glass knob is attractive and easy to see through, so you can check on your percolating coffee. However, the knob is not especially durable, as we found several reports of them fracturing with use. Unfortunately, Coleman no longer sells replacement knobs.
Overall, we think this is the best stovetop percolator available in 2021.
Pros
Durable stainless steel body
Elegant, simple design
Large 12-cup capacity
Attractive glass knob
Easy to clean
Cons
Higher price
Knobs less durable and not replaceable
---
2. Farberware Yosemite Stovetop Percolator – Best Value
Are you working with a tighter budget? Take a look at the eight-cup Farberware 50124 Yosemite, a less stylish but very attractively-priced stainless steel model. Offering great value for your money, this durable percolator features a particularly sturdy plastic knob.
In testing, we found that the metal filter works well, letting minimal grounds through. At 2.25 pounds, the Yosemite is a heavier percolator, but it's also very easy to clean and dishwasher-safe. One of our favorite features is the lifetime warranty, which is especially impressive at this low price point.
Pros
Low price
Eight-cup capacity
Effective metal filter
Lifetime warranty
Durable stainless steel construction
Durable plastic knob
Dishwasher-safe
Cons
Less attractive design
Less stylish plastic knob
Heavier
---
3. Coletti "Bozeman" Percolator Coffee Pot
The Coletti Bozeman percolator offers a stylish, retro design at a higher-level price. This dishwasher-safe model is built of stainless steel, with a heat-resistant wooden handle and a glass knob.
The package includes a 20-pack of optional paper filters, though we found the metal filter to work well. The Bozeman weighs a very light 1.4 pounds and has a nine-cup capacity. It features a handy set of fill lines on the side of the percolator. The glass knob is stylish but less durable, and unfortunately, the company does not sell replacement knobs.
Pros
Lightweight
Nine-cup capacity
Durable stainless steel
Stylish design with fill lines
Attractive wooden handle and glass knob
Includes paper filters
Cons
Higher cost
Less durable glass knobs
No replacement knobs
---
4. TOPS Rapid Brew Stovetop Coffee Percolator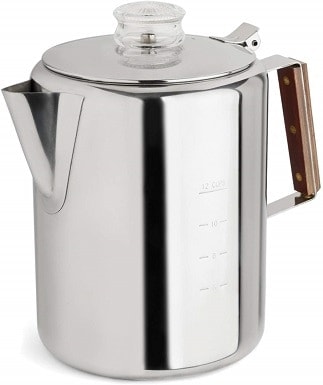 The TOPS 55705 is another high-end model, built of stainless steel with a Permawood handle. It has a glass knob and permanent cup markings.
In testing, we noticed that the lid doesn't fit the body perfectly, leading to some water volume loss while percolating. This percolator has a generous 12-cup capacity, and we found it to brew successfully with as little as four cups of water, though not the company-advertised two.
However, the 55705 is a less durable percolator, with a fragile glass knob and lower-quality aluminum inner pump and basket. It weighs a moderate 2.2 pounds.
Pros
Durable stainless steel body
Permawood handle and glass knob
Large 12-cup capacity
Moderate weight
Cons
Higher price
Fragile glass knob
Ill-fitting lid
Less durable overall
---
5. CAFÉ BREW COLLECTION Percolator
Forget looking through a tiny glass knob: with the Café Brew Collection Stovetop Percolator, you can comfortably watch the whole brewing process. The only glass percolator that we tested, this model has an interesting and attractive design. It's made of tempered borosilicate glass with plastic interior pieces.
Weighing a minimal 1.5 pounds, this model is very attractively priced and has a reasonable eight-cup capacity. The plastic handle, though clunky, is placed high enough to keep your hands a comfortable distance from the stove. Though the interior pieces are BPA-free and dishwasher-safe, they feel cheaper and less durable.
You'll also have to be more careful using a glass percolator on the stove. Though the glass is tempered, there is a chance of cracking or shattering. To help with this, the package includes a metal heat-diffusing trivet for use on electric coil stoves.
Pros
Low price
Eight-cup capacity
Lightweight
Interesting tempered glass construction
BPA-free, dishwasher-safe filter and pump
Includes metal heat-diffusing trivet
Cons
More fragile glass body
Less durable plastic parts
---
6. Godmorn Stovetop Espresso Percolator
Do you prefer a strong shot or two of espresso in the morning? The well-priced Godmorn stovetop percolator can give you just that. With a stainless steel body and a black plastic handle, this model can percolate up to six 1.5-ounce cups of espresso at a time.
Without a knob, you won't be able to see inside this percolator, but the internal pieces are fully removable and easy to clean. This model even works on induction stoves, along with many other types of heating surfaces. The Godmorn is an attractive coffee brewer and feels very durable. In testing, we didn't find any major weak points in the design.
SEE ALSO: our breakdown of the top 10 moka pots this year.
Pros
Low price
Interesting design
Brews espresso
Stainless steel body
Lightweight
Easy to clean
Compatible with induction stoves
Cons
Plastic handle
No top knob
Small capacity
---
7. Cook N Home Stainless Steel Coffee Percolators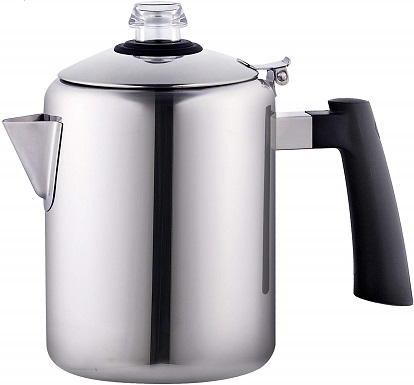 The Cook N Home percolator is a slightly clunkier stainless steel model with a mid-range price and a plastic handle and top knob. This lightweight 1.7-pound brewer has an eight-cup capacity.
The permanently attached lid is more difficult to clean, though the entire percolator is dishwasher-safe and fully immersible. In testing, we found that the filter basket does not work perfectly, allowing some grounds to pass through. There are also reports of the model's base warping with use.
The Cook N Home, which features permanent fill lines, is conveniently compatible with induction stoves.
Pros
Lightweight
Mid-range price
Eight-cup capacity
Works with induction stoves
Stainless steel
Cons
Plastic handle and knob
Imperfect filter basket
Reports of warping
Clunky design
Less durable
---
8. Copco Brushed Stainless Steel Stove Top Percolators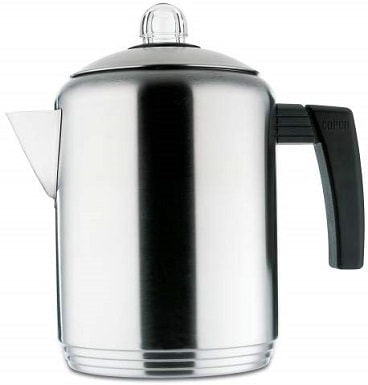 Our least favorite option, the unattractively-designed Copco Brushed Stainless Steel Percolator, has a stainless steel body and a plastic handle and knob. This model's higher price point is not accompanied by better construction or features, so you may prefer to look elsewhere.
At under two pounds, it's reasonably lightweight and has a good capacity of up to eight cups. The percolator is dishwasher-safe and has a dripless spout, but is lacking fill markings. In testing, we found that the lid does not fit perfectly, allowing water to escape during the brewing process. We also found reports of leaking around the base.
Pros
Stainless steel body
Lightweight
Eight-cup capacity
Dishwasher-safe
Dripless spout and top knob
Cons
Higher price
Less durable
Plastic handle and knob
No cup markings
Ill-fitting lid
Less stylish design
Reports of leaking
---
Buyer's Guide – Picking the Best Stovetop Coffee Percolator
You've taken a look at our favorite stovetop percolators and seen that we've come a long since those 1889 models. But how do you make sure that you select the model that's just right for you? We've put together a quick guide to your best stovetop coffee percolator options.
The Body
Many percolators are made of corrosion-resistant stainless steel, which can be a great kitchen material, as well as undeniably easy to clean. If you'd like a percolator with a more unusual look, you may prefer one made of glass. Keep in mind that glass is less heat-resistant and durable than metal.
The Handle
You'll be placing the percolator directly onto the hot stovetop, so you may want to look for a handle that's high enough to protect your hands.
You may also want to think about the look and feel of your handle. Many are made of plastic, but you can also choose one made of heat-resistant wood.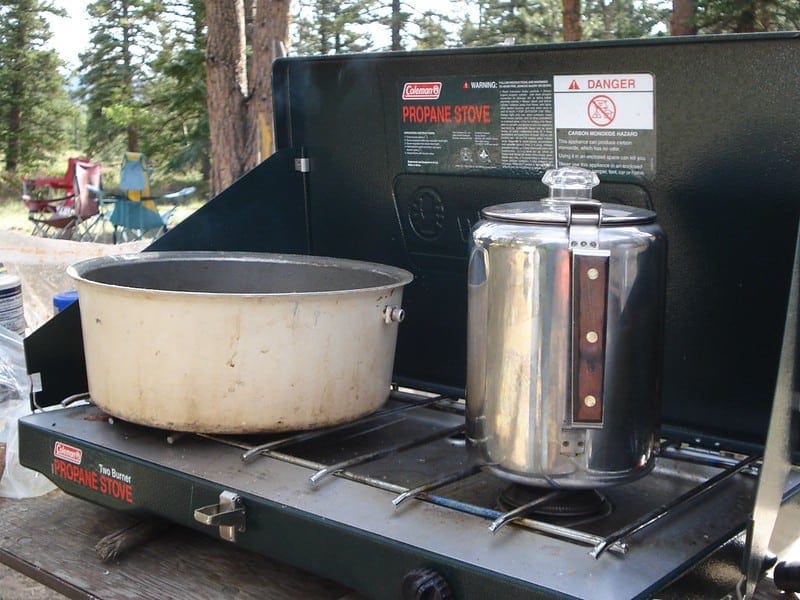 The Knob
Do you like to watch your coffee brew? Many percolators feature see-through knobs on the lid so that you can see when your coffee has finished brewing. Glass knobs are attractive and expensive-feeling, but keep in mind that they'll have to resist the high temperatures of steam, and may be likely to break. If this happens, you may need to shop around for replacement knobs, as most companies do not sell official ones.
Plastic knobs are harder to see through and less attractive, but significantly more durable. If you're concerned about breakage, you may prefer a percolator with a plastic knob or no knob at all.
The Filter
Perhaps the most important feature of your percolator, the filter determines the quality of coffee you can brew. A great filter will have small holes, just large enough to allow water to seep through. Too large, and your filter will let coffee grounds through, creating a silty cup of coffee. If you dislike that texture, you may have to purchase paper filters.
The Heat Source
Would you rather skip the stove? You may want to look at electric percolators. Are you shopping for a camping trip? Check out our guide to the best percolators for camping.

Conclusion
The bottom line? Our pick for the all-around best stovetop coffee percolator is the durable stainless steel Coleman percolator, with a high capacity and an elegant design. If you have a smaller budget to work with, give the simple, durable Farberware Yosemite a try. The low price point and lifetime warranty may just make this streamlined model your pick.
With so many options available, finding the best stovetop percolator for you can be a tricky and time-consuming proposition. We hope that our reviews of the eight best stovetop percolators, plus a few tips on their best features, help you choose between the wide range of models. Whether you want stainless steel or glass, a plastic knob or a glass one, we've got you covered. Now it's time to get shopping!
STILL LOOKING? Choose from our list of the 10 best coffee percolators.