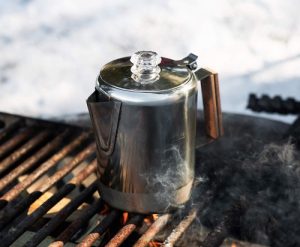 There's nothing quite like crawling out of your tent and being greeted by a rich, freshly brewed cup of coffee. To make this happen, you'll need a camping-friendly coffee maker, such as a percolator. Since resources are limited in a camping environment, be sure your percolator is as efficient as possible and tailored to your needs.
Picking the ideal camping percolator can be difficult, with all the factors that need to be considered. To help you shop, we tested and reviewed the eight best percolators for camping, looking carefully at each model's design, durability, and weight. We hope this guide helps you find your new favorite camping coffee maker.
Other camping gear guides: A roundup of the 5 best camping French presses of the year.
---
A Glance at the Winners of 2023
Image
Product
Details

Best Overall

GSI Glacier Camping

Durable
Easy to carry
Lightweight

Best Value

Farberware Classic 8-Cup

Sturdy
Affordable
Easy to clean

Coletti Bozeman

Well-built
Produces large amounts of coffee
Preserves natural taste of coffee

GSI Outdoors 8-Cup

Durable
Rust-resistant
Full warranty

Primula Today 9-Cup

Works with most heat sources
Sturdy
Ergonomic handle
The 8 Best Percolators for Camping
1. GSI Glacier Camping Coffee Percolator – Best Overall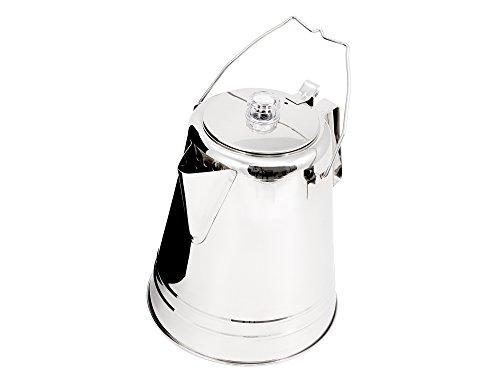 The GSI Outdoors Glacier Stainless Coffee Percolator is made of heavy-duty stainless steel material, so you can be comfortable using it in any type of environment without worrying about damaging it. The device has a mirror-like polished appearance. Despite the fact that it's not made of glass, it still looks stylish and elegant.
With the preview knob, you can test your brew strength, so you can make your coffee exactly the way you want it. The percolator includes an inner filter basket, so there's no need for paper filters that must be thrown away after use.
Despite its durable material, the percolator only weighs one pound; it will, therefore, be easy to carry around. It also comes with a full manufacturer's guarantee, so you're definitely getting your money's worth. The only problem with this model is that the clear plastic knob isn't as sturdy as we'd like.
The bottom line? This is likely this year's best coffee percolator for camping. We loved it and we think you will, too!
Pros
Durable
Lightweight
Easy to carry
Full guarantee
Stylish
---
2. Farberware Classic 8-Cup Percolator – Best Value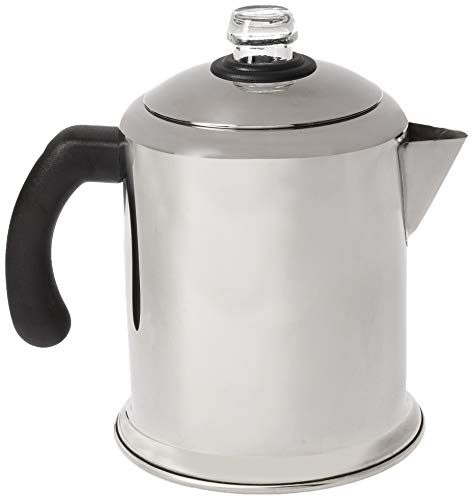 The Farberware Classic Stainless Steel 8-Cup Coffee Percolator has a simple yet appealing design. It's made of durable stainless steel; this will allow you to use it for years before the need for replacement arises. The stainless steel also enables you to use it in camping environments without breaking or shattering it. With all that said, we think this is the best coffee percolator for camping this year.
The percolator comes with a filter basket, to avoid the hassle of changing filter bags regularly. It can produce about eight cups of coffee in one round. The interior is made of non-reactive material to preserve the original taste of coffee.
The device is dishwasher-safe and easy to clean manually, along with being very affordable. On the downside, the plastic knob on top of the lid can melt, and the percolator produces coffee relatively slowly.
Pros
Durable
Affordable
Easy to clean
No need for filters
---
3. Coletti 'Bozeman' Camping Percolator Pot
The Coletti "Bozeman" is a stylish stainless steel percolator with a glass top. It's designed to produce nine cups of coffee in one round; it is therefore a relatively large percolator.
The handle is sturdy and ergonomic, and the percolator's rugged design allows it to withstand hot flame and other harsh environments. The inside is designed to preserve the rich natural taste of coffee. The percolator is also dishwasher-safe and can be manually washed with ease.
Since it produces more coffee than many other percolators, it's rather heavy. This could be a dealbreaker because when camping, it's essential to avoid packing heavy objects. The percolator also doesn't come with a filter basket, so you will need filter bags.
Pros
Durable
Produces large amounts of coffee
Stylish
Preserves natural taste of coffee
---
4. GSI Outdoors 8-Cup Percolator
The classic-looking GSI Outdoors 8 Cup Percolator is made of durable steel, with a layer of colored enamel coating to prevent rusting. The three-ply construction allows maximum heat distribution for even cooking, and it makes the device resistant to breakage.
The percolator weighs 1.3 pounds, so it's rather light, and it comes with a full manufacturer's warranty.
The knob on top of the lid isn't properly fitted; it slips off constantly during the percolating process. The lid isn't properly constructed, so it doesn't open fully. The handle's not sturdy, so it may cause you to spill coffee when the percolator is full.
Pros
Durable
Rust-resistant
Lightweight
Full warranty
Cons
Knob not properly fitted
Handle isn't sturdy
Lid doesn't open fully
---
5. Primula Today 9-Cup Coffee Percolator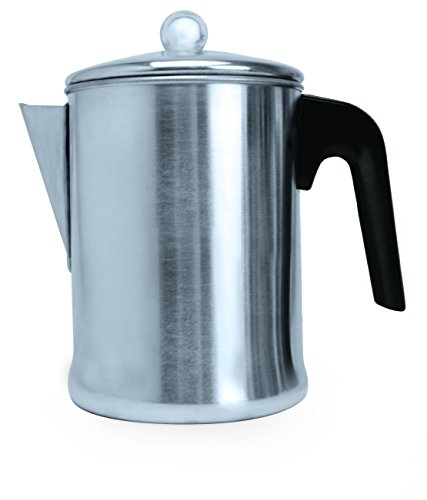 The Primula Today 9 Cup Coffee Percolator is relatively large, with the capacity to produce nine cups of coffee. It's therefore relatively heavy. It's made of aluminum material that's lightweight and durable.
It has a clear round knob on top of the lid to enable you to check the brewing progress, and an ergonomic plastic handle. This percolator works with almost any heat source, except induction. The design is simple and rustic, thus making it user-friendly.
The inside of this percolator begins to stain after the first use, and it takes longer to get the water to boil.  The material should be improved, because the percolator is prone to leaking at the bottom. Although it's made to produce nine cups of coffee, it only produces about four to five cups in one round.
Pros
Works with most heat sources
Ergonomic handle
Durable
Cons
Heavy
Leaks after a few uses
Interior staining
---
6. Stanley Cool Grip Camp Percolator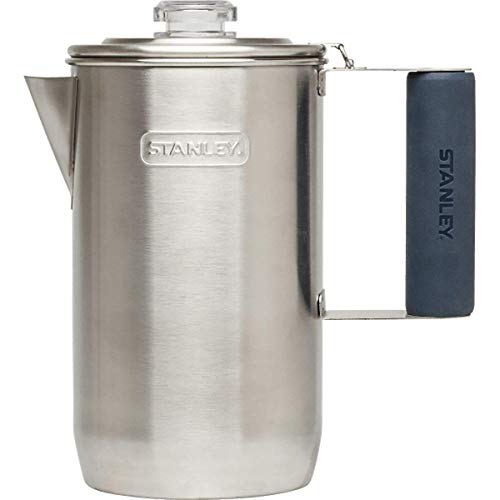 The Stanley Cool Grip Camp Percolator is great for group camps, where quantity is preferred over looks. This percolator is rather plain in appearance; however, it's made of strong stainless steel, which contributes to its durability.
Although the stainless steel makes the device durable, it also adds to its weight, making it a relatively heavy percolator, with a large capacity. The handle has a rubber part in the middle. While this is ergonomic, the handle also protrudes too far out; this reduces the percolator's ability to be compact.
The lid doesn't close fully, which may cause you to spill coffee. The handle is not very tight, making gripping a bit uncomfortable. The plastic knob on top of the lid slips off rather easily, an issue that most percolators seem to experience.
Pros
Durable
Ergonomic handle
Large capacity
Cons
Not compact
Heavy
Lid doesn't close fully
Handle isn't sturdy
---
7. Chinook Coffee-Percolator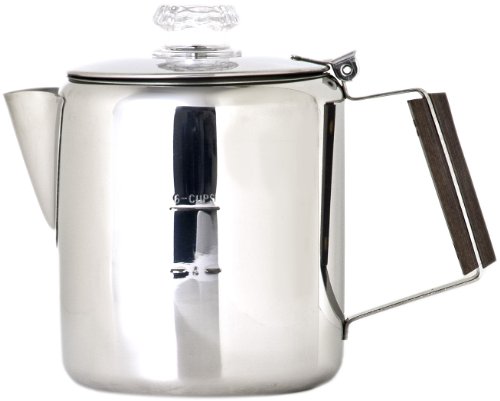 The Chinook 41115 Coffee Percolator is made of polished stainless steel, to make it durable. It produces about six cups of coffee in one round; it's therefore a small percolator that would be ideal for two to three campers. The ergonomic handle is made of heat-insulating permawood. The percolator is easy to use, and it's dishwasher-safe.
The shortcomings of this percolator lie in the plastic knob, its speed, and its overall structure. Just like most of the percolators mentioned above, the plastic knob is not fitted properly. The handle is a bit loose, so it may cause you to spill coffee. Although the device is made of durable material, it stains easily on the inside and outside, especially when placed on a very hot flame.
An aspect of this device that you may consider a real dealbreaker is the speed at which it brews coffee. The average speed of a percolator is between five to twenty minutes, yet this one needs a minimum of 25 minutes to brew coffee properly.
Pros
Ergonomic handle
Easy to use
Cons
Stains easily
Slow
Small
Knob isn't fitted properly
Handle is slightly loose
---
8. Winterial Compact Percolator Coffee Brewer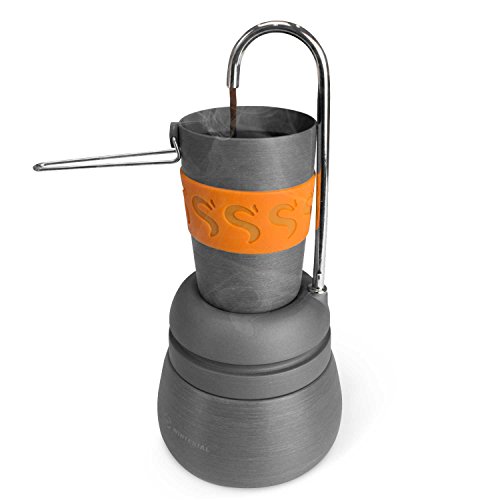 The Winterial Compact Percolator is not designed in a conventional way; however, it's easy to use. It's made of lightweight, durable material that can withstand harsh environmental conditions and hard surfaces. Although it only produces two cups of coffee, it does so in five minutes.
This percolator appears to be very efficient; however, the rich taste of coffee is compromised to brew the coffee faster. Additionally, washing it is not a simple process.
The brewing process of this percolator is very messy, as it begins to shoot coffee uncontrollably towards the end of the process. It's definitely not worth the money, because you sacrifice both quantity and quality of coffee by using it.
Cons
Produces little coffee
Taste of coffee is compromised
Difficult to clean
Messy
---
Buying Guide: Choosing the Best Coffee Percolator for Camping
There are many camping coffee percolators available on the market, and many of them promise quite a few features. It's therefore up to you to make a sound decision on which coffee percolator is right for you. We recommend considering the following features.
SEE ALSO: A rundown of our favorite beans for brewing percolator coffee.
Quality
Camping is not as neat and user-friendly as your kitchen. Be sure your percolator is able to withstand various weather conditions, hard surfaces, and being placed directly on a flame. This can only be achieved if the percolator is made of durable hard material.
Although you might be tempted to purchase a glass percolator, it won't do well in a camping environment, because it's susceptible to breaking. A stainless steel percolator is more suited for camping, because the material means longer use without any risk of breaking. Additionally, the handle should not only be ergonomic, but also sturdy.
Opt for a percolator with a warranty, as this is often an indicator that the device is of high quality.
Water capacity
The water capacity is an indicator of the amount of coffee you can brew in one go. This is often indicated in ounces. Resources are often limited when camping. You should, therefore, minimize use of resources as much as possible. A good way to achieve this is by having a coffee percolator that can produce enough coffee for everyone in just one round.
A related comparison: How does a percolator compare to a drip coffee maker?
Speed
It's practically impossible to match the speed of making instant coffee with a coffee percolator because doing so will affect the flavor. However, this doesn't mean you should settle for a percolator that produces coffee slower than a turtle on a beach. The brewing speed will often be indicated on the package.
User-friendliness
Your chosen percolator should be simple enough that you don't require a manual to figure out how to use it.
Size and weight
An ideal camping percolator should be lightweight so as not to weigh you down when walking to your camping location. If you're going camping, you should pack lightly. For this reason, get a percolator that's relatively small in size, yet produces a desirable amount of coffee.
SEE ALSO: A breakdown of our all-time favorite camping coffee makers (which also includes french presses, pour-overs and more)

Conclusion
Based on the product reviews above, it's evident that the most efficient percolator is the GSI Outdoors Glacier Stainless Coffee Percolator. Its only shortcoming is the non-sturdy plastic knob. The Farberware Classic Stainless Steel 8-Cup Coffee Percolator is almost as efficient as our first choice, except it produces coffee more slowly. However, if you're looking for a good quality, affordable percolator, it would be great, because it's labeled "best for the money."
Hopefully, with the help of our reviews and buyer's guide, picking the best camping coffee percolator won't be a difficult experience. Enjoy your perfectly brewed camping coffee!
You might be interested: When Was the Coffee Percolator Invented?