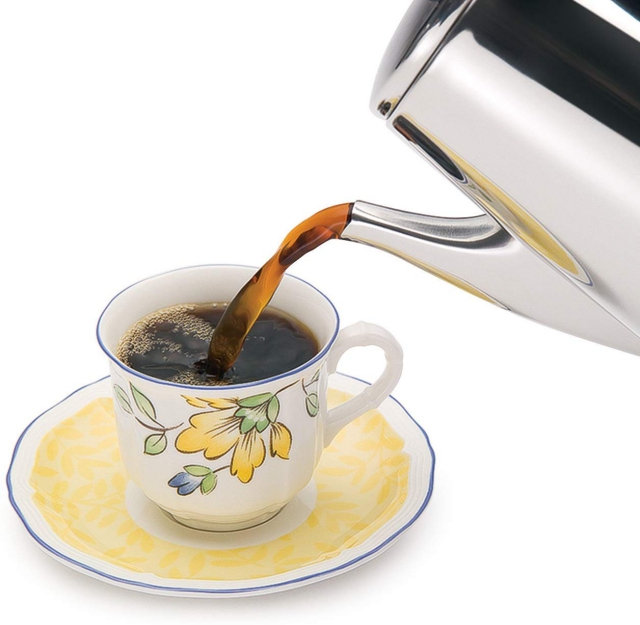 The coffee percolator is considered a throwback by today's standards. Since its humbling beginnings in the early 19th century, the percolator has endured the passage of time with upgrades along the way. It was a favorite method of brewing for nearly a hundred years until Mr. Coffee's drip coffee maker became a household name.
It's possible that the coffee-lovers of today will have a sentimental reason for choosing the percolator over many other methods of preparation. While a percolator is straightforward and easy to use, today's fan probably remembers growing up with a percolator on the stove as their parents awaited the goodness bubbling within.
Landing in the 21st century, the electric percolator is a basic device that can be controlled by Alexa or a simple lamp timer plug-in – and one that still delivers a fresh-brewed cup of Joe. We've put together this guide of reviews for our top seven electric percolators.
---
A Quick Glance at our Favorite Choices in 2023
Image
Product
Details

Best Overall

Hamilton Beach Electric

Short brewing time
Detachable cord
Affordable

Best Value

Mixpresso 10-cup

Stainless steel construction
Easy to clean
Extended warranty

Presto 12-Cup

Stainless steel
Removable cord
One-year limited warranty

Euro Cuisine 4-cup

Stainless steel
Easy to clean
Warming option

Farberware 4-Cup

Compact
Stainless steel
Detachable cord
The 7 Best Electric Coffee Percolators
1. Hamilton Beach Electric Coffee Percolator – Best Overall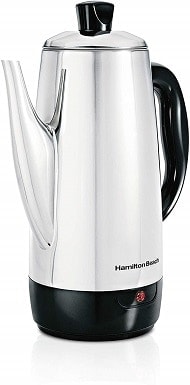 The Hamilton Beach 12-Cup Electric Percolator is a well-constructed, dishwasher-safe model with a short brewing time of less than a minute per cup. It has a ready-to-serve light and a gentle, warm setting, allowing you to enjoy your coffee throughout the morning without burning.
Keep in mind that you want to use coarse coffee grounds with a percolator unless you're using a basket filter. The basket in this model has large slots and having a mouthful of coffee grounds is not what you want. With any electric appliance, if you notice an issue with the GFCI tripping, make sure you don't have too many things running off the same breaker. Some have noticed an issue with the internal thermostat on this percolator. While many have figured out how to fix it themselves, you may not want to deal with that potential fix if you're unfamiliar with electrical systems.
With all of the positives of this model plus the price point, it's a good value for the money and our choice for the best electric coffee percolator.
Pros
Affordable
Short brewing time
Warm setting
Easy to clean
Detachable cord
Cool-touch handle
Cons
Interior thermostat issue
No auto-shutoff
Large slotted basket
---
2. Mixpresso 10-cup Electric Percolator – Best Value
The Mixpresso Electric Coffee Percolator makes two to ten cups of coffee. This dishwasher-safe percolator has a ready-to-serve indicator and a keep-warm setting. It also has a water window on the handle so you can see the levels.
If you're in a rush and notice your coffee doesn't seem hot enough, remember to use cold water only. Using cold water tricks the thermostat into perking a little longer and will make your coffee hotter. With a lower price point, it may not last as long as you'd like; however, an extended warranty is offered when you purchase.
Although it's made of stainless steel, there's a concern regarding the quality of the steel. Some have noticed rust issues on the internal parts over time. There is also no automatic shut-off, so be prepared to do so.
Overall, this is our top choice as the best electric coffee percolator budget buy. Costing less than our top pick, this is a good value for the money, especially since it's easy to clean and has an optional extended warranty.
Pros
Stainless steel construction
Keep warm setting
Detachable cord
Easy to clean
Extended warranty
Cons
No auto shut-off
Large slotted basket
---
3. Presto 12-Cup Stainless Steel Percolator
The Presto 12-Cup Stainless Steel Coffee Maker makes two to twelve cups, has a removable cord, and is easy to clean. It has a short brewing time (at less than a minute per cup) with a ready to serve light. The filter basket and tube are made of stainless steel.
If you enjoy washing dishes, this is the percolator for you. The cord is not removable and the pot is not dishwasher safe. Wash gently and do not immerse in water. The internal parts can be cleaned with a brush or pipe cleaner.
Many have noted that this coffee maker is solidly built. If you're willing to put in the elbow grease for piping hot coffee, this may be the one for you. Presto also offers a one-year limited warranty.
Pros
Stainless steel
Removable cord
One-year limited warranty
Cons
Not dishwasher safe
No warming mode
---
4. Euro Cuisine 4-cup Electric Percolator
The Euro Cuisine PER04 Electric Percolator has a compact design for those who don't need a large capacity. It has a stay-cool bottom with a warming option and internal parts constructed of stainless steel. The cord is removable and the pot is dishwasher-safe, making this smaller model easy to clean.
As the most expensive percolator we reviewed, the price of this model keeps it further down on our list. It's also recognized that the plastic handle isn't durable and will come loose over time.
This model does have a throwback feature not seen on many percolators: the knob on top is glass – just like the old days. If you were mesmerized as a kid, watching the water bubble in the glass, this pot may be for you.
Pros
Stainless steel
Easy to clean
Warming option
---
5. Farberware 4-Cup Coffee-Percolator (Electric)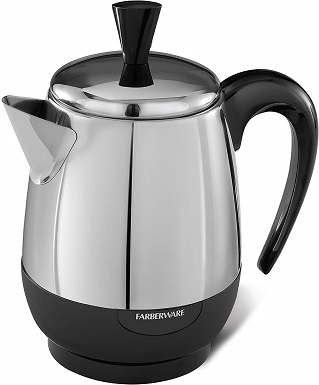 The Farberware 2-4-Cup Percolator is also a compact model with an exterior made of stainless steel. It has a quick brew time and a keep-warm function. It's important to note on this model that one cup equals five ounces, making this perfect for singles.
Although the cord is detachable, this choice is not dishwasher-safe. With a plastic knob on the lid and no indicator light, you may have guess when the coffee is ready to pour. There are noted issues with the lid popping off while coffee is percolating. You will want to use caution until you know how your particular pot will perform.
Pros
Compact
Stainless steel
Detachable cord
Cons
Slightly pricey
Low durability
---
6. Elite Platinum 12-Cup Percolators
The Elite Platinum EC-120 Maxi-Matic is a budget-friendly version brewing up to 12 cups at a time. The cord is not removable but does have cord storage on the heating base. It has a ready indicator light, but no auto shut-off. The internal parts are stainless steel.
There may be a durability issue with this model landing it near the end of our list. There has been an issue noted with the electrical connection popping off and the bottom of the pot that attached to the base easily comes loose. Although the price point is low, it's not the most inexpensive on the list.
Pros
Budget-friendly
Stainless steel internal parts
Separate heating base
Cons
Low durability
Nondetachable cord
Longer than average brewing time
Must unplug to turn off
---
7. Cuisinart Classic 12-Cup Stainless Steel Percolators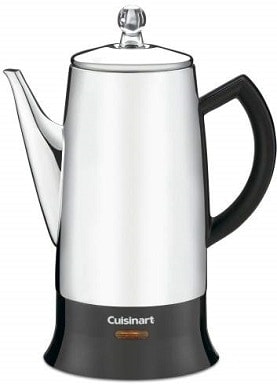 Last, but not least, the Cuisinart PRC-12 Classic Percolator is constructed of stainless steel, including the internal parts. It has a four to twelve cup capacity. At a higher-than-average price point, this model has a keep-warm option with a stay-cool base and a detachable cord. Recognized as a quiet percolator, you can enjoy the silence as you watch it perc through the transparent, plastic knob on top.
Noted as having a short perc cycle, the resulting coffee may be weaker than you expect. Although the manufacturer provides a three-year limited warranty, the overall durability is questionable.
Pros
Affordable
Keep warm option
Cons
Low durability
Short perc time
Plastic knob
No auto-shutoff
Non-detachable cord
Poor customer service
---
Buyer's Guide – Picking the Best Electric Coffee Percolator
A few items to consider when purchasing an electric percolator are construction, cleaning, and value.
Construction
With so many options available, you'll want to pay attention to the materials used in the construction of the percolator. Often times, you will see three main components: aluminum, plastic, and stainless steel. No one wants to grab a hot handle when pouring coffee, yet plastic handles of less expensive quality won't stand up to time. The internal parts, if made of aluminum, can rust and deteriorate, as well. When researching options, be aware of the construction of the pot and potential durability issues.
Cleaning
Constantly being pushed for time, everyone wants an easy way to clean things up. Options to consider would be a detachable cord, construction material, and safety in the dishwasher. While you may not mind hand-washing your coffee pot, it will be important to know if the internal parts may rust over time or if the pot can be immersed in water.
Value
Many options are budget-friendly and made to last a long time. You'll want to get the best value for your money. Doing your research and feeling assured in the value you're seeking, you'll be able to find the perfect percolator for your kitchen.

Conclusion
If you are considering bringing a little nostalgia with modern convenience into your kitchen with an electric percolator, we've provided you with some guidance to get you started with our top seven reviews. Our top choice, the Hamilton Beach 12 Cup Electric Percolator, has a quick brew time without compromising flavor and is easy to clean. Our runner-up is also our Best Budget Buy. The Mixpresso Electric Coffee Percolator is durably constructed and dishwasher safe. We've also reviewed smaller capacity models to fit your budget, as well. At this point, you may have an idea of which direction you'll choose, and some paths may lead you back to memory lane. Enjoy the nostalgia and keep on brewing!
We also recently looked at which coffee blend is best for making percolator coffee. See our findings here! And see our list of the overall best coffee percolators!
SEE ALSO: Our favorite stovetop percolators this year
---
Featured image credit: MadameYavi, Pixabay