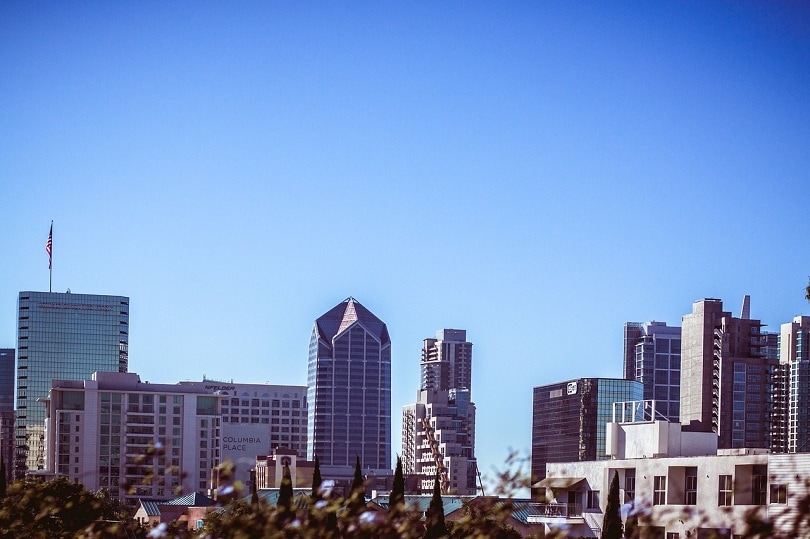 If you're a coffee lover in California, San Diego is becoming one of the best places to go for delicious coffee and a wide variety of specialty coffee shops. It hasn't always been a center for diverse and rich coffee culture, but the third-wave coffee movement has taken the coastal city by storm over the past few years. It has quickly become a West Coast mecca for coffee.
Whether you live in San Diego or are just visiting, we strongly recommend you experience the variety of coffee shops and the massive selection of coffees from around the world that are available there. Below are 18 of our favorite coffee shops in San Diego that we think should be at the top of your to-do list anytime you're in the area!

The 18 Best Coffee Shops in San Diego:
1. Better Buzz Coffee
Better Buzz Coffee has eight locations in San Diego, so you can't miss them, and you won't want to! Their shops are filled with elegant-yet-rustic decor and furniture that offers a very welcoming and cozy environment. The baristas are extremely friendly as well, and they're happy to share their passion with you.
Better Buzz serves a delicious variety of coffee beverages to suit any coffee lover's taste. They also serve pastries and breakfast for those looking for a little sustenance to go along with their caffeine fix.
---
2. Bing Haus
Bing Haus is where coffee meets ice cream in a delicious and unforgettable way! They serve hand-crafted coffee beverages with coffee from the local Bird Rock Coffee that is sure to impress, and the baristas there are abundantly friendly and happy to carry on some delightful conversation while they prepare your coffee.
We found ourselves returning not only for the great coffee but also for the unique ice cream pairings. Their offerings are exciting and complex, and they pair beautifully with their espresso and coffees.
---
3. Bump Coffee
Bump coffee is a small, walk-up coffee bar in Cardiff-by-the-sea, and what they lack in seating, they more than make up for with their tasty coffee. Pour over fans will love Bump Coffee in particular, as the baristas have perfected the art of manual brewing. The shop is tiny but beautifully decorated, and we strongly recommend it for a coffee-to-go.
They also have CBD available as a side or addition to your coffee, and they serve empanadas made in-house that will blow you away.
---
4. Steady State Roasting Co.
We love the atmosphere at Steady State Roasting Co., with its gorgeous, modern decor and bold honeycomb bar. There's a sense of excitement and high energy in this small coffee shop, and we can't get enough. The baristas here will be just as excited to make your coffee and chat as you'll be to try their stellar coffee selections.
The energetic feeling here probably has something to do with their transient menu of unique and intriguing coffee concoctions. We return frequently and are always pleased to find something new and exciting on their menu.
---
5. Copa Vida
Copa Vida has a few different San Diego locations, and you won't wonder why it's so popular once you step inside. Their shops are extremely elegant, beautifully modern, and notoriously clean and crisp. You'll feel energized by the atmosphere even before you ingest any caffeine. The delightfully simple black and white motif in their decor just makes you feel comfortable and pampered, and we can't get enough.
Their coffee offerings are out of this world. They have a wide variety of styles and flavor profiles available, so you're bound to find something you love. They also serve freshly baked bread and have a tasty menu for breakfast and lunch.
---
6. The Grounds Bean Bar
Just a few blocks from the ocean, The Grounds Bean Bar is a small coffee bar where you're likely to find great conversation and wonderful people on both sides of the bar. The decor is calm and relaxed, the baristas are inviting and friendly, and even their customers are welcoming.
This bar offers delicious coffee and some trendy concoctions like turmeric lattes, so whether you're in the mood for a delightful and complex black coffee or something a little more adventurous, this bean bar won't disappoint!
---
7. La Colombe
You've probably heard of La Colombe regardless of what state you live in, and their location in Westfield UTC in San Diego will prove that they deserve to be a household name. With stunning industrial decor and a subdued but energetic atmosphere, this is one of our favorite places to go for some delicious coffee while working.
Their baristas are incredibly knowledgeable and happy to share their craft with you, and the coffee they make — specifically the pour over — is some of the best in town. It's located in the UTC mall, making for the perfect morning pitstop before afternoon shopping or errands.
---
8. Scrimshaw Coffee
Scrimshaw Coffee is the place to go if you're looking for engaging discussions and delicious coffee. The baristas here are happy to carry on exciting conversation, and the shop has open seating that encourages customers to chat amongst themselves. Spectacular, locally-roasted coffee is bound to fuel some of the best dialogue in this coffee shop.
Scrimshaw also sells some light breakfast food and pastries in case the human connection and stellar coffee aren't quite enough for you!
---
9. Moniker Coffee Co.
Moniker has a few different locations throughout San Diego, but no matter which you choose to visit, you're likely to find the most Instagram-friendly coffee shop you can imagine. With beautiful, clean decor and incredible latte art, you might not even realize that the coffee is some of the most delicious in the city.
Moniker has a great variety of coffee concoctions to suit any taste, and it offers cozy seating nooks for great conversation or a bit of privacy while you work. The baristas here are also friendly and inviting, so you'll feel at home whether you're there for business or pleasure.
---
10. James Coffee Co.
James Coffee Co. has a few locations, but "the Space," their coffee bar in Little Italy, is our favorite. It's located in a large, open building surrounded by a myriad of cool little shops, so it gives you a sense of coziness and community all in one. The decor is industrial, so you'll feel energized and excited even before you get your coffee.
The baristas are knowledgeable and friendly, and they make you feel like you're their only customer. They're welcoming and happy to chat while they expertly prepare your coffee for you.
---
11. Revolution Roasters
Revolution Roasters roasts their own coffee to perfection, and they excel at highlighting the natural flavor profiles of beans from different regions around the world. They roast in small batches and use freshly roasted beans to prepare your coffee expertly. The baristas are knowledgeable about their coffee creations from farm to cup, and they're happy to chat about their mutual coffee obsession while they craft your cup.
The decor is simple and understated, so the atmosphere is relaxed and casual, and the delicious coffee and exciting conversation speak for themselves.
---
12. Holsem Coffee
Holsem has a few locations in California, all of which are gorgeously decorated with elegant and modern decor. There's a coziness to the cement flooring and marble countertop that will make you feel welcomed from the moment you walk in. The friendly baristas help to make you feel at home as well.
Holsem serves delicious coffee and tea concoctions, and they make their flavored syrups and even some of their milk options in-house. They serve homemade pastries and food as well, so the entire experience is unique and delightful.
---
13. Coffee & Tea Collective
As the name suggests, Coffee & Tea Collective serves a variety of caffeinated beverages ranging from a perfectly crafted pour over to homemade iced teas. You can enjoy a delectable drink of your choice while sitting inside in their postmodern seating area or take it to-go and enjoy the sun.
The baristas here are incredibly welcoming and are always willing to engage in some intriguing conversation. It's the kind of place where we wouldn't be surprised if they knew our names on our second visit.
---
14. Ironsmith Coffee Roasters
Ironsmith is all about consistency and delicious coffee, two of our favorite things to start our mornings! They use digitally monitored coffee roasters for precise and consistent roasting, and their baristas have dialed in the best brewing practices for some of the most delicious coffee you'll experience. Every coffee beverage is made with care by a coffee professional who always seems happy that you're part of their day.
The decor is modern, and the atmosphere is just a little bit hectic, probably because there are always plenty of customers waiting to order. If you don't mind a bit of a wait, we strongly recommend getting some of Ironsmith's delicious coffee to brighten up your day.
---
15. Zumbar Coffee & Tea
Zumbar is one of those coffee shops that you never forget, probably because they source coffee directly from small farms, choose beans specifically for their intense and complex flavor profiles, and have a hand in every portion of the coffee they produce. They create fantastic coffee with a variety of brewing methods, so you're sure to find something you love. We recommend the nitro cold brew coffee for a smooth and delectable mouthfeel and flavor profile.
The baristas are abundantly friendly and outgoing, and they're happy to serve you fantastic coffee or some light fare like pastries and bagels.
---
16. Bird Rock Coffee Roasters
Bird Rock Coffee Roasters are dedicated experts at roasting and preparing coffee. They have different coffee options every time we visit, and they offer some of the rarest coffees we've seen in San Diego. Not only can you get unique coffees from around the world here, but you'd also be hard-pressed to find a coffee shop that roasts them better than Bird Rock. Their coffee prowess extends to brewing as well, and their pour-over is some of the best in the city.
The baristas are very friendly and passionate about their craft. Although the shop is small, you can usually find some great company and conversation inside or outside on the patio.
---
17. Bay Park Coffee
Bay Park Coffee sources their beans from another roaster on our list, Zumbar Coffee. The coffees they serve are delicious, and while they don't roast their own beans, they do offer some unique brewing options, like Vietnamese-style coffee.
Bay Park is the place to go if you're after coffee as well as delicious food. They have a pretty hearty breakfast and lunch menu that will impress you just as much as their coffee, and you'll enjoy the whole experience with baristas and customers that enjoy great conversation and camaraderie.
---
18. The Forum Coffee House
Students most often use the Forum for studying or taking a break from schoolwork altogether. The atmosphere is relaxed and comfortable, and everyone from the baristas to the student customers is friendly, welcoming, and engaging.
The Forum offers delicious coffee made from Cafe Moto beans. They specialize in lattes — complete with beautiful, Instagrammable latte art — and delightful breakfast and lunch options that make for the perfect fuel for studying or working.

San Diego Coffee: Conclusion
San Diego always had beautiful beaches, crisp ocean air, sunny weather, and friendly people, but in the past decade or so, numerous third-wave coffee shops have opened and brought delicious coffee creations and culture with them. Whether you're visiting for a day, a week, or you're living in the city, we strongly recommend visiting as many of these coffee shops as possible. Each offers a unique experience, great atmosphere, excellent conversation, and, most importantly, coffee that will keep you coming back for more!
More great coffee shops:
---
Featured image credit: MaxxGirr, Pixabay