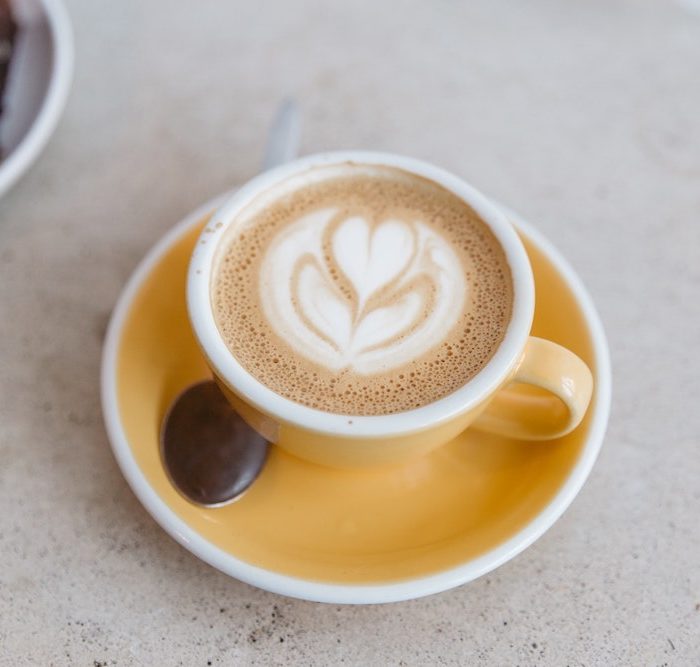 Have you ever had a truly amazing cappuccino? If you'd like to recreate that gourmet experience in the comfort of your kitchen, you're in the right place!
There are quite a few cappuccino makers available, but they're not all equally good. To help you find the best machine for your needs, we tested many models, comparing price, design, cappuccino quality, settings, and more. We hope this in-depth guide helps you make the right selection without spending too much time researching.
If you still have questions, stick around for our buyer's guide at the end. And trust us, you'll be sipping mind-blowingly good cappuccinos before you know it!
---
A Quick Glance at the Winners of 2023
Image
Product
Details

Best Overall

Breville the Barista Express

A satisfying 9 bar of pressure
All-in-one grind & brew convenience
Temperature control

Mr. Coffee Café Barista

Easy milk steaming, especially for beginners
Powerful 15 bar pump
Quick-heating boiler

Best Value

Mr. Coffee Café Steam Coffee Maker

Great exterior
Solid entry-level model
Impressive 15 bar of pressure

For Keurig Fans

Keurig K-Café

Easy to use and clean
Simple milk frothing
Quick operation

For Nespresso Fans

Nespresso Vertuo Evoluo

Quick operation
Easy, intuitive pod operation
Large reservoir
The 8 Best Cappuccino Makers
1. Breville the Barista Express Espresso Machine – Best Overall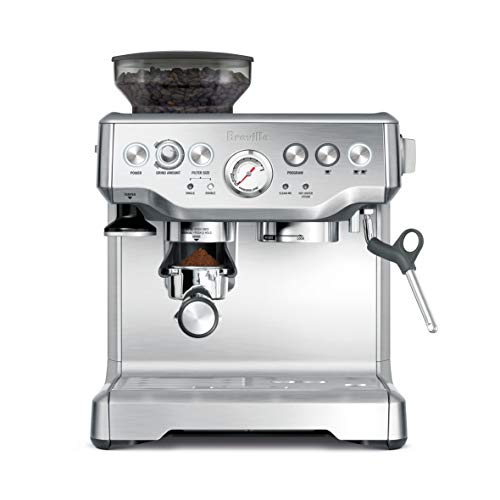 Our top pick is this great model by Breville. Unlike Breville's highest-end model, the Barista Brain, the Barista Express doesn't focus on extensive automation, but it more than overcomes this thanks to its incredible range of capabilities.
This machine takes advantage of its integrated grinder and boasts dose-control. This means that your shots will always be pulled beginning with just the right amount of coffee grinds. The Barista Express offers a digital temperature control feature to maximize extraction. It also includes a pre-infusion cycle when pulling shots. It's features like this that push this machine forward as our top pick.
But this machine brings this laser-like focus to more than just pulling shots. Frothing milk will also be easy thanks to the great features packed into this Breville. The milk wand works great and will be more than suitable for creating pearly milk, ready for latte art. This frothing is important, because what would a cappuccino be without its foam?
All in all, we think this is the best cappuccino maker available this year.
Pros
A satisfying 9 bar of pressure
All-in-one grind & brew convenience
Temperature control
Cons
Steam wand can leak a little if not properly flushed before use
Relatively large footprint
Maximum two shots at once
---
2. Mr. Coffee Café Barista Cappuccino Maker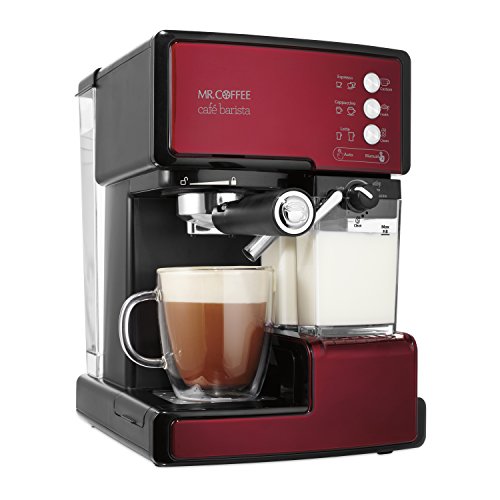 This machine by Mr. Coffee is similar to the Breville in a lot of ways, but one crucial difference stands out: the Café Barista does not include a grinder. This means you'll need to purchase an accompanying grinder if you're after the freshest possible shots. But this Mr. Coffee machine is still our runner-up for the year, thanks to its other great features.
It has a powerful 15 bar pump, and it can easily get to within the 175-177 degrees Fahrenheit temperature range that's ideal for extracting strong espresso. With its simple single-button operation, you'll be able to easily pull satisfyingly rich shots with this machine.
When it comes time to froth milk, don't let the strange-looking milk reservoir fool you. The Café Barista comes equipped with a large milk container made from see-through plastic, but this simplifies the frothing process immensely. The transparent enclosure allows you to keep an eye on the foam production, and the large capacity lets you make occasional mistakes without worrying about creating a mess. Additionally, this container can easily be removed to chill the milk to reuse next time, or to produce some trendy cold foam.
For all these reasons, and because of Mr. Coffee's great customer service, this is our runner-up pick.
Pros
Easy milk steaming, especially for beginners
Powerful 15 bar pump
Quick-heating boiler
Cons
Simple operation may not impress those who like adjusting shots
Smaller water reservoir
No included grinder
---
3. Mr. Coffee Café Steam Espresso/Cappuccino Maker – Best Value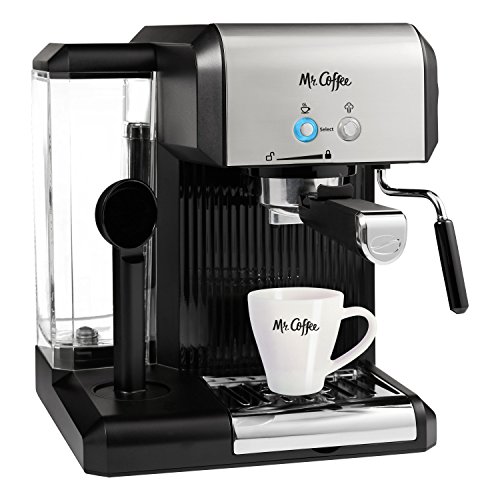 The Café Steam by Mr. Coffee is our choice as "Best for the Money," because it offers a much more economical introduction to some of the features of the Café Barista. This machine doesn't attempt to do too much, but what it does do, it does well.
Like its sibling, this model features a 15 bar pump for decent crema. Unfortunately, it does suffer from some design flaws. For example, many users report difficulties going straight from pulling a shot to steaming milk. You may need to let the machine cool down and then heat up again before being able to take full advantage of the 15 bar steam wand.
Issues such as this place this maker behind our top pick and our runner-up, but we still feel confident in selecting it as our "best for the money" pick. As an added bonus, this machine has great design. It will look striking on your kitchen counter, and it can be a great introduction for a curious home barista.
Pros
Great exterior
Solid entry-level model
Impressive 15 bar of pressure
Cons
Poorly designed heating system
Smaller reservoir
Limited availability to customize shots
A very hands-on experience
---
4. Keurig K-Café – For Keurig Fans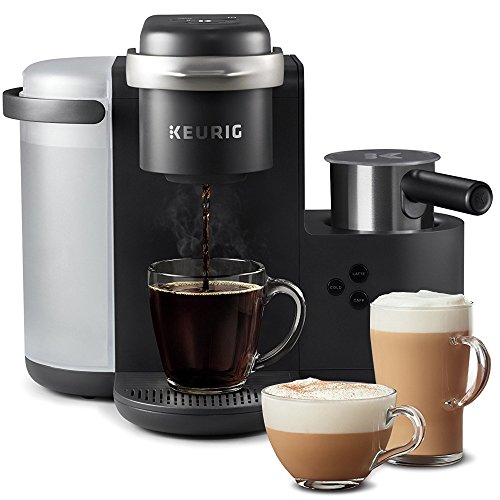 This machine by Keurig is a great choice if you don't mind a single-serving model. It's more than just any old pod-style machine. The fact that it's able to hold its own when it comes to making cappuccinos is what makes the K-Café stand out the most.
You'll be able to use any type of pod in this machine, but we recommend finding your favorite pod designated for espresso, not coffee. Of course, it wouldn't be a cappuccino with a watery shot.
While the results will stand up alongside any of our other picks, this machine is distinctly different from some of the others. It doesn't use high pressure to extract a shot. In that sense, it may be considered less than a "real" espresso machine. This Keurig model relies on prepared pods.
This machine doesn't traditionally steam milk. Rather, the K-Café froths the milk. This happens in a well-designed little pitcher, which is very easy to clean.
This Keurig model stands out as a little different from the rest. But it's a great choice for those who like these features, especially for those who are specifically interested in a single-serve machine.
Pros
Easy to use and clean
Simple milk frothing
Quick operation
Cons
Not quite a true espresso machine
No typical steam wand
Some users report electrical system issues and problems with this machine tripping circuits
---
5. Nespresso Vertuo Evoluo – For Nespresso Fans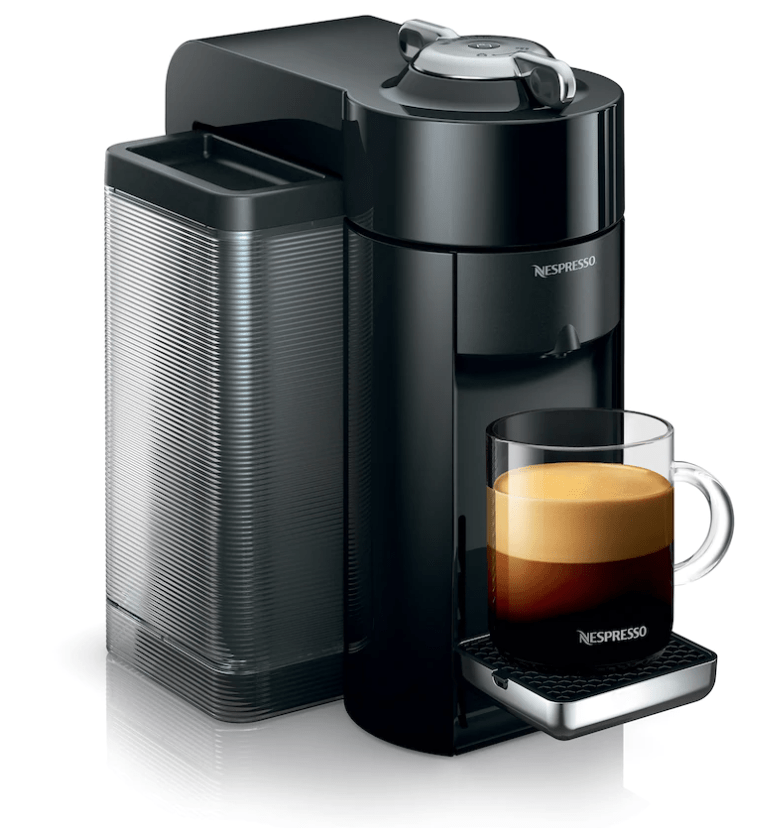 In a similar vein, Nespresso's Vertuo Evoluo also relies on pods. It's our pick for those big-time Nespresso fans, who may want to stick with what's tried and true. You'll be able to choose from a wide selection of pods, with options including espresso, double espresso, and gran lungo.
This variation is great. The Vertuo Evoluo will be able to interpret the bar code of each different pod and then adjust the brewing accordingly. This means you'll always have properly extracted coffee, though because high pressure is not involved in the brewing process, the result will not be true espresso. This may only be a small detail, though, because the machine is still quick to produce a great-tasting drink.
Unfortunately, this Nespresso machine does not come equipped with any ability to steam or froth milk. If you're looking for a way to make a true cappuccino, you'll need to invest in a stand-alone frother.
Pros
Quick operation
Easy, intuitive pod operation
Large reservoir
Cons
No steaming or frothing capability
Only compatible with Nespresso cups
Some users report problems with leaks
---
6. SOWTECH Coffee Espresso & Cappuccino Machine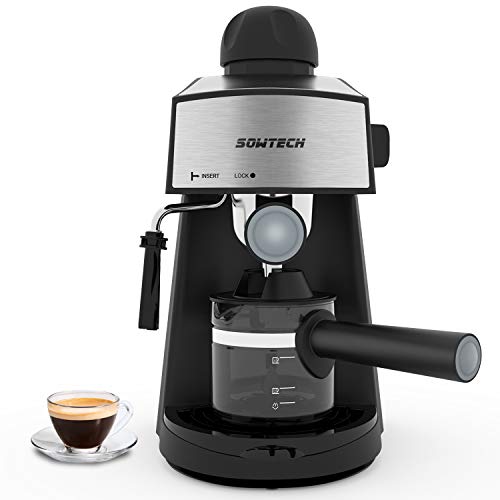 If you'd rather avoid having to use pods, this model may be a good choice for you. The 3.5 bar machine by SOWTECH is well equipped with both simple extraction features and built-in frothing.
As the name suggests, this model uses a 3.5 bar pump. This means that you may struggle to produce impressive crema, but you will still be able to pull a satisfying shot. An especially impressive feature is that it comes equipped with temperature control, which lets you brew at the ideal temperature for extraction.
The controls are especially easy. With only one knob, it will be hard to make any mistakes. This is great because everything about the SOWTECH is focused on simplicity. There are not many bells and whistles, but this machine is a solid choice for a reliable cappuccino maker. And at such a modest price point, it's hard to go wrong with the SOWTECH.
Pros
Simple to operate
Quick frothing
Four-cup carafe means you'll be able to pull some shots for guests
Cons
Modestly powerful 3.5 bar pump
Lack of customizability
Small reservoir
---
7. AICOOK Espresso & Cappuccino Brewer
The AICOOK Espresso Machine stands out as a great introductory model for a curious home barista. Like the SOWTECH, this 3.5 bar model uses a carafe under the portafilter to brew up to four shots in one go.
This machine would be a great option for someone who may be interested in making an allongé. An allongé is an attempt to split the difference between straight drip coffee and espresso. It involves letting a shot run long and fill up the cup.
But if you are intent on making a cappuccino, this machine will deliver. The AICOOK features a powerful steam wand, and – unlike the Keurig model listed above – you'll be seriously relying on your own technical know-how when it comes to mixing and texturing milk properly.
Pros
Brew up to four shots at once
Simple controls
Elegant on a kitchen counter
Cons
Not for super authentic espresso shots
Clumsy steam wand
---
8. Best Choice Products Espresso, Coffee & Cappuccino Maker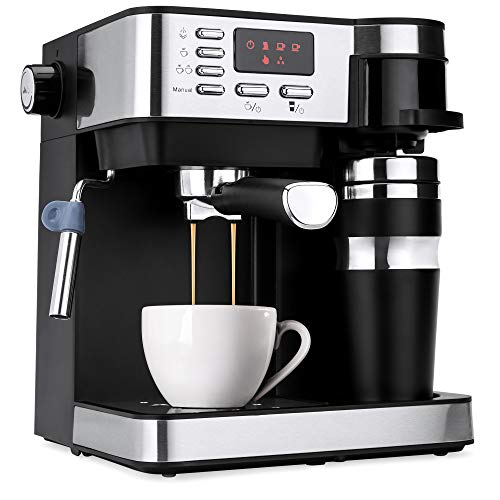 With three-in-one functionality, this Best Choice machine can do a lot. However, we've ranked it as our last choice because although it can do a lot, it doesn't do any one thing remarkably.
For example, some users may love that one machine will be able to pull a shot and produce drip coffee, but the drip function is pretty slow. This is because of the way that the pump is set up to feed into the drip unit, and it's an unfortunate oversight.
The impressive 15 bar of pressure will certainly produce satisfying crema when it comes to pulling shots. The steam wand can reliably produce a good amount of foam. This means that you'll be able to make pretty basic – yet satisfying – cappuccinos with this maker. Just don't rely on it for drip coffee.
While this machine from Best Choice Products does little to stand out in any one particular way, we're including it in our yearly picks because it does provide a great option for someone who's looking to preserve counter space and combine many functions into one simple machine.
Pros
Relatively small footprint
Three-in-one capability
Large 1.2-liter reservoir
Very powerful pump
Cons
Slow drip function
Some users report difficulties with leaks
Customer support not always reliable
---
Buyer's Guide
The three most important aspects of a cappuccino are the beans you start with, the espresso, and the foamy milk. Without any of these, you don't have a real cappuccino. It's worth taking a second to think about your morning routine, and about how each of these machines can fit into filling these three roles.
The Beans
Of course, if you're aiming for maximum freshness, you'll need to grind your beans immediately before pulling a shot. This is because of the oxidation that occurs as grinds are exposed to the air. From the moment beans are ground, the flavors begin to change, and this will affect your finished product. You'll either need to find a cappuccino maker with a built-in grinder, or a stand-alone grinder that you like.
Take a look at our first choice, the Breville Barista Express. It includes a grinder, making it a great choice for anyone who likes simplicity and an uncluttered counter. However, if you enjoy making other types of coffee – such as drip, french press, or pour over – you may want a stand-alone grinder to maximize flexibility.
The Shot
All these machines will produce reliable solid espresso, but if this is something you care especially about, keep shot quality in mind while considering them. Models such as the Mr. Coffee Barista will pull incredible shots, and perform well as stand-alone espresso machines for anyone who also enjoys straight shots and americanos.
Makers like the Nespresso Vertuo Evoluo will still make great cappuccinos, but they don't pull authentic shots. If you're not someone who will be drinking espresso plain, this might be a good tradeoff to make. Think carefully about what you'll be using this machine for most often.
Milk Foaming
The most significant aspect of a cappuccino is its foam. This is what makes the drink a delight, but everyone has subtly different preferences. For example, some people may not mind heating milk separately and then using a simple stand-alone frother to introduce air.
This is an important consideration because if you don't mind using a stand-alone frother, you might be able to save some money by purchasing a model without milk steaming (such as the Nespresso machine).
But if you do want everything combined into one machine, consider the milk functions of any model you're looking at.

Conclusion
After taking a look at all these options, hopefully, you're well on your way to making a great choice. Our absolute top pick for this year is the Barista Express by Breville, but this is closely followed by our runner-up, the Café Barista by Mr. Coffee.
For those customers interested in single-serving machines, we're especially excited about the Keurig K-Café model. The machine that we think is the best pick for the money is the Café Steam by Mr. Coffee.
We wish you luck finding the perfect cappuccino machine.
SEE ALSO: What are the best slow drip coffee makers?