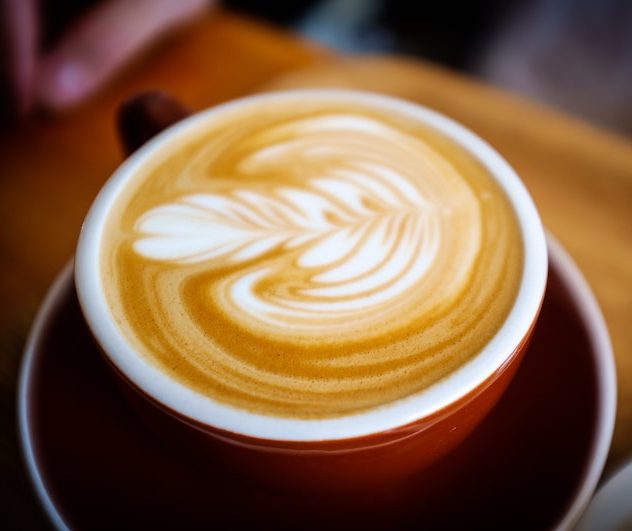 Cappuccino may use espresso as a key ingredient, but as anyone who loves the drink knows, it won't fit in an espresso cup. The cups are too small for the cappuccino's added milk foam. And if you really want to impress your friends with your coffee skills, you won't serve a cappuccino from a regular coffee mug. You'll need a set of cappuccino cups.
There are many cup styles and options out there, but not all of them are the best choice for a perfect cup of cappuccino. When you're looking for cappuccino cups, you want ones that are narrower at the base and wider at the rim. This allows for the doming of milk foam on the top. Even within these specific criteria, there are a lot of choices.
We've done the hard work for you, though, and sought out the best options for cappuccino cups on the market. We've compiled a list of our favorites and noted the pros and cons of each. Read on for our reviews of the eight best cappuccino cups.
---
A Mini Comparison (updated in 2023)
Image
Product
Details

Best Overall

Le Creuset Stoneware

Non-porous enamel finish
Durable stoneware
Dishwasher safe

Best Value

Sweese 6x Porcelain

Multiple color options
Pro-grade porcelain
Very durable

Kitchables Double-Walled Glass

Keeps coffee hot
Safe for microwave and dishwasher
Lifetime guarantee

Coffeezone Cup & Saucer

Three capacities
High-quality bone china
Dishwasher safe

Bormioli Rocco Oslo Glass

Tempered glass for durability
Dishwasher and microwave safe
Set of four
The 8 Best Cappuccino Cups:
1. Le Creuset Stoneware Cappuccino Cups – Best Overall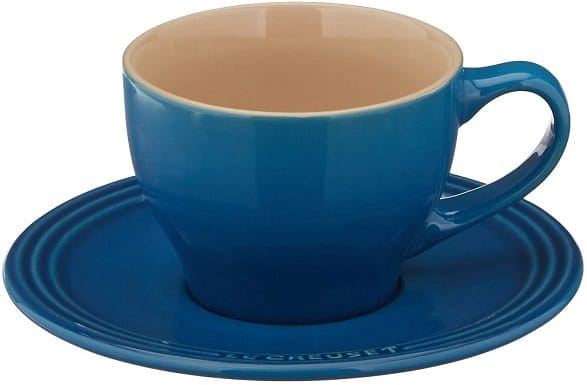 The Le Creuset Stoneware Set of 2 Cappuccino Cups and Saucers is our top pick. They're shaped perfectly–narrow at the base and wide at the rim–and they have Le Creuset's signature simple elegance. They are made of high-fired stoneware and finished with non-porous enamel, so they're very durable. The enamel has the added bonus of resisting odors, staining, chipping, and cracking. They're dishwasher safe, so very easy to clean. If you have other Le Creuset stoneware, these will match. They also come with a lifetime warranty.
The only issue is that they're a little pricey, but we feel that they're worth the added cost, especially if you already own other Le Creuset pieces.
All in all, we think that this is the best cappuccino cup in 2021.
Pros
Non-porous enamel finish
Durable stoneware
Perfect shape for cappuccino
Dishwasher safe
Matches other Le Creuset stoneware
Lifetime warranty
---
2. Sweese 6x Porcelain Cappuccino Cups – Best Value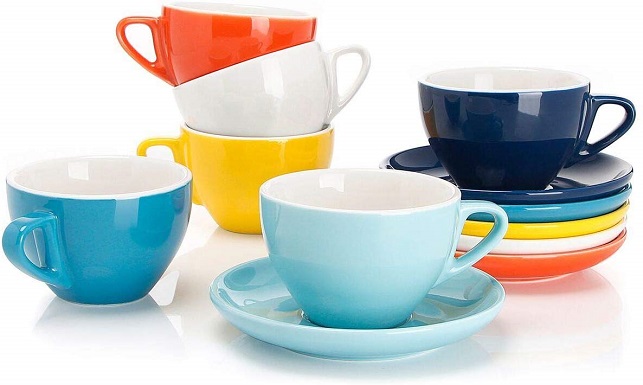 If you're looking for a larger set of cappuccino cups with saucers that are affordable, the Sweese Porcelain Latte & Cappuccino Cups with Saucers set is one of our favorites. Not only are they the perfect size and shape for cappuccinos, they also have wide rims to make them some of the best latte cups. They come in multiple color options, which is great if you're going for a particular color theme. We were impressed with their durability, as they're made of pro-grade porcelain, which is non-toxic, lead-free, very sturdy, and chip-resistant. Sweese also seems to stand behind this product by offering a 30-day no-chip warranty.
The handles are on the smaller side. Of course, that varies widely depending on your personal preference.
Pros
Multiple color options
Pro-grade porcelain
Very durable
30-day no-chip warranty
Wide enough for beautiful lattes
---
3. Kitchables Double-Walled Glass Cappuccino-Cups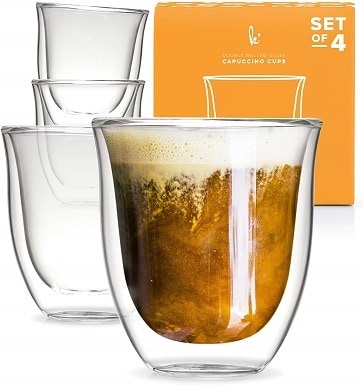 Kitchables Glass Cappuccino Cups are double-walled to keep your coffee hot, which is a great feature, especially when you're adding milk–like in a cappuccino. They'll keep your coffee hot, but your fingers will stay cool. The glass is durable and safe enough for use in the microwave and dishwasher. The cups even come with a lifetime guarantee.
There are a few negatives to these cups, however. They tend to be so narrow on the bottom that they topple easily, not the best thing to happen when they're full of hot coffee! Water can also get in between the double walls over time, and be nearly impossible to fully dry out.
Pros
Keeps coffee hot
Keeps your fingers cool
Durable
Safe for microwave and dishwasher
Lifetime guarantee
Cons
Topple easily
Water gets in between the glass walls
---
4. Coffeezone Double Cappuccino Cup & Saucer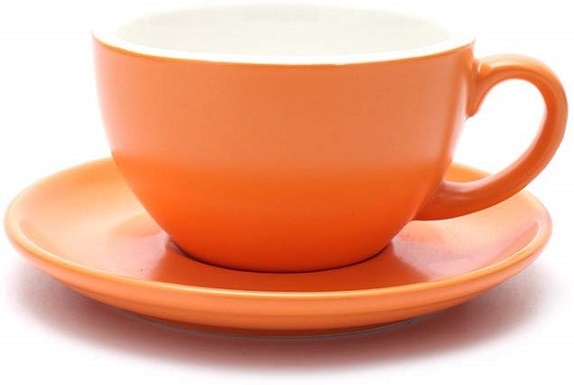 The Coffeezone Double Espresso Coffee Cup and Saucer works great for cappuccino, too, because it's available in three sizes: five ounces, 8.5 ounces, and 10.5 ounces. Even though it's made from high-quality bone china, it's still sturdy and durable. Cleanup is easy since it's dishwasher safe. And we loved that it comes in a variety of colors.
On the negative side, the stated capacities of the cups are off by half, so buy bigger than you think you need. It also only has one cup and saucer included, which means you'll have to spend quite a bit more to get a complete set.
Pros
Three capacities
High-quality bone china
Variety of colors
Dishwasher safe
Cons
Stated capacities are off by .5 ounces
Only one cup and saucer included
---
5. Bormioli Rocco Oslo Cappuccino Glass Cups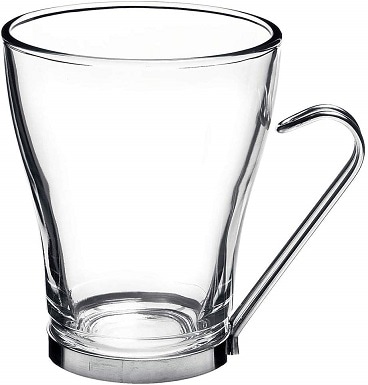 We love the style of the Bormioli Rocco Oslo Cappuccino Glass Cups. They are made of tempered glass for durability, but the detachable handles are made of stainless steel for a sleek look. They're dishwasher and microwave safe once you detach the handles. They come in a set of four, though they don't include saucers.
The cons are mostly focused around the handles. They detach, which is helpful for microwaving since they're made of metal, but they often come off when you don't want them to–like when your cup is full of coffee. Even though they look sleek, the handles are uncomfortable. The cups are also more on the flimsy side.
Pros
Tempered glass for durability
Dishwasher and microwave safe
Set of four
Cons
Metal handles detach easily
Uncomfortable handles
Flimsy construction
---
6. MIWARE 4x Porcelain Cappuccino Cups & Saucers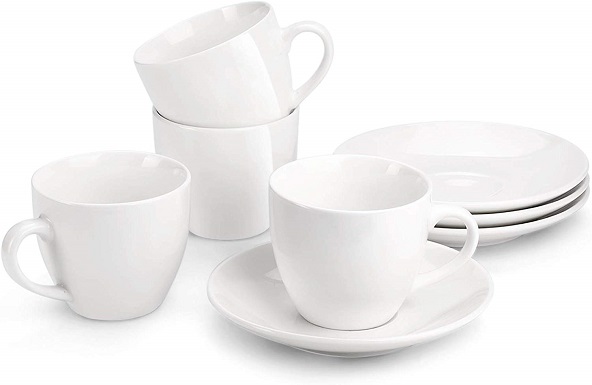 If you love a bright white kitchen with matching plates and cups, the MIWARE Porcelain Cappuccino Cups with Saucers might be a great choice for you. They are made from professional-grade porcelain, which means they're completely non-toxic and durable. You can put them in the microwave, dishwasher, oven, or even in the freezer. Even though they're white, they're stain-resistant and scratch-resistant.
Unfortunately, these do have some imperfections. On many of the cups, there are rough spots on the rims, which makes the quality questionable. There are no other color options, so if you prefer your coffee cups to be colorful, you'll be disappointed. They're also on the smaller side, so they might not be the best choice if you want to also use them for lattes.
Pros
Professional-grade porcelain
Different capacities
Stain- and scratch-resistant
Cons
Some imperfections
No color options
On the smaller side
---
7. Royal Tudor Cappuccino Cups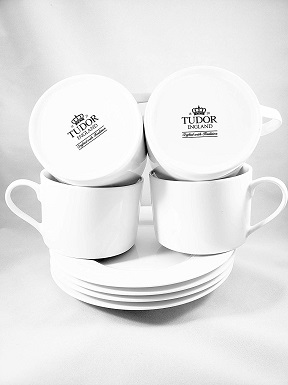 Royal Tudor is a classic, well-known brand from England, and these bone china Cappuccino/Coffee Cups and Saucers reflect the brand's elegant minimalism. The cups only come in white, but they're a good size (eight ounces) for cappuccinos. They're also dishwasher and microwave safe–though we're not sure we'd put them in either machine. They seem too delicate for that.
If you're not into the minimalist style, though, these may not be the cups for you. There aren't any other color options, and they're on the plain side. The china seems thin, and coffee cooled quickly. The cups also seemed fragile, which might not make them the best choice for everyday use.
Pros
Bone china from England
Dishwasher and microwave safe
Cons
No color options
Minimalist style not for everyone
Thin
Fragile
---
8. Lily's Home 2x Thermo Insulated Cups
Lily's Home Double Wall Thermo Insulated Glasses are another option for insulated cappuccino cups. The double-wall construction is designed to keep your coffee hot while still keeping the handle and outside cool to the touch. They have a large capacity (13 ounces), so they can easily be used for both cappuccinos and lattes. These come in a set of two glasses without saucers.
Unfortunately, these glasses are at the bottom of the list for a reason. They have noticeable imperfections, which led us to believe they're of poor quality. Even though it's supposedly double-wall construction, the glass seems thin. The cups break easily. Perhaps worst of all, the glasses do not keep coffee hot.
Pros
Double-wall insulation
Large capacity
Cons
Poor quality
Very thin glass
Break easily
Do not keep coffee hot
Noticeable imperfections
---
Buyer's Guide: Choosing the Best Cappuccino Cups
Cappuccino cups are similar to coffee cups or teacups, only they're larger and have a wider opening at the rim. When we compiled our list of favorite cups, we looked for certain criteria, including durability (or materials used), size, and style. If you're looking for the best set of cappuccino cups to add to your kitchen, there are a few things you'll want to look at.
Size
Because cappuccino is a shot of espresso with added milk foam, you'll want cups that hold at least seven ounces. If you plan to use them for other coffee drinks–like lattes–it's better to have them be around 10 ounces (or more). This allows for the additional ounces of milk added to the coffee.
SEE ALSO: our favorite espresso cups of the year.
Materials
The cups on our list are made from a variety of materials: professional-grade porcelain, glass, bone china, and stoneware. There are advantages and disadvantages to each, but in general, it's best to think about how often you plan to use the cups when you choose the material. If you want cups for everyday use, you'll want something more durable, like stoneware, tempered glass, or professional-grade porcelain. If you're planning on using them only on special occasions, you might want something more delicate, like bone china or glass.
Color
Our list includes options for cups in clear (glass), white, and multiple colors. This is, of course, personal preference, but it's also nice to seek out the brands that do offer options. Le Creuset, for example, has multiple color options, so you can choose cups that match your existing Le Creuset kitchenware.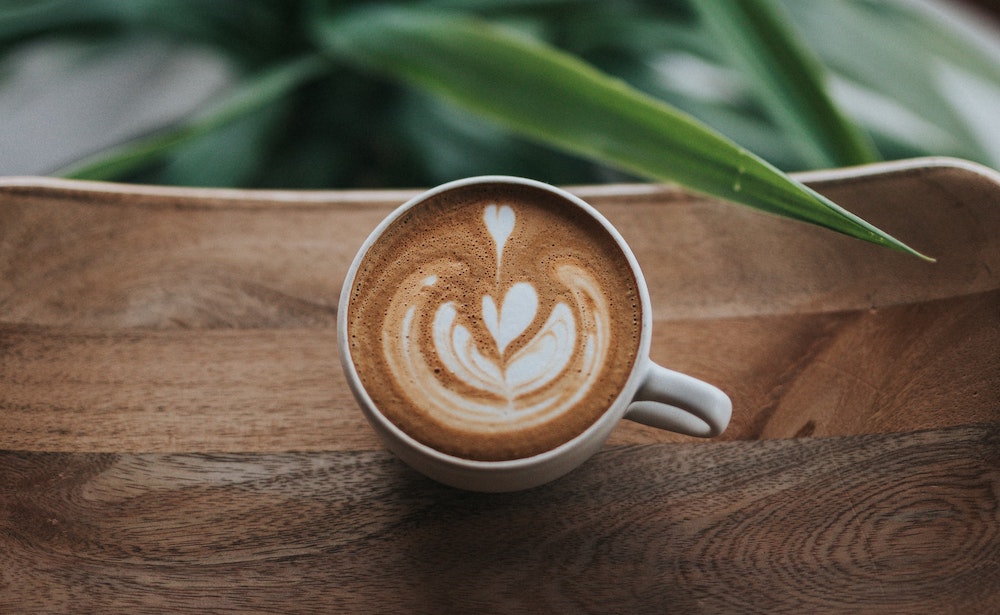 Style
Cappuccino cups should be wider at the rim and narrower at the base to allow room for the delicious milk foam on top. But there are so many style options to choose from: elegant, simplistic, or sleek and modern. It depends on your personal taste, but also on what you plan to use them for. If you'd like cups for everyday use, maybe you'd prefer ones that match the style of your other dishware. For more formal settings, maybe you'd like elegant bone china cups and saucers.
ALSO WORTH READING: What's the difference between frothed and steamed milk?
Number of included cups
You can buy just a single cup or a set, and it again depends on what you plan to use it for. If you don't have much room in your kitchen, and only plan on using the cup for yourself, you may want to buy one or two. If you have many people in your family who enjoy a cappuccino, you may want a set. Traditionally, cappuccino is served in a cup with a saucer, so if you'd like to follow tradition, it might be best to get a set of cups that also have saucers included.

Final Verdict:
We think that Le Creuset's Stoneware Set has the best cappuccino cups because of their beauty and durability. They're made in the best proportions to serve cappuccino, and you don't have to worry about them chipping easily. We appreciate that they're dishwasher safe to make cleanup even easier. The lifetime warranty proves that Le Creuset stands behind its product.
Sweese Porcelain Latte & Cappuccino Cups with Saucers won our Best for the Money category because it offers six cups with saucers at an affordable price. We loved that the cups also made beautiful latte cups and came in multiple color options. Best of all, they are made from pro-grade porcelain that's extremely durable.
We hope our reviews have helped you make a decision about which cappuccino cups are right for you.  Now, put your barista skills to good use and serve up a delicious cappuccino in the perfect cup!
RELATED READ: Color, Texture, Shape: How Cups Affect Your Coffee Experience