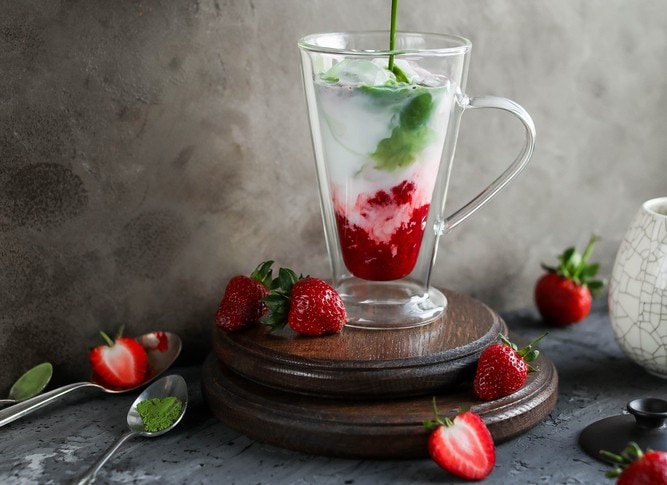 If you're a matcha fan, you know how tasty this earthy, slightly bitter tea can be. But there's one matcha drink you may not have tried: the strawberry matcha latte.
This delicious drink combines fresh strawberries, creamy milk, bold matcha, and a little sweetener. Keep reading to find our easy strawberry matcha latte recipe, plus a few brewing tips to help you make the latte of your dreams.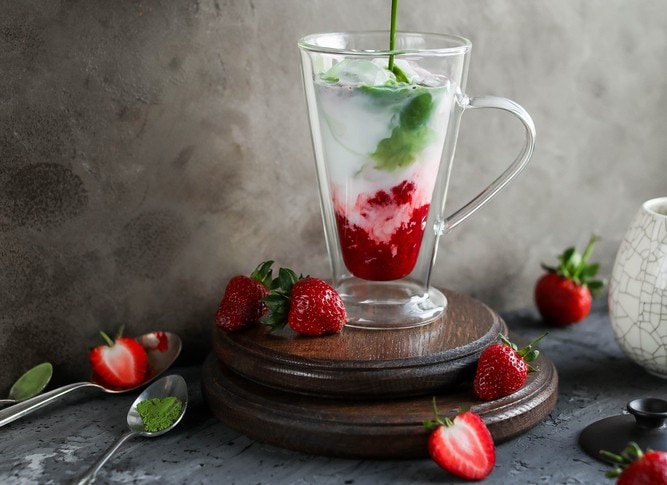 Strawberry Matcha Latte
A stunningly layered combination of homemade strawberry puree, milk, and earthy matcha, this latte is as beautiful as it is delicious. All you need are a few simple ingredients and about 15 minutes. You'll be enjoying a refreshing, flavorful drink in no time!
Equipment
Small saucepan

Small bowl

Whisk

High-speed or immersion blender

Tall glass
Ingredients
Strawberry Puree
½

cup

white sugar

½

cup

water

1

cup

fresh strawberries

sliced
Strawberry Matcha Latte
1

teaspoon

matcha powder

⅓

cup

hot water

⅓

cup

milk

any kind

1

cup

ice
Instructions
Pour the sugar, water, and strawberries into a small saucepan. Heat over medium-low, stirring occasionally, until small bubbles form.

Simmer the strawberry mixture for 13 minutes. Then remove from the heat and allow to cool.

While the strawberries are cooking, combine the hot water and matcha powder in a small bowl. Whisk until the matcha is fully dissolved.

Puree the strawberry mixture using a high-speed blender or immersion blender.

Fill your tall glass with ice. Then add 2 tablespoons of your strawberry puree.

Pour the milk on top of the ice and strawberry puree. Then carefully add the matcha. Take a moment to enjoy your beautiful drink!
Nutrition

Homemade Strawberry Matcha Latte Recipe Tips
Almost ready to start brewing? Here are a few quick tips to help you make the perfect strawberry matcha latte.
Strawberry Puree
For our recipe, we're making a very simple strawberry puree using fresh strawberries, water, and sugar. There are many other ways to add strawberries to your drink, though! You can buy pre-made strawberry sauce at the store, use frozen strawberries, or try blending strawberries and honey. You can also just add fresh strawberries to the bottom of the glass for a less sweet drink.
Milk
Milk is the middle ingredient in this drink, providing a smooth, neutral backdrop for the intense flavors of matcha and strawberries. You can use almost any kind of milk, like coconut milk, almond milk, cow's milk, or even oat milk. We recommend using unsweetened milk to avoid ending up with an overly sugary drink.
Matcha
Finally, the key ingredient: matcha! Matcha is an earthy, flavorful powder made from finely ground green tea leaves. The traditional Japanese preparation method involves a special wooden whisk, but you can use any whisk (or even a spoon) to mix matcha and water. If you like your matcha strong, we recommend adding an extra teaspoon of powder to this drink. The milk and sweet strawberry puree will tone down your matcha's flavor!

Wrapping Up
Time to start making the most beautiful drink you'll enjoy all year! We hope you have fun making and drinking this delicious strawberry matcha latte. It may just become your new favorite drink.
RELATED READS:
---
Featured image: susiefoods, Shutterstock