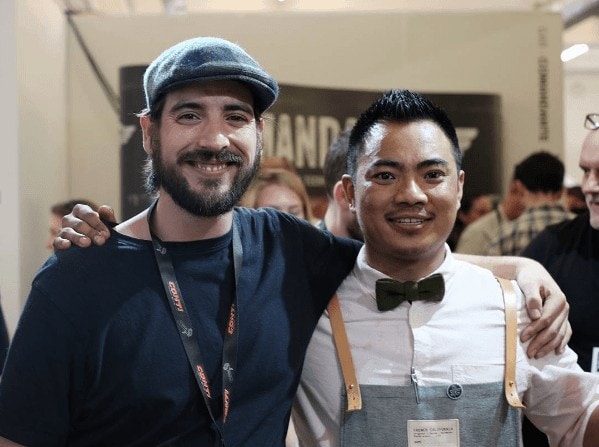 Today we are exploring a European coffee roaster. I came across Strangers coffee roasters during my research for some African coffee beans. Someone suggested Strangers Coffee as a source of some great beans. I thought I'd give them a try; my friend offered to carry the beans across the ocean for me. Living in North America makes the logistics a little complicated, but it was well worth it. I loved their beans, in fact, I liked them so much, I wanted to showcase them here.

A Little About Strangers Coffee Company
Founded in 2009 by Alex Sergeant and Samuel Maddocks, Strangers Coffee Roasters has been dedicated to the craft of coffee brewing for over 7 years now.  Along with the original two founders, William Maddocks also joined the head of the Strangers team in 2014.
Based out of the UK, Strangers has been recognized for their excellence in coffee making on multiple occasions. Two prime examples of this are that Alex Sergeant has twice placed in the top 15 in the UK Barista Championships, while also managing to come in 5th place overall in the UK Latte Art competition in 2014; two incredibly competitive competitions.
Furthermore, Strangers has been picked for a number of national awards by independent selection committees, naming it as one of the nine best specialty coffee shops in their country; and being awarded the ranking of best coffee experience in the UK overall!
Strangers Coffee sells mostly single-origin coffees, selected from great farms, and they also have a couple of blends.
Kilimbi Rwanda
Kilimbi Rwanda is the coffee I am using now. Like many African beans, it has a distinctive acidity, that is particularly pleasant. There are distinctive orange notes which add an extra dimension to your final cup.
I use these coffee beans for my French press, and I made a batch of cold brew. Because the beans are roasted very light, they retain the origin's taste. Any manual brewing method, with a strict brewing temperature control, will reveal the delicate Kilimbi notes. I recommend using these beans for hand drip or cold brew. I strongly recommend lighter roasts for cold brew, with a longer steeping time, so these are perfect. See in my article on what are the best coffees for cold brew why I think medium and lighter roasts are better for cold brew, contrary to popular advice to use dark roasts.
If you are located in North America and would like to try a medium roast Kenyan coffee, visit our Volcanica Coffee Review page, where we review their Kenyan coffee.
Why Are They Great?
Each day Strangers offers up approximately five different coffees from around the world, working with the top coffee importers in the business to supply their customers with the best quality coffee possible. This is just one area where Strangers separates themselves from the competition.  Many other coffee companies do not have these international connections, and do not find coffee of the same quality!
Strangers coffee is even affected by crop cycles and growing conditions of certain countries, proving that it is as fresh and high quality as you will find.  Many coffee houses will simply take bulk orders of beans from whoever will supply it, but Strangers has a much higher standard than that.
Every single coffee on-site is roasted by them, and you will be able to tell the difference in quality immediately!
I love the fact that they prepare coffee in numerous different ways, in their coffee shop. I haven't personally tasted coffee in their shop, but Hannah, my friend has only good words about them. Strangers can prepare coffee from espresso to AeroPress, and anything in between!  This serves as just another way in which Strangers can showcase the coffee, and showcase their own skills and abilities!

Strangers Coffee Company: Beyond Coffee Roasting
They offer seasonal menus and specialties, which change constantly to provide unique experiences for regular customers and new customers!  An example of seasonal options includes the summer signature brews of cascara iced tea, Japanese cold brew coffee, and orange tisane iced infusion.
When you arrive at Strangers you will immediately feel at home with their wonderful staff and workers.  All of the workers at strangers are extremely knowledgeable about coffee, and will happily assist you in deciding which coffee would be best for you to try!  Strangers offers you the option of drinking their own house coffee, or a guest espresso (which changes weekly).
Furthermore, Strangers also offers an excellent filter coffee bar, which hosts methods that result in drastically different tastes of coffee. The four methods of brewing that are included in their filter coffee bar are the Aeropress, Clever Coffee Dripper, Chemex, or the Gino Dripper.  Each of these coffee filtering methods is certainly worth a try!
Along with individual coffees at the shop, Strangers also sells retail packs of coffee beans and brewing equipment.  The workers at Strangers will happily demonstrate or explain any brewing method and can grind coffee beans for you to use.
You can find the people behind Strangers coffee on Instagram, if you are active on social media. They have an awesome account with beautiful pictures and interesting information. Check them out here: strangerscoffee.
See Also: Smokey Barn Coffee Roasters: Profile & Review