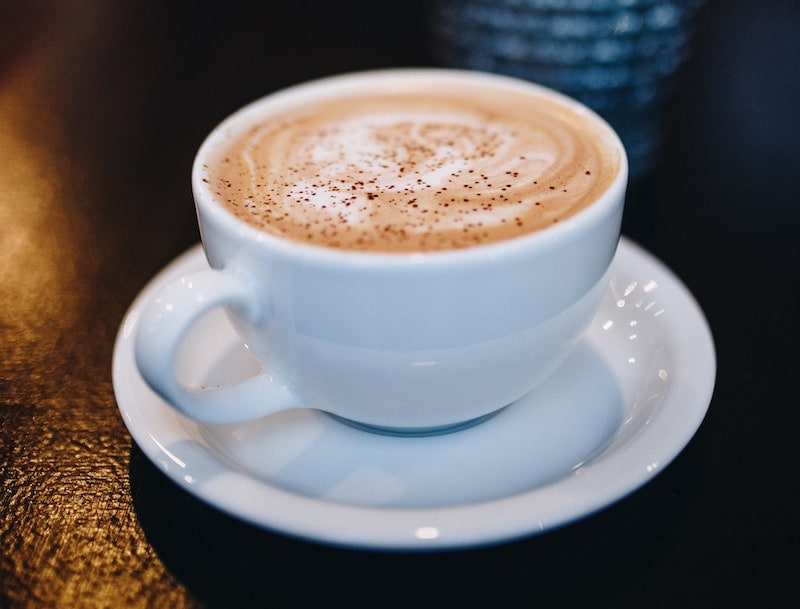 Ah, the Starbucks secret menu. A delight for those with a sweet tooth but a scourge for every barista who ever held a milk pitcher.
Let's be honest. If you are trying to avoid sugar, this isn't the drink for you. But if you are adventurous enough to give it a try, you might be disappointed, as long as you're not afraid of a little diabeetus.
Among all the seasonal flavors at Starbucks, the Pumpkin Spice latte is the most popular. It wins hands down. No contest. People cannot wait to get their steaming PSL and take those selfies when it comes out. The hype seems to not have worn off after all these years. That's because it's really good. It's so popular that in 2014, Starbucks actually began offering this flavor in August. Yes, in the middle of the freaking hot summer they thought would be a good time to bring in their most famous Fall drink.

What is the Cinderella Latte?
But what does this have to do with the Cinderella drink? What exactly is the Cinderella drink at Starbucks? There are many recipes out there indicating that it is a Pumpkin Spice Latte with two added pumps of white mocha. This is not so. A Cinderella Latte, as it is called, is a Pumpkin Spice Latte with half of the pumps of pumpkin spice replaced with white mocha. If you simply say, "add two pumps of white mocha," you'll be drowning in syrup, which is okay if that's your thing. But don't you want to taste the coffee?
How to Order the Cinderella Latte
Barista: "Welcome to Starbucks! What beverage can I get started for you today?" What do you say? Well, you can simply say "I'd like a [size] Pumpkin Spice Latte with half of the pumps of pumpkin spice sauce replaced with white mocha." If you're into precision, buckle up! Get ready for some detailed ordering! Starbucks has a specific way they take orders, and it is very formulaic.
How to Order:
If your drink is iced, first say "Iced."
Then indicate how many shots you'd like in your drink if it deviates from what is normally included in your beverage size. i.e., Double tall, triple venti (Short = 1; Tall = 1; Grande = 2; Venti = 2)
Then say the size of your beverage.
Indicate the number of pumps of syrup. For a short say, "1 pump pumpkin spice, 1 pump white mocha." For a tall say, "1.5 pumps pumpkin spice, 1.5 pumps white mocha." For a grande say, "2 pumps pumpkin spice, 2 pumps white mocha." For a venti say, "2.5 pump pumpkin spice, 2 pumps white mocha."
Indicate your milk of choice.
If you'd like extra whipped cream (the PSL comes with whip by default) say, "extra whipped cream."
Finally say, "Pumpkin Spice Latte."
Please!
I'd like an Iced, Triple, Grande, 2 pumps pumpkin spice, 2 pumps white mocha, extra whipped cream pumpkin spice latte, please!

Homemade Recipe for the Cinderella Latte
When it comes to making an espresso drink at home, you either need to have a home espresso machine or get creative. Getting creative when it comes to making espresso at home is usually just terrible. However, you can brew very strong coffee with espresso roast to your liking, but it's not the same as espresso. Get an espresso machine – it doesn't have to be super fancy, though don't expect the same results as at Starbucks.
---
Cinderella Latte
Ready to make a sweet Cinderella Latte at home? This twist on a classic PSL adds white chocolate mocha syrup to make a rich, delightful drink worthy of a princess!
Ingredients
Finely ground coffee

Espresso Roast

1½

tbsp

white chocolate sauce

1½

tbsp

pumpkin spice sauce

10

oz

milk of your choice

Whipped cream

Pumpkin spice topping
Instructions
Prepare your espresso machine according to instructions. You fill the portafilter with your coffee grounds and tamp them down. You will pre-fill the machine with cold, filtered water.

Add both white chocolate and pumpkin spice sauces at the bottom of your desired coffee mug.

Pull 1 shot (approximately 1 oz.) of espresso.

While your shot is pulling, steam your milk on your espresso machine using provided pitcher (many espresso machines include a steam wand and pitcher). If you don't have a steam wand, you can warm your milk gently on the stovetop in a small saucepan.

When your shot is done pulling, add it directly to the mug and stir in white mocha and pumpkin spice sauces.

Add your milk from pitcher or saucepan.

Top with whipped cream (as much or little as you like) and pumpkin spice topping! If you don't have pumpkin spice topping, you can use a combination of cinnamon, ginger, and nutmeg.

Enjoy!
Nutrition
---
Featured Image Credit: Unsplash