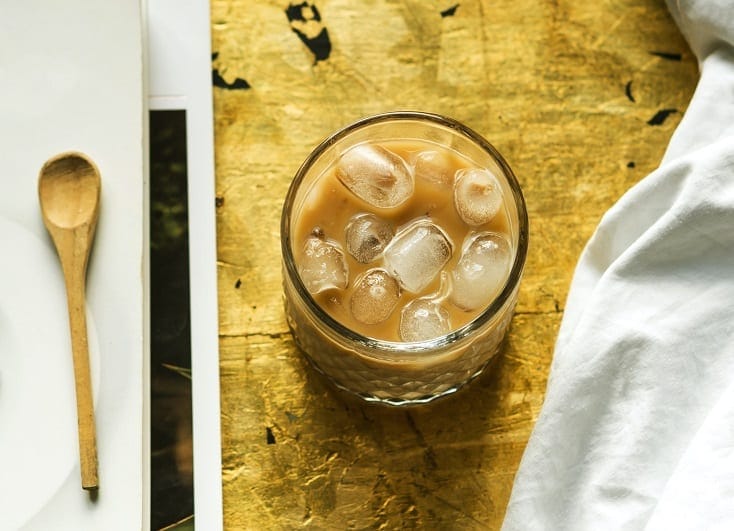 Making iced cappuccinos is easy to do at home with the right equipment and a few ingredients. With a little practice and finesse, you can have an iced cappuccino without spending money at a coffee chain or restaurant. All it takes is some ice, espresso, and milk to make the perfect espresso coffee. Here's a recipe to make your very own, at-home iced cappuccino: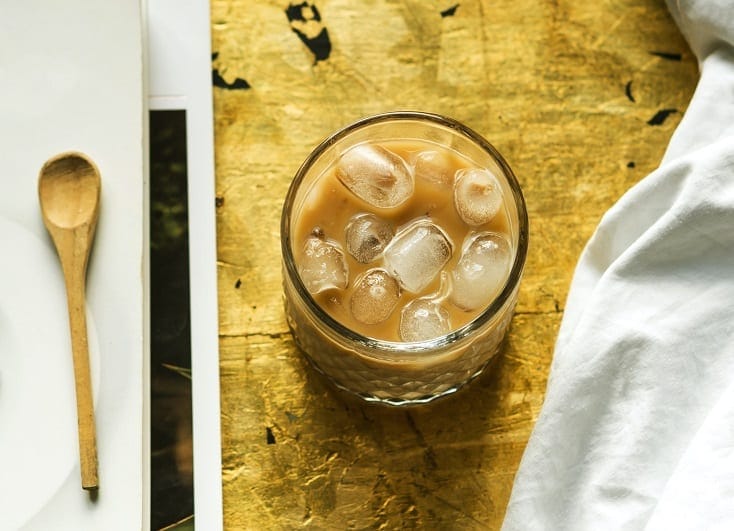 How to Make an Iced Cappuccino
Too hot for a cappuccino? Try this easy recipe for iced cappuccinos! It's simple, inexpensive, and oh-so-refreshing.
Equipment
Espresso machine

Milk steamer (electric mixer, hand frother, or French Press will also work)

Mason jar (or tall glass)
Instructions
Brew the espresso in your espresso machine or manual espresso maker. Regular or strong brewed coffee will not work for cappuccinos. For the best results, use espresso-roast coffee beans.

Set the espresso aside to cool off for a few minutes, so it doesn't melt the ice.

Prepare the steamed milk, using a milk frother, steam arm, French press, or mixer. Heat the milk before frothing it.

Fill a glass with ice, about halfway. Since the espresso is going to cool enough to not melt the ice, don't overfill the glass.

Pour equal parts into the mason jar or glass with ice: espresso, steamed milk, and foam. Sweeten if desired and top it off with cocoa powder for a complete look.
Nutrition

Iced Cappuccino Variations & Tips
While the traditional cappuccino contains whole milk and espresso, you can modify our recipe to your taste instead. There are a few changes you can make to fit your needs, whether you prefer certain tastes or have dietary restrictions.
Use Low Fat or Plant-Based Milk
Instead of using whole milk, try using low-fat milk or plant-based milk instead. Low-fat milk will steam and froth just like whole milk, so you won't lose out on the cappuccino experience. Plant-based milk can be tricky, but soy and oat milk are great alternatives that froth up like cow's milk.
Try Different Espresso Blends
As with regular coffee, espresso blends vary in taste and bitterness. If your iced cappuccino isn't tasting right, try using a different blend. Look for espresso blends that the flavor profile and notes, which will tell you if it's to your liking. We particularly recommend Lifeboost's tasty dark roast for this recipe.
Make Espresso Ice Cubes
Iced cappuccinos sound like a great idea until your drink becomes watered down by ice cubes. Instead of having melted water in your drink, make espresso ice cubes ahead of time. You can add them with regular ice so your cappuccino will still taste delicious.
Here are the easy steps:
Brew enough espresso to fill an ice cube tray, filling each cube section about halfway. If you don't want to use up your espresso, a strong-brewed dark roast dark coffee will work.
Put the ice cube tray in the freezer and let it freeze completely, which can take up to a day. Once they're frozen, add them to any iced coffee or espresso drink.
Read our full coffee ice cube guide!
Chill Espresso Ahead of Time
If you want to enjoy more than one iced cappuccino or have them ready for a few days, make a batch of chilled espresso ahead of time. Brew enough to fill a small bottle or pitcher, then set it aside to chill. Place it in the fridge with a lid to keep it cool.
Place the Mason Jar in the Fridge
To keep your iced cappuccino cool, stick your mason jar in the fridge for 10-15 minutes before making the drink. It'll help keep the ice from melting quickly, even if you do make the espresso ice cubes.

Final Thoughts
Making espresso shots at home may seem difficult, but it's easy to become your own barista at home. Iced cappuccinos are a tasty and refreshing drink, especially when you're not spending money to have one. As long as you have a way to brew espresso, you'll be able to create a decadent iced cappuccino at any time.
RELATED READS:
---
Featured Image: Olha Ruskykh, Pexels